GOP Washoe commissioner proposes all paper ballots, National Guard at drop boxes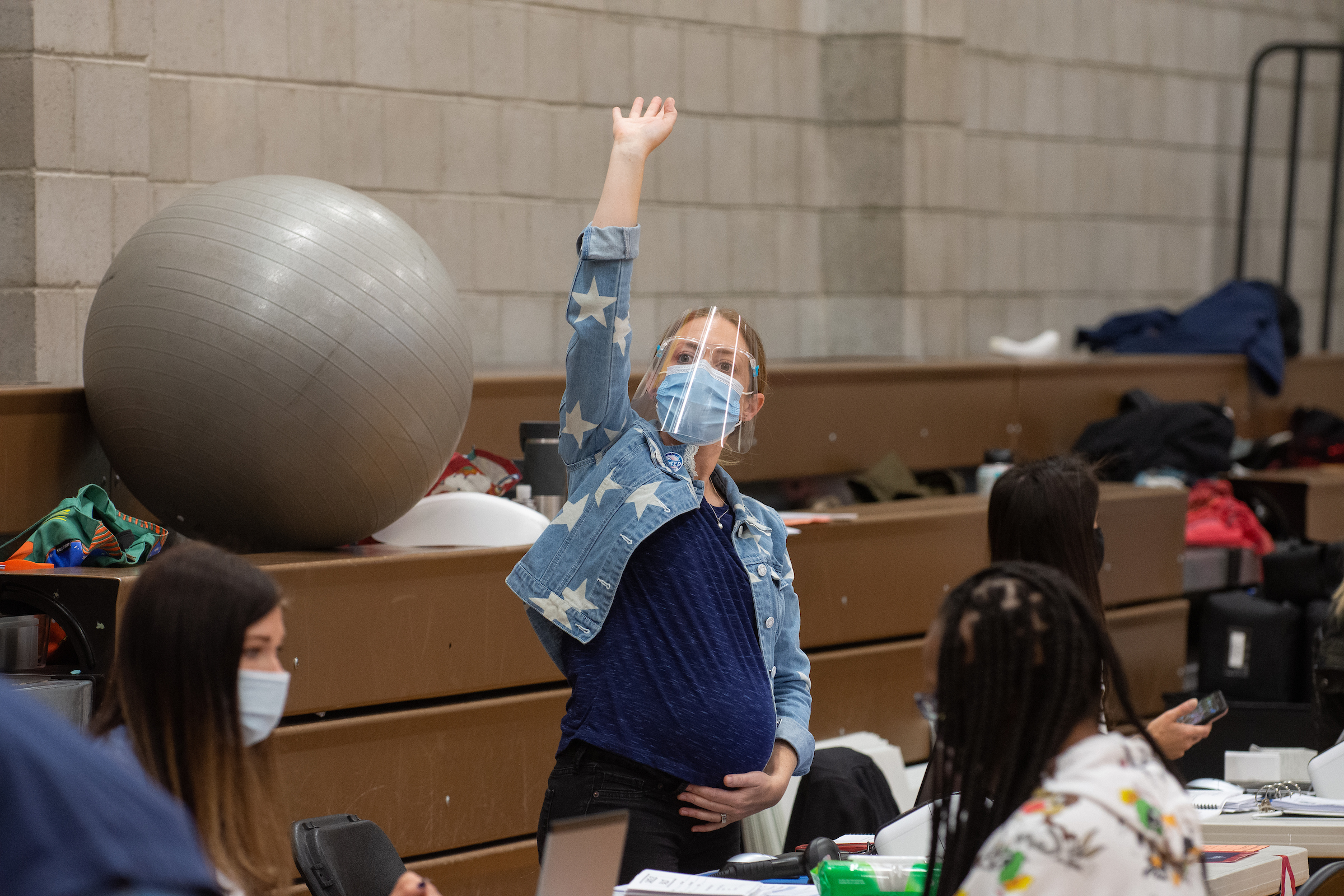 A Republican Washoe County commissioner is proposing sweeping changes to the election system for the state's second-largest county, including ensuring that almost all ballots are paper, counting is done by hand and Nevada National Guard members are stationed at each polling and ballot box location.
Washoe County Commissioner Jeanne Herman's request is up for consideration at the next commission meeting on Feb. 22 and cites the "significant public comment expressing a desire to adopt proposals related to the accuracy, security, and purity of elections" received by commissioners. Herman's resolution lists 20 measures for the registrar of voters to take before the June primary election.
That list includes a change to "stealth paper ballots as [the] primary method of voting," and would provide for just a single electronic voting kiosk to comply with requirements under the Americans with Disabilities Act (ADA). (The proposal does not specify whether there would be one electronic voting machine per polling location or across the entire county.) Such a move would mark a stark departure from the state and county's current system of conducting elections, where voters cast ballots through secured machines that are audited and have a paper trail.
Republicans across the state have expressed interest in the switch to paper ballots, including in Lander County, as they have called into question the security of electronic machines and the protections in place against hacking from foreign countries.
Dominion Voting Systems, which provides Washoe and 14 other counties with electronic voting machines, has been subject to widespread allegations of fraud following the 2020 election — claims that Dominion has pushed back on through defamation lawsuits against Fox News, Newsmax and others. The company has faced pushback throughout Nevada's rural areas, including in Lander County, where commissioners terminated the county's contract with the company, opting to instead use machines from Election Systems & Software.
Herman's request — filed on Feb. 16 — came about one week after a previous Washoe County Commission meeting that featured more than four hours of testimony denouncing alleged election fraud. The county has rebutted those claims before, noting on Twitter that it runs "accessible, fair, transparent" elections in response to former attorney general and Republican U.S. Senate candidate Adam Laxalt's comments that elections in Washoe County "can be a little squirrelly."
In an email to commissioners, Washoe County Democratic Party Chair Sarah Mahler denounced the proposed resolution and requested that it be pulled from the meeting agenda.
"The resolution is contrary to the letter and intent of current Nevada Revised Statutes and will disenfranchise the voters of our county," she wrote. "This is an outrageous affront to our democracy."
Other proposed measures call for all ballots to be counted by hand and continuously until counting is complete — the county saw more than 250,000 votes cast during the 2020 general election — and for Nevada National Guard personnel to be present at each polling and ballot box location and Washoe County's central counting center.
The resolution proposes several ways of cleaning the county's voter registration lists. One change would ensure voter registrations and renewals expire every five years. Under state law, registrations do not expire after a specific period of time, but voter rolls are cleaned as voters update their party and residence information and data is verified through the Electronic Registration Information Center.
Another measure calls for the registration list to be immediately verified against data from the Washoe County assessor and vital statistics office, the National Change of Address program and the U.S. Citizenship and Immigration Services SAVE program — which holds information about people's immigration or citizenship status. The program is most commonly used for social benefit programs, such as Medicaid, but is used for voter registration in six states, including Arizona.
Other proposed changes made in the resolution include:
Only allowing Washoe County residents to work as poll workers
Limiting individual private contributions to the registrar's office to no more than $2,500 a year
Requiring that mail ballots are sent via certified mail, which requires a recipient's signature and provides the sender with a mailing receipt
Require that ballots turned in at polling places or drop boxes are scanned and cross-checked with a voter registration database before being deposited
Creation of bipartisan "teams" charged with assisting in verification of registration applications, manning intake stations and ballot boxes, picking up ballots, sorting sealed envelopes into precincts, opening envelopes, verifying signatures, counting ballots and tallying results
Issuing different color ballots to same day registrants
The proposal received immediate backlash from Democrats and voting rights advocates, including All Voting is Local Nevada State Director Kerry Durmick, who in a statement released Thursday characterized several of the measures as "unconstitutional and illegal."
"This anti-voter resolution would disenfranchise Washoe County voters," Durmick said. "This resolution will only negatively impact access to the ballot, and we urge the county commission to reject these measures and uphold the freedom to vote for all Nevadans."
The list also includes less-defined proposals open for interpretation, including "providing equitable and fair opportunities for observation" and "enacting any other measure that ensures the accuracy, security, and purity of elections."
Herman did not respond to a request for comment. She's one of three Republicans who serve on the five-member county commission.
Before the commissioners take up the resolution, Washoe County Registrar Deanna Spikula will be presenting at the Feb. 22 meeting to provide an overview of her office's administrative responsibilities during the 2022 election.
A spokesperson for the registrar's office said they would not comment on the item until it is discussed at the meeting.
Correction on Feb. 17, 2022 at 6:15 p.m. : This story was updated to reflect that the Washoe County Board of Commissioners has five members.
Read Herman's request here:
Featured Videos
Comment Policy (updated 4/20/2021): Please keep your comments civil. We reserve the right to delete comments or ban users who engage in personal attacks, use an excess of profanity, make verifiably false statements or are otherwise nasty. Comments that contain links must be approved by admin.