Governor lifts Nevada mask mandate effective immediately, points to case drops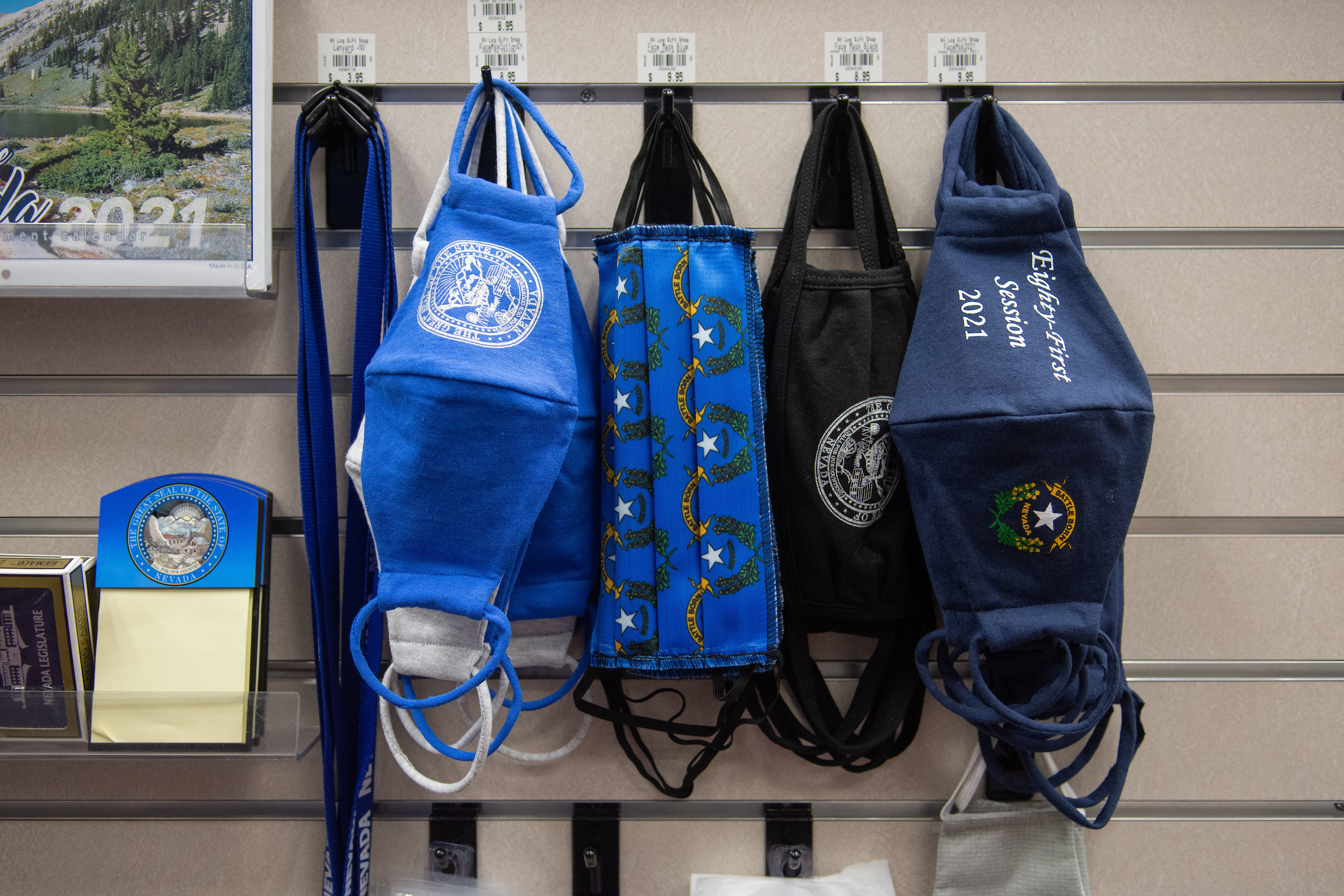 Nevadans can shed their face masks today, as the state lifts its mandate days ahead of an expected busy Super Bowl weekend in Las Vegas.
The shift — announced by Gov. Steve Sisolak during a Thursday morning press conference — follows suit with other Democrat-led states easing pandemic mitigation measures amid a nationwide decline in COVID-19 cases.
In Nevada, the seven-day average of new cases reported as of Wednesday was 1,574 per day, down from the Omicron wave peak of roughly 6,300 new cases per day in mid-January. Sisolak also noted that there are 800 fewer people hospitalized with COVID in Nevada than at the Omicron peak, and that fewer than one-tenth of a percent of Nevadans required critical care hospitalization on any given day.
The termination of the mask mandate is effective immediately, Sisolak said, though some places serving vulnerable populations, such as hospitals and long-term care facilities, may still ask people to wear face coverings.
The governor also announced that masks will no longer be required at schools starting Friday, giving families time to discuss the change. He noted that school districts need to work with their local health agencies to have plans for if and when COVID-19 outbreaks occur.
While no longer required in public places, Sisolak said employers and organizations, including school districts, can set their own policies if they desire. The Clark County School District said in a statement shortly after the press conference that masks will still be required on school buses, but said masks will no longer be required after Thursday, and that students and employees "can make the individual choice to continue masking."
Washoe County Superintendent Kristen McNeill wrote a similar message to staff and families, noting that masks would remain available at schools for anyone wishing to use them. She also said mandatory testing of student athletes and others leaving the county would end on Feb. 27.
The Nevada System of Higher Education (NSHE) also announced Thursday afternoon that it would immediately suspend face-covering requirements across the system's eight institutions in the midst of only the second fully in-person semester since the pandemic began.
In guidance shared with the system Thursday, Chancellor Melody Rose also made clear that presidents do not have the unilateral authority to create stricter mask requirements than those created by state law, as any such requirements would "involve systemwide policy decisions that falls outside of a President's discretion."
The new guidance also ends a conditional requirement for any employee who had been exempted from a system-wide vaccination mandate to also be required to wear a mask.
The move — though expected in the wake of the governor's announcement — comes with at least some resistance among some faculty and graduate students groups. Within hours, an online petition calling for UNR to uphold the mask mandate was signed by nearly 300 faculty members and graduate students.
Amy Pason, a UNR professor and chair of the Faculty Senate chairs for the system, said in an interview that faculty had resisted the move in part because transmission rates remain high, even as the Omicron wave has begun to subside.
"I'm hearing from faculty across campus that they want the masks to continue," Pason said. "We want to be able to have everybody be masked in our classrooms and our libraries — we still are gathering, in terms of in-person learning, and masks are the way that we can stop the spread of COVID."
Kent Ervin, president of the Nevada Faculty Alliance, also questioned the lack of latitude for individual institutions to create new mandates, in light of existing institution-specific safety rules that already exist.
"In the chemistry lab at UNR, we require lab coats," Ervin said. "And that's not a state mandate, that's something that we do [on] our own, for the safety of our students."
Sisolak urged Nevadans to be kind to one another and respect the decisions of people who still want to wear a mask even though the mandate is gone.
"I want kindness to be just as contagious as COVID is," he said. "COVID-19 has brought out the best and the worst in society."
The state's lifting of its mask mandate does not apply to people inside airports or aboard planes, public buses and school buses. Federal guidelines cover Harry Reid International Airport in Las Vegas and Reno-Tahoe International Airport, which remain under a mask mandate until March 18, regardless of state decisions.
Nevada relaxed its mask policy briefly last year after vaccinations rolled out, but by July 30, the governor reimposed a mandate for counties experiencing "substantial" or "high" rates of coronavirus transmission. The decision was largely driven by the Delta variant at the time and has remained in place through the Omicron surge. The mandate, which follows Centers for Disease Control and Prevention guidance, has affected most Nevada counties.
Under that metric, masks were almost always required in virtually every county for people regardless of vaccination status, although a few small rural counties saw their requirement relax for short periods.
Pressure began mounting for Sisolak, who's facing a re-election bid this year, after his Democratic colleagues in other states began easing their mask mandates. California Gov. Gavin Newsom declared face masks would be lifted for vaccinated residents of the Golden State on Feb. 15. Governors in states such as New York, New Jersey, Illinois and Rhode Island have made similar masking decisions, though they have largely held off making changes to school policies.
In August, Sisolak issued a directive that made face masks mandatory for school staff, regardless of vaccination status, and students in Clark and Washoe counties. The directive also required students to don face masks while riding school buses.
But schools in Nevada's 15 other less populous counties were given leeway to craft their own face-covering policies for students, as long as they didn't conflict with state directives or local health decisions.
The mask-optional policy extends to casinos and other gaming venues as well.
Nevada Gaming Control Board Chair J. Brin Gibson issued a notice to licensees shortly after Sisolak's announcement, alerting them that "individuals are no longer required to wear a mask in public indoor settings in licensed gaming establishments, unless a local jurisdiction still imposes such a requirement."
And while some states only rolled back mandates for vaccinated residents, Sisolak said he didn't think it was fair to ask frontline workers to shoulder the burden of asking people, hence the decision to undo the mask mandate for all Nevada residents, regardless of vaccination status. He noted that vaccines and boosters are widely available for anyone who wants one.
Southern Nevada Health District officials issued a statement Thursday reminding residents that COVID-19 transmission remains high and that vaccines, boosters and masks can help reduce the spread.
"We encourage people to wear well-fitting masks in public indoor spaces for additional protection while disease transmission is high, especially if they are unvaccinated or more at-risk for severe illness from COVID-19.," health district officials wrote.
Critics, including Republicans seeking Sisolak's governor's post, have panned the decision to rescind the mandate as political and contradictory to the Democratic governor's previous refrains that COVID mitigation measures would be based on science.
Asked during a press conference what the science behind Thursday's decision was, even as transmission remains high, Sisolak said the CDC's guidance was put in place before the Delta wave, and Omicron has proved less severe. He said declining case counts and wastewater data indicating positive trends informed the choice.
CDC director Rochelle Walensky said earlier this week that the agency is against lifting mask requirements, including for schools.
The actions Thursday uncouple Nevada policies from CDC guidance. Sisolak said that he respects the CDC, but that every state is different, and he has analyzed the situation in Nevada.
"I'm hopeful and confident based on the data that we have, that we're in a good position to drop this to give people back some freedom," he said.
Asked if it was time to end a state of emergency in Nevada under which he has expanded powers, however, he argued that the pandemic and the emergency is still ongoing, and that cases, hospitalizations and deaths are still far too high.
In spite of the potential benefits of requiring masks permanently, Sisolak said it was time that people make their own decisions on whether to wear a face covering.
"There comes a time where you have to weigh the benefits of the mask versus the difficulties or the downside of wearing a mask, and today is the day that we decided that the scale tilts," he said.
This story has been updated to include more information from the news conference, school districts and health district officials, as well as details on changes specific to the Nevada System of Higher Education.
The Nevada Independent is raising $200,000 by Dec. 31 to support coverage of the 2024 election.
Tax-deductible donations from readers like you fund this critical work.
If you give today,your donation will be matched dollar-for-dollar.
Give + Get Matched
Featured Videos