Independent Poll: Sisolak, Cortez Masto hold slim leads over likely GOP opponents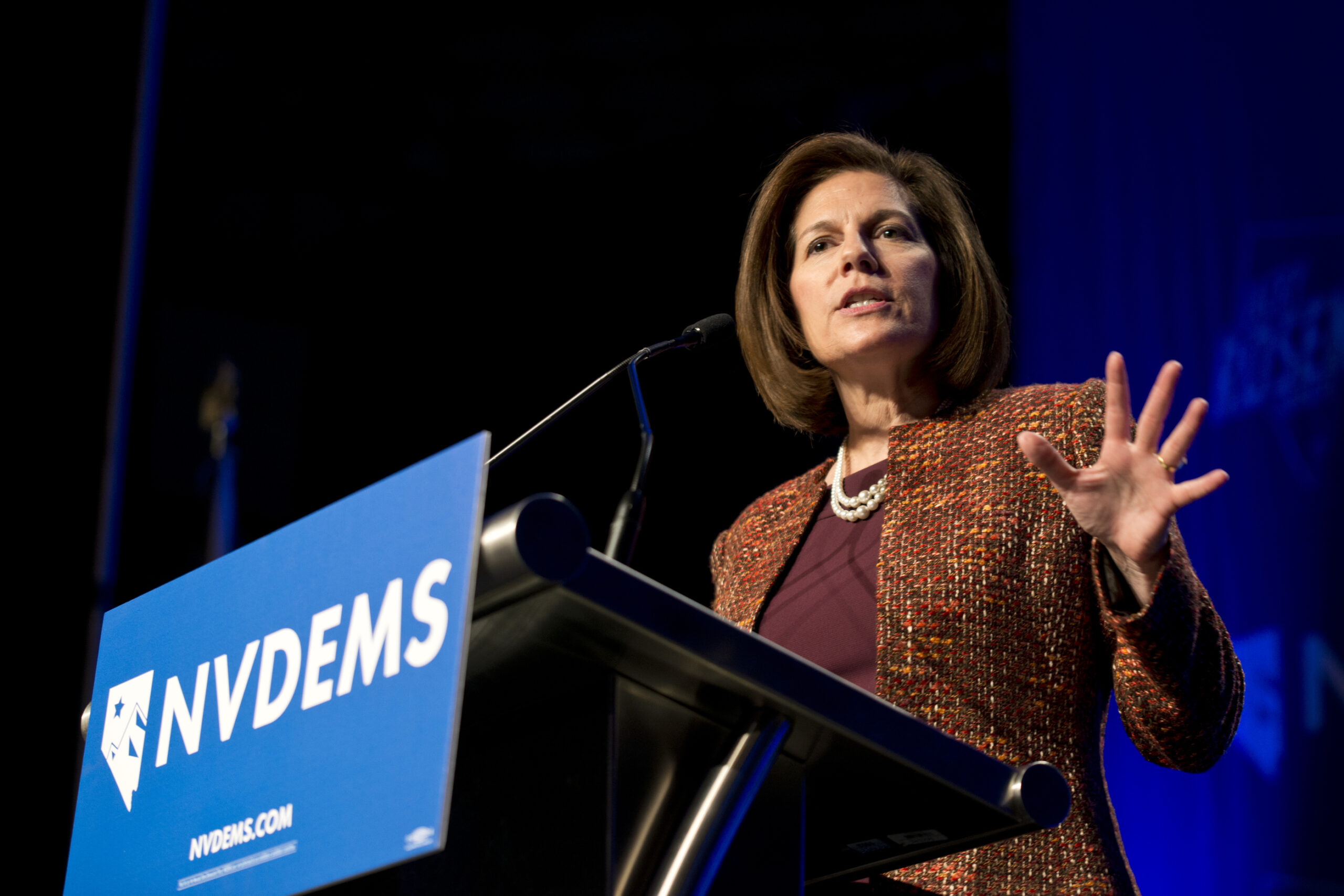 With just over a year to go before the 2022 midterm elections, Democrats at the top of the ticket hold narrow leads over their likely GOP opponents, according to a new poll released Sunday by The Nevada Independent.
Gov. Steve Sisolak holds leads well within the margin of error over the two likely GOP frontrunners — leading former U.S. Sen. Dean Heller by 2 points (45.8 percent to 43.3 percent) and in an effective tie with Clark County Sheriff Joe Lombardo (44.9 percent to 44.4 percent). A majority of poll respondents rated Sisolak's overall job performance and response to the COVID-19 pandemic negatively or as "only fair."
Despite maintaining a more favorable rating compared to Sisolak, U.S. Sen. Catherine Cortez Masto only carries a 4 point lead (45.5 percent to 41.2 percent) over her likely Republican opponent, former Attorney General Adam Laxalt, among likely voters polled.
The results are a worrisome sign for Nevada Democrats — who have won the vast majority of top-line races in the state since the 2016 election cycle — while also reinforcing Nevada's status as a true swing state.
During a discussion on the poll held Sunday, pollster Mark Mellman described the effects of COVID-19 as contributing to a hostile election environment for incumbents. But he said that could change depending on what direction COVID and the economy take in the coming year and what policies are passed in the nation's capital.
"Each race has its own individual dynamics, individual candidates, individual faux paus people make," Mellman said. "But what we see so far, as we said at the outset, are a set of what are likely to be very close, very competitive, very tough races."
The poll, conducted by The Mellman Group for The Nevada Independent, sampled 600 likely Nevada voters between Sept. 15 and Sept. 22 over landline, cellphone and text — with 30 percent of respondents registered as Republican, 35 percent registered as Democrat and 35 percent registered as nonpartisan or with another party, percentages closely mirroring the state's party voter registration. The poll has a 4 percent margin of error.
Along with the statewide likely voters poll, The Mellman Group also conducted two additional polls with one focused on likely Republican voters and the other on non-major party voters. For the first time in state history, non-major party voters make up a plurality of registered voters, creating a new political landscape ahead of the 2022 election.
The non-major party poll had a sample size of 400 likely voters within the same timeframe and using the same methodology. Results from that poll have non-major party voters placing Sisolak even with Heller (42.3 percent to 42.1 percent) but 5 points behind Lombardo (39.6 percent to 44.7 percent). Among non-major party voters, Cortez Masto held a 3.5 percentage point lead over Laxalt (41.7 percent to 39.2 percent), with 14.1 percent of non-major party voters still undecided. That poll had a 4.9 percent margin of error.
Polling of 400 likely voters registered as Republicans saw Heller leading the race for the GOP nomination for governor, as more than 31 percent of respondents expressed support for the former senator. Lombardo followed Heller with 23.2 percent, but a larger group of respondents (27.2 percent) indicated they were still undecided about who they would be voting for in the June 2022 primary.
The statewide poll of all likely voters also found that 60.4 percent of respondents support keeping abortions legal and a similar percentage (60.1 percent) support mask guidance given by the Centers for Disease Control and Prevention — two issues Republican candidates are pushing against.
Cortez Masto leads Senate race, margin still narrow
With the 50-50 split in the U.S. Senate and Republicans expecting to see electoral gains during President Joe Biden's first midterm election, national Republicans are looking to Cortez Masto's seat (won narrowly over former Republican Rep. Joe Heck in the 2016 election) as a promising pickup opportunity.
But Laxalt starts the race behind by a slim, but not overwhelming margin — 45.5 percent of those surveyed said they would support Cortez Masto, while another 41.2 percent expressed support for Laxalt.
Both candidates saw about 28 percent of respondents express "strong" support for either candidate, and more than 10 percent of likely voters polled said they were undecided between the two candidates.
Cortez Masto, who is the only Latina to serve in the Senate, received significantly more support from women and Hispanic likely voters polled. Roughly half of all women surveyed expressed support for Cortez Masto, compared with 36 percent for Laxalt, and 61 percent of likely voters who identified themselves as being of Latino, Hispanic or Spanish descent expressed support for Cortez Masto, compared with 27 percent for Laxalt.
But Laxalt polled significantly better among white men, holding a roughly 24 point lead over Cortez Masto among those likely voters (56.2 percent to 32 percent). However, Cortez Masto carried a slight advantage with likely voters who identified as white and received a four-year college degree or higher (45.3 percent to 44 percent).
The results of the poll also saw likely voters in rural parts of Nevada swing heavily towards Laxalt (61 percent to 30 percent). In Washoe County, the results were split evenly, with each candidate receiving support from 45 percent of respondents, and in Clark County, Cortez Masto led Laxalt by more than 11 points (48.2 percent to 36.7 percent).
Support for Laxalt was also significantly higher among respondents who believe the results of the 2020 election were fraudulent. Laxalt — who chaired former President Donald Trump's 2020 campaign in Nevada and promoted unsuccessful lawsuits challenging the state's election integrity — won support from 85 percent of respondents who indicated they believed President Joe Biden won the 2020 election in Nevada because of fraud.
Cortez Masto also starts the race with higher favorability ratings compared with Laxalt.
Only 28 percent of respondents expressed a favorable view of Laxalt, compared with 31 percent who expressed an unfavorable view. More than a quarter of those surveyed said they did not know enough about the former Republican state attorney general to have an impression.
Conversely, the poll found 42 percent of likely voters had a favorable opinion of Cortez Masto, while 37 percent carried an unfavorable impression of the senator — one of only three candidates polled with a positive favorability rating. More than 17 percent of respondents said they did not know enough about her to provide an impression, and 4 percent of those surveyed said they had never heard of her.
But support for Cortez Masto lessened when it came to her job performance — 34 percent of respondents rated her performance as excellent or good, and 32 percent said she was doing a poor job. Among those who rated her performance as poor, 85 percent said they vote for Republican candidates for public office "often" or "almost always."
There's an advantage to being a legislator over being a member of the executive branch as a governor or president, Mellman said, noting that Cortez Masto's position leads to more room for expression of opinions which can appeal better to voters than a policy put in place by a government official such as Sisolak or Biden.
Other Senate candidates who have declared for the election — including Democratic-Socialist Allen Rheinhart, Republican military veteran Sam Brown and Republican pageant winner and business owner Sharelle Mendenhall — were not included in the polling because Laxalt is an overwhelming favorite in the primary at this point.
Poll shows Sisolak even with Lombardo, slightly ahead of Heller
Pitted head-to-head against the Republican gubernatorial candidates leading the GOP pack, Sisolak's lead was slim to nonexistent among likely voters polled.
Less than three percentage points separated Sisolak and Heller (45.8 percent to 43.3 percent), the former U.S. senator and secretary of state who announced his gubernatorial bid last month. Seven percent of respondents were undecided.
The difference shrank to half a point between Sisolak and Lombardo — the Clark County sheriff first elected in 2014 who announced his gubernatorial run this summer — with 44.9 percent of those polled supporting Sisolak to 44.4 percent supporting Lombardo, bringing the two candidates neck-and-neck.
Regardless of opponent, Sisolak received support from a majority of respondents (63 percent) who identified themselves as being of Latino, Hispanic or Spanish descent — slightly less than the support he received from those voters according to an exit poll from the 2018 election. Sisolak also polled better among women, receiving support from more than half of female respondents in each head-to-head question.
Sisolak also drew more support from younger voters and Clark County residents — demographic groups that tend to vote more Democratic. Among likely voters aged 18 to 39, Sisolak led both Republican candidates by nearly 15 points. Among likely voters living in Clark County, Sisolak led Heller by 10 points (49.5 percent to 39.5 percent) and Lombardo by nearly 7 points (48 percent to 41.3 percent).
In Washoe County — long considered the state's bellwether county — Heller and Lombardo each saw sizable leads over Sisolak, who won the county over Laxalt in 2018. Heller led Sisolak by roughly 8 points (49.1 percent to 40.7 percent) and Lombardo led Sisolak by 6 points (48.6 percent to 42.3 percent) among Washoe County respondents. The two Republican candidates also carried significant leads in reliably Republican rural Nevada, as respondents in the rest of the state favored Heller and Lombardo over Sisolak by roughly 16 points each.
Though many Republican gubernatorial candidates are centering their campaign message around Sisolak's handling of the pandemic and have been critical of masks and vaccine requirements, the poll found that 60.1 percent of respondents support the Centers for Disease Control and Prevention's mask guidance, compared with 36.1 percent who say they oppose it. The margins were much closer surrounding workplace vaccination requirements: 49.6 percent of respondents said they favor vaccination requirements for work compared with 44.5 percent opposed — a 5.1 point difference.
Despite the support for those policies, roughly 59 percent of respondents said they thought Sisolak has done a "poor" job or an "only fair" job at responding to the COVID-19 pandemic, compared with 38 percent of respondents who rated Sisolak's pandemic response as "good" or "excellent." Those percentages were roughly the same when likely voters were asked for their opinions on Sisolak's overall job performance as a public official.
Mellman linked the disconnect between support of mask-wearing and vaccine mandates and Sisolak's negative ratings for job performance to the continuing nature of the pandemic.
"People like the governor's policies, they like the president's policies in dealing with this pandemic," Mellman said. "They don't like the outcome that we're seeing. They don't like the fact that they still have to wear masks. They don't like the fact that we're still having huge numbers of cases and significant numbers of deaths."
Abortion, Trump, Biden and policing
Polling on political and social issues underscores Nevada's position as a swing state.
Amid a push from GOP-led states to impose increasingly strict limitations on abortions, the poll found a solid majority of Nevada respondents (60.4 percent) still favor the 1973 Supreme Court ruling in Roe v. Wade that made abortion legal in the U.S., compared with 25.7 percent of respondents who believe the ruling should be overturned.
In 1990, more than 60 percent of Nevada voters supported a ballot measure codifying the Roe v. Wade decision into state law. During a question and answer period with reporters following his campaign announcement, Heller said, "I like what Texas did," referring to a recently implemented law in Texas that prohibits abortion after six weeks of gestation. But Nevada's law could only be changed through another statewide vote.
The poll also found that a majority of respondents (60.3 percent) still favor making sure "police have the tools and support they need to deter crime and catch criminals." Conversely, 35 percent of respondents favored fundamental reforms of policing and the criminal justice system.
Top Republican candidates including Lombardo and Heller have stood in opposition to calls to defund police departments — primarily voiced by progressive Democrats — as central tenets of their campaigns.
Neither of the 2020 presidential candidates saw high favorability ratings in the poll. Biden received near-even results (48.1 percent favorable to 48.9 percent unfavorable), while Trump received a higher percentage of unfavorable reviews (52.3 percent unfavorable to 43.9 percent favorable) than any other individual polled.
A majority of respondents also expressed displeasure with how the country has changed in the past 70 years — nearly 52 percent of those surveyed said the American culture and way of life has mostly changed for the worse since the 1950s, and more than 61 percent of respondents said things in the country are generally moving in the wrong direction. That view was most commonly expressed by men aged 40 to 59 and respondents living outside of Clark County and Washoe County.
Though not on the ballot until 2024, U.S. Sen. Jacky Rosen was one of few elected or political leaders surveyed who was rated more favorably (33.5 percent) than unfavorably (30.9 percent). But impressions of Rosen soured when it came to her performance as a senator — roughly 43 percent of respondents said she was doing a "poor" or "only fair" job as a public official, and only 28 percent rated her performance as "good" or "excellent."
STATEWIDE POLL RESULTS
STATEWIDE POLL CROSSTABS
MELLMAN GROUP POLL FINDINGS