Dean Heller launches bid for governor, attempts political comeback three years after Senate loss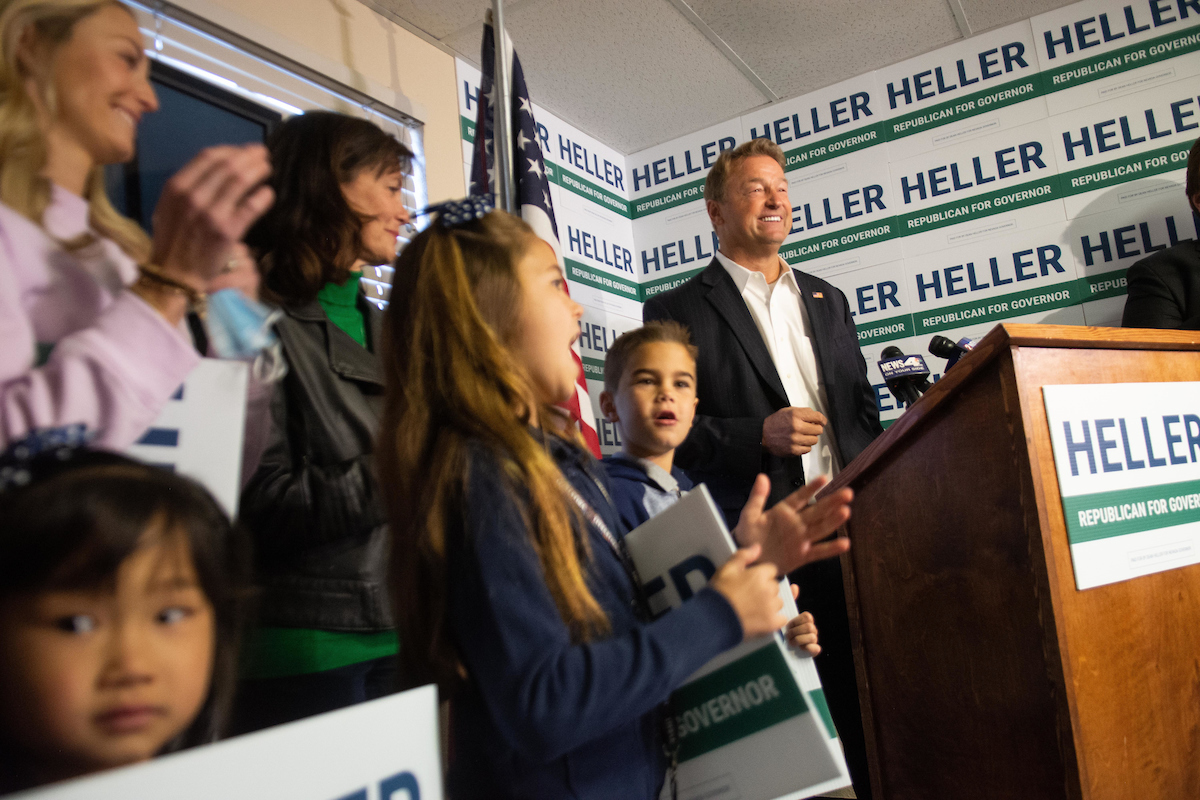 Republican former Sen. Dean Heller officially launched a bid for governor on Monday, attempting to re-enter the political sphere he inhabited for decades before he was defeated in a 2018 re-election bid that found him struggling to navigate a fraught relationship with then-President Donald Trump.
At a launch event in a cramped and low-slung building in the town he grew up in, Carson City, he staked out firmly conservative positions on abortion and suggested a top Clark County election official should have been removed for his decisions in the 2020 election. Heller said he was OK with being done with politics after his loss three years ago but was inspired to return to the fray.
"Something happened, something changed. It was called 2020. 2020 happened, bad politicians started making bad decisions," he said. "And I said to my family, 'Enough is enough. We have to do something about this.' So we're here today because I believe it's time to fire Steve Sisolak."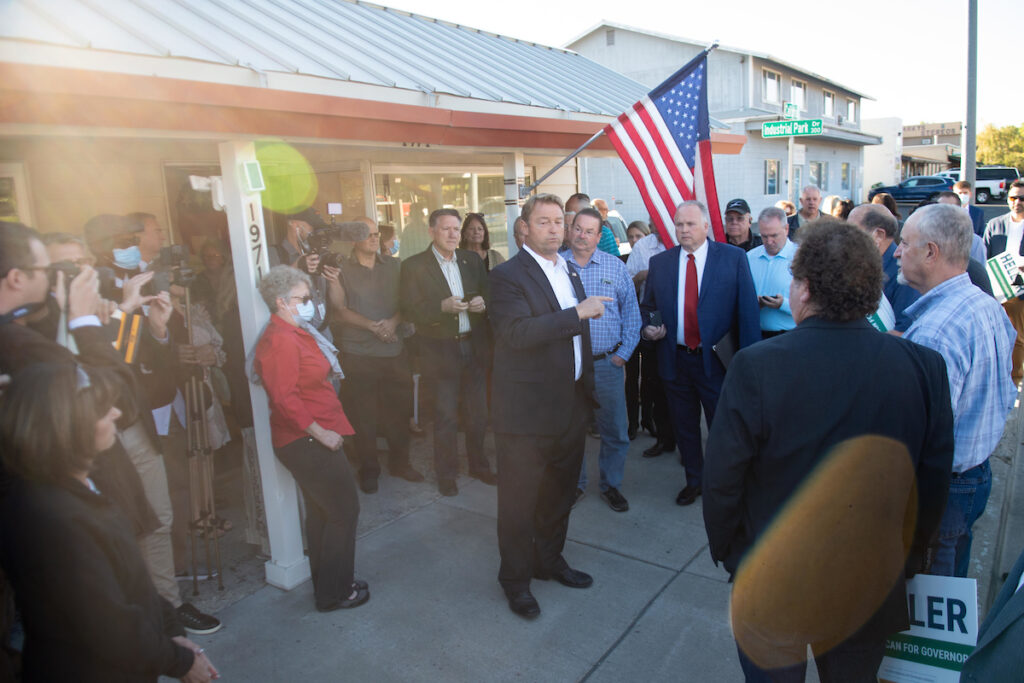 His debut raises the stakes in a race considered a referendum on Democratic Gov. Steve Sisolak's handling of the pandemic. Heller has already centered the lightning rod issue of COVID mitigation measures in his campaign, releasing a video over the weekend denouncing business shutdowns and rules that had his grandchildren playing soccer in masks.
In his announcement speech, he blamed Sisolak for putting Nevada "at the top of every bad list in America," including for unemployment rates, crime rates, graduation rates and suicide rates, adding that "under this governor, families are being crushed."
While not directly saying the 2020 election was invalid (he said "I know who the president of the United States is, we're not arguing that. What I am arguing is the process and how we got there), Heller criticized recent voting legislation and said "we made it easier to cheat in future elections." He vowed that if he's elected governor, "you're not going to wonder if elections are fair" and that his first order of business would be enacting voter ID by executive order.
"After the 2020 election, most Republicans believe President Trump had won that election. This is chaos and this chaos continues over and over," Heller said.
He noted that as secretary of state, he removed a registrar who he thought was doing a poor job, and suggested he would have done the same with Clark County Registrar of Voters Joe Gloria, accusing Gloria of saying "I am going to manipulate our machines" to accept a high number of signatures on ballots as valid.
"I would have been tempted to do that, yes. I would have petitioned the county commissioners to remove this guy," Heller said.
He said he wouldn't mandate the vaccine against COVID, but noted that he was vaccinated himself, and said "I will emphasize and I will impress upon my fellow Nevadans that I think it's very important."
Asked if he would support a law like Texas' that allows private citizens to sue people who facilitate an abortion after six weeks of gestation, Heller said "I like what Texas did." Polls consistently show Nevadans support abortion rights by significant margins, and voters in 1990 reaffirmed the legality of abortion up to 24 weeks of gestation.
"As governor, I'll get the most conservative abortion laws that we can have in this state, regardless with who's controlling the Legislature at the time," he said.
Heller's position on abortion has evolved over the years. In 2006, he told the Las Vegas Review-Journal that "I do back a woman's right to choose abortion. It is the conservative position."
At an event in Las Vegas later on Monday, Heller sought to clarify his comments about the Texas legislation, adding that he would want a ban on abortions past six weeks to include exceptions for rape or incest.
"I probably should clarify — I don't really know everything that was in that law," he said. "I like the concept of it, but I know that they're going to have some problems, some issues, and frankly, it's going to be challenged, so let's see where it goes from there."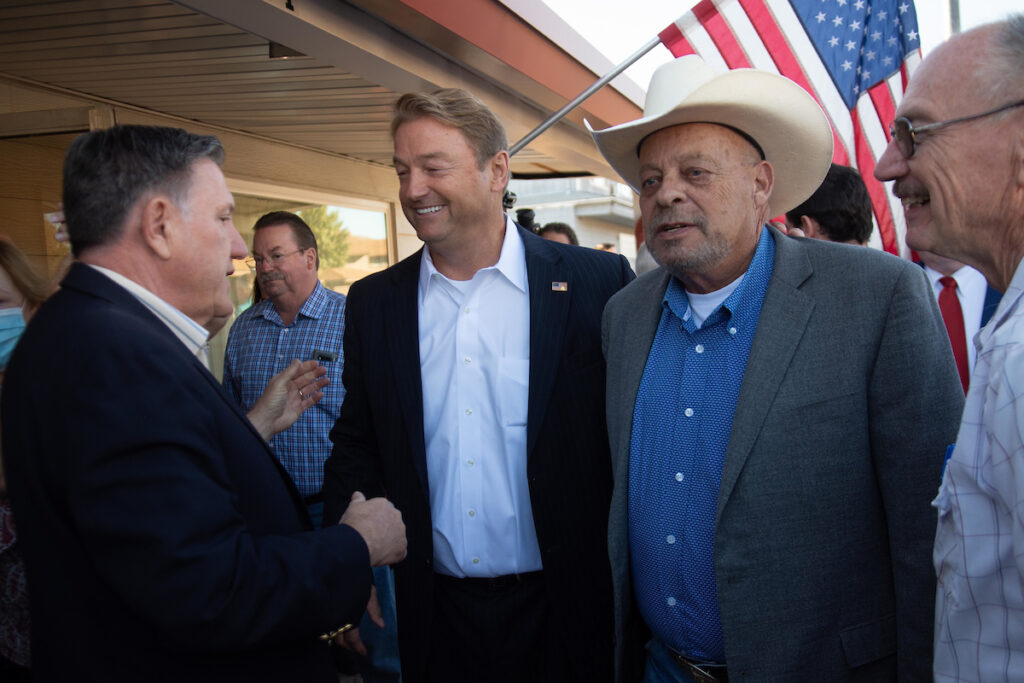 Heller's campaign materials cultivate an image of rural masculinity, with the video showing him racing in a stock car, touting his welding skills and hoisting bales of hay on his farm. A narrator describes him as "kind" and with "a smile that never quits," but also "tough as nails," and ends with the words, "That's a governor."
But to have that title, he'll first have to triumph in a crowded primary, and without the campaign consultant team that has guided his previous campaigns — that firm, November Inc., was enlisted by Clark County Sheriff Joe Lombardo, who is also trying to chart a more mainstream Republican course through the race. Heller's video subtly took aim at Lombardo's complicated position on guns, featuring the former senator target shooting.
Heller's campaign launch video also suggested that "defunding the police" was happening "right now in Nevada." Asked about what that was referring to, Heller said, "I'm gonna have more information on that in the next couple of days. So I'd rather wait on that answer."
Lombardo is focusing his campaign around promises to veto any new taxes, including an income tax. While an income tax has not been a discussion point in the Democrat-controlled Legislature, Lombardo said that he incorporated the argument into his campaign because "the governor could advise the public to vote for it."
Similar to Heller, Lombardo is pushing for election integrity measures, which he said is important even though election officials have said there is no evidence of widespread voter fraud.
"There's a perception, and if there's a perception there's maybe some truth to it," Lombardo told The Nevada Independent on Saturday during an event celebrating a new campaign office in Las Vegas. "Why not fix it going forward? Why not remove the rumors and the perception and even the ability to commit fraud into the future, if you have the ability to do that."
Better Nevada PAC, a pro-Lombardo entity, has already started targeting Heller over abortion, including by disseminating a video clip of a 2017 town hall when Heller said "I will protect Planned Parenthood."
Others in the contest include Joey Gilbert, a firebrand lawyer and former boxer whose face and fists greet motorists from billboards along Reno freeways and in the airport. He was in Washington D.C. the day of the Jan. 6 riots at the Capitol, has challenged the validity of the election and has been trying to persuade rural county commissions to retain him to sue the governor over the ongoing state of emergency.
Heller, for his part, told reporters about the incidents of Jan. 6 that he did not have a problem with people protesting, "but they crossed the line when they broke into that Capitol and did what they did … don't put me in that category of being in favor of what occurred on that day."
Heller, 61, began his political career in 1990 as a state assemblyman, then served three terms as secretary of state and two terms in Congress before he was appointed to the U.S. Senate in 2011 after then-Sen. John Ensign resigned.
He notched moderate bona fides in an increasingly purple Nevada in 2013, when he supported an immigration reform bill and voted in 2015 not to pursue a bill to unravel the DACA program, which gives legal status to people brought to the country illegally as children.
But he stumbled when navigating the era of Donald Trump, and didn't acknowledge voting for him until nine months after the 2016 election. Two years later, he appeared alongside Trump at a campaign event in Elko and told the president "I think everything you touch turns to gold."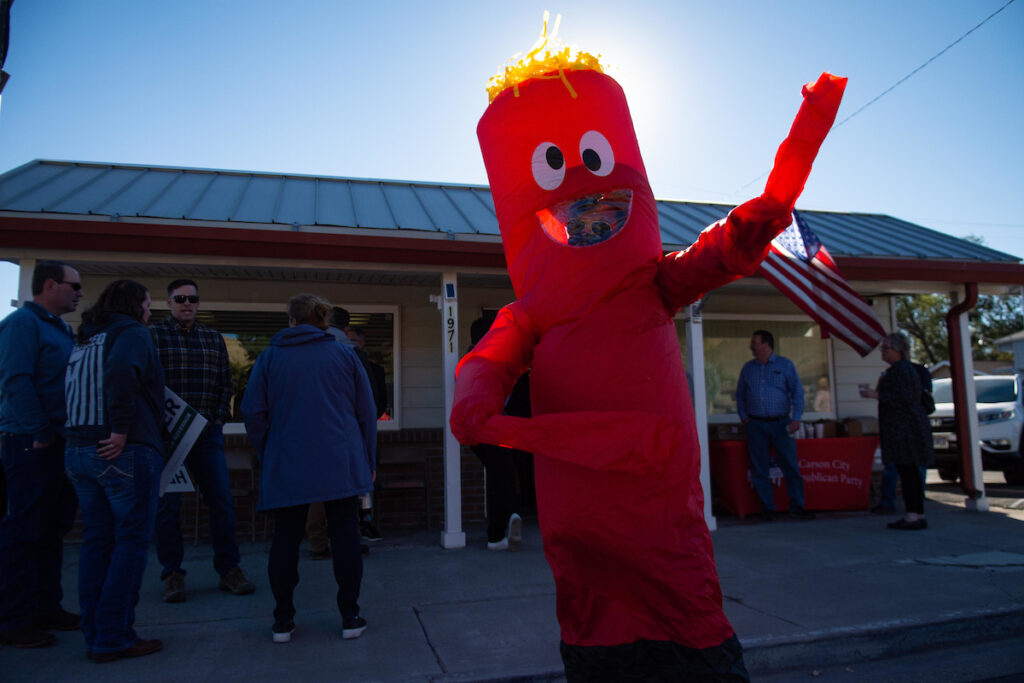 Acknowledging that it was fair to say he had a tenuous relationship with Trump at times, Heller said in Las Vegas on Monday that "I would love to have President Trump's endorsement" in the governor's race.
As a senator, he also struggled to navigate the issue of health care, voting to support a "skinny repeal" of the Affordable Care Act but also holding a press conference with then-Gov. Brian Sandoval in 2017 saying he could not support a bill that would take insurance away from tens of millions of Americans.
Following a 2018 campaign in which he was mocked for his fluid policy positions, he lost to Democratic political newcomer Jacky Rosen by a five percentage point margin.
Michael Fletcher, a small business owner and family friend of Heller's, said he's worried Sisolak's connections to unions will lead to increased taxes that will raise prices on consumers and hurt small businesses.
"Sisolak's not somebody I trust," Fletcher said. "I think he's too bought in by the unions. He's at their will and I think that's not good for Nevada."
Josh Groth, a pilot who flies cargo internationally, came to the campaign kickoff with some friends. Heller's announcement and stance on voter identification laws struck Groth.
"I think those are powerful things to be able to protect ... the right to maintain a democratically representative government, and be able to vote with integrity and ensure that we don't even leave any leeway for people to have skepticism about the integrity of that election system," Groth said.
Groth said he is also worried about his two children's education. During the pandemic, he watched as his children who are in elementary school sat in front of a computer screen for six hours a day — a learning method that he described as "not viable."
"I think [Heller] will try and get to the point where he allows people to make individual choices and decisions for themselves, for their communities, for their families, and for the state," Groth said. "I hope that we'll be able to get some policies that are enacted that enable us to be able to live the life that Nevada has always represented."
Tim Lenard contributed to this report.
The Nevada Independent is raising $200,000 by Dec. 31 to support coverage of the 2024 election.
Tax-deductible donations from readers like you fund this critical work.
If you give today,your donation will be matched dollar-for-dollar.
Give + Get Matched
Featured Videos