Dean Heller goes to Washington, but would he rather be home?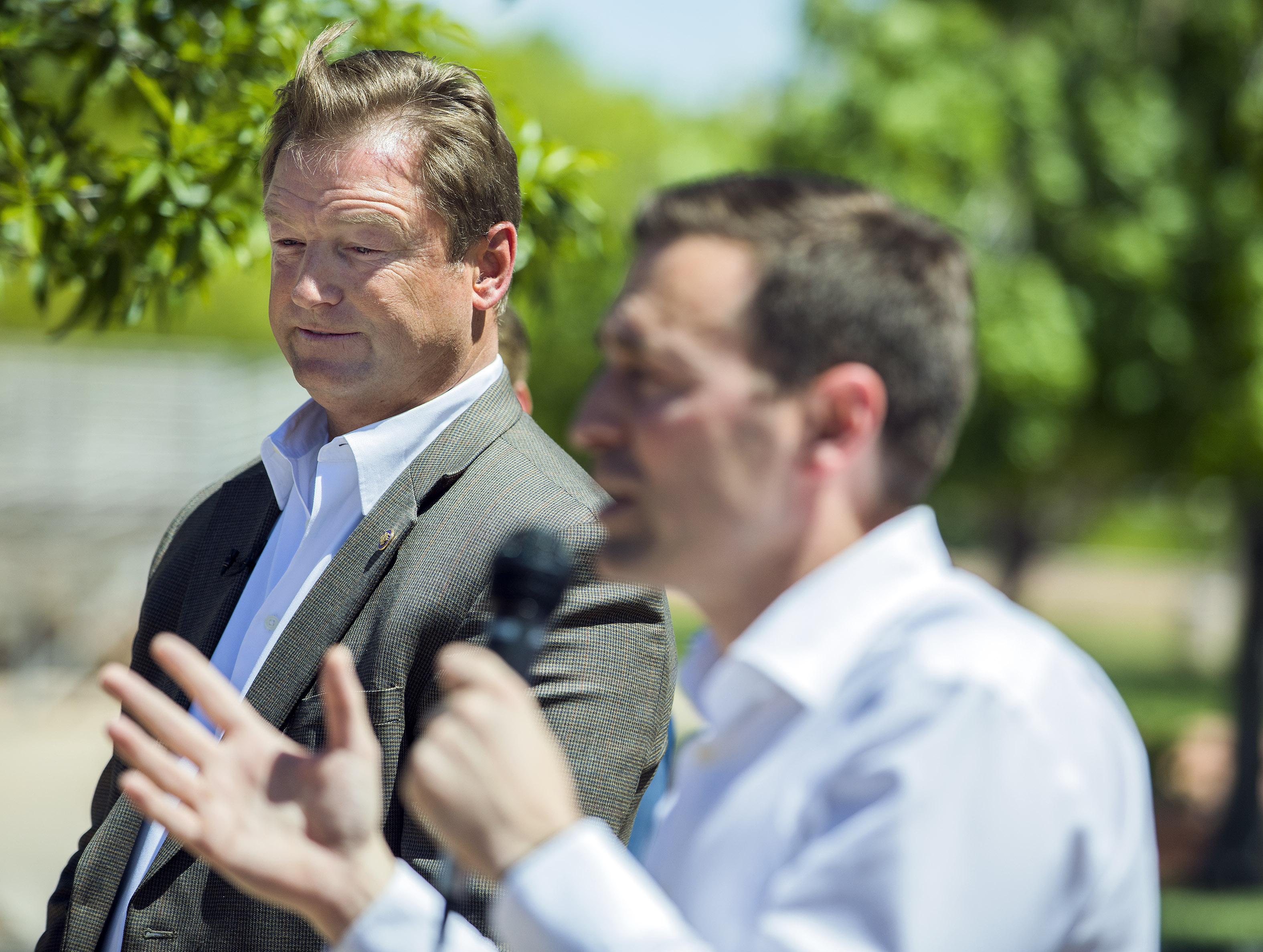 Being Governor Mike O'Callaghan's paper boy was a serious responsibility.
O'Callaghan, who would later become a newspaper man himself, liked the paper delivered punctually. One Sunday morning, when his copy of the Nevada Appeal didn't arrive, he called the circulation desk three times and then the city editor, asking what more he could do to get his paper delivered.
The day after Christmas 1972, O'Callaghan and fellow Reno Evening Gazette subscribers were delivered a paper with a bold, front-page headline: "TRUMAN DEAD." The back page was more understated, a simple line drawing of stockings hung on a fireplace with care and a cat curled up on a rug, the words "HOLIDAY GREETINGS From Your Neighborhood Gazette Carrier" across the top and a list of 267 names below.
The 37th name in the fifth column was O'Callaghan's neighborhood Gazette carrier, a 12-year-old boy with a mop of bright blonde hair whose dad ran the transmission shop across from the legislative building.
His name was Dean Heller.
Heller grew up in the shadow of the Governor's Mansion and the Legislature. He played on the high school football and basketball teams, the Carson Senators. His dad made an unsuccessful bid for the state Senate. Politics was everywhere — is everywhere — in small town Carson City, then home to only 15,000 people. It was only natural, those close to Heller say, for a Carson City boy to have big dreams, dreams that maybe one day he, too, could live in the mansion on Mountain Street.
As a young man, Heller slowly climbed his way up — first as chief deputy in the state treasurer's office and then representing his hometown in the Assembly. Next up: secretary of state. Finally, he made the jump to federal office as a congressman before being appointed to the U.S. Senate, where he has served for the last seven years. As one of his close friends and advisers points out, the U.S. Senate isn't exactly a consolation prize, but still Heller has itched for the Governor's Mansion. He first wanted to run for the state's top office in 1998; he contemplated a bid this cycle, too; yet here he is, running for re-election.
And wouldn't most Nevadans rather be in Carson than Washington, all things equal? There is always chatter among the politicians and lobbyists and staff here that Carson isn't what it used to be. It's become too Washington, they intone, palpable superiority in their voice. But for all its foibles — most recently, partisan bickering over taxes, school choice and whether state senators ought to be launching campaigns to recall other state senators — Carson City is decidedly not Washington. All but a small fraction of bills pass with broad bipartisan support. Republicans and Democrats are not only friendly with one another for collegiality's sake, but they're genuinely friends. It's the kind of thing you used to hear about Washington, particularly the Senate, that increasingly seems relegated to the past.
But Heller does actually want to be in Washington, those close to the Republican senator say. Just because you would rather be in Carson City, with its cozy snow-lined streets in winter and pleasant, verdant summers just a half hour's drive from Lake Tahoe, doesn't mean Heller does. He actually likes his job, they say. Maybe not all the travel between the nation's capital and his 180-acre ranch in Smith Valley, where he rides horses, grows alfalfa and works on his race cars, but he's proud of the job he's doing in Washington.
Heller's closest friends and colleagues describe him as a "good ol' boy" — easygoing, friendly, down to earth, well-liked, always happy, always smiling, always laughing — who loves Nevada. It's the side of Heller seen at home, bundled up in a camouflage snow coat and matching camouflage beanie while sled bowling with his family at the Fire and Ice Festival in Ely, or suited up in a light-colored vest, long brown coat, brown cowboy hat and a burnt orange kerchief around his neck grinning and waving atop a horse during a Nevada Day parade. He likes traveling around the state, particularly the rurals, those who know him say. Where his colleagues got tired of all the visits and glad-handing, Heller was always game to go to Battle Mountain for another spaghetti dinner.
"You know, things move a little bit slower" in rural Nevada, Heller says in one 39-second campaign video. "Things are far apart, but the agriculture, the miners, the farmers, the ranchers are a unique lot of people that I really enjoy spending my time with. They're very friendly, very happy to see you, and they in fact appreciate that you're spending time in their town."
It's also the side of Heller seen during a tour of Nellis Air Force Base with Vice President Mike Pence in September. A beaming Heller stepped off Air Force Two with the vice president. He was composed, knowledgeable, and proud telling the airmen about the legislation he had introduced and passed in Washington to help Nevada's servicemembers and veterans. Heller is passionate about veterans, like his father.
But it's not the side of Heller the public often sees writ large. Neither does the media. He's known among journalists for dodging out of back doors and hallways to avoid questions in Washington, and he only sparingly grants interviews to the local press. Asked six times for an interview and to spend time with Heller on the campaign trail for this story, Heller's spokesman asked once about the deadline and then stopped responding to emails. His campaign also did not respond to more than a hundred questions sent for the profile. Instead, The Nevada Independent talked to more than a dozen of Heller's friends, colleagues, confidants and others who have known him over the years and reviewed hundreds of newspaper articles from the Reno Gazette-Journal, Las Vegas Sun, the Associated Press and others to better understand the Republican senator, past and present.
The side of Heller the media — and, by extension, the public — often sees is the one who chuckled nervously at a White House lunch where President Donald Trump issued him a not-so-thinly-veiled threat to get in line on repealing and replacing the Affordable Care Act or who delivered a speech before a crowd of thousands peppered with red "Make America Great Again" hats thanking a man he had said he was 99 percent against just two years ago. (Heller says he ended up voting for the president in 2016.)
Again and again, the 58-year-old Heller has found himself caught between these two worlds — the small-town political climate in Nevada and the hyper-partisan politics of Washington, which have increasingly spilled over to the Silver State. It's hard to be the well-liked good ol' boy from Carson City who just wants to get along with everyone when he's thrust into the spotlight of every major partisan debate in Washington, whether an appointment to the Supreme Court or immigration or the future of health care in America. It's hard to be the well-liked good ol' boy from Carson City who wants to do the right thing for the state he loves so much, but needs the support of Senate Republican leadership and the president to win re-election. In his quest to make everyone happy, he's often left no one happy.
And now Heller's career in the U.S. Senate could be derailed by a political newcomer, Congresswoman Jacky Rosen, someone who didn't grow up dreaming of one day being in politics. In fact, she didn't dream of politics at all until she was approached to run for office for the first time three years ago.
This is certainly not a future Heller could have imagined for himself at 12, as Gov. O'Callaghan's paper boy.
---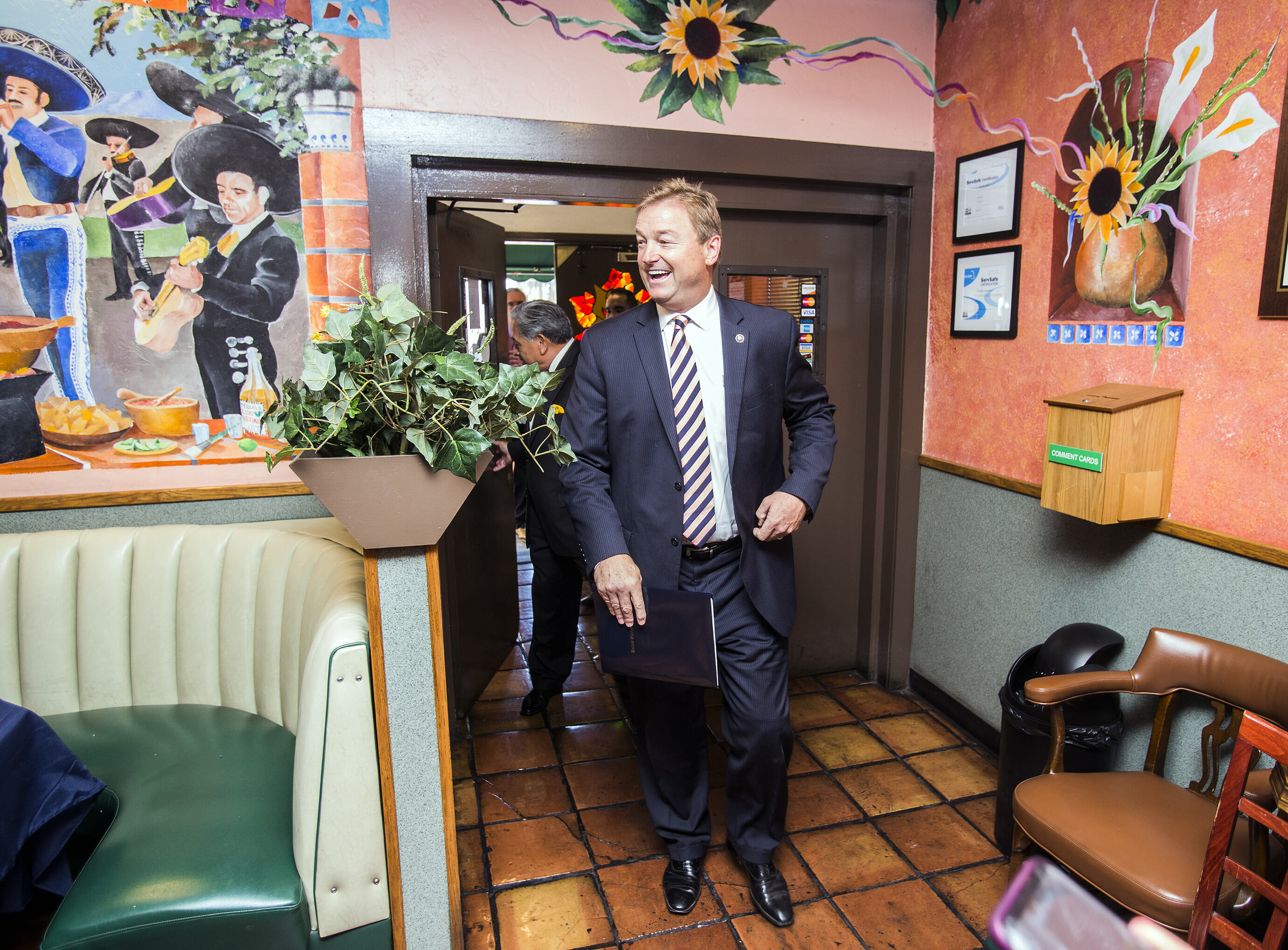 ---
Back in the day, Heller was known around Nevada as a bit of a maverick, before the word became synonymous with the late U.S. Sen. John McCain, an Arizona Republican. But, like McCain, Heller earned that reputation early in his political career for challenging his party — sometimes head on — when he thought it was the right thing to do. "There are some who wish he'd be more of a team player. But he's a maverick. He does his own thing," a former GOP aide told the Gazette-Journal during Heller's second term in the Assembly in 1994.
Four years earlier, Heller had made his first bid for political office as a 30-year-old Republican pro-choice Mormon. It wasn't, perhaps, the most expected position for a member of the Church of Jesus Christ of Latter-day Saints to take, though it was the same year that Nevadans overwhelmingly voted to uphold a statute allowing abortion. (That the ballot measure could have influenced the outcome of his election likely did not factor into Heller's abortion position because he was so politically inexperienced at the time, one longtime Nevada political operative says.)
Taking a pro-choice stance on abortion was the first of many times Heller frustrated his fellow Assembly Republicans for failing to toe the party line. He supported collective bargaining for state workers, including roughly 4,000 of whom lived in his Assembly district. He was sympathetic toward the needs of mobile-home renters, a group that included many seniors, and voted in favor of rent control in 1993 after voting against it two years earlier. ("It's a very, very difficult issue for me," Heller explained to the Gazette-Journal at the time. "I've finally sat down and thought, someone needs to represent these seniors.") He even sent Carson City leaders into a panic when he sponsored an amendment to return sales tax revenues to taxpayers instead of the local governments.
"He was very independent, very independent," Pete Ernaut, a longtime friend and adviser who was fraternity brothers with Heller at USC and served alongside him in the Assembly, recalls. "... He was always very gregarious and upfront with people. Trustworthy."
It was a perception of Heller that further solidified during the dozen years he served as secretary of state. His office in the Capitol — the first door to the right — always was open with just a velvet rope in front of it so people didn't accidentally wander in. (It reportedly only closed once for a few weeks in the wake of the Sept. 11, 2001, terrorist attacks.) During his first term, Heller cut a bipartisan basketball-themed get-out-the-vote public service announcement with Democratic Gov. Bob Miller, also known for his love of the sport. He also championed a campaign finance reform bill during the 1997 legislative session even as his own party appeared to be taking steps to undermine its passage. Gov. Brian Sandoval, who served in the Assembly in 1995 and 1997, says he had an "appreciation" for Heller in those years for being "willing to do his job regardless of any criticism" from his own party. "A lot of those issues weren't popular with the Republican party at the time," Sandoval adds. Ernaut, who also served in the Assembly that session, says the Heller-backed legislation "moved us out of the Jurassic period of openness and transparency in Nevada to some level of transparency beyond."
Heller also famously clashed with John Ensign over the Republican congressman's calls for a recount after narrowly losing the 1998 U.S. Senate race to Democrat Harry Reid. Heller criticized a lawsuit by Ensign asking for an immediate full hand count of all ballots in Washoe County as an attempt to skirt the step-by-step process for recounts in place under the law and noted that affidavits from six county clerks in support of the case were all from Republicans. "They obviously decided that partisan politics is more important than election laws," Heller told the Gazette-Journal at the time. Heller got his way, and the process was followed, eventually triggering the full hand count Ensign had wanted. Reid still won by 428 votes.
All of this — with perhaps the exception of the Ensign conflict — earned Heller the reputation of being not just a maverick but a coalition builder. Heller was thought of at the time as a moderate Republican from Northern Nevada who could be a stabilizing influence on the state, bridging both party and geographic divides. He was also generally thought of as an affable guy, the kind of guy you'd want to grab a beer with, if only he drank beer.
His friends and colleagues are reluctant to admit there's any fundamental difference between this Heller and the one who is in the U.S. Senate today. But they do acknowledge the daylight between being a politician in Nevada and being a politician in Washington. Congressman Mark Amodei made the same transition while following in Heller's political footsteps over the years, first representing Heller's Assembly seat in Carson City and then taking over his House seat: "The more attention you get in Washington, the more you have to have your water wings on 100 percent of the time instead of 75 percent of the time."
---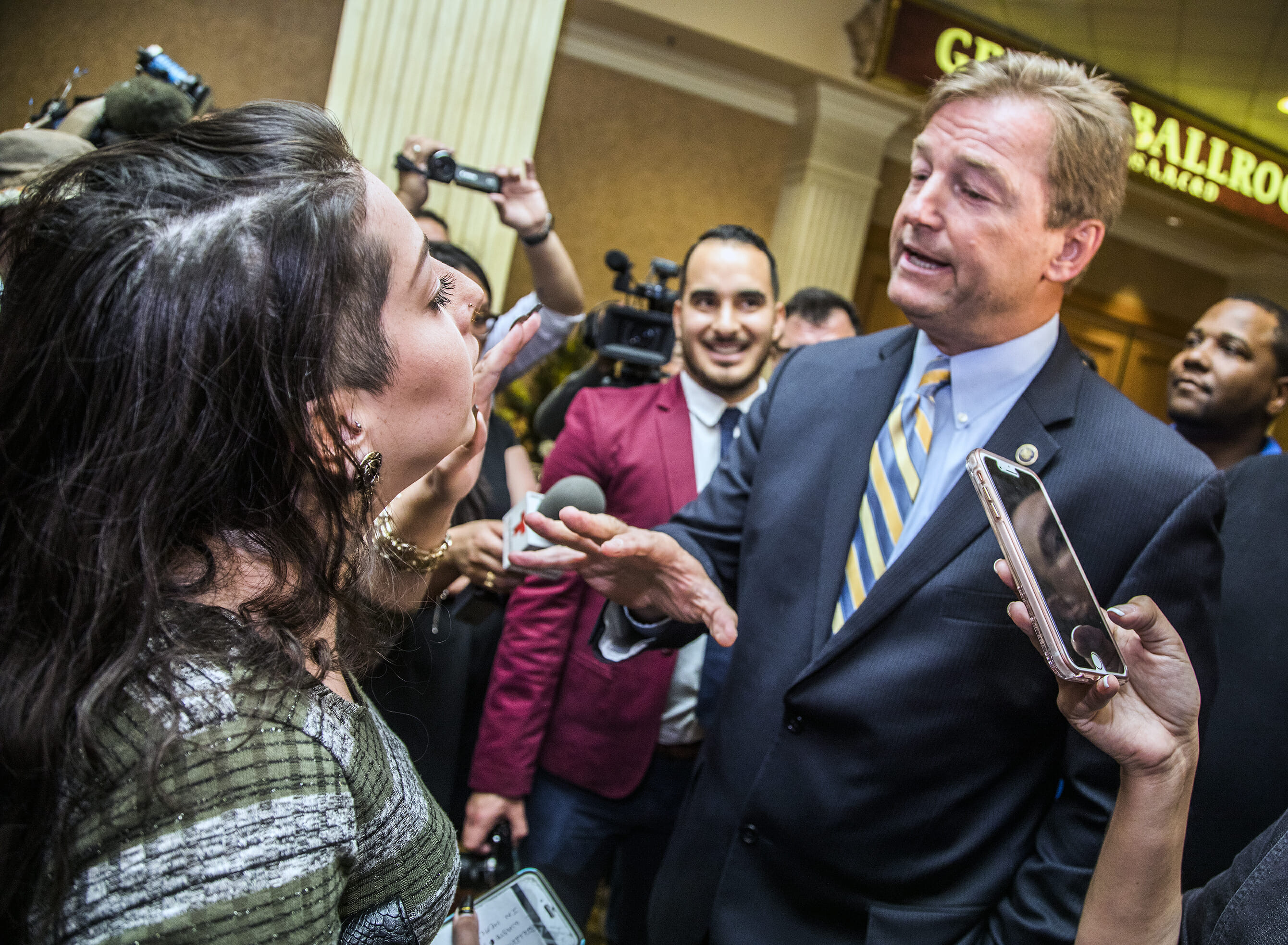 ---
The good ol' boy from Carson City was actually not born in Carson City at all, but 200 miles southwest in the East Bay suburb of Castro Valley, Calif. Heller's family moved to Nevada's capital city when he was nine months old.
One of six kids, Heller grew up watching his father, Charles Alfred Heller, race. The elder Heller, better known as Jack from his nickname "Blackjack," was a champion Carson City stock-car racer. His mother, Janet, was a school cook. It was a special occasion for the three Heller boys to see their father race because their mother would only take one of them out at a time to the racetrack. Heller also worked in his dad's transmission shop at 406 S. Carson Street. He often jokes that he's probably one of the only U.S. senators who can change your oil and fix your transmission.
Though athletic, Heller didn't follow in his father's footsteps in racing until he was an adult, picking up the hobby while serving in the Assembly and eventually becoming a regular fixture at the Silver State Speedway as secretary of state. "I've played about every sport in the book. You name it, I've done it," Heller told the Gazette-Journal in 2000. "But there is nothing, nothing that compares with getting behind one of these things and going around the track."
Among those "you name it, I've done it" sports, Heller was a left defensive end on the football team and a center on the basketball team in high school. If there's one trait that his friends say has carried over from his high school sports days, it's his competitive nature. It's something that Amodei, who was three years ahead of Heller at Carson High School and also played on the basketball team, knows well and delights in ribbing him about. "The biggest weakness that Dean Heller has is that his high school varsity basketball team never won a state championship," Amodei says, pausing with characteristic mock seriousness. "And please quote me on that because mine did."
Heller, after serving a Mormon mission in Florida, transferred from Brigham Young University to the University of Southern California, graduating from its Marshall School of Business in 1985. At USC, he was a member of the Sigma Nu fraternity and met his wife, Lynne, a song girl, while working as a tour guide. (The two have four children together: Hilary, Harris, Drew, and Emmy. Her family's investments have helped make Heller a multimillionaire.) After college, Heller worked as a stockbroker and trader on the Pacific Stock Exchange until he scouted out an opportunity to come home to Carson City and break into politics.
Ken Santor, the state treasurer at the time, recalls the story this way: One day, a 20-something Heller wandered into his office to say hello and introduce himself while home visiting his parents. "My first impression was, 'Hey, here's a kid that was born and raised in Nevada. He's smart. He's well dressed. I said, 'I got to get him out of California!'" Santor says. "I said, 'Well, you know, what would you say if I had a space for you? Would you move back to Carson City?' He said, 'Oh yeah, I sure would,' and I said, 'Well, let me think about it.'" About a week later — when Santor was having trouble with his chief deputy — he rang Heller and offered him the job. Heller said yes, he'd be there by Monday morning.
Santor's four years in office were plagued with controversy. The former Republican treasurer developed a hostile relationship with the Legislature after lawmakers accused him of violating state law by engaging in high-risk, short-term investment practices with state money and Democrats threatened to impeach him for incompetence. Santor acknowledges this rocky relationship with the Legislature but argues that lawmakers were upset with him for making too much money on investments, thus preventing them from raising taxes. "I've been in business all my life," Santor says. "I've been in and out of trouble with people like the Legislature." But he recalls Heller as a "very loyal" employee who always beat him to the office. "He loved the state," Santor adds. "He loved the state of Nevada and he loved working for the state and he wanted to continue to work for the state, and he's been doing it."
There are different viewpoints on how Heller actually came to leave the treasurer's office and run for the Assembly. One longtime friend recalls Heller mentioning the idea of running for office while driving back from Lake Tahoe from a Republican event. Another recalls then-state Sen. Charlie Joerg playing a role in getting Heller's first campaign off the ground. Santor, too, takes some credit for putting the idea in his head. He says the two were talking one day when he suggested Heller run for the Assembly. "You live right here in Carson, your family's name is well known," Santor recalls telling Heller. But he says he gave Heller one word of advice: "Dean, if you become an assemblyman for your district, remember to vote with your heart. "
---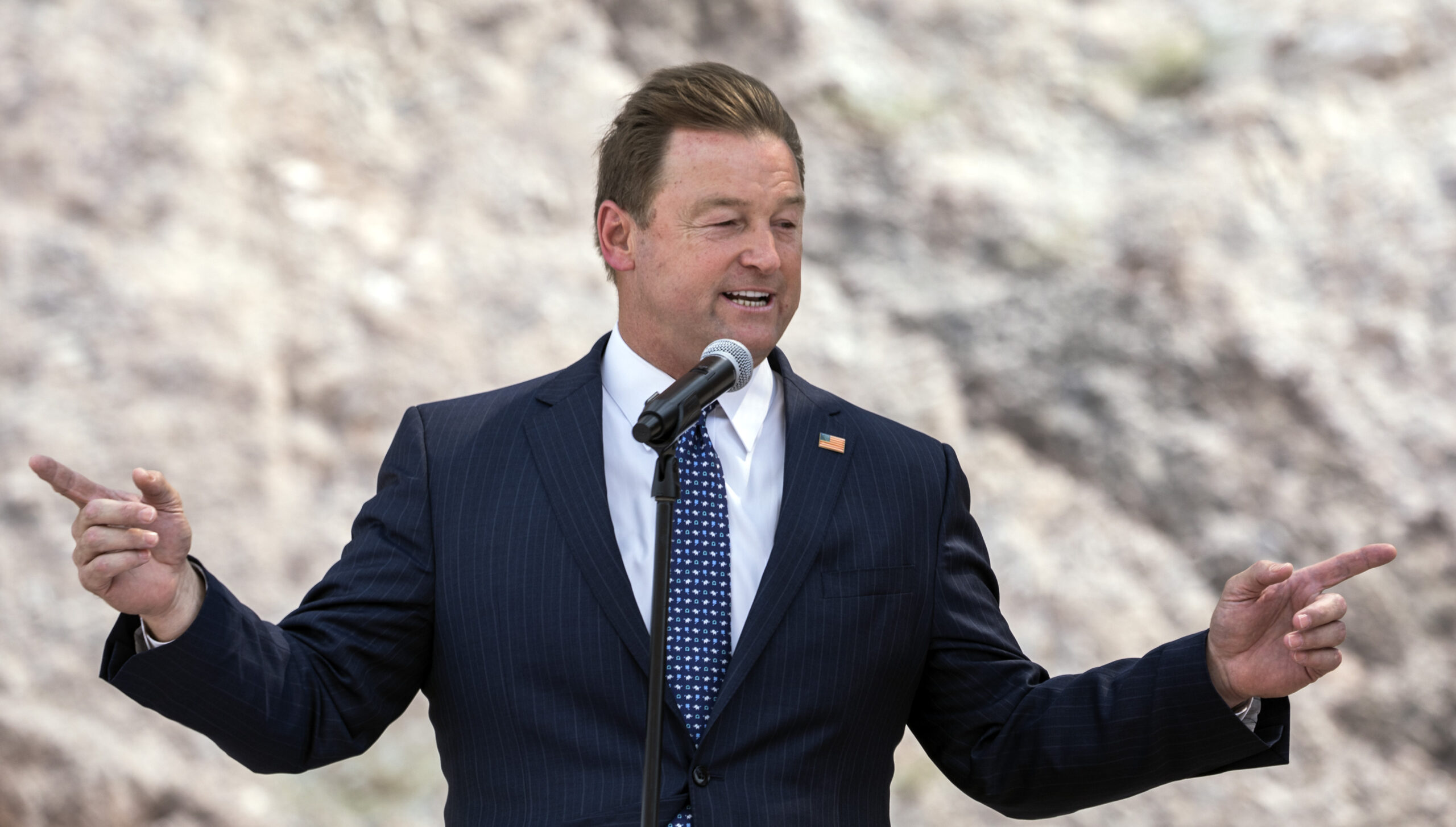 ---
Heller tends to win elections by either wide margins or the skin of his teeth.
It started with the 1990 Republican primary against Carson City Supervisor Kay Bennett that, by all accounts, he probably should have lost. Bennett, then 54, was well-known and respected in the community as a nurse and director of surgery at Carson-Tahoe Hospital. Her husband, Hale Bennett, was the longtime chairman of the hospital's board of trustees and a World War II hero who flew the final bombing runs over Utah Beach in a B-26 Marauder on D-Day. Heller's claim to fame was being the son of Jack Heller from the transmission shop.
But Heller blanketed the community with yard signs. He sent handwritten notes to everyone whose doors he had knocked on thanking them for their time and for voicing their opinion on this or that, whatever this or that had been. Governor Charles Russell's widow, Marjorie, who was from an old, established Republican family and had an impeccable reputation in town, penned a letter putting her reputation behind the whippersnapper.
Don Carlson, a Western Nevada Community College professor and Carson City political legend, took Heller under his wing. "If you run for office, that was the guy you wanted to talk to," Ernaut says. "And Don was just really good at it. This is back in the days when everything was a lot more personal, and obviously Assembly races, you didn't do TV or anything like that. You just, you walked." (Carlson, reached by email, said he has fond memories about the challenging times in both launching as well as advancing Heller's political career.)
The yard signs, the handwritten notes, Marjorie's letter — whatever it ultimately was — worked. It should've been at least a close primary, but Heller beat Bennett by a 35-point margin and went on to defeat his Democratic opponent by 15 points. Reflecting back on the loss, Bennett harbors no hard feelings. "He was a new, young man, a young face in the Republican Party at the time and up and coming. Very competent and qualified," she says. "They chose him quite wisely." The two became friends, and Bennett says Heller was "enormously helpful" in getting the Silver Springs Airport, which she runs, off the ground. "I believe that Dean is deeply deeply committed to this state, and he has a very, very solid set of core moral values that support him," the self-described moderate Republican adds.
Heller won all three of his elections for secretary of state easily. In 1994, he cleared the Republican field of serious challengers early by announcing that if then-Secretary of State Cheryl Lau threw her hat in for governor as expected, he would run for her seat. She did, and he won the primary and general election by 23 and 24 points, respectively. Four years later, Secretary of State Heller secured nearly 66 percent of the vote, with "none of these candidates" coming in second place; four years after that, he defeated the Democrat by 35 points. And there was no real reason for voters to kick Heller out of office when he was, by all accounts, doing a good job. In addition to tackling campaign finance reform, Heller modernized the secretary of state's office, including publishing election results and campaign finance disclosure forms online and leading Nevada to become the first state to maintain a paper record backup for its electronic voting machines.
And the public had a positive perception of him. Amodei recalls Heller campaigning for secretary of state all across Nevada in his yellow Willys Jeep. "That was his campaign chariot, if you will," Amodei says. "... That went over pretty well as far as presenting the image of a regular guy."
Heller's first bid for Congress, however, was not so smooth and folksy. In fact, the race for the Northern Nevada congressional seat was brutal, the first truly tough contest he had faced since he first ran for office 16 years earlier. It was a close election with a three-way Republican primary against then-Assemblywoman Sharron Angle and former Assemblywoman Dawn Gibbons, wife of the district's outgoing congressman, Jim Gibbons.
The wind in Heller's sail was his popularity as secretary of state and his decision to position himself as a middle ground between Gibbons, whom he described as a "taxer," and Angle, a "spender." But, like many Republican primaries, it shaped up into a fight of who was most conservative, something Heller had never previously had to face. The Republican secretary of state campaigned, among other things, against "pork spending," for eliminating earmarks, and against constructing a nuclear waste repository at Yucca Mountain. Angle, a strict conservative and anti-taxer, promised to eliminate the Estate Tax, repeal the Alternative Minimum Tax and repeal or permanently cap the capital gains tax, her campaign bolstered financially by the conservative Club for Growth. The moderate Gibbons was forced to go on the defensive in the campaign over her 2003 vote in favor of what was at the time the largest tax increase in the state's history.
Heller eked out a narrow victory in the primary, besting Angle by 421 votes, less than 1 percent of total votes cast in the election. He credited his victory to his campaign's decision to have him personally call each absentee voter and ask for his or her vote. It was Heller's first taste of the harsh realities of running in a competitive Republican primary as an otherwise moderate elected official, though Ernaut says that if Heller was worried in that race, he never showed it: "He never seemed anxious. He never seemed nervous. He never seemed pessimistic. Even in the toughest of days, he's always had a smile on his face and a bounce in his step, and he's the most optimistic guy in the room. Always." Heller, aided by campaign visits by President George W. Bush, went on to win the general election against Democrat Jill Derby, an 18-year member of the Board of Regents, by 5 points.
Apart from a rematch against Derby in 2008 that Heller won by 10 points even as President Barack Obama carried the state by nearly 13 points, he faced little threat to his position in the House during the four and a half years he served and otherwise unassumingly settled into life in Washington. He waited patiently to go through the regular security line on his first day in Congress until an aide told him he could just walk through. He slept in his office and held weekly telephone town hall meetings to gather feedback from constituents. He also began staking out more traditional conservative positions, including taking a hard line on taxes, spending and immigration. He also switched from being pro-choice to pro-life. "I was probably more libertarian when I was back in the state. I came here to Washington D.C., and there were certain votes that had to be cast," Heller told the Associated Press. "I've always said, even when I was back in Nevada, that my personal feelings were that I was pro-life, but I had a libertarian view on it."
And then, in 2011, Heller got an unexpected promotion. Ensign, who was elected to the U.S. Senate two years after losing to Reid, was forced to resign his seat amid a Senate Ethics Committee investigation over a sex scandal. It was up to Sandoval, as governor, to appoint Ensign's replacement. Heller and Sandoval were — and are — personal friends. They got to know each other on the campaign trail when Heller was secretary of state and Sandoval was running as attorney general. They played one-on-one pickup basketball together in the gym at the Stewart Indian School in Carson. Heller even carted Sandoval to a USC alumni picnic at Lake Tahoe one time. Sandoval says he considered several candidates for the U.S. Senate appointment, Heller among them. It wasn't a decision, he insists, that was made from the beginning or because of their friendship.
"I was very careful in terms of thinking about who I was going to appoint, and all roads led to Dean. He had that congressional experience. He had several years of service as a secretary of state and as a legislator," Sandoval says. "... He had already developed a reputation as a hard worker and somebody who is devoted to his state. So when you start to put all those pieces together, he was the right person to appoint."
Heller accepted the appointment and served the last year and a half of Ensign's term. Then, he ran for his first full, six-year term against Democratic Rep. Shelley Berkley, another highly-contested, high profile, bitter race that he won by 11,567 votes — a 1.2 point margin that was not quite as close as his 2006 Republican primary but razor-thin nevertheless. It was arguably a closer race than it should have been considering Berkley was dogged throughout her campaign by an ongoing U.S. House ethics investigation into whether she unfairly helped her husband's medical practice by voting in support of a kidney program at a Las Vegas hospital. Still, it was a significant victory in a state that Obama won by nearly seven points.
Over the last dozen years he has spent in Congress, Heller has racked up a significant record, both in terms of votes taken on legislation and bills he's backed. Last summer, a bill Heller spearheaded to provide funding to the U.S. Department of Veterans Affairs to continue the Veterans Choice Program, which allows veterans to receive care in the community rather than directly from the VA, was signed into law by the president. Another piece of legislation he sponsored to expand the ability of broker-dealers to publish certain research reports was signed into law last fall. Since entering Congress, 55 other bills Heller has co-sponsored on topics ranging from combating human trafficking to fighting childhood cancer have become law, along with another 67 agreed to amendments he's sponsored or co-sponsored on issues such as veteran homelessness and the Affordable Care Act's "Cadillac tax" on employer-sponsored insurance plans. And that's without diving into the other 484 pieces of policy he's authored, the 1,503 more he's co-sponsored or his lengthy voting record. (It's a record roughly comparable to that of Sen. Rob Portman, R-OH, who has sponsored 437 and co-sponsored 1,860 pieces of legislation during his seven years in the Senate and 14 years in the House. The rest of Heller's colleagues who joined the Senate in 2011 and spent anywhere from six to 14 years previously in the House sponsored fewer pieces of legislation, between 265 and 378, but sometimes co-sponsored more, between 1,234 and 2,964.)
But Heller's 12-year-long record has opened him up to criticism on the campaign trail. For instance, Heller has taken a number of different positions on immigration reform. In the House, Heller co-sponsored bills to declare English the official language of the United States and narrow the definition of "birthright" citizenship. He also voted against a 2010 version of the DREAM Act, which allows immigrants brought to the country illegally as children to obtain work permits and temporary legal status. He's become far more moderate on the issue while in the Senate, including supporting a 2013 immigration reform bill and opposing opening debate on a bill to dismantle funding for DACA in 2015.
"There should be a pathway, absolutely there should be a pathway: If you served in our military and you've done it with distinction, I think you have a right — you've proven yourself — to become an American citizen," Heller told the Sun in the days after the 2012 election, in which Republicans had performed poorly among Latino voters. "I think the same is true with those that are students that are continuing their education, that there should be some kind of a pathway."
To opponents, it looks like politically convenient flip-flopping. To supporters, it's the byproduct of thoughtfully contemplating the best solution to a difficult issue over time. "I don't know that I would use the word change," Ernaut says, asked about Heller's position on immigration reform. "...I think anybody that has empathy for other human beings in this situation wants to seek the right and fairest thing to do, and it may not be right out in front of you. It may not even be thought of yet."
Heller is now embroiled in yet another race of his life against Rosen, a freshman congresswoman with a short record. He has accused her of having done nothing in Congress before announcing her bid for the Senate, while she's spent the last year and a half picking apart his record. Polling in the race, which could determine whether Republicans retain control of the Senate, shows the two candidates neck-and-neck and Heller's favorability ratings underwater. But this isn't Heller's first rodeo. Since 1990, Heller has proved formidable in races he was supposed to lose. "I mean, everybody thinks he's vulnerable in races, but he really has proven to be nothing but a winner. He's one of a kind," Ernaut says. "But every single race he feels like the underdog."
---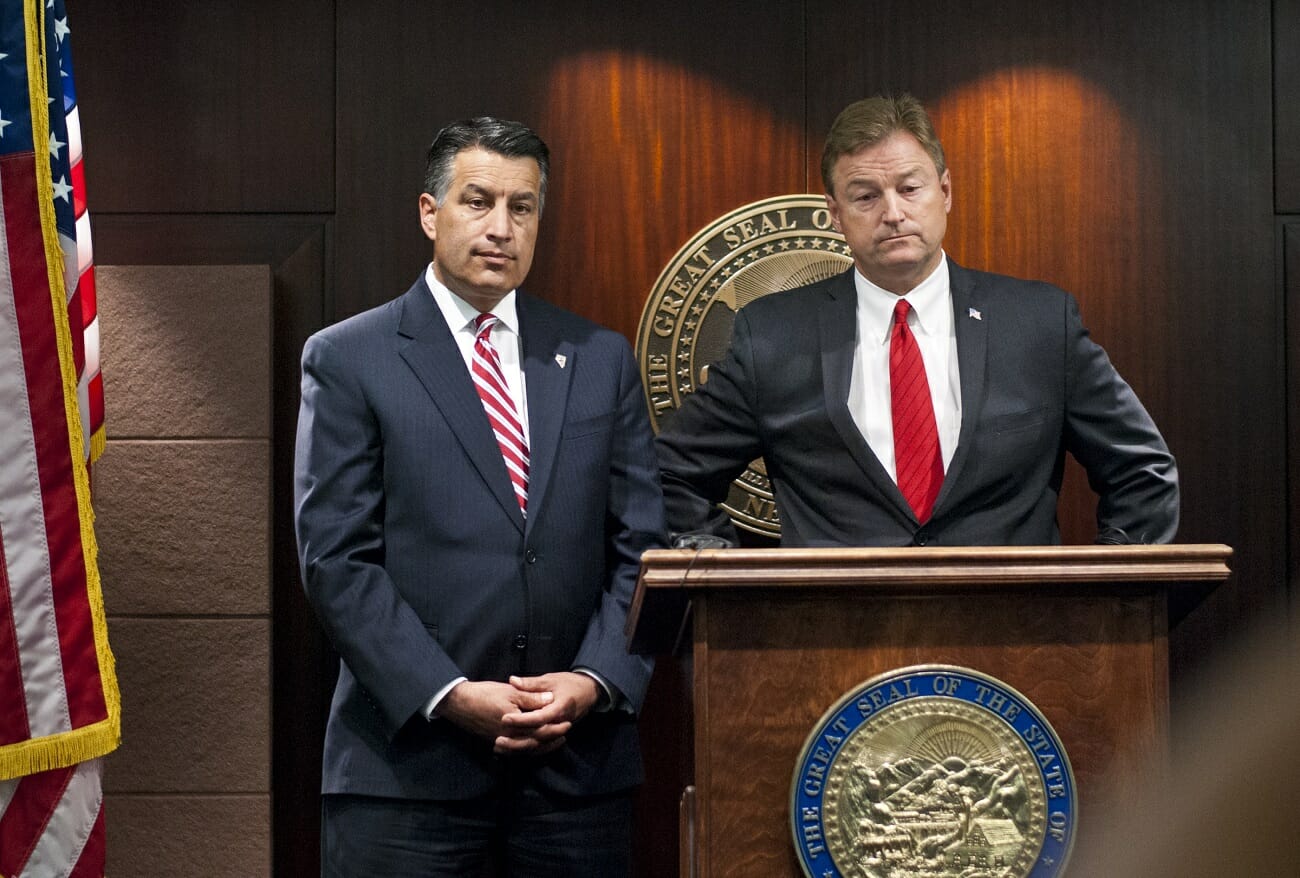 ---
If there were ever a recent event that seemed characteristic of the maverick Heller, according to some of those who have known Heller over the years, it was when he stood beside Sandoval, held up a copy of Senate Republicans' 147-page proposal to repeal and replace the Affordable Care Act and gravely declared his opposition to it. "I cannot support a piece of legislation that takes away insurance from tens of millions of Americans and hundreds of thousands of Nevadans," Heller said at a press conference in June 2017.
It was a pivotal juncture: Heller taking the political risk of staring down his party's leadership and the president because he believed the policy was not in the best interest of Nevadans. Specifically, Heller was concerned about the impact that the proposal would have on the 200,000 Nevadans who had gained health coverage through Medicaid expansion, which Sandoval opted the state into under the federal health-care law in 2012.
The event came together quickly that morning, with Heller deciding at the last minute to join. Sandoval says he and Heller, along with their staffs, had many conversations leading up to that day but he remembers the senator deciding to participate in the press conference "in pretty close proximity" to the event. Ernaut recalls Heller's decision to join Sandoval as "kind of a natural thing to do." He adds, "It wasn't some big, bold calculated issue."
That press conference, which has been re-lived repeatedly in campaign ads, has become symbolic of what many of Heller's detractors on both sides of the aisle consider his biggest weakness. Some Republicans fault him for not being 100 percent behind the president and repealing the much-reviled health-care law from the outset. Democrats and moderates fault him for saying that he wouldn't open debate on repealing and replacing the Affordable Care Act and then voting to do just that a little more than a month later with no proposal on the table guaranteed to protect Medicaid expansion.
And it's hard for people, regardless of their political persuasion, not to read his vote to proceed to debate through the lens of the intense pressure he was under from Senate Republicans and the president. They wanted — and needed — him to support their repeal-and-replace efforts. At a White House lunch that July, Trump famously gestured at Heller and said, "This is the one we were worried about. You weren't there. But you're going to be. You're going to be," before adding with a wry smile, "Look, he wants to remain a senator, doesn't he?" Some Republicans have taken that moment and Heller's vote as proof that Heller deserves forgiveness. He may not have supported the president or Senate Republican leadership initially, but he eventually came around. Those who oppose the president view it as Heller worried about his re-election prospects, caving to political pressure. But Ernaut doesn't read it that way: "He's his own person. That's just something that Democrats are using across the country. The whole thing is try to tie the Republican to the president as much as you can, attack on health care, and sit yourself in your house and don't come out."
Asked if Heller's vote to support the motion to proceed to debate came as a surprise, Sandoval minces his words. "Well, I mean, I, um," he begins, pausing. "Yes. I mean, I just, yes." He says the two didn't have any conversations before Heller announced his vote, and that the two have never specifically talked about it after the fact, either. "I've known Dean for many, many years, and I'm sure he had his reasons," Sandoval says. "... I think we have a respectful disagreement in that regard." Sandoval's staff and Heller's staff continued to talk about health care throughout the summer as various repeal-and-replace proposals surfaced and were defeated. Ultimately, Sandoval believes Heller's votes — including one in favor of a so-called skinny repeal of the Affordable Care Act to strip away the federal health-care law's individual mandate to purchase health insurance — came down to a difference between how each of their staffs interpreted the data. "We spent a lot of time researching each and every one of those bills and researching the consequences of them and informing the staff," Sandoval says. "I really wanted to be able to be in a position where I could support something like [skinny repeal], but it still was something that would have decreased coverage and benefits for the people of the state, so that's why I was never in a position where I could support it."
Since then, Democratic operatives have used it in a series of attack ads against Heller, seeing it as the best way to drive a wedge between him and the popular Republican governor. But Sandoval says he has no regrets about holding that press conference. "I'd do it again," he says. Asked if he's disappointed in Heller, Sandoval doesn't want to use that word. "I think he based his decision on the information that he had before him … [I] remain in the position that I am because of being able to see firsthand what it's done for the state and for the people of the state."
And in spite of their disagreement, Sandoval says he "absolutely" still supports Heller. In fact, he recently released a 30-second television ad in support of Heller's candidacy, likely to buoy the Republican senator among moderates and nonpartisans. "Dean had and will always have my support," Sandoval says. "Obviously, again, we went different directions with regard to this bill, but Senator Heller has my full support."
Heller has framed his moves in the summer of 2017 as centered around his desire to protect the Nevadans who benefited from Medicaid expansion under the Affordable Care Act. But he has never specifically addressed the distance between Sandoval's repeated criticisms of the various proposals that came before the Senate that summer, including a proposal known as Graham-Cassidy, which Heller signed onto, that would have block granted Affordable Care Act dollars to the states.
Amodei, who faced a similarly tough decision in choosing whether to support the House's repeal-and-replace bill He supported it after initially opposing it), thinks Heller should have just come out and directly explained his decision. "His initial read of the healthcare bill was one where he said, 'Hey, I don't like it,' and quite frankly, we know how popular that was in terms of with his teammates in Washington," Amodei says. "And so, of course, in today's thing it's like, 'Oh my God, he changed his mind,' and it's like, people change their minds all the time. What I would ask is why did you change your mind?"
But others close to the Republican senator don't believe he changed his mind at all. "Look, you can get yourself twisted up in knots trying to explain your votes on different procedures, but at the end of the day it was staying alive in the process for the final bill," Ernaut says. "... You vote with what's in front of you. That's all you can do. I think his goals were pure, which was to keep those folks on Medicaid. Look, you can't have everything you want in politics. If you go for the all or nothing, oftentimes you get exactly that: nothing."
The president appears to have forgiven whatever transgressions Heller may have committed against him, including not supporting him in the 2016 election. Trump was responsible for urging Republican businessman Danny Tarkanian to get out of a primary race against Heller — which he entered in the first place in part, he said, because he was upset over Heller's votes on the Affordable Care Act — and into the race for Nevada's 3rd Congressional District. Trump also declared that he had "no better friend in Congress" than Heller at a Las Vegas rally last month. "Now I have to say this — we started out, we weren't friends. I didn't like him, he didn't like me," Trump said. "And as we fought and fought and fought, believe it or not, we started to respect each other, then we started to like each other, then we started to love each other." And, unlike repealing and replacing the Affordable Care Act, Heller quickly got in line on U.S. Supreme Court Justice Brett Kavanaugh, saying he had "no reservations" about supporting his confirmation even as other moderate Republicans bided their time coming to a decision in the wake of sexual assault allegations that surfaced against the federal judge.
But it's not clear if it's too little, too late for Heller, who may need both the support of die-hard Trump supporters as well as moderates to best Rosen in the November election.
Belmont Reid, who interviewed Heller for his first run for the Assembly in 1990 as chairman of the Carson City Republican Central Committee, says he wishes Heller were a little more vocal in support of the president, though he is supporting the Republican senator's re-election bid. The 91-year-old longtime Carson City resident put it this way: "I think he's become a little more Washington than we'd like and a little less Carson than we'd like. That culture back there, if you're not in it, you're out. It's a natural evolution back there. He was 90 percent Carson in the first place, and now he's 80 percent."
---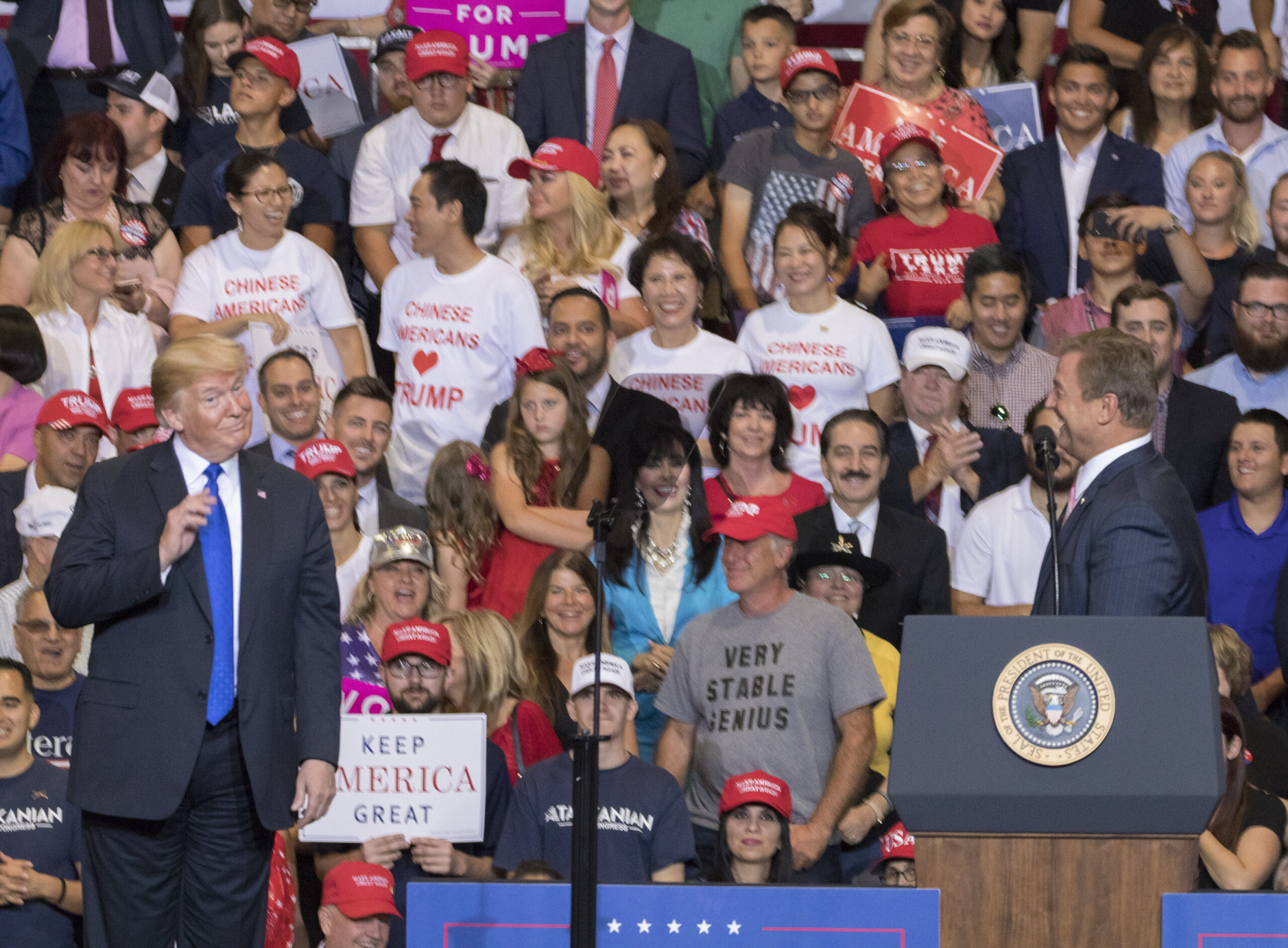 ---
As opponents question whether Heller's fealty is to Nevadans or to the powers that be in Washington, those close to the Republican senator here at home frame his campaign as of the people.
Lt. Gov. Mark Hutchison attributes winning his 2014 election in large part to Heller taking him under his wing on the campaign trail. The Las Vegas lawyer says Heller accompanied him on the Lincoln Day circuit, introducing him to those in Northern and rural Nevada as his friend and someone they should support.
"I have no doubt that Dean Heller gets up in the morning and his number one priority is the welfare and benefit of his fellow Nevadans," Hutchison, who is now Heller's campaign chair, says. "In particular I know that Dean has a passion to do everything he can from a policy standpoint, a legislative standpoint to promote economic opportunity and job growth for Nevadans. He knows that is a core consideration for Nevadans and their families' happiness and their prosperity. So I think one of the things that really drives Dean Heller every single day is ensuring that they have economic opportunities and the chance in Nevada to live the American dream."
But those who have spent time in both Nevada and Washington understand the delicate balance between running for office and trying to do the right thing for the state first hand.
Former Congressman Joe Heck remembers Heller talking him through the difficulties of running a U.S. Senate campaign when he decided to jump into the race to replace the retiring Reid in 2016. Heck recalls Heller breaking the ice by asking him if he knew what the difference between running in the House and the Senate was. "$10 million. You're going to need to raise $10 million more for a Senate seat than for your House seat," Heller told Heck. Heller then made sure the congressman understood the impact that elections can have on family, including his wife. "Then Dean kind of takes on the big brother role and puts his big arm around you and says, 'Make sure Lisa knows what this is going to entail.' He was always looking two steps down the road saying, it's not just about how this is going to impact you for the next 18 months, think about the impact it's going to have on your wife and your family," Heck says.
Heller was also a mentor to former Congressman Cresent Hardy, who is making a comeback bid this year, during the two years he served in the House. Hardy credits Heller with helping him develop good relationships with leadership and understand the political dynamics of Washington. "Sometimes my conservative principles kind of get ahead of some of the issues," Hardy admits. "I start thinking in stronger ways where he's more of a pragmatic on things and he has to bring more people into the tent and knows how to do that where sometimes I might tear the woods up trying to get things done."
Amodei, the other Carson City boy, feels this gulf between his hometown and Washington acutely. "I think Carson City, while it's a challenge and by no means a gimme, is a much more potentially rewarding place to work in public service than D.C. is," Amodei says. "Quite frankly, it's no secret. All you've got to do is turn the TV on or pick up the paper or go online to whatever your favorite flavor, and it's a pretty contentious place in D.C. that tends to be much of the time, most of the time, more focused on political advantage than success." Amodei says kids in Carson City didn't grow up joking that they wanted to be in the U.S. Senate one day: "I think the ultimate thing — at least as a stereotype — is I want to hand out candy on Mountain Street on Halloween."
It's no secret that this has been Heller's aspiration, to live in the Governor's Mansion on Mountain Street. It goes back to 12-year-old Heller delivering the newspaper. "You grew up in Carson City. You deliver newspapers to the Governor's Mansion," Ernaut says. "There's a certain lure to that job. I think it's a job that you dream of."
In 2017, Heller told just that story to a joint session of the Legislature who had gathered to hear him speak, a biennial rite of passage for the six members of Nevada's congressional delegation: "Let us all remind ourselves that we live in the greatest nation on earth, a place where the son of a mechanic and a school cook could have the opportunity to deliver the newspaper to then-Governor Mike O'Callaghan, and where that same boy could play basketball with a kid who now lives in the Governor's Mansion, and then that boy could then grow up to represent the great state of Nevada in the United States Senate." It's the kind of story that was begging to be finished with: "And now that boy is running to live in that Governor's Mansion himself."
In fact, Heller first contemplated running for governor in 1998, but the Republican establishment threw its weight early behind businessman Kenny Guinn, who announced he was considering a bid in the spring of 1996, in an attempt to clear the field of primary challengers. Still, the Republican secretary of state mulled a primary challenge against Guinn over the next year, sparking much will-he-won't-he speculation. He even argued that Guinn staffers were using "strong-arm tactics" to keep him out of the race, including a letter-writing campaign against him that he learned about in what he described as a "leak." At the time, Ernaut, then working on Guinn's campaign, dismissed Heller's concerns over the letter-writing effort as the byproduct of a "vivid imagination" in an Associated Press report. "Every campaign writes letters. That's not a great leak." In March 1998, Heller finally relented, opting to run for a second term as secretary of state. But he continued to publicly talk about one day running for governor, saying in 2000 that he wouldn't give up racing if he became governor. "If I were young enough, I wouldn't hesitate," Heller told the Gazette-Journal.
Two decades later, at the beginning of this election cycle, speculation bubbled again that Heller would forego a re-election bid and run for governor instead. Heller briefly flirted with the possibility in the wake of the last election, telling Politico he would consider it, before ruling it out as the probability that Attorney General Adam Laxalt — a young, conservative up-and-comer — would announce for the seat became increasingly likely. "Serving as governor would be an enormous honor, but I am looking forward to being Nevada's strongest voice on Capitol Hill," he wrote in a statement on Facebook two days before New Year's Eve in 2015. Ernaut says Heller has always been deliberate in the way he decides what office to run for, whether for secretary of state or the leap to Congress or not to challenge Reid for his U.S. Senate seat in 2010.
In interviews, some of Heller's friends and colleagues draw comparisons between the Republican senator and Sandoval, including the suggestion Heller may have been a Sandovalian governor had he run and been elected to the position sometime in the last 20 years. It's a theory unlikely to ingratiate Heller to the conservative wing of his party that isn't so keen on Sandoval — and that he needs in order to win re-election — but may be true. Many of his close friends note that Heller is still young and won't rule out the possibility that he could run for governor in the future.
Sandoval describes his own political style as thoughtful and deliberative, owing to his background as a judge and chairman of the Nevada Gaming Commission. It's the kind of statement that might seem overly self-congratulatory were it not true. At first, when asked if the two are similar, he says it's hard to say. But then he says he can't imagine why Heller would be any different. He finally settles on an answer: "Perhaps our styles are similar."
But, unlike Sandoval, Heller has been away in Washington for the last dozen years. Voters on both side of the aisle have been asking this election whether Washington has taken the Nevada out of Heller, the candidate who was once known for his handwritten letters to prospective voters. Those who know him best argue it hasn't.
"You know, he's the same kid that worked in his dad's garage. He's the same kid that played basketball every waking minute," Ernaut says. "He's the same guy."
The Nevada Independent is raising $200,000 by Dec. 31 to support coverage of the 2024 election.
Tax-deductible donations from readers like you fund this critical work.
If you give today,your donation will be matched dollar-for-dollar.
Give + Get Matched
Featured Videos