At Las Vegas rally, Trump says he has 'no better friend in Congress' than Heller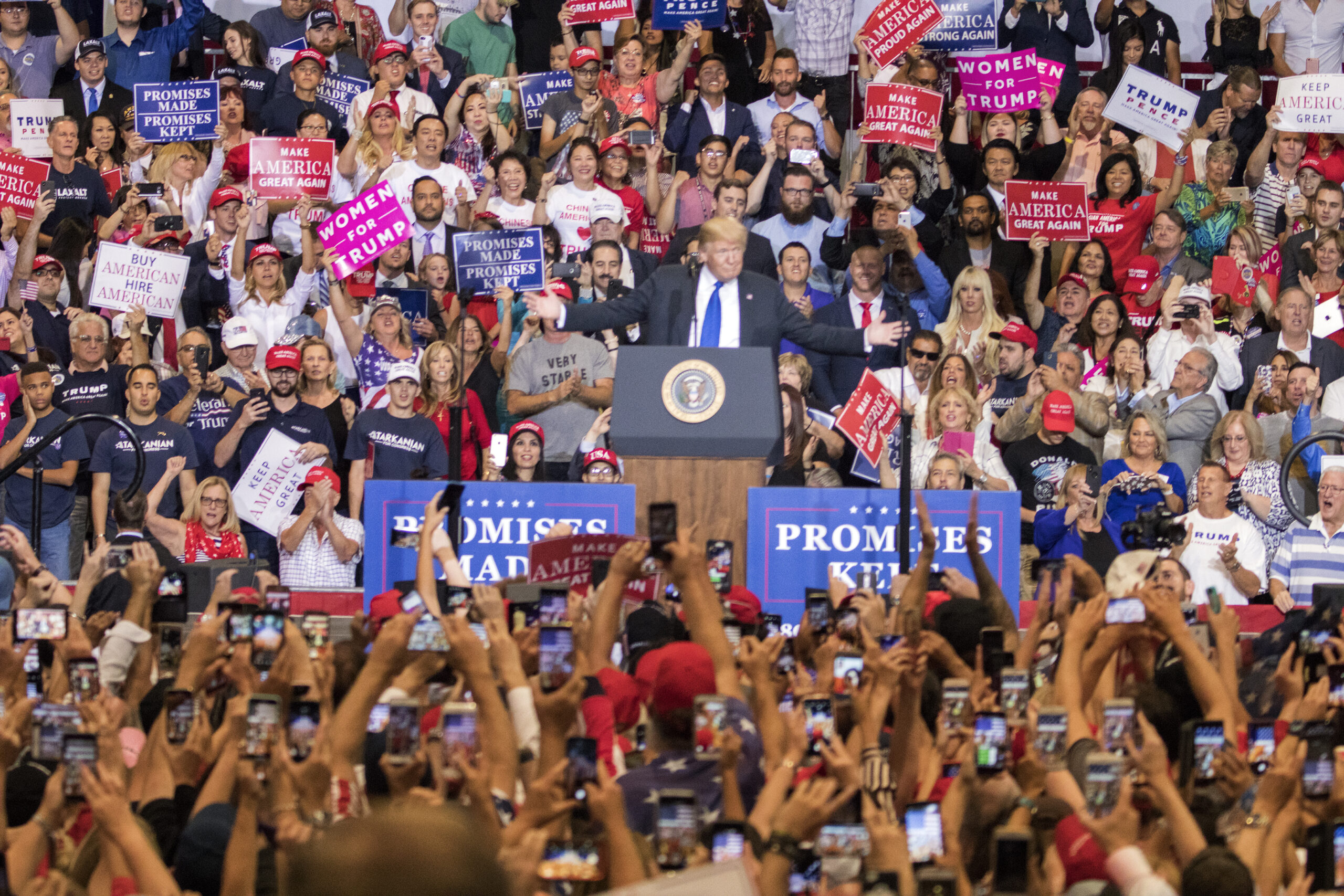 President Donald Trump said in Las Vegas that he has "no better friend in Congress" than U.S. Sen. Dean Heller and that Rep. Jacky Rosen, the senator's Democratic opponent who Trump has nicknamed "Wacky Jacky," is "bought and paid for by her donors 100 percent."
His comments came during a nearly hour-long campaign-style rally Thursday at the Las Vegas Convention Center, where he said he and Heller — who's neck and neck with Rosen in a pivotal Senate contest — "love each other." He added that he could count on Heller's vote on an array of issues, including the confirmation of embattled Supreme Court nominee Brett Kavanaugh, who Trump called "one of the finest human beings you will ever have the privilege of knowing or meeting."
"So we'll let it play out and I think everything's going to be just fine," Trump said about the judge who's facing down allegations that he attempted to rape a fellow high school student as a teenager. "And a man that agrees with that, and right now his vote is more important than mine because he's got to help Brett get in, and I'll tell you what, he respects him just like I respect him. But with Dean, we can count on him. With Jacky, she's never going to vote for us."
Trump spent a significant portion of his speech attacking Rosen, who he said "represents the extreme liberal values of out-of-state donors funding almost 90 percent of her campaign" and will "do whatever [House Minority Leader Nancy] Pelosi and [Senate Minority Leader Chuck] Schumer" tell her to do." He also criticized her for not yet committing to a specific debate with Heller.
Rosen challenged Heller to a series of three debates in June, and Heller, in October, announced that he had accepted two proposals to debate her. Rosen's spokesman said at the time that the campaign looked "forward to negotiating the details over the coming weeks and hopefully coming to an agreement."
"Jacky Rosen is bought and paid for by her donors 100 percent," Trump said. "She doesn't even want to go to a debate with Dean. She doesn't want to debate. I said, 'Dean, when's the debate' and he says, 'She won't debate me.' That's not good. That's not good."
He also went after Rosen for voting against Kate's Law, a proposal to increase the penalties for undocumented immigrants who are deported and return to the United States, and the VA Accountability First Act, an early version of which Rosen voted against before voting for a final bipartisan compromise bill.
"And Jacky Rosen voted against the VA Accountability Act. How do you do that? How do you do that? So she really, if you think about it, she voted for criminal aliens against veterans, for criminal aliens against citizens of our country," he said. "A vote for Wacky Jacky is a vote for the extreme agenda of those people ... It's a vote for more taxes, more crime and more onerous regulation which stops everything from happening."
Trump acknowledged a rocky start with Heller, who had said during the 2016 campaign that he was 99 percent against Trump.
"Now I have to say this — we started out, we weren't friends. I didn't like him, he didn't like me," Trump said. "And as we fought and fought and fought believe it or not we started to respect each other then we started to like each other then we started to love each other."
The president talked at length about falling unemployment, the rising stock market, a border wall under construction and his efforts to squash Obamacare, as well as his work bringing the U.S. off the brink of war with North Korea. He also stressed throughout the speech how he had prioritized America's interests, a rebellion against what he described as "corrupt globalism."
"Hey, I'm the president of the United States," Trump said. "I'm not the president of the globe."
The Democratic Party, he said, was "held hostage by left-wing haters, angry mobs, socialist fanatics, deep state bureaucrats and their fake news allies."
But he warned against complacency, emphasizing the need for Nevadans to go to the polls and ensure Republican control in Congress.
"When they say we have a majority, it's like this — If somebody has a cold we don't have a majority that day," he said. "It's like, we have to have more Republicans in office. We'll get everything we want so fast. We've got to have it."
He also made up a fictitious future conversation Nevadans would be having in the future with their Republican senator.
"And they're going to say, 'Dean, please see the president. Nevada is winning too much we can't stand it,'" Trump said. "And Dean's going to come to the Oval office and he's going say, he's going to go, 'Please, sir, stop winning so much, the people of Nevada can't take it any longer' and what am I going to say? I'm going to say, 'Sorry, Dean, we're going to keep it going.'"
Trump's ode to his administration and Heller came after Republican candidates for major Nevada races heaped praise on the president for a rebounding economy and railed against California laws.
Republican businessman Danny Tarkanian, one of Trump's earliest supporters in Nevada and a candidate for Congress, led the crowd in choruses of "a promise made is a promise kept" at the rally, highlighting a number of issues Trump has tackled during his first almost two years in office including the economy, moving the U.S. embassy in Israel to Jerusalem and the North American Free Trade Agreement, or NAFTA. He urged Trump supporters to help the president keep his promise by turning Nevada red in November.
"Now just recently President Trump promised that there would be a red wave in the 2018 elections," Tarkanian said. "Now all of us here in this room we're going to help President Trump keep his promise because with this president, a promise made is a promise that'll be kept."
Republican Attorney General Adam Laxalt sounded his familiar refrain that Nevada would become California if he's not elected governor. He jabbed California for banning plastic straws unless a customer requests one, mandating all new homes have solar power even though they have some of the highest housing prices in the country, and he said a city was giving high-risk citizens $1,000 a month in hopes they wouldn't kill their neighbor — an apparent reference to Stockton Mayor Michael Tubbs' "Advance Peace" program.
"Some of it just makes you shake your head," Laxalt said, adding that his Democratic opponent Steve Sisolak "has all the liberal money fighting here in Nevada because what do they want to do? They want to take Nevada and turn us blue, they want to turn us into California."
Trump made his own punches against the Golden State during the speech, referring to a "clown in California who's running for governor," an apparent reference to Democrat Gavin Newsom.
"How about this guy, wait, he announces he wants open borders. That means just pour in. And then he wants to give them health care, education, everything," Trump said. "You know what's going to happen, California's going to have a billion people in a very short period of time. And somebody has to ask, who's going to pay for this? And you know how bad it's going to be? You talk about waiting in line for the vets which we saw, you'll be waiting in line for 10 years. It's the craziest thing I've ever heard."
Former Rep. Cresent Hardy, who withdrew his support from Trump in the waning days before the 2016 election but has since said he regrets criticizing the president, asked the crowd to thank the president for his accomplishments, saying that he has never seen the economy grow so much in his lifetime. He also took the opportunity to go after his Democratic opponent, former Rep. Steven Horsford, for remaining in Virginia after losing his re-election bid in 2014.
"It's almost four years since Steven Horsford has been in Nevada, used our schools, paid our taxes or voted here. He's back because he wanted a job," Hardy said.
The president's campaigning doesn't end with the Thursday rally. He's staying in Las Vegas overnight to host a fundraiser for Republican candidates on Friday. The event — which costs $15,000 per couple for a "VIP photograph" with the president and $50,000 per couple for participation in a roundtable — will benefit Heller, Tarkanian, the National Republican Senatorial Committee and the National Republican Congressional Committee.
The "Make America Great Again" rally at the Las Vegas Convention Center is the 11th rally Trump has held in Nevada and seventh in Las Vegas since he embarked on his presidential bid in June 2015. Trump has made only one campaign-style trip to Nevada since taking office, but his visit portends the significance of several Nevada races — most notably, for U.S. Senate and governor — where the Democratic and the Republican candidates appear locked in near-dead heats.
Conservative columnist Wayne Allen Root pushed back against the notion of an oncoming Democratic "blue wave" in November, predicting a "red storm" during his introductory remarks and adding "we're coming with pitchforks."
"To lose this November is to lose Trump and to lose Trump is the end of America," he said.
Disclosure: Steve Sisolak has donated to The Indy. You can view a full list of our donors here.
The Nevada Independent is raising $200,000 by Dec. 31 to support coverage of the 2024 election.
Tax-deductible donations from readers like you fund this critical work.
If you give today,your donation will be matched dollar-for-dollar.
Give + Get Matched
Featured Videos