Tarkanian drops out of U.S. Senate race, jumps into 3rd Congressional District at Trump's request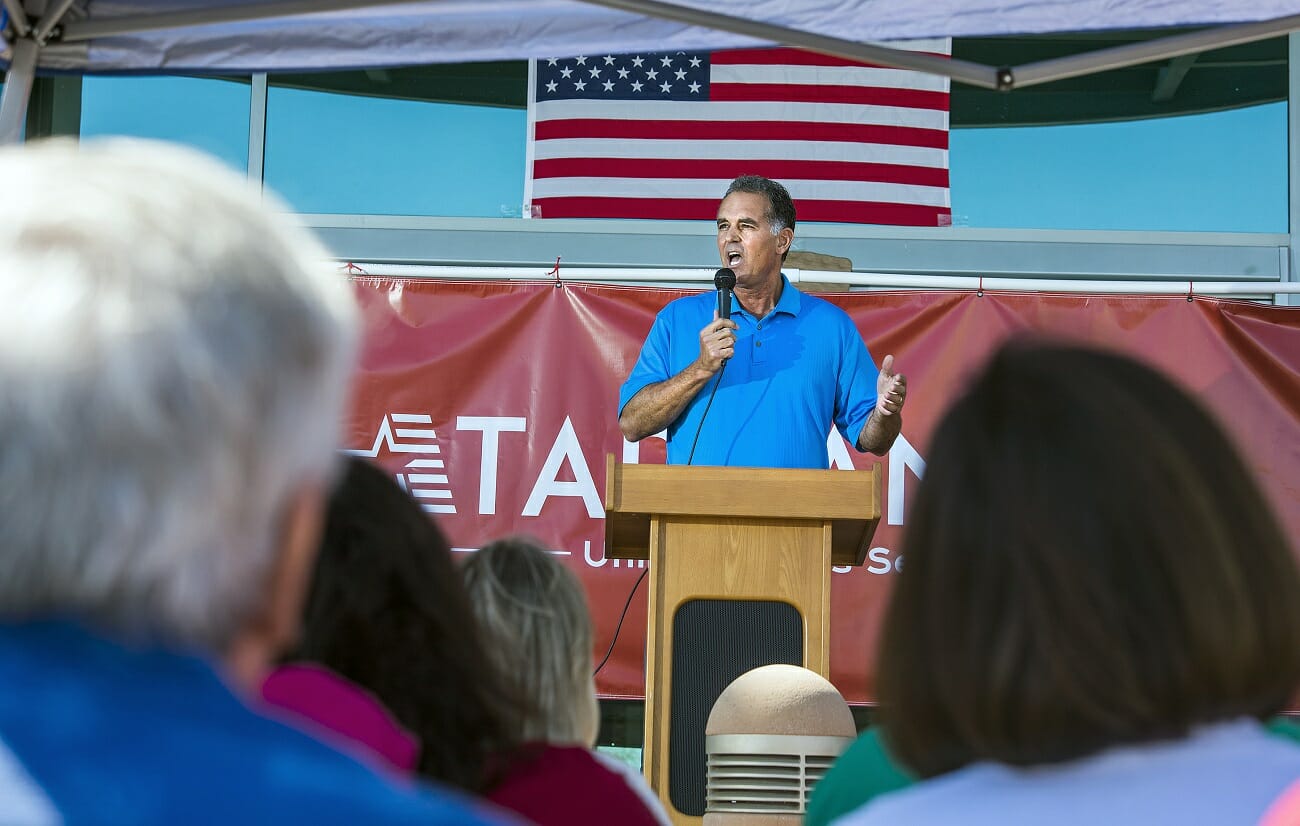 Conservative businessman Danny Tarkanian is dropping his insurgent bid against incumbent Sen. Dean Heller and will instead run in the state's open 3rd Congressional District at President Donald Trump's behest.
Tarkanian, in a brief interview with The Nevada Independent, said that the president's re-election campaign reached out earlier this week with the message that Trump wanted him to run for Congress instead of the U.S. Senate. Tarkanian told Trump's re-election campaign manager, Brad Parscale, that he wouldn't switch races unless the president made that desire publicly known, as he did Friday morning.
"It would be great for the Republican Party of Nevada, and it's unity if good guy Danny Tarkanian would run for Congress and Dean Heller, who is doing a really good job, could run for Senate unopposed!" Trump tweeted earlier Friday morning.
The news, first reported by Reno Gazette-Journal reporter James DeHaven, upends two of the state's major 2018 races, clearing the primary field for Heller — widely considered the nation's most vulnerable senator seeking re-election — and placing Tarkanian into the open field for the state's 3rd Congressional District, which is being vacated by Democratic Rep. Jacky Rosen in a bid to challenge Heller.
Tarkanian told the Independent on Tuesday that there was "zero chance under any circumstances" that he would change his mind and run for Nevada's 3rd Congressional District instead of the U.S. Senate. He told an Independent reporter Friday that he feels "badly" about what he said Tuesday, but that he couldn't have anticipated the personal request from the president.
"I had no intent or desire to switch races," Tarkanian said.
Tarkanian said he spoke on Tuesday night with Parscale, who told him that the president wanted Tarkanian to run in Nevada's 3rd Congressional District instead of challenging Heller for U.S. Senate. Tarkanian said that he "went on for quite an extended period of time about why I don't think that's the best thing to do."
Tarkanian said that he met with his staff and volunteers this week, who told him "you can't fight the president on this if that's what he wants." His wife, Amy Tarkanian, also urged him to do what Trump asked.
"She said, 'You got in the race because you supported President Trump and his America First policies, and if President Trump asks you to do something, you have to support him,'" Tarkanian said.
Tarkanian said that he then told Parscale that he wouldn't switch races unless Trump made it publicly known that he doesn't want him in the U.S. Senate race, as he did in the Friday morning tweet. Tarkanian filed for the 3rd Congressional District at noon today.
Tarkanian, in a statement, said he's "confident" he would've won the U.S. Senate race and done a "great job" representing Nevada. However, he said the president is "adamant" that Nevada having a "unified Republican ticket" is the "best direction for the America First movement."
"With President Trump's full support and endorsement, I am filing to run again in CD3 with the firm belief that we will finish what we started in 2016 and win in 2018," Tarkanian said.
Nevada Republican Party Chairman Michael McDonald, a close ally of the president, said that Tarkanian's decision was a beneficial decision for both Tarkanian and the rest of the party's ticket.
"Danny's a team player — he wants to win, and realized in discussions he's had that he has a great opportunity to be that team player helps the entire Republican Party," he said.
Tarkanian — the son of legendary UNLV basketball coach Jerry Tarkanian, and frequent candidate for office — will enter a crowded Republican primary in the district, which includes state Sen. Scott Hammond, former Assemblywoman Victoria Seaman and former television reporter Michelle Mortenson.
Tarkanian said that he just spoke with Seaman, who he's described as a close friend, and that she is "not very happy" with him.
"I'm very close with her too," Tarkanian said. "It was a very difficult decision."
Hammond's campaign manager, in a statement Friday morning, reiterated Hammond's commitment to running in the district, calling Tarkanian a "perennial loser who has been rejected by Nevadans time and time again."
"His vanity campaigns are about him and hurt conservative values and the President, and that's why he's batting 0 for 6," said campaign manager Ross Hemminger. "Regardless, Scott Hammond will keep running hard to bring the shake up Washington needs."
A spokesperson for Susie Lee, considered the likely Democratic frontrunner in the race,  said the arrangement was another of Tarkanian's "shady schemes," and looked forward to informing voters about his"fraudulent business dealings, taxpayer bailouts, and far-right views."
Tarkanian won the 2016 Republican primary for the 3rd Congressional District in 2016, and narrowly lost in the general against Rosen by less than 4,000 votes.
After announcing his Senate bid in August, Tarkanian focused his campaign on loyalty to Trump and Heller's at-times icy relationship with the president during the 2016 campaign. Heller's campaign took the threat of a primary seriously, running television ads attacking Tarkanian's past employment and compensation at a basketball charity.
Tarkanian's decision to back out of the race also complicates things for Rosen, who will face a much tougher battle in the general election against Heller than she would have if Tarkanian secured the Republican nomination.  In a statement, Rosen said the president's support for Heller was his "special reward" for backing the administration's goals and priorities.
"This campaign has always been about running to repeal and replace Dean Heller, and we're going to flip this seat in November," she said in a statement.
Heller's campaign also released a statement Friday that didn't mention Tarkanian, but thanked Trump for the "support and kind words."
"The President's pro-growth agenda is already showing results in Nevada," Heller said in a statement. "Fighting for the people of Nevada has always been, and will always be, my top priority.  There is more work to do."
The Democratic Senatorial Campaign Committee attributed Trump's role in getting Tarkanian to back out of the U.S. Senate race to Heller's decision to ultimately back a repeal of the Affordable Care Act last year.
"Nevadans learned today what Senator Heller got for selling out their health care and putting himself and his party first. No amount of Trump Tweets, backroom deals, or unaccountable special interest money from Mitch McConnell can save Heller, the weakest incumbent in the country who has focused more on himself and political games than finding solutions for Nevadans," the DSCC said in a statement.
The Democratic Congressional Campaign Committee, meanwhile, called the switch "just another shady deal" from Tarkanian in a statement.
"Tarkanian is so desperate to get elected to literally anything that he's allowed Donald Trump and Dean Heller to buy off what little integrity he had to begin with," said Drew Godinich, DCCC spokesperson. "Voters in Nevada's Third Congressional District are all too familiar with Danny Tarkanian's shady business practices and we're confident they'll reject him again in November."
This is a developing story. Check back for updates.
The Nevada Independent is raising $200,000 by Dec. 31 to support coverage of the 2024 election.
Tax-deductible donations from readers like you fund this critical work.
If you give today,your donation will be matched dollar-for-dollar.
Give + Get Matched
Featured Videos