Considered key swing vote, Heller comes out against Senate health care overhaul bill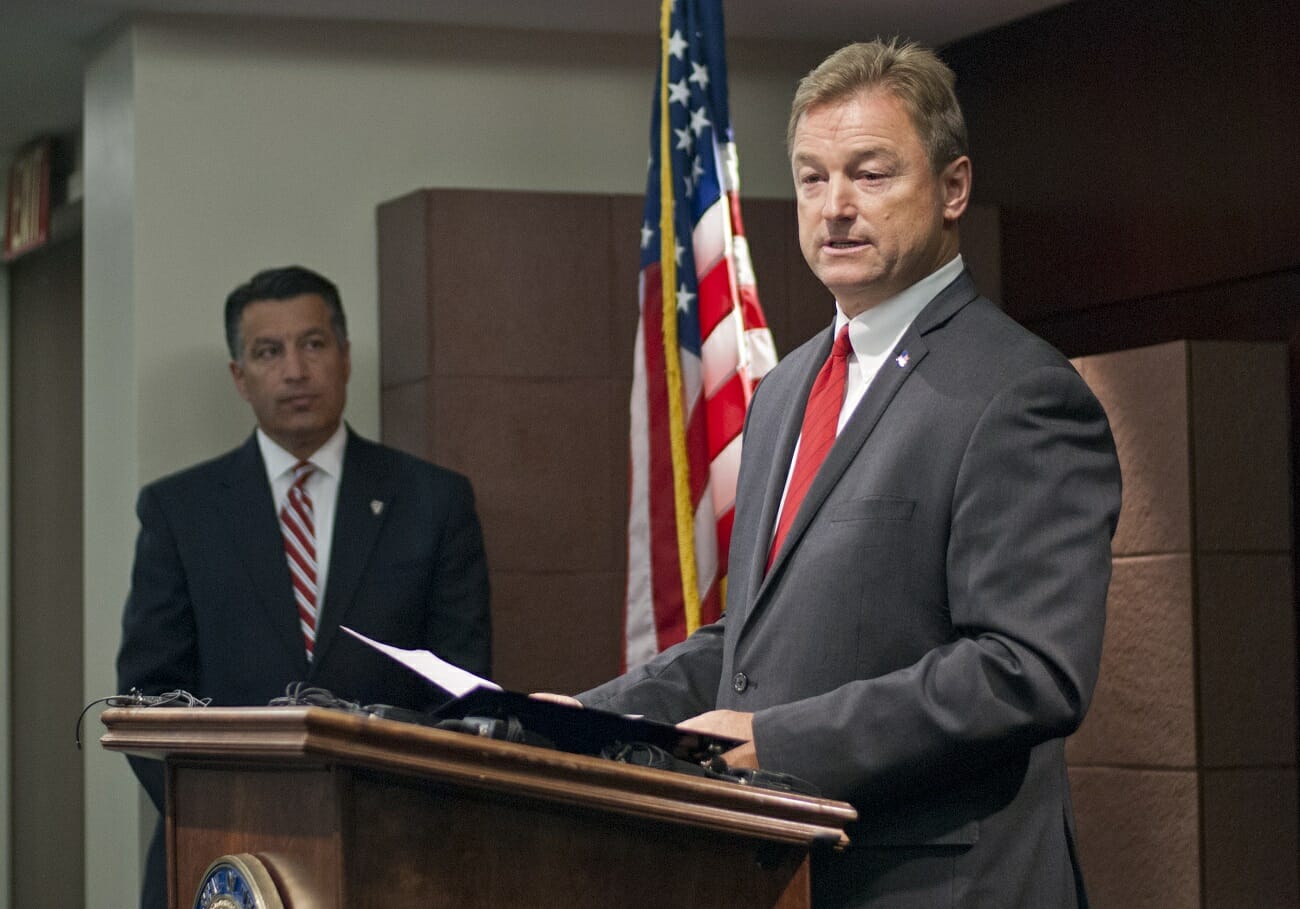 Widely considered a key swing vote in Republican efforts to replace the Affordable Care Act, Sen. Dean Heller said Friday that he cannot support a recently released Senate revision to the health care law as written.
Flanked by fellow Republican Gov. Brian Sandoval, Heller said at a Las Vegas press conference that the Senate's version of a replacement for the federal health insurance law, which could come up for a vote as soon as next week, was unpalatable for him and for the state.
"It's simply not the answer," he said.
Senate Republicans on Thursday unveiled their long-awaited revision of legislation to replace the previous administration's signature domestic policy achievement, despite widespread skepticism and concern that it could leave millions of people without health insurance.
Chief among Sandoval and Heller's concerns with the bill is a rollback of expanded eligibility for Medicaid starting in 2021 and ending in 2024. More than 276,000 Nevadans have gained health insurance since Sandoval expanded the entitlement program in 2014, which has helped the state's uninsured rate drop by nearly 40 percent.
Heller laid out a laundry list of concerns with the Senate version of the bill, including worries that rolling back Medicaid eligibility would leave a nearly half-billion dollar hole in the state budget over time, and wouldn't do anything to lower premiums. He said revisions that would make him more comfortable with the bill were unlikely to move forward given that conservative factions in the Senate are demanding the bill further eviscerates the federal insurance law.
"It's going to be very difficult to get me to a yes," Heller said.
Four Republican senators — Rand Paul of Kentucky, Ted Cruz of Texas, Ron Johnson of Wisconsin and Mike Lee of Utah — quickly announced their opposition to the bill as written on Thursday but said they were open to negotiations. Three additional Republican senators, including Susan Collins of Maine, Rob Portman of Ohio and Mike Rounds of South Dakota, expressed significant concerns with the measure.
If all Democratic senators vote against the bill as expected, Republicans can only afford to lose two members of their caucus for the bill to pass.
New York Times reporter Maggie Haberman tweeted after the press conference that America First Policies, a nonprofit supportive of President Donald Trump, was preparing a seven-figure advertising blitz against Heller over his opposition to the bill.
Sandoval — who has long held concerns about federal efforts to rollback Medicaid eligibility — said the Senate version of the bill would require the state to find approximately $480 million to continue existing levels of coverage, which he said the state "cannot sustain." The Republican governor said he felt that he had made a "personal commitment" to the newly eligible population, and promised to fight for continuing insurance coverage.
"These are the people that I've talked about, these are the people I have fought for in the last three years," he said. "Nevada is in a much better place that it was six years ago, four years ago, even two years ago. And I want to keep that momentum going because your health is the base of everything."
Sandoval's chief of staff Mike Willden, who previously headed the state's Department of Health and Human Services, listed out additional concerns with the bill including how it would affect rural health care and changes made to retroactive eligibility for Medicaid coverage. Willden said the state has a plan to fund the existing pre-expansion Medicaid population but that phasing out higher federal reimbursements for the expanded population would lead to incredibly difficult decisions for future governors and policy-makers.
"Do you shrink eligibility? Do you shrink services? Do you end the program for new eligibles?" he said. "I guess depending on what you want to call it, the worst-case scenario is that a couple hundred thousand Nevadans could lose their coverage."
The conference also attracted several protesters, including 60-year-old political activist and Clark County Democratic party chair nominee Donna West.
She said she wasn't entirely convinced that Heller would keep his word to oppose the bill, and that she was skeptical of Sandoval given several of his vetoes during the legislative session.
"I know that the governor is really supportive of health care, but he also just vetoed Sprinklecare," she said, referring to a vetoed proposal opening up Medicaid to all incomes. "I'm not sure I can trust the governor either."
Heller is up for re-election in 2018, and has already attracted a potentially strong challenger in the form of freshman Democratic Rep. Jacky Rosen.
Right before the news conference, Sandoval met with ex-Senate Democratic Leader Harry Reid. Sources said the meeting was unrelated to the health care law.
Jackie Valley contributed to this story.
LIVE on #Periscope: Press conference with Sen. Dean Heller and Gov. Brian Sandoval https://t.co/kuCAklxR0G

— Megan Messerly (@meganmesserly) June 23, 2017
Caption: Senator Dean Heller, right, and Nevada Governor Brian Sandoval speak with media inside the Grant Sawyer State Office Building in Las Vegas on Friday, June 23, 2017. Daniel Clark/The Nevada Independent.
The Nevada Independent is raising $200,000 by Dec. 31 to support coverage of the 2024 election.
Tax-deductible donations from readers like you fund this critical work.
If you give today,your donation will be matched dollar-for-dollar.
Give + Get Matched
Featured Videos