Photo courtesy of Sam Bowman under Creative Commons.
Rosen 'strongly considering' bid for U.S. Senate against Heller in 2018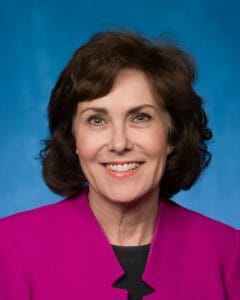 Democratic Rep. Jacky Rosen is "strongly considering" challenging Republican Sen. Dean Heller for his Senate seat, a Democratic source said Monday.
The first-term congresswoman has spoken with former Democratic Sen. Harry Reid and his successor, Sen. Catherine Cortez Masto, about getting into the race and is the Democratic Senatorial Campaign Committee's top choice to run against the senior senator, the source said. Heller is considered the most vulnerable Republican up for reelection in 2018 and is the Democrats' best pickup opportunity in the midterm.
Rosen confirmed her plans to The Nevada Independent on Wednesday.
"I'm planning to run for Senate, and my official announcement will come soon," she said in an emailed statement.
The former software programmer and synagogue leader has represented Nevada's 3rd Congressional District — which covers the southern tip of Nevada from Summerlin to Searchlight — since January after defeating businessman Danny Tarkanian in the race to replace Republican Rep. Joe Heck. Democrats have a narrow voter registration advantage in the district, which swung for President Donald Trump in 2016.
Rosen has also met with D. Taylor, president of the politically powerful Culinary Union's parent union UNITE HERE!, who urged her to run, the Democratic source said. The Culinary Union, which backed Rosen in her congressional run, has a lengthy endorsement process, but securing their support is crucial for Democratic candidates in Nevada.
According to the most recent federal campaign filings, Rosen raised more than $237,000 through the first three months of 2017, and has roughly $221,000 in cash on hand.
Though she has yet to officially announce, Republicans already began their attack on Rosen on Monday as if she has by criticizing her ties to Reid, who encouraged her to run for Congress.
"With today's news, Jacky Rosen confirmed to Nevadans the only reason she's in elected office is to serve her own ambitions," said Michael McAdams, spokesman for the NRSC, the Senate Republican campaign committee, in a statement. "Rosen's radical liberal stances might please her puppet-master Harry Reid, but they will leave Nevadans worse off."
Former state Treasurer Kate Marshall who was previously mulling a bid against Heller, said Monday that her understanding was Rosen is the candidate.
Rosen has meetings scheduled this week with the DSCC and EMILY's List.
Though Rosen's congressional seat is expected to be hotly contested in 2018, the only major candidate to file paperwork to run for the office is former Clark County Republican Party Chairman David McKeon.
Photo courtesy of Sam Bowman under Creative Commons.
6-21-17: This story has been updated to include a statement from Rep. Jacky Rosen.
From the Editor
The Nevada Independent
is a 501(c)3 nonprofit. We need help to attain the elusive goal of sustainability. We depend on recurring donations from you, the readers who believe in our mission of nonpartisan, transparent journalism. I know you are busy. I know you have many commitments. But if you would take a moment to
support our work
or bump up your current donation, I would be forever grateful.
Thanks for all of your support.
Best,
Jon Ralston
get our morning newsletter,
The Daily Indy
Double your generosity!
Between now and Dec. 31, every donation of up to $1,000 will be matched by a group of national foundations in support of local, nonprofit journalism.
Your donation is also tax deductible, so don't delay — give today.
#NewsMatch
@TheNVIndy ON TWITTER