Rural counties team up with GOP governor candidate Gilbert's law firm to oppose COVID restrictions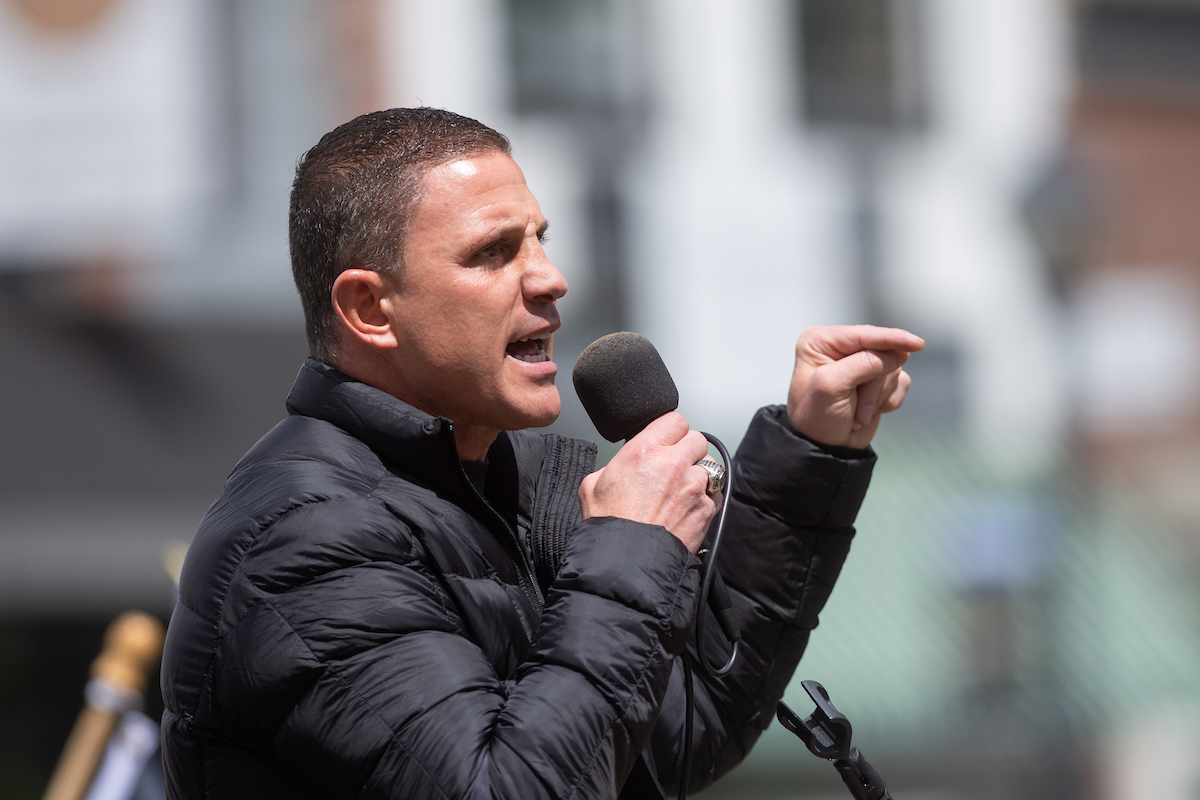 Update: During a meeting of the Lander County Board of Commissioners on Oct. 14, County Manager Bert Ramos announced that Republican candidate for governor and Reno-based lawyer Joey Gilbert stepped down from his partnership with the county.
"He felt that it was bringing undue hardship on the county and not staying focused on what the true intention behind it [was]," Ramos said.
A records request filed by The Nevada Independent found that Lander County had contracted with Gilbert's law firm to represent the county "in relation to voter integrity and election fraud in the State of Nevada, as it affects Lander County and the residents of Lander County."
Ramos also said Gilbert did not bill the county for any expenses. During the meeting, the commissioners approved agreements with Las Vegas-based law firm Jennings & Fulton and Frisco-based law firm Bundren Law Group to replace the previous retainer agreement with Gilbert's firm.
***
Multiple rural counties have partnered with a law firm run by Republican candidate for governor Joey Gilbert — a Reno attorney who has challenged COVID-19 restrictions in Nevada and who appeared outside the U.S. Capitol during the Jan. 6 insurrection — to explore litigation challenging state COVID-19 guidelines.
Late last month, Lander County commissioners approved a $50,000 retainer agreement with Gilbert's firm, and on Wednesday, White Pine County commissioners approved a motion to ​​engage with Gilbert's firm "to explore options to protect the rights of White Pine County residents and businesses against outside entities."
During the Wednesday county commission meeting, Gilbert railed against Democratic Gov. Steve Sisolak and the state's COVID-19 emergency declaration, enacted by Sisolak in March 2020, as he pitched his services to the county.
"What I'm looking for is just to at least open up an interest and see if there's an appetite for pushing back against [Sisolak]," Gilbert told the commissioners over Zoom. "I have all the data, I have the experts, I have everybody to take the governor to court of law, and put my experts against whoever he has."
Gilbert did not respond to a request for comment made through email on Wednesday afternoon and a call to his office regarding his involvement with the counties.
Gilbert, a 45-year-old retired professional boxer, has aligned himself closely with former President Donald Trump and has openly questioned the validity of the 2020 election results, despite a lack of evidence of substantial fraud. He hopes to challenge Sisolak in 2022 but must first win in a crowded Republican primary that also includes Clark County Sheriff Joe Lombardo and North Las Vegas Mayor John Lee.
The commissioners discussed partnering with Gilbert's firm to explore a lawsuit aimed at challenging the ongoing state of emergency, as Gilbert repeatedly said he had data proving that there should not be any public health emergency related to COVID-19 — though he did not describe any data in detail. He also called the emergency declaration a "power grab" by Sisolak.
Gilbert said he has data from America's Frontline Doctors — a pro-Trump medical group whose founder was at the Jan. 6 insurrection and that says it advocates for doctors to have more independence from the government — "that shows that by every known metric available," including hospitalizations and deaths, Nevada is not in a state of emergency.
Gilbert is representing the group in a lawsuit challenging California's COVID-19 vaccine mandate for university students and another lawsuit challenging approval of COVID-19 vaccines for children under the age of 16. An investigation conducted by Time Magazine found that the group spread misinformation about COVID-19 and had scammed people by collecting fees from them for medical consultations and prescriptions and then not delivering them.
Gilbert has previously filed several unsuccessful and ongoing lawsuits against Sisolak, the state and Clark County School District challenging mask mandates and other restrictions intended to mitigate the spread of COVID-19 — including a lawsuit filed in November 2020 on behalf of Central Cinema of Ely in White Pine County challenging the constitutionality of Sisolak's emergency directives.
"I just think that this stuff with the kids, and with anything that's happening with them — testing, masking, any vaccines, anything like that — should be a matter of choice … and not the governor forcing any kind of mandate down anybody's throat," Gilbert told the commissioners.
Gilbert suggested two different options to help the county push back against COVID-19 restrictions: He could represent a business or two that are "tired of having to wear a mask or tired of their employees having to get tested or vaccinated," or he could represent the county itself.
Gilbert noted that litigation on behalf of the county, rather than a local businesses, might have a diminished chance of succeeding at the district court level.

"We want to sue [Sisolak] as a county, we'd have to sue him in Carson City. That makes things, the stakes a little higher because I don't know how the judges in Carson City would act," Gilbert said. "I'm pretty, pretty sure I know how the judge in White Pine County would act because I've been in front of him and he's been nothing but excellent, with regards to how he feels that this emergency has just been elongated and continued for far too long."
White Pine County is under the jurisdiction of the Nevada Seventh Judicial District Court, which also serves Eureka County and Lincoln County. The court's two judges, Steve Dobrescu and Gary Fairman, both previously served as prosecutors in White Pine County.
In a 4-1 vote, White Pine county commissioner Richard Howe voted against the motion to engage with Gilbert's firm.
"I don't think we as a county should jump on board with your law firm and get in the middle of a political firestorm," Howe said.
Following Howe's comments, Gilbert seemed to step back from his requests of the county.
"I don't care if he — I've got so much work to do. I don't even necessarily need. I just am trying to be available if you need me," Gilbert said. "There's other firms you could use. I just think you need to challenge this guy's emergency."
However, Commissioner Ian Bullis said that Gilbert approached him as part of Gilbert's efforts to push back on COVID-19 restrictions from the state.
"He has been looking for entities willing to partner with him and join the fight, and he wanted an opportunity to share his thoughts with us. And I said, 'Go for it,'" Bullis said.
The county's decision to engage with Gilbert's law firm did not include approval of any specific civil actions or of a retainer agreement with the firm — meaning the county's relationship with Gilbert does not involve the exchange of any money.
White Pine County, which includes the City of Ely, is located centrally along the state's eastern border and is home to roughly 9,000 people. In the 2020 election, 78 percent of the roughly 4,400 votes cast in the presidential race were for Trump.
Similar effort in Lander County
Gilbert's proposals have been making headway — but also raising questions — in other rural counties.
During an Aug. 26 meeting of the Lander County Board of Commissioners, several attendees argued with the commissioners and county manager about the purpose of a $50,000 retainer agreement with Gilbert's law firm that was approved by commissioners during the meeting.
Lander County resident Jenny Martin said the contract with Gilbert seemed "disingenuous," and multiple attendees raised issues based on Gilbert's ongoing campaign for governor.
At the meeting, County Manager Bert Ramos said Gilbert's legal team was being hired for a specific purpose, but repeatedly declined to identify that purpose and said the county had attorney-client privilege with the firm.
"What we're looking into is attorney-client privilege. So we cannot put that on the agenda to be approved because then we've lost attorney-client privilege," Ramos said.
Last week, Lander County Clerk Sadie Sullivan told The Nevada Independent that the county had hired a legal team in connection with the commissioners' proposed audit of the county's voting machines. But Sullivan said she is unaware whether Gilbert's legal team is the same one related to the audit.
In response to a public records request seeking a copy of the county's retainer agreement with Gilbert's law firm, the county's recorder told The Nevada Independent that her office has not yet received the contract from the county manager. And Ramos, the county manager, has not responded to requests for comment on the proposed election audit, nor to a records request filed on Tuesday for the retainer.
Gilbert also has connections with the county from earlier this year. In May, the county hosted a "patriotic social gathering" that featured Gilbert as a guest speaker and celebrated the county's membership in the Constitutional Sheriffs and Peace Officers Association — an organization founded by a former Arizona sheriff Richard Mack, who has ties to a far-right militia group called the Oath Keepers.
Gilbert was also scheduled to be a guest speaker at a similar gathering in rural Elko County, but ultimately missed the event.
Lander County, which includes Battle Mountain, is located in central Nevada and is home to fewer than 6,000 people. In the 2020 election, nearly 80 percent (2,198 votes) of the 2,765 votes cast in the presidential race were for Trump, and all five of the county's commissioners are Republican.
The Nevada Independent is raising $200,000 by Dec. 31 to support coverage of the 2024 election.
Tax-deductible donations from readers like you fund this critical work.
If you give today,your donation will be matched dollar-for-dollar.
Give + Get Matched
Featured Videos