Sandoval's 2017 calendar shows role in health-care debate, legislative influence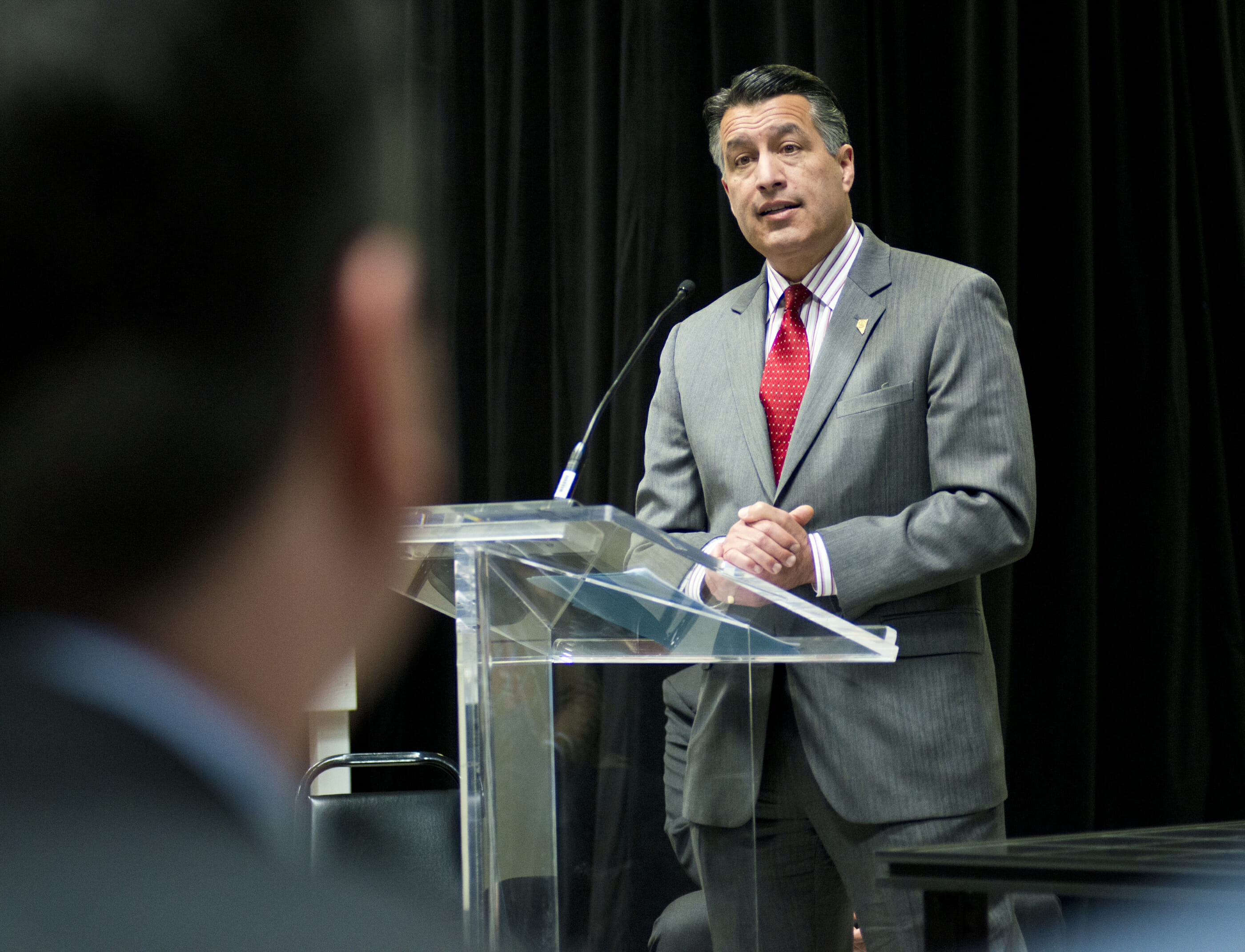 For a self-professed "lion in winter," Gov. Brian Sandoval certainly keeps a busy schedule.
A review of Sandoval's official calendar through the first half of 2017, obtained by The Nevada Independent via a public records request, details a rare behind-the-scenes look at the often hectic schedule of the termed out Republican governor's meetings with prominent business executives, legislators, congressional representatives and Cabinet officials. Some of the details of Sandoval's 2017 calendar, including his actions during the legislative session, were previously reported by the Reno Gazette-Journal.
In addition to meetings and involvement in the bustling 120-day legislative session, Sandoval made at least two trips to Washington, D.C. during the first six months of the year, meeting with the state's congressional delegation and House leadership, including Paul Ryan and Nancy Pelosi.
His scheduled calls and meetings with congressional members and other governors also paint a fuller picture as to how the popular Republican governor — who made the decision to expand Medicaid coverage under the federal health-care law in 2012 — became one of his party's leading critics of the push to repeal the Affordable Care Act in the summer of 2017.
And despite their at-times frosty relationship, he also met with gubernatorial candidate and Attorney General Adam Laxalt on the same day Laxalt testified before a legislative panel about asking a gaming regulator to intervene in a case involving the Las Vegas Sands.
Calendar records don't give a full picture — the subject of meetings is often not listed, and a scheduled meeting doesn't necessarily mean it took place.
But a look at the publicity-shy governor's schedule provides additional context and clarity as to how the often oblique, legislative "sausage-making" is accomplished and a focus on a key period during Sandoval's nearly eight years in the governor's office.
Legislature
Despite rarely stepping foot in the legislative building, Sandoval's influence in the decision-making process can be glimpsed at through his many scheduled meetings with Assembly and Senate leadership.
His calendar reported six meetings with Democratic Assembly Speaker Jason Frierson, including a dinner at the Governor's Mansion in Carson City on May 9, and five meetings with Democratic Senate Majority Leader Aaron Ford. The governor met with both Democrats individually on May 3, 2017, just a day after the governor told agency heads to cease contact and meetings with legislators amid a tense standoff over funding the contentious Education Savings Account program.
Sandoval's calendar also shows records of six meetings with Republican Assembly Leader Paul Anderson throughout the legislative session, including one in Anderson's office, and only one with Republican Senate Minority Leader Michael Roberson on Feb. 7, as well as one meeting with the Republican Senate caucus on April 6.
The governor also reported holding 17 "Meet and Greet" meetings with primarily freshmen lawmakers of both parties through the first four months of the year.
But the person he scheduled meetings with the most wasn't a legislator — it was his economic development czar, Steve Hill. Sandoval and Hill, the former director of the Governor's Office of Economic Development and current chairman of the Las Vegas Convention and Visitors Authority, met or spoke over the phone a total of eight times during the first six months of 2017. Near the end of the legislative session, Hill took on a more active role on various contentious pieces of legislation, namely a measure raising the state's Renewable Portfolio Standard to 50 percent by 2030. Sandoval vetoed an amended version of the bill later in June.
The meetings and calls related to the Legislature weren't limited to just lawmakers, either — Sandoval also reported meeting with local government officials, industry and business representatives on pending legislation throughout the 120-day session.
Notably, Sandoval's calendar lists two phone calls scheduled with Joaquin Duato — chairman of the Pharmaceutical Research and Manufacturers of America, or PhRMA — on June 2, the day he vetoed a prominent pharmaceutical transparency bill requiring diabetes drug manufacturers give more information about their costs and profits. Sandoval's calendar also includes a meeting with the bill's sponsor, Democratic Sen. Yvanna Cancela, on the same day.
Sandoval signed an amended version of the legislation into law several days later.
The governor's calendar also reveals other meetings held with stakeholders on pending legislation. He met with a Mothers Against Drunk Driving advocate on a bill requiring ignition interlocks after a drunk driving offense in April, and with Sparks Mayor Geno Martini on a bill amending the city's charter and elections on May 23.
Sandoval also scheduled meetings or phone calls with prominent lobbyists and business leaders, including:
A March 6 meeting and May phone call with

Luke Kissam

, CEO of lithium mining company Albemarle. A bill setting up a

regulatory framework

for lithium mining in Nevada was signed by the governor on June 9

A March 14 phone call with prominent Republican political strategist Sig Rogich

A March 29 meeting with Clark County Education Association head John Vellardita, days after the union

began running ads

critical of Democratic lawmakers for emphasizing minimum wage over education funding

A March 29 meeting with Mike Sloan, an executive with

Fertitta Entertainment

and well- known gaming lobbyist

An April 14 meeting with Stephanie Tyler, the Nevada president of AT&T

A May 19 meeting with Tesla representative Daniel Witt and NV Energy CEO Paul Caudill

A May 30 meeting with powerful Democratic strategist and lobbyist Billy Vassiliadis
Raiders
Three days after Las Vegas Sands CEO Sheldon Adelson announced that he and his company would be pulling out of a financing deal for a $1.9 billion stadium to attract the Oakland Raiders, Sandoval scheduled an important phone call — with team owner Mark Davis.
Adelson's decision to back out of the project and not contribute $650 million to stadium construction was seen as a potential death knell for the idea of the Raiders ever playing in Las Vegas, and came less than six months after state lawmakers approved hiking Las Vegas hotel room taxes to contribute $750 million to stadium construction.
But the team recovered — reports surfaced in early March that the organization had arranged for Bank of America to help fill the $650 million funding gap. About two weeks after news of the team's arrangements with Bank of America became public and four days before NFL team owners voted to approve the move to Las Vegas, Sandoval arranged for a phone call with team President Marc Badain on March 23.
His only other involvement with the team over the six-month period was already public — announcing the Raiders' 4th round draft choice in front of the Welcome to Fabulous Las Vegas sign in April.
Heller and ACA
It isn't listed on his calendar, but Sandoval's press conference with Sen. Dean Heller on June 23, 2017 announcing their opposition to a revision of the Affordable Care Act may end up being a deciding factor in whether Heller wins re-election — his 2018 opponent, Democratic Rep. Jacky Rosen, has zeroed in on his statements that day and his later votes on ACA replacements.
Sandoval's schedule that day was packed — flying to Las Vegas on the state plane that morning, he first called fellow Republican Massachusetts Gov. Charlie Baker at 9 a.m. and met with former Nevada Sen. Harry Reid at 9:30.
Before starting the press conference with Heller, the governor met former Henderson Mayor Jim Gibson, whom he would appoint to fill an empty seat on the Clark County Commission seven days later. Gibson and Sandoval also had a scheduled phone call on June 8, two days after the end of the legislative session and before former Clark County Commissioner Mary Beth Scow announced her resignation in mid June.
After the event with Heller, Sandoval penciled in an appearance at the groundbreaking of Aristocrat Technologies' Las Vegas headquarters before flying back to Reno.
Congress and Cabinet
Despite his public distaste for and distancing from President Donald Trump, Sandoval has said in interviews that he's found the administration to be easily accessible.
His calendar is abundant proof of that claim — the governor scheduled at least 17 calls or meetings with members of the Trump administration over the first six months of 2017, including scheduled talks with well-known Cabinet Secretaries including Education Secretary Betsy DeVos, Attorney General Jeff Sessions and former EPA Administrator Scott Pruitt.
Other meetings with administration officials included:
Two calls in March with former Deputy Chief of Staff Rick Dearborn, including one on health care

A call on March 16, 2017 with former Office of Management and Budget Director Mick Mulvaney over the president's 2018 proposed budget

Meetings with Energy Secretary Rick Perry in March and April, including one in Las Vegas. The day after the March meeting, Sandoval had a scheduled meeting with Bob Halstead, the state's director of the Nuclear Waste Project Office.

A meeting and phone call with Pruit in April

A meeting and call with Interior Secretary Ryan Zinke in April and June
March 14 was a day packed with meetings focused on health care, including scheduled calls with Dearborn, Price and Verma, a meeting with Aetna president Karen Lynch and a phone call with Montana Gov. Steve Bullock.
In the days before his fateful appearance with Heller to announce their opposition to the Senate's replacement bill for the Affordable Care Act, Sandoval made various calls to Trump administration health care officials, including to Centers for Medicaid and Medicaid Services Administrator Seema Verma on June 12 and June 20. He also had a call with then-Health and Human Services Secretary Tom Price on June 29 — six days after the press conference with Heller.
The governor also held several meetings and calls with Nevada's congressional delegation throughout the first half of the year. In addition to meetings with Rosen, Heller and Rep. Ruben Kihuen during a January trip to Washington, D.C., he also scheduled calls with Sen. Catherine Cortez Masto in January and April and with Rep. Dina Titus in March.
Laxalt
Sandoval reported meeting only once during the legislative session with the man who could replace him in 2019 — Attorney General Adam Laxalt.
And the meeting of the two men — who often clashed over Laxalt's decisions to involve the state in lawsuits over former President Barack Obama's executive orders on immigration — was scheduled on an auspicious day; May 17, 2017, the same day Laxalt testified before a legislative panel on his efforts to convince the state's top gaming regulator to intervene in a contentious private lawsuit involving the Las Vegas Sands, one of his top campaign donors.
The meeting was scheduled just a few hours before Laxalt defended himself in front of a panel of lawmakers over a conversation he had with former Gaming Control Board chairman A.G. Burnett in a hastily arranged coffee shop meeting in March 2016. Burnett secretly recorded the meeting and turned it over to the FBI, which concluded there was no criminal wrongdoing.
Laxalt staunchly defended his conduct during the hearing, saying he was asking Burnett to involve the state in a narrow aspect of a wrongful termination suit filed against the casino company that was consistent with past actions by his office and that he at no point attempted to coerce Burnett into getting involved in the lawsuit.
Five days after the hearing, Sandoval told a Reno TV news station that it was "time to move on" from the issue, calling it an important hearing but that the meeting was an "isolated" incident.
Sandoval said earlier this month he doesn't plan to endorse a candidate in the race to replace him.
Governors
Sandoval, who chaired the National Governors Association between 2017 and 2018, made time to meet or speak with at least seven governors of other states during the first half of 2017, according to his calendar.
Although the content of the meetings isn't disclosed, it's fair to assume that health care and the looming effort to replace the Affordable Care Act was raised in several of the meetings.
Sandoval called Massachusetts Gov. Charlie Baker the morning he and Heller announced that they would oppose the then-written version of the Senate health-care law replacing the ACA.
In an interesting coincidence, Sandoval's calendar includes scheduled calls or meeting with at least four of the 11 governors who signed onto a July 2017 letter asking the Senate to drop its effort to repeal and replace the Affordable Care Act.
Disclosure: Several Indy donors are mentioned in this story. You can view a full list of our donors here.
8.28.18.Snyder.details by Riley Snyder on Scribd
Updated at 9:10 a.m. on Tuesday, Sept. 4 to reflect that some of the details in Sandoval's 2017 calendar were reported by the Reno Gazette-Journal.
Comment Policy (updated 4/20/2021): Please keep your comments civil. We reserve the right to delete comments or ban users who engage in personal attacks, use an excess of profanity, make verifiably false statements or are otherwise nasty. Comments that contain links must be approved by admin.