Sandoval talks frankly on party politics, the D.C. climate, regrets and his future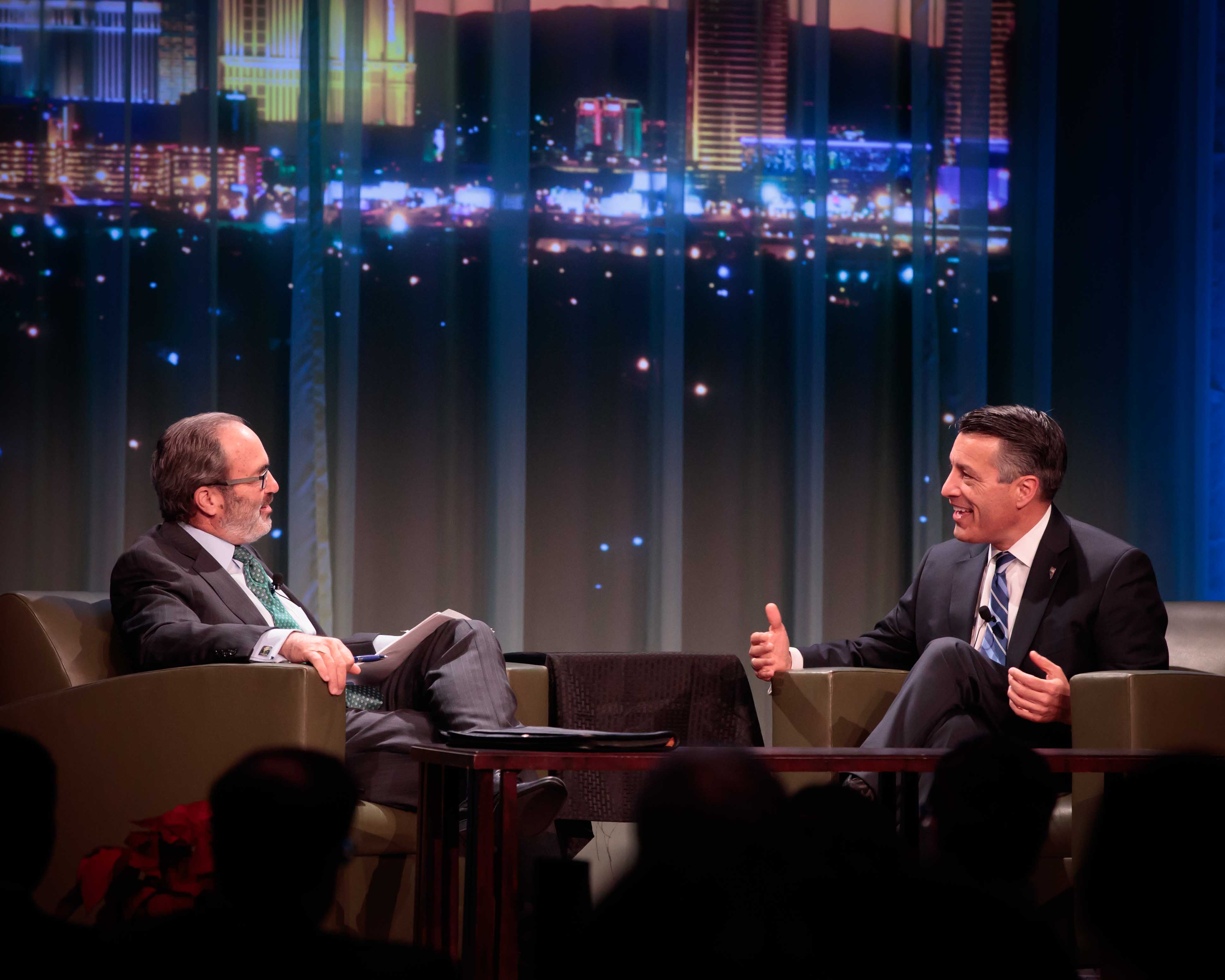 Gov. Brian Sandoval said he's still a "proud Republican" even when he wakes up and shakes his head at some of President Donald Trump's actions.
But the popular and term-limited governor defended his moderate policy decisions, such as raising taxes to help bolster K-12 education and opting the state into a Medicaid expansion under the Affordable Care Act, as the right thing to do for the state, saying if that makes him a RINO — a Republican in name only — then he's "guilty as charged."
Sandoval, who described himself as a "lion in winter" with just a year left in office, fielded questions Tuesday from The Nevada Independent Editor Jon Ralston on everything from his greatest regret as governor to his stance on abortion to his future plans.
"I will not be on the ballot in 2018," he said at the inaugural "IndyTalks" event held at the Smith Center for Performing Arts in Las Vegas. And as for a presidential run, which he said hasn't crossed his mind: "I have made some pretty unconventional decisions as the governor and I would get sliced like mincemeat in one of those primary debates. But I'd tell you I'd be loud and proud and stand behind my record regardless."
He said that he had shied away from discussing his future plans during the legislative session, but after serving in all three branches of government had taken steps to discuss a potential teaching opportunity at the UNLV's Boyd School of Law — something that he's not sure would be full- or part-time.
"That's one of the things I've always wanted to do," he said. "If I wasn't in politics, or public service, or wasn't a lawyer, I'd be a teacher and a coach."
Read on for some of the governor's other notable comments during the hour-long interview, or watch the full video below.
On Washington D.C. and President Donald Trump:
Asked whether he wakes up in the morning and shakes his head at what is going on in Washington D.C. and what the president is saying and doing, Sandoval said he does. He said that he tried to model himself off of Nevada political legends Sen. Paul Laxalt, Sen. Bill Raggio, Speaker Joe Dini and Gov. Kenny Guinn.
"These are people who really made a big imprint on me on how you conduct yourselves and how you work together to solve problems but be principled at the same time," Sandoval said.
He described his style of working across the aisle as "personal diplomacy," noting that he meets with each freshman member of the Legislature to get to know them.
"I've got my lines as well, but I always try to work together with others," Sandoval said. "I don't see that happening right now, and I'm hoping it'll change and I try to set an example for other people that I work with, but Washington's pretty toxic right now."
Asked whether he's ever had a meaningful conversation with the president, Sandoval at first said, drily, "I had a conversation," to the chuckles of the audience, before adding that, yes, he's had a "meaningful conversation" with Trump. Sandoval said that he had an opportunity to visit the White House as Trump signed his executive order reducing the federal government's role in K-12 education.
"I mean, I can't say I've had a lengthy conversation with him but we have had conversations several times," Sandoval said.
Sandoval also said it was "very meaningful" to him that the president visited Las Vegas in the wake of the Oct. 1 shooting on the Las Vegas Strip that claimed the lives of 58 people and injured more than 500 others.
He also said that, as head of the National Governor's Association, he's established good relationships with all the members of Trump's cabinet, and that the White House has been accessible to him at any time.
On Nevada's bid to lure Amazon and the stadium deal:
Amid the many competing bids from municipalities and states to attract Amazon's massive planned second headquarters and an estimated 50,000 jobs, Nevada and Las Vegas haven't made the same splashy offers and have kept the state's application to the Internet behemoth under wraps.
While Sandoval touted the state as one of the likely "top candidates" for the company, he did rule out any special deal a la those offered to car manufacturers Tesla and Faraday.
"Our offer will not require a special session," he said. "In order to get Amazon here it will not take us out of any statutory scheme."
Sandoval also defended the state's decision to engage with troubled car manufacturer Faraday Future, which pulled out of a planned massive factory in North Las Vegas amid ongoing financial difficulties. He said that state investments in other economic development projects — namely Tesla — had transformed the state.
"Tesla has actually exceeded all our expectations in what they've promised," he said. "It's completely changed Northern Nevada in terms of what's happened there."
The governor also defended his decision in approving legislation allocating up to $750 million in hotel room tax revenue to the construction of a domed Las Vegas stadium that would house the Oakland Raiders. Sandoval said the tax revenue was sourced from a fund usually tapped to invest in southern Nevada infrastructure, and brushed away suggestions that the money could have been put to better use by stating that he believed economic development and education were "inextricably intertwined."
"I think at the end of the day it is going to be very beneficial to education," he said.
On social issues:
The Catholic governor said he has always been pro-choice — a stance that puts him at odds with his church and most of his party. Why? "I believe that decision is up to a woman. It's her body," he said.
But his view on another social issue — gay marriage — hasn't been as clear-cut. Sandoval said his position on gay marriage evolved over time, partially because some of his best friends are in the LGBT community. He now supports marriage equality for all.
"They deserve to be happy," he said. "They deserve to have the partner of their choice. It's where I am on it."
On education:
When Sandoval began as governor, he vowed to visit 100 classrooms to get an on-the-ground view of the state's education system. He accomplished that goal, which he said has left a lasting impression.
The governor threw out a number of examples: How can kindergarten students be on grade level while only receiving a half-day of education? And how difficult must it be for educators with large class sizes and students speaking multiple languages?
"I can't say I'm proud of where we are," he said. "I'm proud of our teachers. They work extremely hard with the assets they have. It was my job to give them more assets and more resources."
To that end, Sandoval noted some of the education reforms implemented during his tenure, including extra funding for schools with large populations of students living in poverty or learning English.
"Sometimes you have to plant the trees or you'll never get to sit in their shade," he said. "I think history will show the investments we made now have made a difference."
But one education policy priority of his hasn't gone forward. Education savings accounts — a voucher-style program — died in an end-game compromise this past legislative session.
Sandoval said he didn't call a special session to fund so-called ESAs because it could have led to a toxic political climate with reverberations for years to come.
"It would make us no different than Washington, D.C.," he said. "I knew the Democrats would dig in and there would be a stalemate, and it would cause people to lose trust in government."
He pointed out that Nevada did get $20 million for school choice in the form of a new funding infusion for Opportunity Scholarships. But he also insisted that there was a deal during the session that could have brought funding for the program and "somebody blew it up."
He declined to say who that person was, but he said the situation reminded him of the maxim on being overly greedy — "pigs get fat and hogs get slaughtered" — and said he'd rightly predicted that someone involved in the ESA negotiations would wish for a five-minute window of opportunity back.
On health care:
Sandoval said that his biggest regret as governor is not acting more quickly when news broke in 2013 that a patient who was discharged from Rawson-Neal Psychiatric Hospital in Las Vegas ended up in Sacramento without services and a treatment plan at the other end.
The situation, in which there wasn't a "catcher's mitt" at the other end of the patient James Flavy Coy Brown's journey, became the subject of a Sacramento Bee investigation into "patient busing." He said coverage fueled the perception that Nevada had a map of the country and picked a destination where it could ship psychiatric patients after they left a state hospital; he adamantly denied that Nevada allows such practices.
But he said the state's mental health issues were a "big catalyst" in his decision to opt the state into the Affordable Care Act's Medicaid expansion, which allowed Nevada to provide health insurance to low-income adults without children. Sandoval was the first Republican governor to opt into Medicaid expansion.
"It caused me to become very familiar with the way we treat the mentally ill in the state of Nevada," Sandoval said.
He said the Medicaid expansion has improved psychiatric care in Nevada, shifting more of the cost to federal sources and away from state funds (he argued this has wrongly been described as a budget cut).
On the 2018 election:
Sandoval was quick to reiterate his support for longtime ally Republican Sen. Dean Heller in his 2018 re-election bid.
However, when asked whether he planned to endorse favored Republican gubernatorial candidate Adam Laxalt, who has stated one of his goals as governor will be to repeal the Commerce Tax spearheaded by Sandoval, he said he "hadn't endorsed anybody."
Sandoval said he will wait to see what the candidates have to say but that he would not "support a candidate who seeks to undo what we've done the past seven years."
Asked whether he considers repealing the Commerce Tax undoing what he has done over the past seven years, Sandoval said yes. He said repealing the Commerce Tax would be "devastating" for Nevada.
Asked whether he could support someone who would devastate the state, Sandoval said no.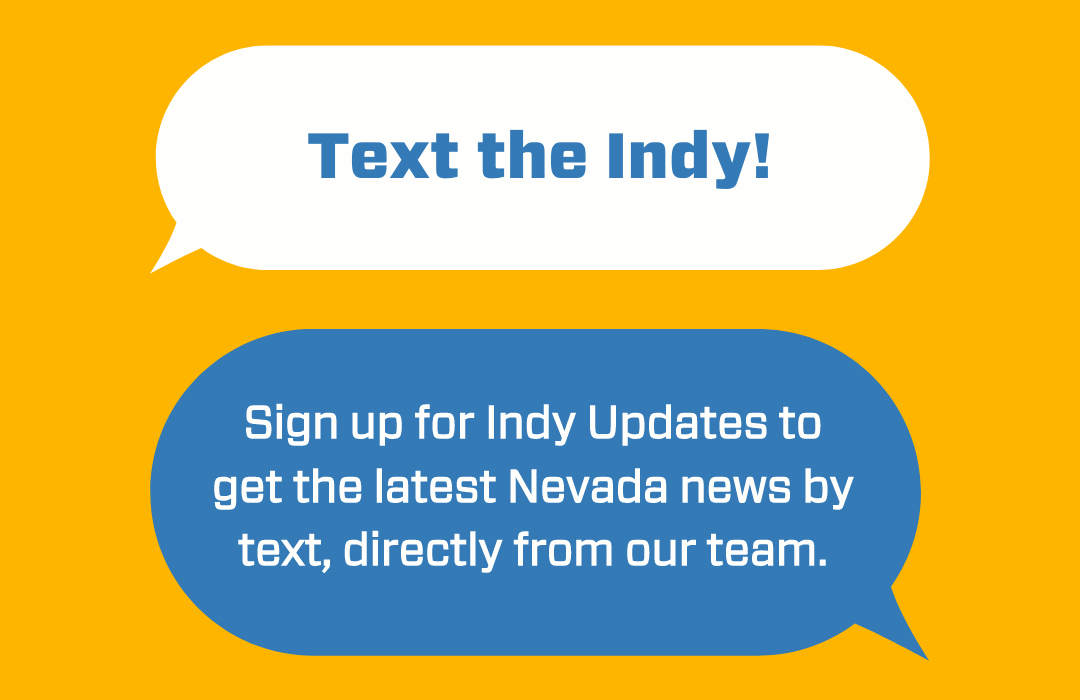 Featured Videos
Comment Policy (updated 4/20/2021): Please keep your comments civil. We reserve the right to delete comments or ban users who engage in personal attacks, use an excess of profanity, make verifiably false statements or are otherwise nasty. Comments that contain links must be approved by admin.