Indy Primer: Everything you need to know about the Laxalt-Burnett secret recording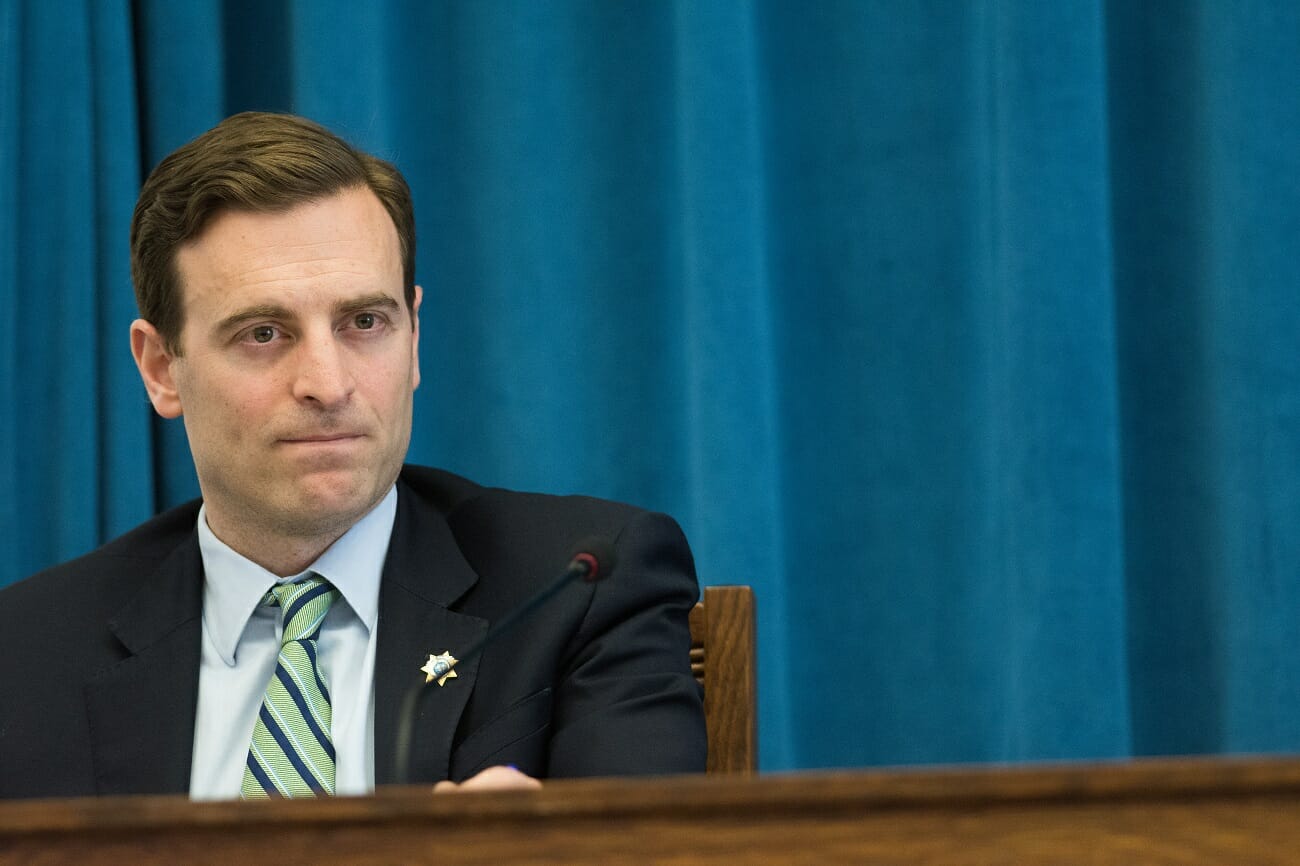 Update 5-17-17 at 11:30 a.m.: The audio recording of the conversation between Attorney General Adam Laxalt and Gaming Control Board Chairman A.G. Burnett has been released on the Legislature's website. Listen here.
The long-simmering saga of a secret recording of Attorney General Adam Laxalt made by the state's top gaming regulator over concerns that Laxalt was acting on behalf of billionaire casino magnate Sheldon Adelson will finally come to the fore Wednesday night.
Lawmakers have scheduled a joint hearing of the Legislature's two finance committees to hear a bill that would allow the state's Gaming Control Board to hire its own independent legal counsel outside of the attorney general's office. But it's more than an everyday bill hearing — it marks the climax of a series of events that began in February when news broke that the board's Chairman A.G. Burnett felt so concerned with a series of events leading up to a hastily arranged March 2016 meeting by Laxalt that he decided to secretly tape the conversation.
Wednesday night will be the first time that Laxalt, who has worried that the hearing will be a "political ambush" by legislative Democrats, will have the chance to publicly present his side of the story. Laxalt has not confirmed that he will attend but expressed his "willingness to participate in a fair and nonpartisan hearing" in a letter Tuesday.
Burnett has said that he plans to attend the Wednesday hearing.
Policy will be at stake on Wednesday — but also political futures, as Laxalt is widely considered the Republican frontrunner for governor in 2018.
If you have missed the ongoing developments over the last few months, here's everything you need to know headed into tonight's hearing:
CAST OF CHARACTERS: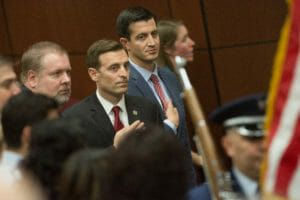 Adam Laxalt, Nevada attorney general:
In less than four years, the grandson of Nevada political legend and former Sen. Paul Laxalt has gone from political unknown to likely gubernatorial favorite in 2018. In one of the closest races of the 2014 election cycle, Laxalt defeated former Secretary of State Ross Miller in the race for attorney general by fewer than 5,000 votes as part of a statewide Republican sweep.
Laxalt made an immediate splash shortly after being sworn in when he had Nevada join a multi-state lawsuit against President Barack Obama's deportation deferral executive order without the explicit backing or knowledge of fellow Republican Gov. Brian Sandoval. The Republican attorney general's office has also tackled the state's backlog of untested sexual assault test kits, and created an office that provides pro-bono legal assistance to active duty military, reserve and National Guard members.
Laxalt is widely considered a frontrunner for governor in 2018. He reported raising more than $1.1 million in 2016, and has scheduled a number of high-profile fundraisers with Republican governors and influential Washington D.C. conservatives.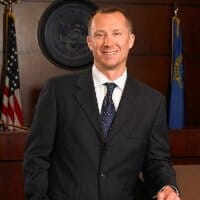 A.G. Burnett, Gaming Control Board chairman:
Burnett has chaired the state's Gaming Control Board since October 2012, and first joined the board after Sandoval appointed him in 2011.
Prior to that appointment, Burnett was employed as the deputy chief of the Corporate Securities Division of the board, where he handled legal issues that came before the division. Burnett, a Republican, also worked as a deputy attorney general overseeing the Nevada Gaming Control Board, the Nevada Gaming Commission, and the Nevada Commission on Sports.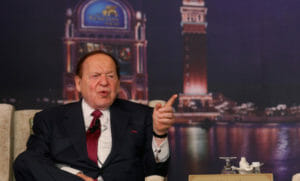 Sheldon Adelson, Las Vegas Sands chairman and CEO:
Adelson is the chairman and CEO of the Las Vegas Sands Corporation, a massive casino and hospitality conglomerate that owns and operates properties in Las Vegas, Macau and Bethlehem, Pennsylvania and employs roughly 46,500 people. The 83-year-old is worth approximately $33 billion and is the richest person in the state of Nevada, according to Forbes.
Adelson is also a prolific Republican campaign donor, giving Donald Trump $5 million and spending another $40 million to boost congressional candidates in 2016.
He has also been a strong supporter of Laxalt, donating more than $100,000 to the Republican and his associated political action committee through personal, family and Sands properties since 2014. Adelson also gave $1.5 million to the Republican Attorneys General Association in 2014, and RAGA ran an independent expenditure campaign on Laxalt's behalf. Laxalt's former campaign manager, Robert Uithoven, is a longtime lobbyist for the Sands.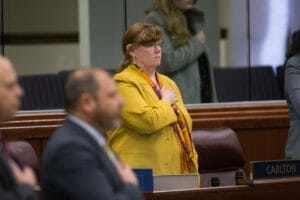 Maggie Carlton, chair of Assembly Ways and Means Committee:
One of the longest serving lawmakers in Carson City, Carlton has served as both a state senator and an assemblywoman continuously since the 1999 session. She began working as a coffee shop waitress at the Treasure Island Hotel and Casino in 1993 shortly after moving to Las Vegas, and continued working there through 2008.
Carlton chaired the powerful Assembly Committee on Ways & Means in 2013 and is again this session. The committee is charged with reviewing the governor's proposed two-year budget and assessing any and all bills that appropriate money or could cost the state money.
In May, Carlton issued a legislative subpoena to Burnett for a copy of the secret recording as well as an affidavit filed earlier by the gaming regulator.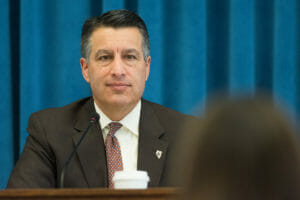 Brian Sandoval, Nevada governor:
After knocking out former Gov. Jim Gibbons in a primary and defeating Clark County Commission chairman Rory Reid in the 2010 general election, Sandoval has spent the last seven years as Nevada's governor.
Sandoval's resume includes stints as a federal district court judge, state attorney general, chairman of the state's gaming commission and as a state legislator. He remains one of the most popular elected officials in the state.
On Monday, Sandoval issued a strongly worded statement defending Burnett as an "honorable public servant" amid Republican accusations of collusion.
"I will not hesitate to vigorously defend our regulators and staff against empty claims seeking to blemish that reputation," he said.
TIMELINE:
Compiled from an affidavit from Burnett, other documents obtained by The Nevada Independent, court filings and news reports.
October 20, 2010

: Former Sands China Ltd. CEO Steven Jacobs

files a wrongful termination lawsuit against Las Vegas Sands

, alleging that Adelson directed him to

collect evidence of Macau governmental officials

to use as "leverage" on casino regulators.

December 2015

: Sands inquires whether the Gaming Control Board would be willing to file an amicus brief arguing that an internal audit created by Sands and provided to the board and federal authorities is confidential in the ongoing Jacobs lawsuit. After review, the board staff decided intervening would not be appropriate and declined.

December 11, 2015

: The

sale of the

Las Vegas Review-Journal

, the largest newspaper in Nevada, to Adelson's family is completed.

December 19, 2015

: Reporters at the

Review-Journal

reveal

that three reporters with the newspaper were, without explanation, asked to monitor all activity of three Clark County judges

— including District Court Judge Elizabeth Gonzalez, the judge on the Jacobs lawsuit — a month before Adelson was revealed as the paper's new owner.

February 11, 2016

: Sands

renews its efforts to remove Gonzalez

from the Jacobs case, filing a motion arguing that Chief District Judge David Barker prematurely denied their request to disqualify Gonzalez. A few days later, Barker denies reconsideration of his earlier order.

February 23, 2016

: Sands

takes its efforts to disqualify Gonzalez to the Supreme Court

, asking it to override Barker's decision. The discovery requests are ongoing at the district court level at the time.

Early March 2016

: Sands again requests that the board file a motion or brief in the discovery proceedings to explain Nevada confidentiality statutes to Gonzalez. The board responds to the licensee, again declining to intervene in the lawsuit.

March 4, 2016

: After that response, Burnett requests a legal analysis from the Attorney General Office's Gaming Division in relation to the discovery dispute.

March 10, 2016

: A senior deputy attorney general

emails

Burnett advising him against intervening in the lawsuit. Soon after, a source informs Burnett that a meeting or meetings had been held between Laxalt and Sands regarding the discovery matter.

Late March 2016

: Burnett receives information from a source that Laxalt will soon contact him personally to discuss the possibility of the board filing a motion or brief in the lawsuit.

March 24, 2016

: Laxalt

texts Burnett

asking for a meeting; Burnett responds that he is in Reno.

March 25, 2016

: Laxalt texts Burnett for a meeting, telling him it is urgent that he meets with him before Burnett leaves for a family vacation the next day. Laxalt picks Burnett up from a Reno car dealership and takes him to a coffee shop, where he asks Burnett to intervene in the Sands lawsuit. Burnett secretly records the conversation.

After March 25, 2016

, on an unspecified date: Burnett inquires with staff and independent counsel about what to do with the recorded conversation and decides to turn it over to the FBI for review. Federal authorities later advise after their review that there appear to be no criminal violations, and the Gaming Control Board considers the matter closed and move on with the investigation and upcoming disciplinary action involving Sands.

March 26, 2016

: Burnett leaves for a family vacation in Orlando.

March 31, 2016

: Burnett receives a request from Adelson asking to meet. Burnett texts Laxalt inquiring whether the request is related to their meeting the prior week. Laxalt texts back "yes" and asks whether Burnett wants him to be present for the meeting. Burnett doesn't respond.

April 3, 2016

: Burnett returns from the family vacation.

April 4, 2016

: Laxalt texts Burnett asking him whether he wants him to be present at the meeting with Laxalt; Burnett texts back that he's "good" and that his investigations chief, Mike Labadie, will be at the meeting.

April 5, 2016

: Nevada Supreme Court

hears the motion to remove Gonzalez

. Burnett meets with Adelson and tells him "unequivocally" that the board will not intervene in the litigation.

May 11, 2016

: The Nevada Supreme Court

rules against Sands

, ordering

Gonzalez to remain on the case

. The Gaming Control Board files a disciplinary action against Sands in accordance with the investigation with federal authorities.

May 19, 2016

: Sands

settles the disciplinary action with the board

and agrees to pay a $2 million fine.

May 31, 2016

: Adelson

agrees to settle the Jacobs lawsuit

under confidential terms. The Wall Street Journal reports that

the lawsuit was settled for $75 million

.

February 16, 2017

: Sources confirm to

The Nevada Independent

that

Burnett surreptitiously recorded

the March 2016 conversation with Laxalt. Burnett declines to comment on the matter citing confidentiality statutes. Laxalt's confirms that he was approached by Sands but says the issue was handled just like any other issue presented to his office.

March 1, 2017

: The Nevada State Democratic Party

calls for an ethics investigation into Laxalt

. The ethics commission's executive director

says a complaint must be based on evidence

beyond media reports.

April 27, 2017

: Burnett signs an affidavit laying out the series events leading up to the March 2016 conversation with Laxalt.

April 28, 2017

: Carlton calls Burnett to see if he would voluntarily turn over the recording he turned over to the FBI, which the existence of had already been reported. During that conversation, Carlton says it became clear that there were supporting documents — the affidavit — which she was previously unaware of before the conversation. She notes that she had no prior communication with Burnett before this phone call.

May 3, 2017

: Carlton

subpoenas

the Gaming Control Board for the recording and any other documents that verify the circumstances around the recording.

May 9, 2017

:

The Nevada Independent

learns that lawmakers have subpoenaed the recording and accompanying affidavit.

May 10, 2017

: Carlton introduces a bill draft request into Assembly Ways and Means to allow the Gaming Control Board to hire its own, separate counsel.

May 12, 2017

: Roberson alleges "collusion" between Democrats and Burnett and calls for an investigation into Burnett.

May 15, 2017

: Lawmakers formally introduce Carlton's bill as AB513, and announce the Gaming Control Board legal counsel bill will be heard in two days. Laxalt and Carlton spar through an exchange of letters over whether the bill hearing will be politicized.

May 16, 2017

:

Transcript of the taped conversation

between Laxalt and Burnett released.

May 17, 2017

: Hearing scheduled for 6 p.m. during a joint session of Assembly Ways and Means and Senate Finance.
LEGAL PRECEDENT:
Former Attorney General Catherine Cortez Masto, Laxalt's predecessor, intervened in at least two private lawsuits involving gaming licensees on behalf of the Gaming Control Board as its legal counsel during her eight years in office. In those lawsuits, she argued against the release of information from the board either directly or indirectly.
Of the two cases, the one that most closely aligns with the type of intervention requested in the Jacobs case was the ongoing lawsuit between Joe Asher, CEO of William Hill, and his former partners at Cantor, now known as CG Technology. The court had ordered that Asher, the defendant, produce his communications with gaming authorities regarding Cantor, the plaintiff, and their executives or employees.
Though the documents were not directly being requested from the board, Cortez Masto filed an amicus brief in 2013 stating that the board viewed Cantor's request that Asher provide all documents he submitted to the board as a "means to get around the protections that statute gives information within the BOARD's possession." Nevada law specifies that certain information and data kept by the board must be kept confidential and only revealed "in whole or in part only in the course of the necessary administration of this chapter or upon the lawful order of a court of competent jurisdiction."
Cortez Masto argued in the brief that if the board's "guarantee of confidentiality is eroded," there is a risk that applicants and other individuals communicating with the board won't be "honest and forthright" in their interactions with the board, making it more difficult for them to carry out their regulatory responsibilities and causing potential harm to the gaming industry and the state.
But the case differs from the Jacobs lawsuit in a couple of ways.
First, the information the court demanded be released in the Asher lawsuit was communications between Asher and gaming authorities, such as the board.
That's different from what Sands was hoping to keep confidential in the Jacobs case, documents relating to an internal audit conducted by the Sands and provided to the Gaming Control Board and federal authorities as part of their ongoing investigation into whether Sands bribed foreign officials in violation of the Federal Corrupt Practices Act. (Those investigations would result in multimillion-dollar fines by the federal and state agencies.)
Second, the audit report at issue in the Jacobs case wasn't solely in the possession of Sands and the Gaming Control Board — it had been given to federal authorities as well.
Sands' attorneys argued that because the documents were given to the board, they were confidential to all due to the confidentiality provisions in Nevada law, even though federal agencies had the documents as well. But Burnett's understanding was and is that because the documents were provided to federal agencies, that "constituted a waiver of privilege, and the requestor would therefore be likely to obtain said document," according to his affidavit.
A deputy attorney general wrote in a March 10, 2016 email to Burnett that he thought "the Sands' arguments were unlikely to succeed and Judge Gonzalez has indicated as much" and urged Burnett not to intervene in the lawsuit.
The other Cortez Masto case, in 2008, involved a request to directly compel the board to release certain documents. In the middle of a yearslong battle between former Las Vegas Review-Journal columnist John L. Smith and Adelson, who sued Smith over an allegedly defamatory passage in his book, Smith's lawyers sought to require the Gaming Control Board to release records relating to Adelson's gaming license as part of the discovery process.
Cortez Masto, arguing on the board's behalf, opposed the release of the documents on the grounds that it would hurt the board's ability to vet gaming license applicants.
"The BOARD relies on a great deal on the candid and truthful statements of the applicants and witnesses to ensure that it is provided with a complete and accurate record," Cortez Masto stated in her opposition to the attempt to compel the records' disclosure. "Every time the BOARD is ordered to release such information, the confidence applicants and witnesses have in the BOARD is put at risk, thus putting in jeopardy the ability of the BOARD to effectively regulate the gaming industry."
The Smith case differs from the Jacobs case because documents were being requested from the board in the former and from the Sands in the latter. Burnett said in an interview last week that had they been served with a subpoena to produce information in the Jacobs case, the board would have fought it as Cortez Masto did.
"If we were ever subpoenaed we would've moved to fight that subpoena based on our confidentiality statutes," Burnett said. "That was never an issue. That never came up. That was never in play."
Plus, Burnett emphasized in the interview that the overarching difference between the two Cortez Masto cases and the Jacobs case is that the board took legal action of its own volition in the 2008 and 2013 cases. Sands approached the board and the attorney general, urging them to intervene on its behalf in the Jacobs case.
"I've always said that we would reserve the right to file something, but only if it protects the Gaming Control Board or Gaming Commission," Burnett said. "We would file something to protect our jobs and what we do, not for someone else."
BATTLE FOR 2018:
Laxalt has brushed off the allegations that there was anything improper about him urging Burnett to have the state intervene in the lawsuit as a "political attack" and expressed concerns that the Wednesday's hearing will be a "political ambush."
"We are beginning to have serious reservations with whether your Committee's hearing will be perceived as fair and primarily focused on seeking the truth," Laxalt said in a letter to Carlton on Monday. "As our State's top law enforcement office, specifically entrusted with protecting the public's confidence in our public officials and due process, we are deeply troubled with the appearance of unfairness and partisanship that could easily result unless this process is handled with more thought and care."
And it is political: Laxalt is the leading Republican contender for governor in 2018. The Nevada State Democratic Party has sent out no less than eight press releases calling Laxalt "partisan" and "unethical," while the Democratic Governor's Association latched onto an assessment from the Cook Political Report that the issue is a "huge problem for (Laxalt) in the governor's race."
At the same time, Republican Senate leader Michael Roberson, widely expected to run for lieutenant governor, has come down hard on Burnett, accusing him of "colluding" with Democrats and actively retweeting comments skeptical of Burnett's actions.
"Legislative Democrats have partnered with a rogue regulator to unfairly tarnish the reputation of our attorney general for crass, political purposes," Roberson said in a Friday statement. "This apparent collusion has caused me to lose faith in our chief gaming regulator and I call on my legislative colleagues to demand an investigation into the actions of gaming regulator Andrew G. Burnett."
And now, Laxalt is fundraising off of the series of events.
"Well, it's Day 100 of the Legislative Session, and how are Nevada Democrats spending their time (and your money)?" a fundraising email sent on Tuesday says. "By mounting a nakedly partisan, baseless attack campaign against Attorney General Adam Laxalt."
Carlton wrote a letter in response to Laxalt on Monday trying to "assuage (his) concerns" about appearing at the hearing.
"Hearing from our constitutional officers and getting their perspective is vitally important, not just for the Legislature, but for the people of Nevada," Carlton wrote to Laxalt on Monday. "I am disappointed that you indicated in your letter that you had some reservations about participating in the upcoming hearing on proposed legislation to give the Gaming Control Board its own independent counsel."
WHAT TO EXPECT TODAY:
Outside of the politically charged circumstances surrounding it, AB513 is a relatively straightforward piece of legislation.
Because Nevada's constitution prescribes few duties to the attorney general, legislators generally have statutory authority to define the role and scope of the office. The proposed legislation would allow the Nevada Gaming Commission and Nevada Gaming Control Board to hire a general counsel to represent them on legal issues facing either body.
The bill specifies that the general counsel for the two bodies can request assistance from the state attorney general and that office must comply with requests for legal assistance from the newly-created position. The attorney general's office would also be required to substitute for the board's general counsel if they're disqualified or unable to represent either regulatory body in a legal proceeding.
Laxalt said in a letter to Carlton on Tuesday that he wanted to "reaffirm (his) willingness to participate in a fair and nonpartisan hearing" relating to the Gaming Control Board and the statutes governing the licensing and control of gaming in the state. But he criticized the "gradual piecemeal and selective dissemination of materials" relating to his March 2016 conversation with Burnett, saying that it has resulted in "multiple inaccurate and speculative stories."
"The transcript of the recording, finally made public only this morning, contradicts the false narrative," Laxalt said in the letter. "As I have said from the beginning, this matter was handled just like other issues I encounter on a daily basis, and, as is often the case, this matter was resolved according to client preferences based on sound legal reasoning. I look forward to assisting members of the joint committee (and the public ) with their understanding."
He asked Carlton that he be allowed 15 minutes to deliver an opening statement at the hearing before responding to questions "to ensure that the meeting is not predicated on an inaccurate and one-sided perspective," since he believes that the bill is "predicated on the misconception of events that have been publicly reported."
Carlton, in a response, said she was "happy to oblige" his request to appear after Burnett at the hearing and have an opening statement, though she said she would ask that he keep his statement to 10 minutes.
"We are happy to have you in attendance and look forward to hearing from you on this important matter," Carlton said in the letter to Laxalt.
READ OUR COVERAGE:
Letter from Attorney General Adam Laxalt to Assemblywoman Maggie Carlton - May 16, 2017 by Megan Messerly on Scribd
Letter from Assemblywoman Maggie Carlton to Attorney General Adam Laxalt - May 16, 2017 by Megan Messerly on Scribd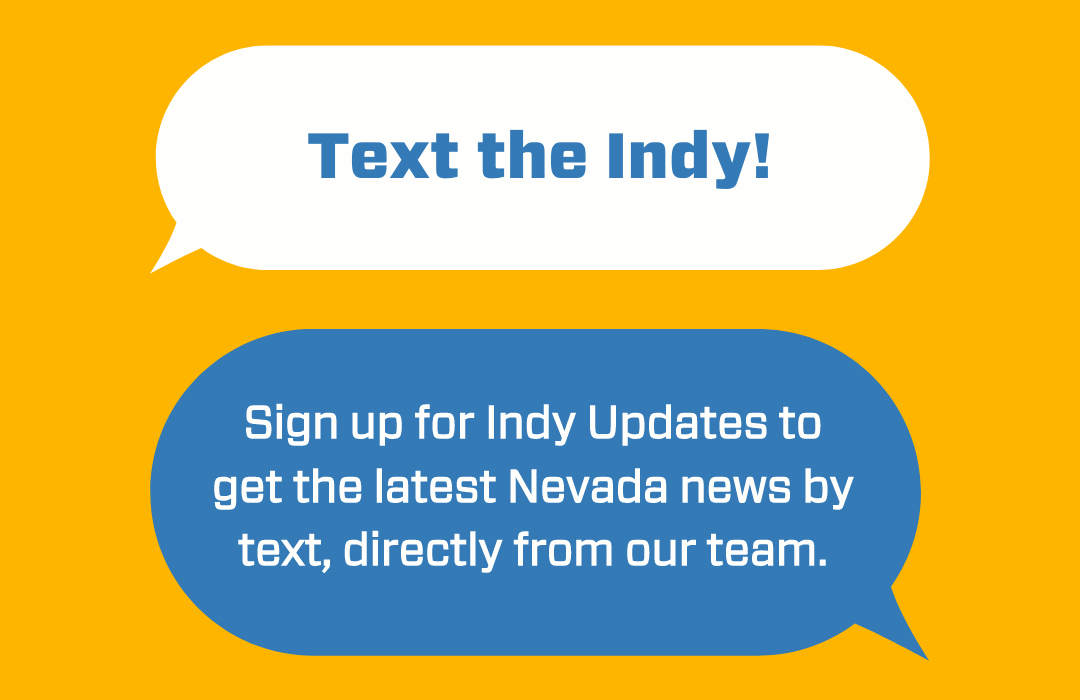 Featured Videos
Comment Policy (updated 4/20/2021): Please keep your comments civil. We reserve the right to delete comments or ban users who engage in personal attacks, use an excess of profanity, make verifiably false statements or are otherwise nasty. Comments that contain links must be approved by admin.