Lombardo slams Heller as 'spineless bureaucrat,' ups ante in GOP governor primary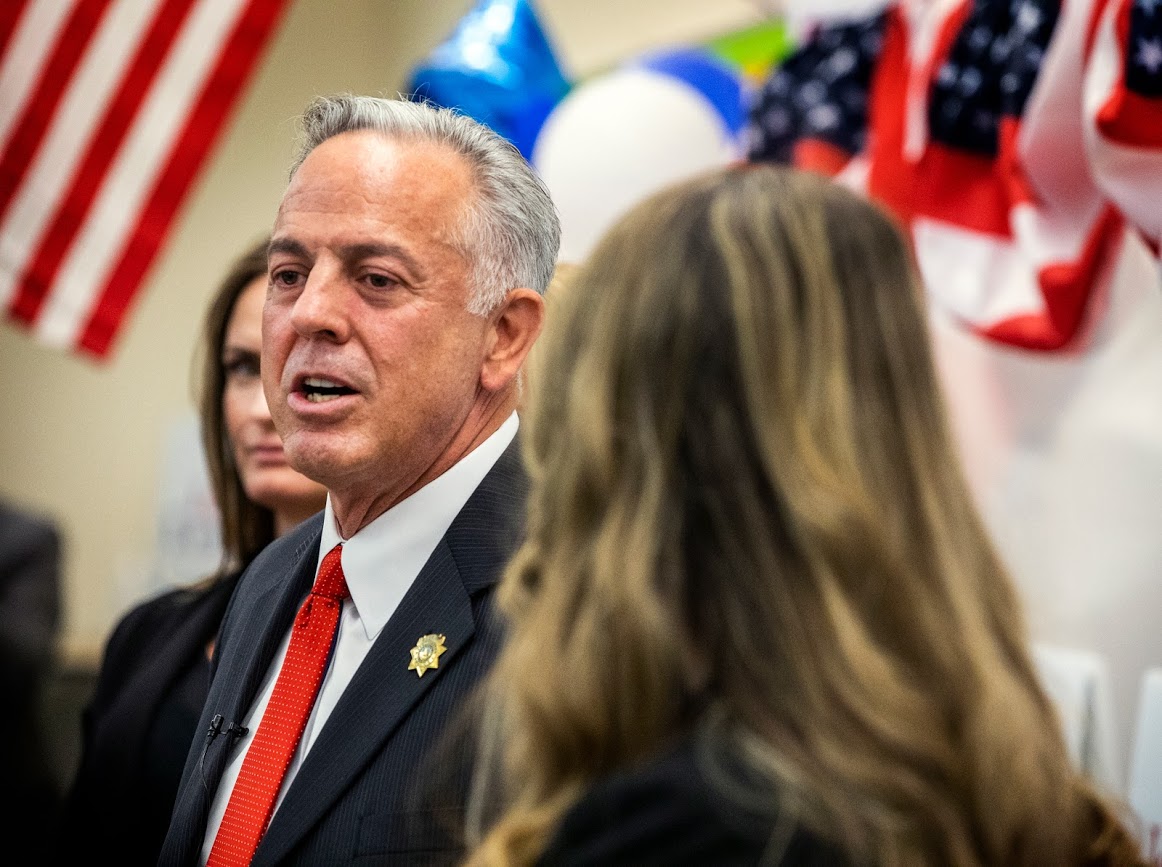 Clark County Sheriff Joe Lombardo portrayed himself as the only Republican gubernatorial candidate with a chance to win in 2022, while unleashing a broadside on rival candidate and former U.S. Sen. Dean Heller as a "spineless bureaucrat" and "washed up baseball player."
During a speech on Tuesday to members of the Nevada Republican Club, Lombardo said he was the best candidate to take on Democratic Gov. Steve Sisolak because of his leadership experience with the Las Vegas Metropolitan Police Department (Metro) and his success winning nonpartisan elections for sheriff in populous Clark County. But his attacks on Heller were also indicative of an increasingly bitter fight among GOP gubernatorial candidates jockeying for position with more than seven months until the June 2022 primary election.
A poll released by The Nevada Independent in early October found Heller leading Lombardo among Republican primary voters by about 8 percentage points. But Lombardo performed slightly better in polling that modeled the general election, pitting both candidates head-to-head against Sisolak.
"If you're not voting for me, you're voting for Steve Sisolak," Lombardo said at the event at the Ahern Hotel in Las Vegas.
Below are highlights from Lombardo's remarks.
The Republican primary
Lombardo drew contrasts with his Republican opponents, taking aim at Heller in particular, who previously panned Lombardo as a "liberal."
"[Heller] doesn't understand the nuances of running a massive government operation for the benefit of the entire state," Lombardo said. "He's insular in his attitude towards things… We need new blood, and we don't need the same old recycled candidates that will not bring success to the party."
Lombardo framed the governorship as a similar position to his role running a major police department.
"I have 6,000 employees, and I have a $1.2 billion budget," Lombardo said. "I am a CEO that's running a company, and that's what the governor's job is. It's more than soundbites."
Guns
Lombardo has been criticized by primary opponents for his views on the Second Amendment, with Las Vegas City Councilwoman Michele Fiore even characterizing Lombardo's stance on guns as un-Republican during a TV appearance last month.
At the Tuesday event, Lombardo staunchly defended his position on background checks for firearm purchases and emphasized that he is pro-Second Amendment as a long-time member of law enforcement.
"What I support is an individual that shouldn't have a gun not getting a gun… That is from a person who's been in law enforcement for 33 years and understands the nuances of it. It isn't a person that sits on their couch and thinks that's the answer," he said. "I'm not going to sway from that to pander to get votes."
Lombardo noted that he is a supporter of background checks but not universal background checks. He said background checks involve a one-on-one situation, where the dealer runs a check on the purchaser. But he noted there are "a lot of nuances in the universal phrase," as universal background checks are more comprehensive and apply to transfers of guns between certain family members.
Heller has contrasted himself with Lombardo by publicly supporting "constitutional carry," a policy that allows people to carry weapons concealed without a permit.
Education
Lombardo accused Sisolak of having no vision for education, pointing to upheaval in the Clark County School District, where the school board recently terminated Superintendent Jesus Jara's contract.
"Is everybody happy with what happened with Jesus Jara? Does anybody have any idea what the answer is going to be now that he's gone? No. That's the problem. There's no plan," Lombardo said. "Granted, it's the counties not the state, but there's no plan at the state level. There's no vision provided by the governor's office to solve the issues associated with education."
Lombardo's priorities for education include expanding school choice, the expansion of charter schools and boosting workforce development. He acknowledged, though, that Sisolak has started "to talk about [workforce development] a little bit." The Legislature also approved a bill earlier this year, AB450, to study opportunities to align workforce development with programs at Nevada's community colleges.
Taxes and the economy
Lombardo has repeatedly emphasized that as governor, he would oppose any tax increases. He also tweeted in September that there has been a "dangerous push for a state income tax."
When asked who is pushing for that tax, he said "the powers that be that's in the state government" and said it was a rumor he had heard. He added that he knows implementing such a tax "requires two sessions in the Legislature and the public to vote on something," but said the prospect of having a governor pushing for a state income tax could create momentum that leads to such a tax ending up on the ballot.
Last year, Sisolak said he "unequivocally" does not support a state income tax.
Lombardo also said it is important to diversify the state's economy and have a tax environment conducive to bringing new companies into the state, particularly manufacturers.
"You got to do a little bit more than mining and casinos," Lombardo said. "Do we have a tax environment for [new companies]? Currently, we do. I believe if what's-his-name gets re-elected, we won't."
COVID-19 and vaccine mandates
Though Lombardo was critical of mask mandates, he explained his decision to require new employees at Metro to be vaccinated against COVID-19.
He said the vaccine mandate was specifically for new employees to protect them in environments they may be unfamiliar with; whereas, employees who have been with the department for longer are "educated and [can] make the decision based on their own knowledge."
"[New employees] have no idea what I'm going to put them in, and they have no idea what environment I'm going to put them in, you know, the lowest forms of human detritus they're gonna have to deal with as police officers," Lombardo said. "So I thought it was my duty as the head of the agency to protect them."
Lombardo also said the requirement was based on the U.S. Centers for Disease Control and Prevention's policy that everyone in counties with substantial or high levels of COVID-19 transmission must wear a mask in public indoor settings. Clark County is experiencing substantial levels of transmission and must dip below that level for two weeks before the mask requirement is lifted.
"I will remove that mandate if we get under the threshold," Lombardo said.
Featured Videos
Comment Policy (updated 4/20/2021): Please keep your comments civil. We reserve the right to delete comments or ban users who engage in personal attacks, use an excess of profanity, make verifiably false statements or are otherwise nasty. Comments that contain links must be approved by admin.