Sisolak: 'We did not make a mistake' on handling unemployment; next session could be about 'getting by,' not revenue growth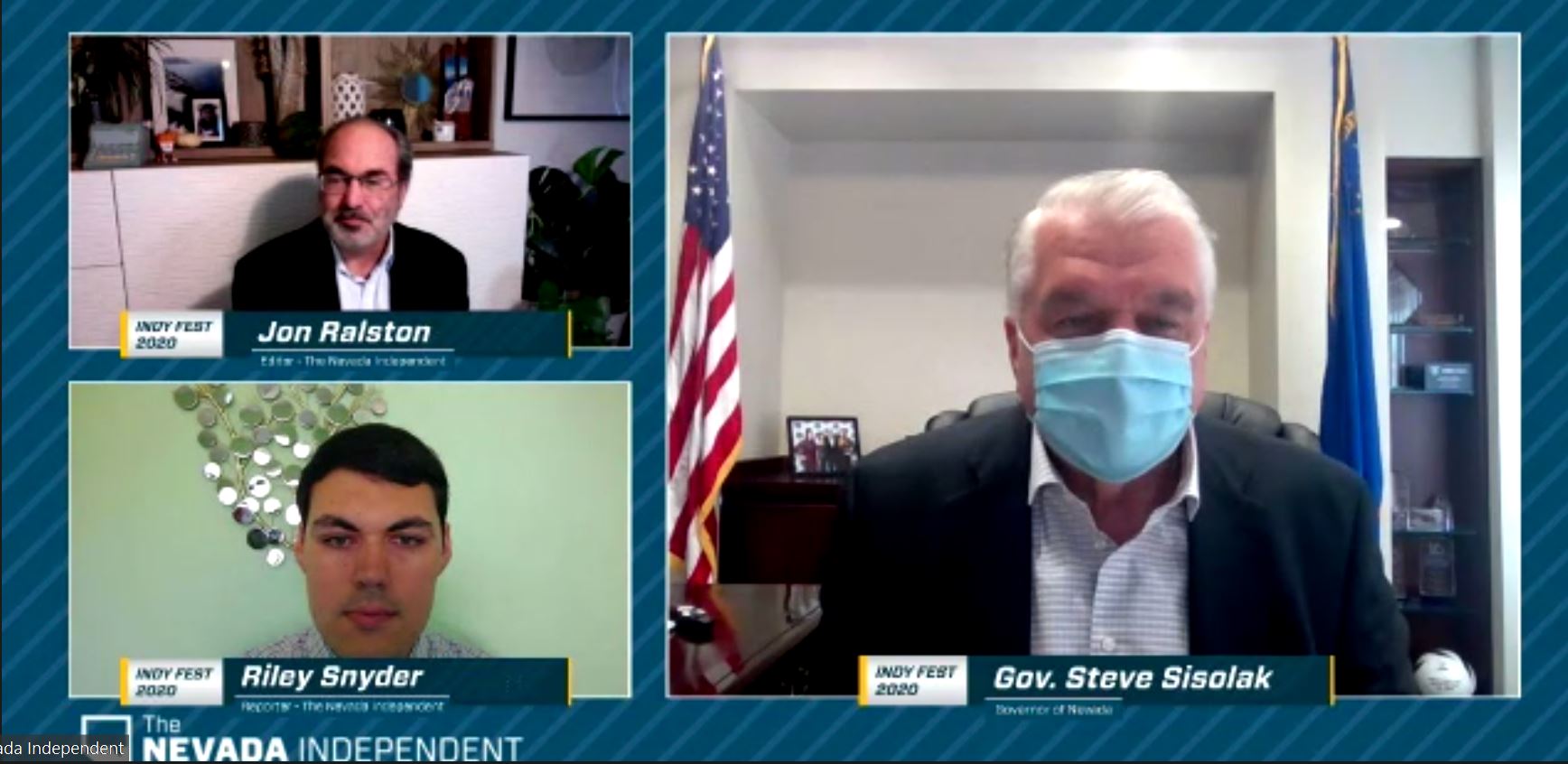 Gov. Steve Sisolak said he plans to run for re-election in 2022, saying he likes his job and that in spite of the criticism he gets, his team is doing the best it can navigating an unprecedented landscape.
Sisolak made the comments Saturday during an hourlong interview with reporter Riley Snyder and editor Jon Ralston during The Nevada Independent's inaugural IndyFest conference.
"I would like to know what it's like under reasonable circumstances, I really would," he said. "I'd like to know what it was like to be governor, not in the middle of a pandemic."
Reopening
The Democratic governor fielded a wide range of questions about leading the state during a health and economic crisis, including about his controversial decisions to keep bars closed and church services capped at 50 people until the last few weeks. Critics have accused him of bowing to the economic clout of the casino and tourism industry, which supplies about a third of the jobs and general fund revenue in Nevada.
He also insisted his decision this week to allow large-scale events at limited capacity and with prior permits wasn't a response to major events, such as the National Finals Rodeo, moving to other states.
"I don't do it based on an event moving or somebody being unhappy, whether it's a motor race or a rodeo or whatnot," he said. "The decisions we made were based on medical facts."
The relatively late reopening of nonprofit houses of worship for larger services came in the same vein, he said.
"I put a lot of credence in Dr. (Anthony) Fauci, who I've met, who I've talked to … one of the initial areas of great spread was churches," he said. "There's a lot of singing. There's a lot of verbalization which creates the propensity to spread the disease."
As for bars?
"I don't know many people that go to a bar on their own to have a drink, not talk to anybody else and sit in a corner," he said. "Most people go to meet their buddies to watch a game, to socialize, to participate in things. That's what spreads the disease."
A few sectors still remain totally shut down, including the legal brothel industry. Asked if he would consider reopening them, he said it's not on his radar and that he's prioritizing getting kids back in schools over getting people back into brothels.
"I don't know how you social distance in a brothel," he said. "I know that they advocate to me that they test for sexually transmitted disease. That's different than testing for COVID and having people skin against skin. That's why I have the problem with some of the contact sports."
Unemployment
Sisolak asserted that "we did not make a mistake" that led to a flood of unemployment applications and ultimately a backlog of unpaid claims that still persists, arguing that other states were also grappling with major complications in their benefit delivery systems and that Nevada is under federal orders to properly verify beneficiaries' eligibility.
"The unemployment system has been underfunded for decades. Well, now it finally came home to roost because we had such an enormous demand on the system," he said. "There's nothing I can think we could do to handle the unemployment system quicker and at the same time be as safe as we could possibly be."
He also underscored the challenges put on the state when it was told it needed to create the Pandemic Unemployment Assistance (PUA) program to support gig workers and the self-employed. The state has fielded nearly a half million initial claims through the program, and officials believe a much larger share of them than those submitted through the traditional system are fraudulent.
"The federal government comes in with a complete new program, this PUA program. Completely new program. Nobody'd ever had that before," he said. "It says 'OK, this is what we're going to give out. Administer it.' We couldn't keep up with the first program, much less the second program. And we're doing the best we possibly can."
He says one thing the federal government could have done is provide a consistent software states could have purchased or that would be given to support the program, in part to ensure uniformity across state lines and serve people who have work histories in more than one state.
He said he knows people are hurting, and has extended the eviction moratorium as one way to help.
"All I can say is I'm sorry. I'm truly sorry that we are not further ahead on this, but it's not because of the lack of effort," he said. "It's because the system was simply not set up to handle this kind of a crisis."
Taxes and incentives
Sisolak was noncommittal on any specific plans to raise taxes or put more money toward schools.
"Those are great questions and one that provides me some sleepless nights, quite frankly," he said. "I do not know what to expect come February. I don't know what to expect come Oct. 4, quite frankly."
The state's revenue picture will depend much on how the tourism industry is able to reinvigorate weekday visitation — a trend driven largely by meetings and conventions — and whether a vaccine becomes available, Sisolak said.
He did push back, however, on assertions that he wants to implement an income tax, which is a claim floated by some groups trying to recall the governor.
"Unequivocally, I do not support any state income tax," he said.
He said the thought of bolstering revenue through sales tax, which is regressive, "is not a particular delight to me." While he acknowledged people have proposed a lottery and fiscal experts have provided him a list of potential fees to implement, many of those would raise $1 million or $5 million a year and "it's not going to be the number that we need to really make an impact.".
"We have to do an overall deep dive and I was hopeful that I'd be able to do it this session," he said. "Unfortunately, the longer this pandemic goes on, we're looking at getting by for those sessions. We're looking at ... piecemealing this thing together given Band-Aids and bubble gum. And that's unfortunate because at some point, we're going to have to have a real serious talk about how we are going to fund our education system."
Sisolak held firm to his argument that Nevada needs to overhaul a key tenet of its economic development strategy — offering businesses tax abatements for relocating to the state. He said the system, which awards abatements based in part on average wages, rewards companies that might pay their owners $200 an hour but the vast majority of their workers $13 an hour.
Rather, the state should be touting its existing assets, including low tax rates, when competing against other states for business.
"We don't have an income tax. Our property taxes are unreasonably low. We don't have some of the other fees and charges that the other states have that then they can abate," he said. "We need to do a better job of explaining to these businesses a little when you come here … it's a lot lower for you in Nevada, your tax rate, than it is for people in the other states you're talking about."
Raiders stadium
Asked about a project that did receive incentives to locate to Nevada, Sisolak said he does not have any concerns that Clark County will default on bond obligations that fund the new Raiders stadium.
He noted that he pushed for the state to frontload a year of payments and had collected about 20 months in reserve, which can serve as a buffer as the state's room tax revenue — a source of funds to pay the obligations — has plummeted during the shutdowns.
The concerns come as the Raiders have decided not to bring in fans to attend games at Allegiant Stadium. Sisolak said he did not speak with owner Mark Davis about the decision not to have any fans if all fans were not allowed, but the governor said he did talk with NFL Commissioner Roger Goodell about potentially having fans attend.
"Commissioner Goodell is going to deal with Mr. Davis," Sisolak said.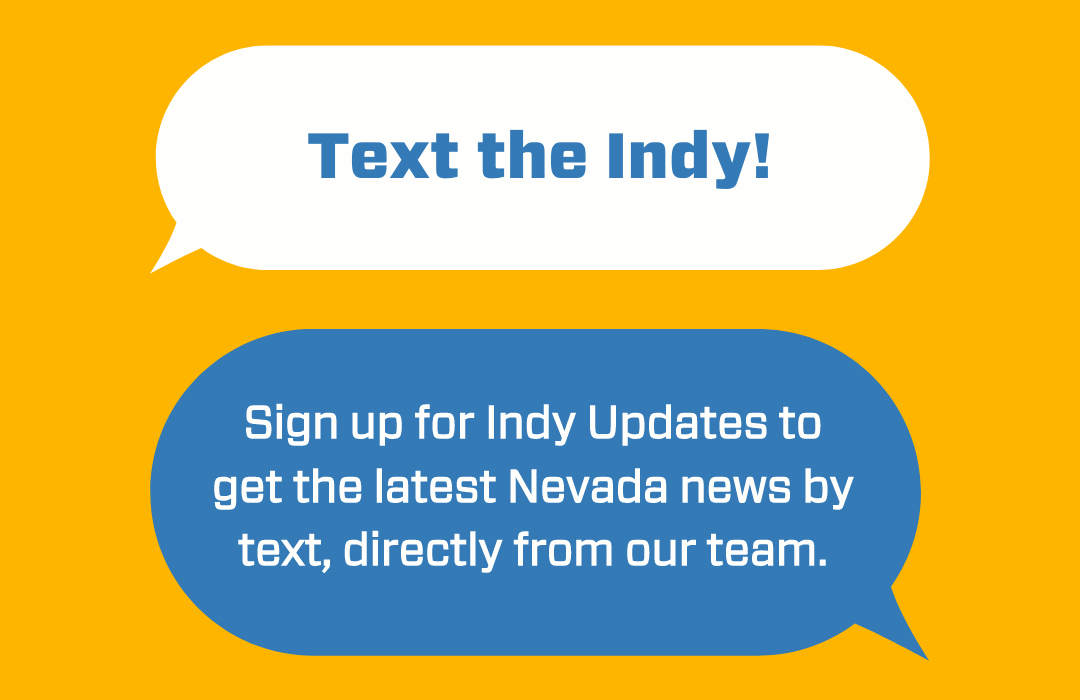 Featured Videos
Comment Policy (updated 4/20/2021): Please keep your comments civil. We reserve the right to delete comments or ban users who engage in personal attacks, use an excess of profanity, make verifiably false statements or are otherwise nasty. Comments that contain links must be approved by admin.