Fiore embraces conservative firebrand reputation in GOP gubernatorial primary, takes aim at Lombardo on guns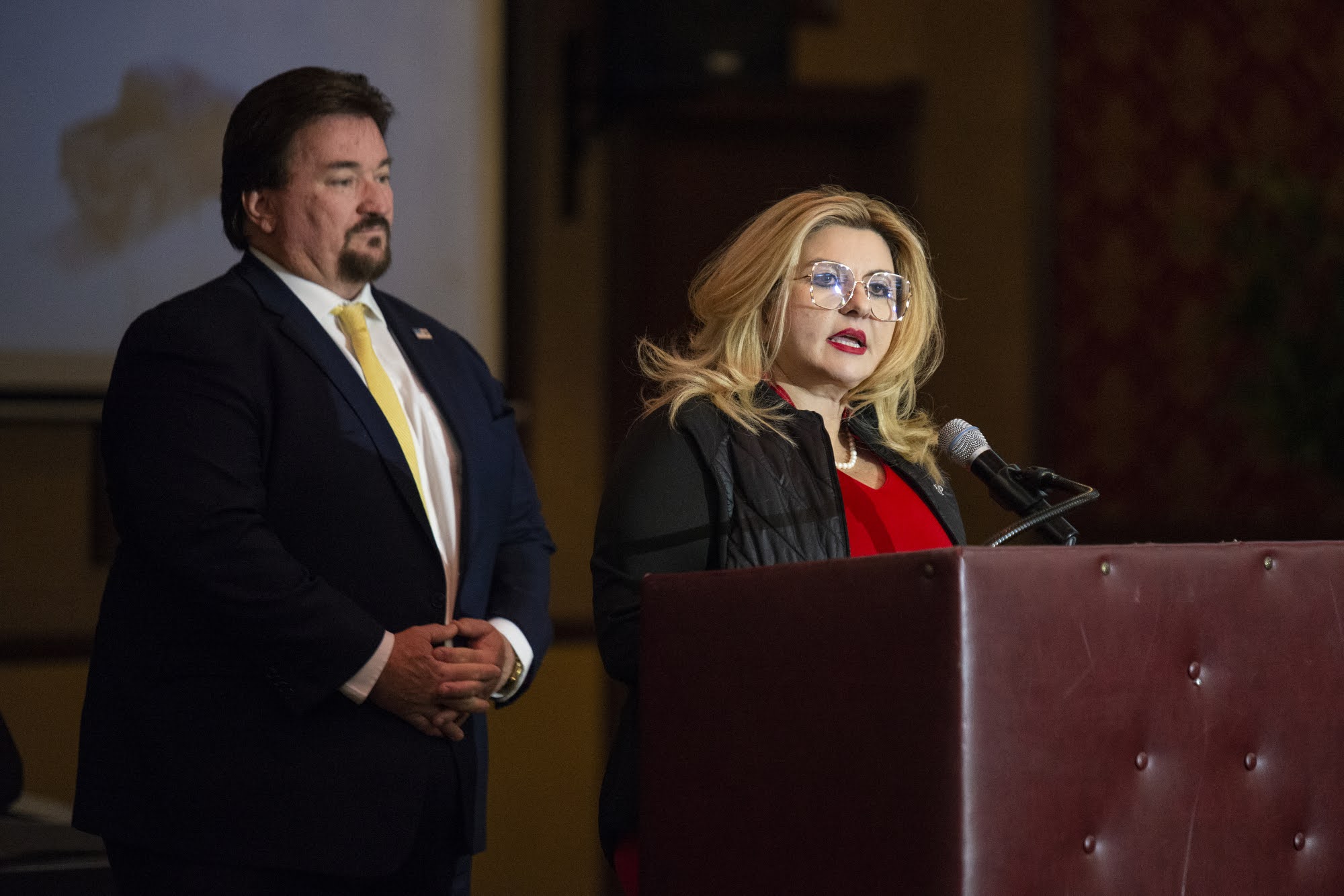 Las Vegas City Councilwoman and Republican gubernatorial candidate Michele Fiore criticized vaccine mandates as "unconstitutional," defended her opposition to affirmative action policies and denounced fellow candidate Sheriff Joe Lombardo's stance on guns as un-Republican during a Tuesday TV appearance.
Fiore's uncompromising take on a variety of subjects — including racism, Democratic Gov. Steve Sisolak's handling of the pandemic and voter fraud — came during an interview with Sam Shad, host of Nevada Newsmakers, and followed her entry into the Republican gubernatorial primary last week. The councilwoman told Shad she was running for governor in part because of Sisolak's handling of the pandemic and to help those who oppose vaccinations and are struggling to find jobs.
"They've put so many people out of business. And when we look at that, there's only so much I can do as a city councilwoman versus the governor of the state," Fiore said.
The conservative firebrand, who released a calendar with images of herself posing with guns in 2015, said her fellow primary opponents could not touch her on many issues in the Republican primary, notably, the Second Amendment. Lombardo — who, along with former U.S. Sen. Dean Heller, is one of the leading candidates in the Republican gubernatorial primary — would not survive the primary, she said.
"Joe says, 'I'm the Second Amendment, I've been carrying a gun on my hip for 30 years.' But that doesn't mean he wants you to carry a gun," Fiore said. "In a Republican primary, you have to be a real Republican to get out of it."
A poll released by The Nevada Independent in early October — taken before Fiore entered the race — found Heller leading Lombardo in the primary by about 8 percentage points. Fiore came in third in a 2016 Republican primary in Nevada's 3rd Congressional District, the highest office she has run for until now, securing only 18.2 percent of the vote, 13.8 percentage points behind the primary's winner, businessman Danny Tarkanian.
Fiore did not mention or attack Heller at all during the roughly half-hour Newsmakers interview.
Fiore promised a "really big fight" with Sisloak during the general election in 2022 and ripped into the governor for "hanging onto his emergency orders going on two years."
"The people that he's put out of business, the people that he's put out of work, our antiquated unemployment system, that we were so desperately trying to make sure people got money," she said, "these are issues that a governor of a state need to take care of their people, period."
She also unapologetically defended her opposition to affirmative action, a belief she came under fire for espousing last year when she said, "If there's a job opening and my white ass is more qualified than somebody's black ass, then my white ass should get the job." She made those comments during the Clark County Republican Party Convention.
Below are some of the highlights from the interview.
Vaccine mandates
Though the councilwoman said she is fully vaccinated, Fiore said she is against forcing people to participate in what she described as an "unconstitutional mandate."
"I know the people that have been vaccinated, you know, they're like, why aren't they getting vaccinated? And if they don't get vaccinated, they're gonna die," Fiore said. "Okay, great. Let them eat cake, right? Because it's their choice. It's their choice. It's their body, their choice."
When asked by Shad if she was against corporations and businesses making a stipulation for people to get the vaccine, she added that she was "not okay with that" and used Lombardo as an example.
"Sheriff Joe Lombardo is mandating his police officers to get vaccinated, or they're not going to have a job. And you know what? That's not okay," she said.
Lombardo is requiring new employees to be fully vaccinated against COVID-19, though he has said he has no plans to require other employees to get the shot.
Critical race theory
Joining a number of other Republican candidates who have taken hardline stances against critical race theory, Fiore said she wanted to ban the theory which she described as, "literally teaching our children in school, that we are a racist country, and our country was built on racist roots."
Critical race theory (CRT) is a legal academic theory that examines the relationship between race and law. CRT is primarily taught in law school or in some undergraduate- or graduate-level courses, though the term is often used broadly to condemn any kind of teaching in schools that seeks to examine and mitigate racism.
Fiore conflated the theory with the Black Lives Matter movement, saying they pit voters against one another.
"Why I want to ban critical race theory is because as we look to unite, black and white — and when I say 'unite black and white,' Sam, I mean, the Black Lives Matter movement has really alienated a lot of white people," Fiore said. "And I really believe that it was constructed and it was put in place on purpose to keep Americans divided."
Fiore said people should look beyond race.
"Let's look at our blood types. I'm an Rh negative O," she said. "If someone's bleeding, Black, white, red, brown, yellow — doesn't matter. My blood can save that person because it's a universal blood type. We need to look at each other as brothers and sisters, not as Black and white."
CRT scholars argue that racism is not just demonstrated by individual people with prejudices but can be unconscious and embedded in structures, such as the law. It is centered on the idea that race is not merely a biological trait, but a social construct that the law has helped define.
Affirmative action and racism
Fiore said she believes in affirmative action and denied accusations that she is racist, noting that she is Italian but has Black family members.
"Italian men are obsessed with beautiful Black women, and so we have Black and Italian babies in my family," Fiore said. "So when people want to call me a racist, get over it. My mom is a lesbian. You know, we have the United Nations in my family. We've got Jewish in our family. So you can take that race card, and you know what to do with it."
On the topic of affirmative action, the councilwoman said she believed the most qualified person for the job should get the position, regardless of skin color.
"When you have our attorney general putting our Asian American and our Pacific Islanders down at the bottom of the totem pole over affirmative action, and you can't get positions unless you are Black, that is a real problem," she said.
When Shad asked whether she believed that was actually happening in the attorney general's office, Fiore said she did but did not offer any specifics.
"Oh, it's a fact ... this happened last year, he signed on to a bill," she said. "Absolutely. And I'll get it to you. That's, that's something that I was very, very disappointed."
It is not clear to which bill Fiore was referring.
Voter fraud
Fiore, who has made voter fraud a core tenet of her campaign, said she had the "utmost respect" for Secretary of State Barbara Cegavske. She aligned herself with Cegavske, saying, "we've got our battle scars as Republican women," and said that fraud she alleged stemmed from Nevada's decision to mail ballots to all active registered voters was not Cegavske's fault.
"So when people say there's no voter fraud, there's a lot of voter fraud," Fiore said. "But then here's the other problem, the secretary of state, they have one or two people that work there. They're not fully staffed."
Nevada's secretary of state office consists of 10 executive staff members including Cegavske and is organized into eight divisions with more staff. Cegavske has not mentioned any issues of staffing shortages.
The Trump campaign and Nevada Republican Party filed lawsuits and repeatedly made claims of fraud in the weeks and months following the state's 2020 election. All of the lawsuits failed to make headway in state and federal courts, and Cegavske's office released two reports finding no evidence of "wide-spread fraud" in the 2020 election.
Still, the councilwoman described knocking on doors with a team to check voter rolls and alleged that 25 percent of the people she and her team spoke with did not recognize the name linked to the address.
"I have a whistleblower that worked in the IT department in the Clark County Election Department and he was told to shut off the signatures at midnight," Fiore said. "So all of these things that we're going through and counted, the signatures were not verified period, the signatures were not verified."
Shad then asked Fiore whether she believed that President Joe Biden is the true president of the United State and if she thought that there were any other elections that if challenged would be reversed.
"Joe Biden is the President of the United States, I can only speak for Nevada," Fiore said. "The people that I've spoken with in Arizona, they're still going through some, some muckety muck even though they did that whole thing? There's a lot of questions that really have not been answered."
FBI investigation
In response to an ongoing campaign finance probe by the FBI, Fiore said federal investigators are just doing their duty and that the accusations are false.
"When someone makes false claims to the FBI, they have to investigate. So you know, you know they contacted me in January they had some questions," Fiore said. "We're in October going into November. And that's it ... they have to investigate. Let them investigate ... it is what it is."