Fiore enters crowded GOP gubernatorial primary field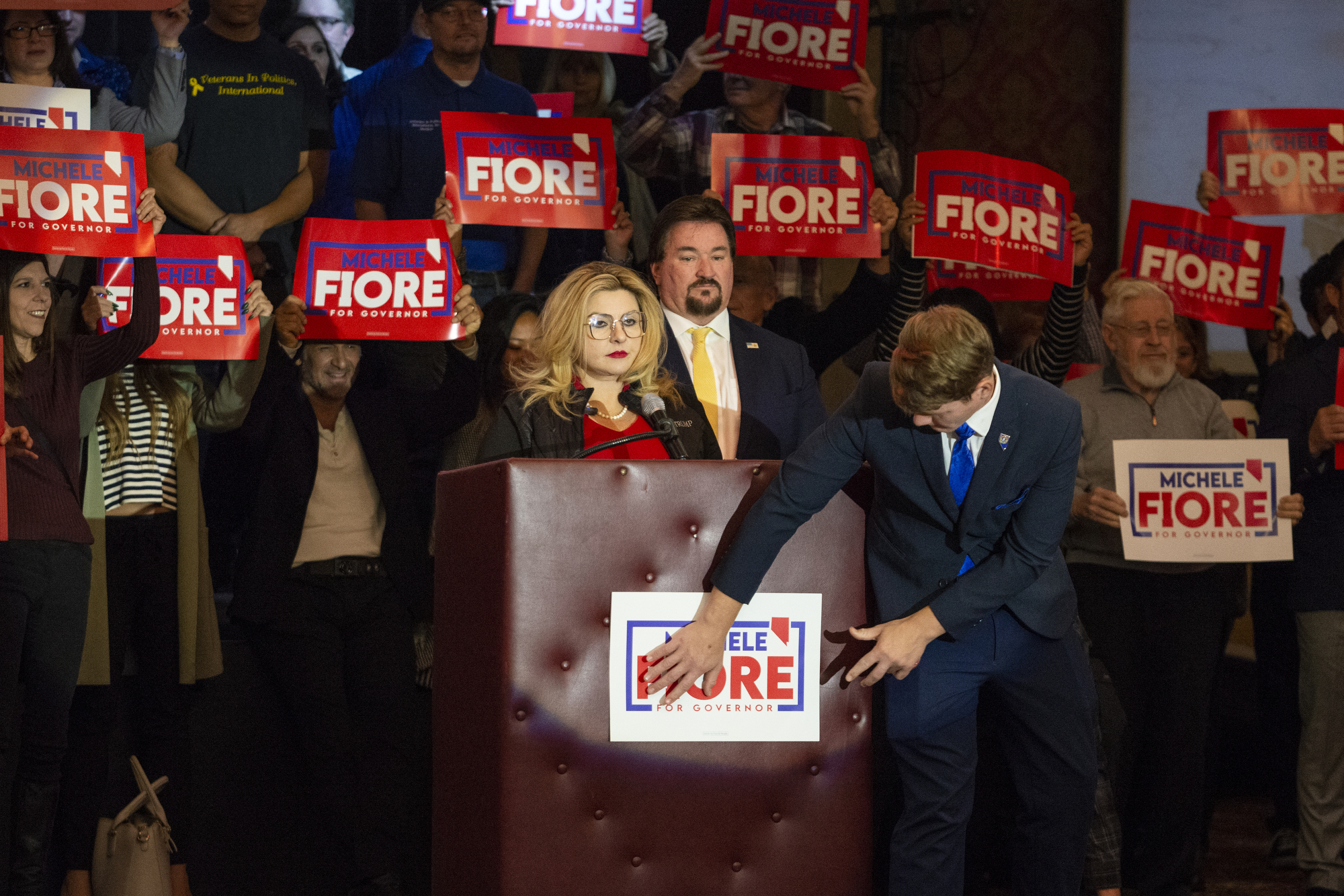 Las Vegas City Councilwoman Michele Fiore announced her bid for governor Tuesday, vowing to ban vaccine mandates and critical race theory in schools on her first day in office and launch an audit of the 2020 election.
She took no questions after her brief speech, which lasted less than four minutes, at the Italian American Club in Las Vegas. Fiore framed herself as the Republican candidate who will fight to protect a sacred way of life in the Silver State.
"I moved here because I believed in the West anything was possible if you work hard and have courage. But if we lose it now, we will lose Nevada and what we knew of Nevada and how we grew up here and what we came here for," she said. "This campaign will be a fight every day starting today. And I'm not going to stop fighting. I'm not going to stop fighting for the people."
The firebrand conservative took a shot at other Republicans who she said are "congratulating themselves" for working with House Speaker Nancy Pelosi and President Joe Biden's administration.
"You'll never hear me do that," she said. "And if you want that, vote for one of my primary opponents."
Fiore served two terms in the Assembly representing northwest Las Vegas from 2012 to 2016. She unsuccessfully ran for Nevada's 3rd Congressional District in 2016, coming in third in the Republican primary. She has served as a Las Vegas city councilwoman since June 2017.
In her announcement speech, Fiore touted that she was the Legislature's first female Republican majority leader, a position she was quickly removed from in 2014. Then-Assembly Speaker John Hambrick attributed his decision to remove her at the time to insubordination, as well as her handling of a dispute with the Internal Revenue Service. (In a video accompanying her announcement, Fiore says she was the "first female majority leader" in the Assembly, which is incorrect: Barbara Buckley was the first.)
Fiore came into the national spotlight in 2016 over her role in helping to end a standoff between an anti-government militia group occupying the Malheur National Wildlife Refuge in Oregon, led by Ammon Bundy, and the FBI. Fiore, a longtime ally of the Bundy family, had previously been involved in Cliven Bundy's standoff with the BLM in Bunkerville in 2014.
Fiore is currently facing a campaign finance probe by the FBI, which raided her home in January. The Las Vegas Review-Journal reported in August that federal grand jury subpoenas had been issued for records related to the investigation.
Fiore joins a crowded Republican primary field, which also includes former U.S. Sen. Dean Heller, Clark County Sheriff Joe Lombardo, firebrand lawyer and former boxer Joey Gilbert, North Las Vegas Mayor John Lee and venture capitalist Guy Nohra.Democratic Gov. Steve Sisolak is expected to face a tough reelection fight. A poll released by The Nevada Independent earlier this month found that Sisolak holds slim leads well within the margin of error over Heller and Lombardo, the two likely GOP frontrunners. The polling found Sisolak leading Heller by 2.5 points and Lombardo by 0.5 points.