In split vote, Clark County School Board terminates Jara's employment contract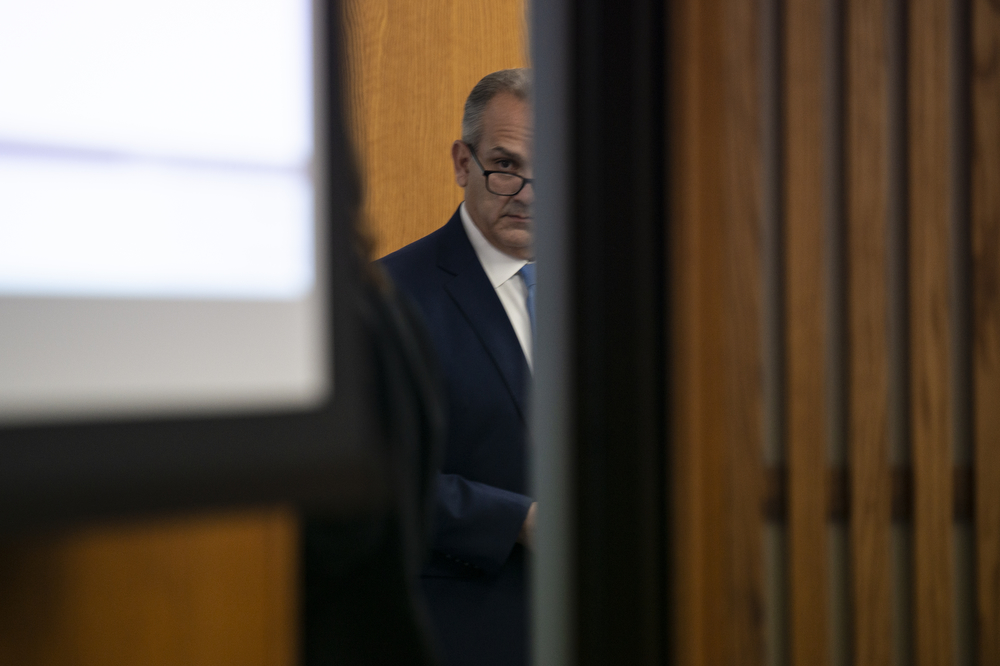 A group of trustees' latest attempt to oust Clark County Superintendent Jesus Jara from his job overseeing the nation's fifth-largest school district has succeeded.
During a Clark County School Board of Trustees meeting Thursday evening, Trustee Irene Cepeda — caught in the middle of long-simmering tensions between board members — cast the deciding vote to terminate Jara's employment contract, siding with Trustees Linda Cavazos, Danielle Ford and Lisa Guzman. The vote came more than three hours into the board meeting and after public comment that fluctuated from defense of Jara to harsh criticism.
Trustee Lola Brooks made a separate motion to table the termination of Jara's contract until Jan. 4, but that attempt failed minutes before the other vote.
The vote to terminate Jara's contract was "for convenience," meaning trustees did not need to cite particular reasons for the action.
"I want to be very clear that my focus has never wavered from working every single day to improve the well-being of our students," Jara said in a statement immediately after the vote. "While some members of this board seek to continue and try to run the operations of this school district and micromanage me and undermine staff, I have been dedicated to protecting staff from overreach and interference."
Before departing the meeting, Jara added, "Unfortunately, a majority of this board did not share the same vision for this community and the children will suffer because of it."
More than two hours later, trustees tabled a motion that would have stripped Cavazos of her title as board president. That agenda item had been requested last week by the three trustees who opposed the superintendent's dismissal — Brooks, Evelyn Garcia Morales and Katie Williams. While the public comment preceding the vote was overwhelmingly supportive of Cavazos, Brooks offered a stinging rebuke of her leadership in a lengthy statement.
"You have been unwilling to compromise, you circumvent processes and exclude key personnel in an effort to work in a silo shrouded in mystery," Brooks said. "When you bring items forward, frequently no one knows where they came from. You bring items after a formal agenda review process has been completed outside of board policy."
Cavazos shot back, saying there were "so many untruths" in Brooks' accusations but did not dive into them Thursday night. Instead, Cavazos said she would "have comments to make in the future."
Williams was not present for the vote about Cavazos' tenure as board president. A verbal tug-of-war between the pair occurred shortly before the vote when Cavazos asked Williams to wear a face mask. The heated exchange played out in front of an animated audience, temporarily sidetracking the board business.
The discord between trustees sets the stage for what could be a tumultuous search process for a new superintendent. It's unclear what the next steps are or who may be tapped as interim superintendent.
Jara made an annual salary of $320,000. His employment contract states that in an event of a termination for convenience by the board, he "shall be paid all salary and monetary equivalent of employee benefits owing to Dr. Jara hereunder until the end of the term or extension of this Agreement."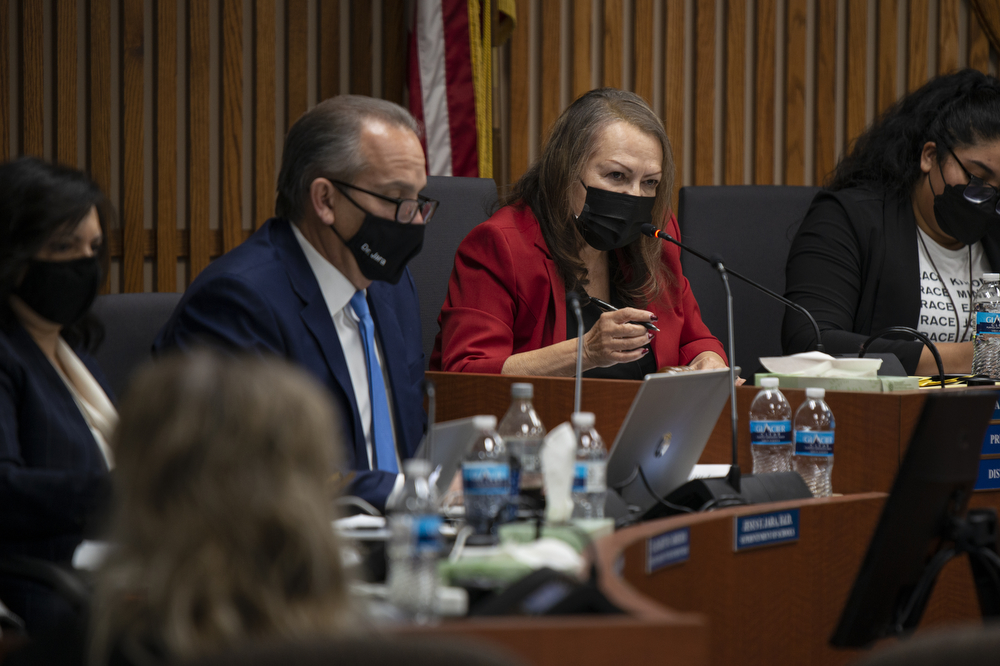 The buildup to termination
Ultimately, Jara's time with the school district ended the way it began — in a split vote. The Clark County School Board approved his initial contract in a split vote in May 2018. He started the next month, after leaving his prior position as deputy superintendent of Orange County Public Schools in Orlando, Florida.
His termination, however, comes just months after the same board extended his contract through Jan. 15, 2023. That decision in May also ended in a divided vote, with Cavazos, Guzman and Ford opposing it.
In some respects, the superintendent's removal was more than a year in the making. Cavazos, Ford and former Trustee Linda Young called a special board meeting in July 2020 to consider terminating Jara's contract following a dispute over proposed legislation. The other trustees abruptly adjourned the meeting before a discussion even began, though.
Even with an election later that year and a subsequent revamping of the school board, tensions among and between trustees and the superintendent continued. Jara, who led the district through the pandemic, has faced criticism about communication, decisions related to COVID-19, ongoing operational difficulties and staffing shortages, and poor culture and climate within school buildings.
Cavazos, Ford and Guzman's motive for pursuing his termination this time around has not been entirely articulated, though it appears to coincide with the resignation of the district's chief negotiator, Fikisha Miller. District officials confirmed Miller's resignation but did not provide other details.
Miller, who also serves as vice president of Battle Born Progress, joined the district roughly a year ago. When Cavazos held a press conference Wednesday, she thanked Battle Born Progress for the organization's assistance.
Cavazos later told The Nevada Independent that Battle Born Progress's help livestreaming her press conference had "nothing to do" with Miller. The trustee said she has been friends with the executive director of Battle Born Progress, Annette Magnus, for more than a decade.
Before the board meeting even began Thursday, Jara had received a mixture of support and opposition from community members and groups.
Seventeen members of Jara's executive cabinet — including chief financial officer Jason Goudie, Deputy Superintendent Brenda Larsen-Mitchell and Mike Barton, chief college, career, equity and school choice officer — issued a letter that offered the superintendent "broad, unwavering support."
The letter referenced undisclosed allegations made against Jara in a closed-door session that were leaked and said cabinet members felt compelled to speak out as a result. The cabinet members described his leadership style as "collaborative and approachable."
Kris Engelstad of The Engelstad Foundation released a statement taking a swipe at the board for taking up issues that distract from the academic needs of students.
"There hasn't been a single agenda item on student achievement in 2021," Engelstad wrote. "What a miserable showcase of CCSD trustee priorities, which are clearly and completely out of touch with the needs of the families and children throughout our community that depend on their decision-making. Instead, precious hours are being wasted on things like a vote to fire Superintendent Jara, who has worked as diligently as possible within this current system."
The Clark County Education Association's president, Marie Neisess, echoed that sentiment, asking "When will the focus be on student achievement rather than politics and personal agendas?"
But others who showed up to the meeting and patiently waited for their turn to speak cast Jara as the problem.
"Today, you will likely hear some that fall on either side of the decision you need to make tonight, and those that are on the side of maintaining superintendent Jara's contract are not correct when they say there is no abuse or retaliation," Sarah Comroe, a school district teacher, said. "They are just lucky."
Karl Byrd, an executive member of CCEA's board, described the whole situation as a "power play" given the conflicting interests among trustees.
"We've been the fifth-largest school district for years, and nothing has changed," he said. "But you stand here and you pontificate about bringing someone else again. Be careful what you wish for."
But Cavazos, a therapist and former teacher, framed the board's decision Thursday as one rooted in urgency.
"We have our whole district burning down around us," she said. "This is something that no longer can be ignored. We must address it."
Jara's termination means Nevada's two largest school districts will be on the hunt for new leaders at the same time. Last month, Washoe County Superintendent Kristen McNeill announced her plans to retire at the end of the academic year.
Update (5:30 a.m. on 10/29/21): This story was updated to add further details from the meeting including the decision to table the vote to remove Cavazos as board president.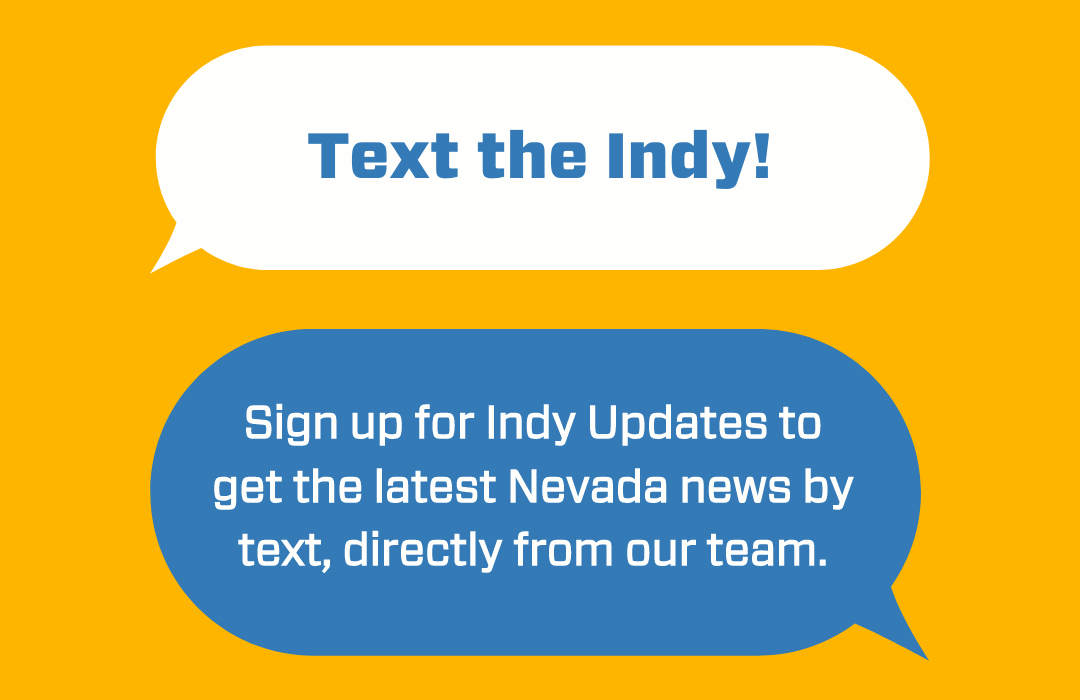 Featured Videos