Follow the money: Breaking down $2.8 million in combined legislative campaign spending from major industries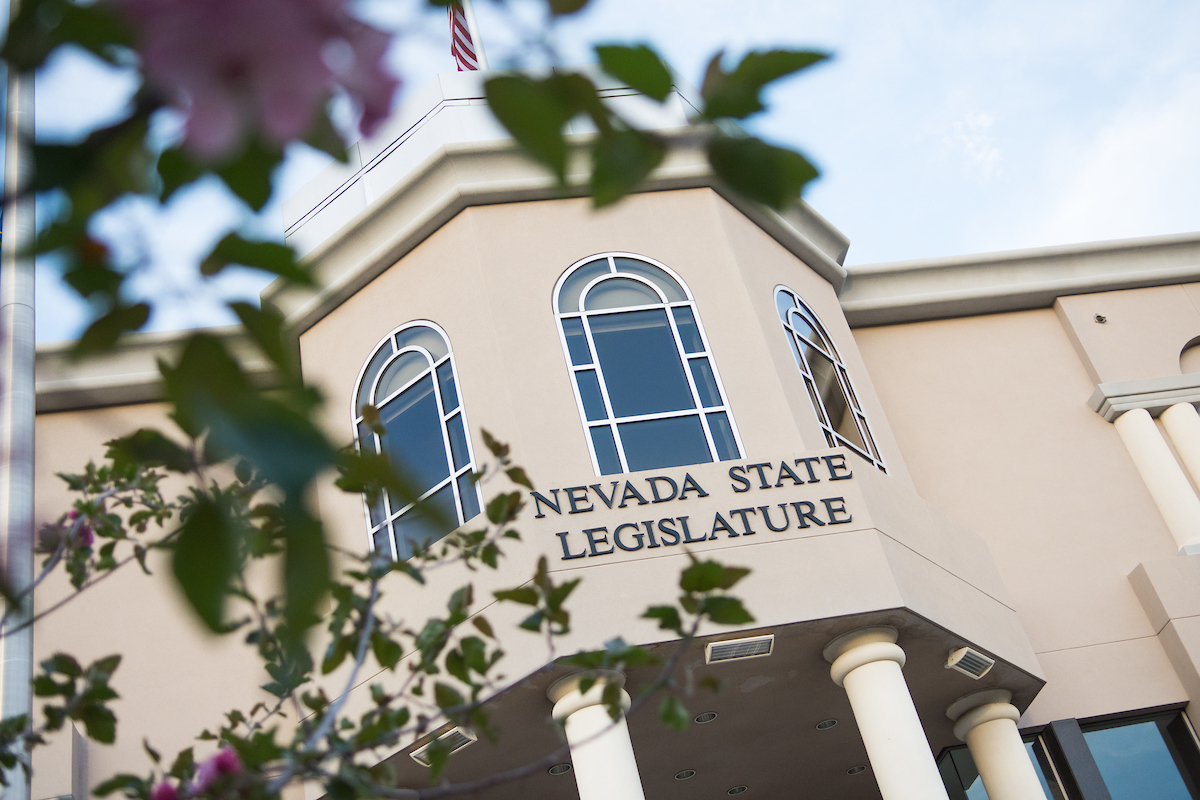 Even as lawmakers perennially tout the strength of their small-dollar fundraising, the driving force of any campaign in any cycle — with few exceptions — is big-money donors.
Often contributing upwards of six-figures across dozens of campaigns, money from these donors often comprises the vast majority of campaign funds, especially in the most competitive legislative campaigns.
However, while all these contributions are reported to Nevada's secretary of state every quarter, parsing trends from such reports or determining how corporate or PAC donors are spending in the aggregate is no simple task, as each contribution is siloed either under individual candidates or individual donors.
To get at those trends, The Nevada Independent analyzed more than 7,700 individual contributions of more than $200 made to every sitting lawmaker elected in 2020.
That $200 cutoff excludes a small portion of small-dollar fundraising, as well as two lawmakers who were appointed to their seats in 2021 (Sen. Fabian Donate, D-Las Vegas and Assemblywoman Tracy Brown-May, D-Las Vegas) and any fundraising by losing candidates.
What is left is an expansive picture of the spending habits of Nevada's biggest industries, from unions and casinos to health care giants and dark-money PACs. Over the course of our Follow the Money series, we've taken a deep dive into the spending of the state's 10 largest industries, a group of donors that collectively spent $7.8 million of the $10.6 million in big money legislative contributions last cycle.
Links to all previous installments of this series, including top-line breakdowns of all spending and all fundraising, have been included at the end of this article.
But beyond the largest 10 are the 14 "smallest" industries, according to our categorizations, which still spent upwards of $2.8 million combined. Below is a breakdown of that campaign spending, ordered by industry, from greatest to least.
Spending nearly as much money last cycle as the much-debated Nevada mining industry were a number of alcohol and tobacco companies, which combined to contribute nearly $319,000.
Spendiest among industry donors was tobacco company Altria (likely better known by its former name, Philip Morris Companies, Inc.), which gave 30 lawmakers a combined $95,050. Almost all of that money went to Republicans, who received $75,050 to the Democrats' $20,000.
Among all legislators, none saw more money from Altria than Senate Minority Leader James Settelmeyer (R-Minden), who received $9,000. He was followed by Assemblyman Tom Roberts (R-Las Vegas) with $8,750 and Sen. Scott Hammond (R-Las Vegas) with $7,000. The remaining 27 lawmakers, including eight Democrats and 19 Republicans, received $5,000 or less.
Other major industry donors include beer-giant Anheuser Busch ($50,500), the Nevada Beer Wholesalers Association ($49,000), alcohol distributor Southern Glazer's Wine and Spirits ($33,500) and electronic cigarette maker Juul Labs ($26,500).
Contributing more than $306,000 combined, the state's transportation industry included a varied mix of donors from car manufacturers, ride-sharing companies, railroads, taxis and associated organizations and individuals.
Biggest of all was the Nevada automotive dealers PAC, NADEAC, which contributed $52,500 in total, split nearly evenly between Republicans ($27,500) and Democrats ($25,000). Most of NADEAC's contributions were comparatively small, however, and only two legislators saw more than $2,500 — Sen. Heidi Seevers Gansert (R-Reno) and Sen. Carrie Buck (R-Las Vegas), each of whom received $5,000.
Following NADEAC was electric car maker Tesla — operator of the massive gigafactory battery plant in Northern Nevada — which gave 20 legislators $45,000. Most of that, $34,500, went to legislative Democrats, with the two Democratic leaders — Senate Majority Leader Nicole Cannizzaro (D-Las Vegas) and Assembly Speaker Jason Frierson (D-Las Vegas) — receiving the most of anyone with $5,000 each.
Other major transportation donors include the Nevada Trucking Association and its president, Paul Enos (a combined $42,500), Union Pacific Railroad ($33,500), rental car company Enterprise ($29,500) and the ride-sharing company Lyft ($21,000).
Twelve telecommunications companies combined to spend more than $300,000 on lawmakers last cycle, with the single largest chunk coming from internet service provider Cox Communications ($120,000).
The largest internet provider in the state with a near-monopoly on internet service in the Las Vegas metro area, Cox's spending largely favored legislative Democrats, who received $80,000 to the Republican's $40,000. That includes one maximum $10,000 contribution to Frierson, as well as $8,000 for Cannizzaro.
Communications giant AT&T followed with $82,250, again favoring Democrats ($58,750) to Republicans ($23,500). And here, too, the top recipients were Frierson and Cannizzaro, who received $8,000 each.
Other major donors included internet service providers Charter Communications ($47,500) and CenturyLink ($14,000), as well as satellite TV provider Dish Network ($12,000).
Though the pharmaceutical industry at large contributed nearly $273,000, more than half came from just one donor: the Pharmaceutical Researchers and Manufacturers of America (PhRMA), which gave 45 lawmakers $140,500.
Among the most powerful industry groups in the entire country, PhRMA's contributions favored Republicans, who received $86,000 to the Democrats' $54,500. Among individual lawmakers, PhRMA's four top recipients were all Assembly Republicans: Roberts ($8,000), Assembly Minority Leader Robin Titus (R-Wellington) ($8,000), Assemblywoman Jill Tolles (R-Reno) ($8,000) and Assemblywoman Melissa Hardy (R-Henderson) ($7,000).
Other major donors include the drugmaker Pfizer ($46,250), National Association of Chain Drug Stores ($17,500), and biotechnology company Amgen ($11,000). Nineteen other donors, including major drugmakers such as Merck, Sanofi, Eli Lilly and Johnson & Johnson, gave $10,000 or less.
Though 55 donors in the finance and banking industry combined to contribute more than $214,000, almost two-thirds of that money came from one source: the Nevada Credit Union League (NCUL), the credit union trade association, which gave $86,250 across 46 legislators. 
The NCUL's spending widely favored Democrats, who received $62,000 to the Republicans' $24,250. Much of that difference was made up by the sheer number of Democrats receiving contributions (30 Democrats to 16 Republicans), but also by three large contributions to Democratic Leaders.
Frierson and Assembly Majority Leader Teresa Benitez-Thompson (D-Reno) both received the $10,000 maximum, while Cannizzaro received $9,000. No other lawmakers received more than $5,000 from the group.
Other major donors include One Nevada Credit Union ($25,500) and the National Association of Insurance and Financial Advisors ($14,500). The remaining 52 donors gave just $9,500 or less.
Unlike some other major industries, technology-related companies and donors gave to lawmakers in comparatively mid-sized or small amounts, with the largest among them — the data company Switch — giving a total of $62,000 to 21 legislators.
That money was evenly split between 10 Democrats and 11 Republicans, who combined to receive $31,0000 each. That even-split largely extended down to the individual level, too, with Democrats Cannizzaro, Frierson and Gansert, a Republican, receiving $10,000, while Republicans Hammond and Buck received $5,000 each. The remaining recipients all received $2,500 or less.
The other significant chunk of technology contributions came from Blockchains, Inc. owner Jeff Berns and his wife, Mary, who combined to give $44,500. Berns was at the center of efforts this session to create so-called "Innovation Zones," which would have created a semi-autonomous county in rural Nevada supported by the use of cryptocurrency.
As criticism of the concept intensified over the course of the legislative session, Gov. Steve Sisolak backed away from Innovation Zones last week in announcing the proposal would take shape as a study, instead.
The single biggest beneficiary of Bern's contributions was Assemblyman Jim Wheeler (R-Minden), who received $10,000 each from Jeff and Mary for $20,000 total. Wheeler's district, District 39, encompasses parts of Storey County, where Berns' Blockchains company owns roughly 67,000 acres of land that likely would have become the state's first Innovation Zone, had the proposal passed muster.
Berns also gave $5,000 to Cannizzaro, Frierson and Settelmeyer, as well as a handful of smaller contributions to six other lawmakers, including both Democrats and Republicans.
Other technology companies gave comparatively little, with Reno-based precision measuring equipment firm Hamilton Company following Berns with $15,000, and the tax-software giant Intuit giving $12,500. The remaining 25 donors gave $11,000 or less.
Insurance companies — close cousins to the finance industry — combined to give lawmakers $165,700, with the Farmers Employee and Agent PAC leading all donors with $63,000.
Farmers' spending was split nearly evenly between the two major parties, with Republicans receiving $32,000 to the Democrats' $31,000. No lawmakers received the maximum amount from the group, though four — Frierson, Roberts, Gansert and Titus — did receive $5,000 contributions. The remaining 20 recipients received $3,000 or less.
No other single insurance came close to Farmers' spending. The next largest, USAA, gave just $25,500 (of which most, $17,000, went to Democrats), while small business insurer Employers EIG Services gave $24,000 (including $13,500 for Republicans and $10,500 for Democrats). The remaining 20 insurance donors gave $13,000 or less.
Though the payday lending industry at large gave comparatively little — $128,000 split across 37 legislators — the single largest industry donor, TitleMax, was among the biggest spenders of any industry as it contributed $93,000 to 35 lawmakers. 
Most of that went to 20 Democrats, who received $56,500 to the Republicans $36,500. TitleMax's largest individual contributions similarly went to Democrats, with Frierson and Cannizzaro each receiving the $10,000 maximum. Gansert followed with $7,500, while the remaining 32 legislators received $5,000 or less. 
Other payday lending donors gave little in comparison to TitleMax. Dollar Loan Center was next-closest with $23,500 contributed, followed by Purpose Financial with $8,500. The remaining three donors gave marginal amounts, including $1,250 from Advance America, $1,000 from the Security Finance Corporation of Spartanburg and $750 from Community Loans of America.
Breaking down the smaller industries
Dozens of donors categorized as "other" combined to become the 14th largest category, with donors who could not be classified as industry-specific — 357 in all — contributing a combined $247,761. Many of these donors were retirees or private citizens, and most, 262, gave $500 or less.
Lobbyists and lobbying firms were the next-largest donor group trailing payday lenders, with 56 donors contributing $126,401 combined. There were few major donors in that group — all but 10 gave less than $3,000. The only exception was the Ferraro Group, which gave $32,500 spread across 33 lawmakers. The group's donations were relatively small, however, and the single-biggest recipient — Cannizzaro — received just $3,500.
Roughly three dozen education companies, teachers and other individuals combined to contribute $83,272, with the biggest sums coming from charter school company Academica Nevada ($28,500), education management company K12 Management Inc. ($13,500) and for-profit college University of Phoenix ($11,000). Notably absent in this category are major teachers unions, such as the Nevada State Education Association and the Clark County Education Association, as both of those organizations are covered in our analysis of union spending.
Spending slightly less than they did in 2018 were 15 marijuana companies or related individuals, who combined to spend $86,500 (down from more than $91,000 spent in 2018). Most of that money was concentrated in the three biggest spenders: An LLC linked to The Grove dispensary ($24,750), Nevada Can Committee ($23,000) and a company linked to the Planet 13 dispensary ($15,000).
The remaining two categories were the smallest of all: Nevada tribes, but only the Reno Sparks Indian Colony reported major campaign contributions with $30,500 across 37 legislators, while just seven agricultural donors combined for $10,950 (of which nearly half, $5,000, came from the PAC Nevadans for Families & Agriculture).
—
Tim Lenard, Riley Snyder and Sean Golonka contributed to this report.
As part of our Follow the Money series The Nevada Independent has published deep dives into the industries that dominated legislative campaign spending in the 2020 campaign cycle. To see any of the previous installments, follow the links below:
Comment Policy (updated 4/20/2021): Please keep your comments civil. We reserve the right to delete comments or ban users who engage in personal attacks, use an excess of profanity, make verifiably false statements or are otherwise nasty. Comments that contain links must be approved by admin.