'A mountain of shoes': How a teen bullying victim turned his struggles into an act of generosity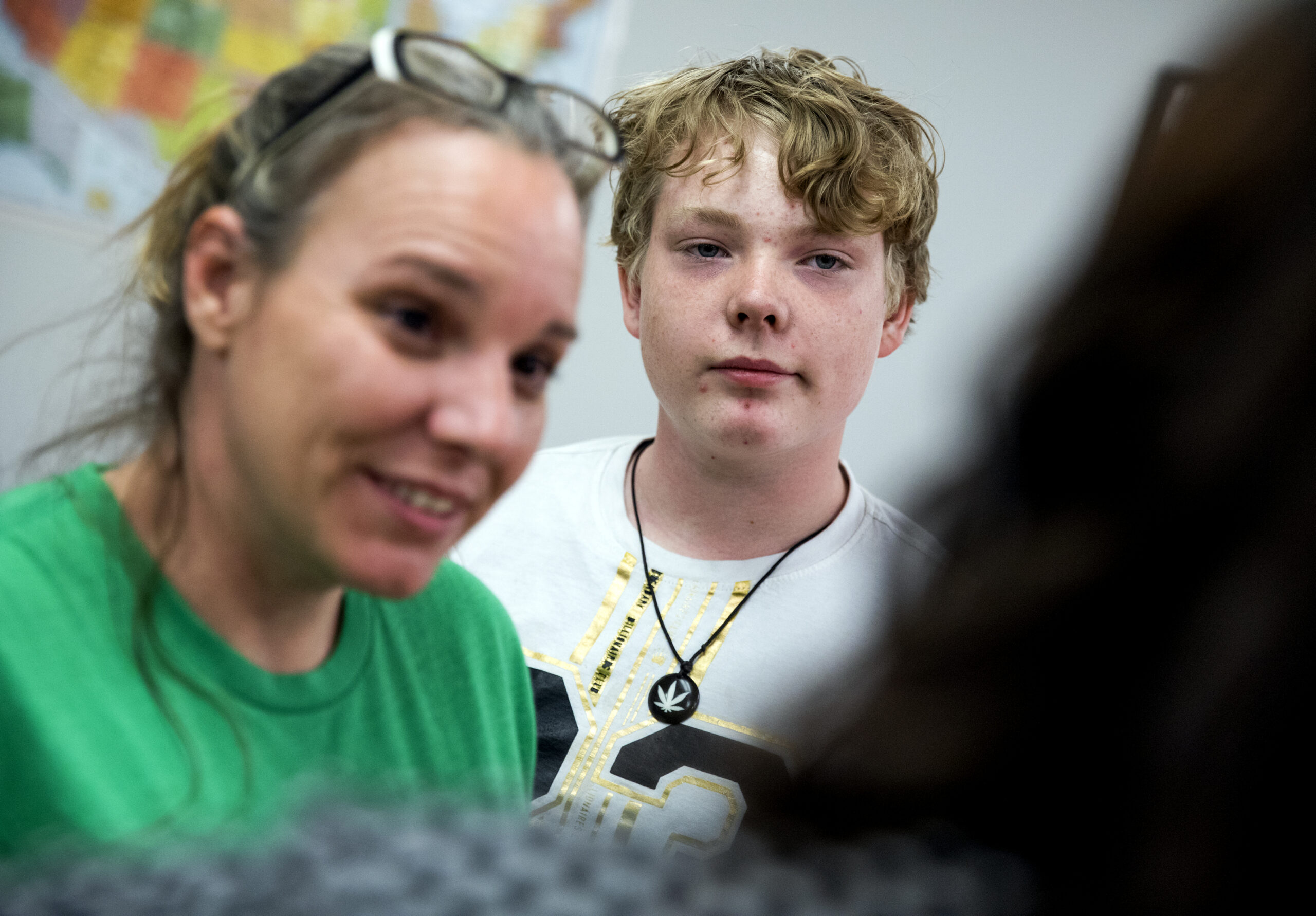 In the middle of the night, a blond-haired, 13-year old boy woke up startled from a nightmare. This wasn't the first time. Kyler Nipper struggles with post-traumatic stress disorder, which stems from an incident in 2016:  He was stabbed in the hallway of his middle school after being bullied for wearing worn-out shoes.
But this particular summer night, Kyler Nipper had a solution. He crept out of the apartment at Veterans Village homeless center, where his family was staying, with a bag in hand.
"We had a parent battle the other day," said the boy's mother, Sherise Nipper. "We woke up at 2 o'clock in the morning and couldn't find Kyler." 
He was handing out shoes to homeless people outside the gates of his apartment on Fremont Street. The generous act has become his coping mechanism.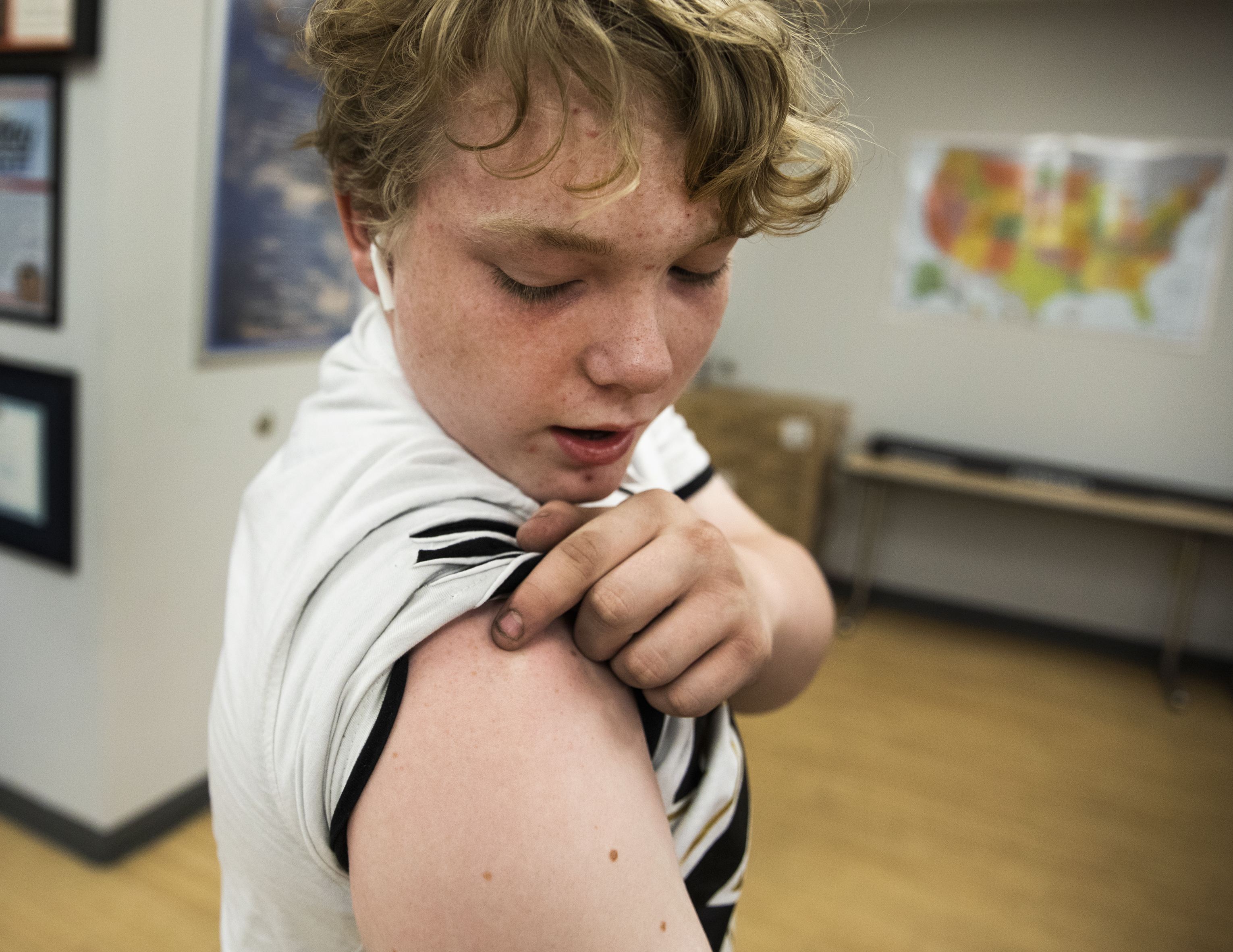 Fighting back 
Kyler gives away shoes to help cope with his PTSD. In 2016, after being bullied for his beat-up shoes, a classmate stabbed him with a pencil in his Colorado Springs, Colorado school. The wound punctured his lung, requiring trauma surgery and a temporary breathing tube. 
Shortly before the stabbing, Kyler started an organization called "Kyler's Kicks" that collects shoes for those in need. 
Three years later, Kyler has collected more than 20,000 pairs of shoes, has two Las Vegas drop-off centers and school closets at Cortney Junior High School, Bailey Elementary School and Whitney Elementary School ー some of the most at-risk schools in Clark County. 
"Every time he gave away a pair of shoes, you could physically see the pain leaving him," his mother, Sherise, said. 
Kyler said the idea came to him after a friend gave him a pair of Jordans around the time he was being bullied. He loved the way they felt. 
"I wanted to make sure no kid was bullied over their shoes ever again," said Nipper. His project has expanded significantly since his family moved to Las Vegas about a year ago and has involved partnerships with Zappos For Good, Lady Gaga's Born this Way Foundation, Deryk Engelland  and New Balance, among others. 
Sherise said her son withdrew emotionally when he started getting bullied. He stopped going outside to play. He was always upset with himself. 
"We combatted that with doing more kind things in the community. As his mom, I brought him up to be if someone is mean to you, you be nicer to them," Sherise said. The moment she learned Kyler was being bullied, Sherise said she went to the school and asked about setting up a kindness club. 
"Unfortunately, they said they didn't have the funding for that so here we are a few years later, and we're doing it ourselves, for the entire community," Sherise said. 
Now, having lived in Vegas for about a year, Kyler has a new project in mind: a youth community center called Kickin' It With Kyler Lounge that would offer free mental health services to those who don't have health insurance or the means to cover the services on their own. 
"I want to make sure no one will ever be bullied again," said Kyler. "A lot of these kids get bullied and they are too afraid to tell people and they don't really have anyone to talk to, especially because it costs money. Especially in Vegas where there's none. There is nowhere to go." 
According to Mental Health America's 2019 report, Nevada residents have the worst mental health in the country. The Silver State ranked 51st for the third consecutive year, meaning that, overall, the state has the highest prevalence of mental illness and the least access to care. The report used 15 measures related to prevalence among adults and youth, substance abuse and access to mental health services to generate the rankings. Nevada also ranks last in the organization's ranking of youth mental health. In a study from the United Health Foundation, Nevada jumped to its highest rates of suicide since 2012.
During the legislative session this year, lawmakers passed nine bills related to mental health, which included plans to prevent suicide, parental permission before mental health services are provided to a child and restructuring regional behavioral health policy boards. 
Kyler said he saw firsthand the consequences of Nevada's lack of mental health services as his family became homeless and worked to cover the cost of his mental health care. Since his stabbing, he has been homeschooled through an online program. 
"We looked everywhere and there's no place that's free in Nevada. We wanted to make the first free place for teenagers in Nevada," he said. 
And as before, where Kyler saw a gap, he jumped in to help.
Community need
Kyler missed his last day of online school to speak at the Pearson Community Center in North Las Vegas, where community members had gathered with a goal in mind: Erase the stigma of mental health issues and highlight what resources exist.
Clark County Commissioner Lawrence Weekly introduced Kyler to the crowd and, before long, the teen was sharing his story about dealing with bullying, anxiety, depression and homelessness. He pitched his idea for the new lounge as a hang-out space that will provide both mental health and constructive resources for homeless youth. 
"Kyler turned his tragedy into triumph," said Weekly, who lauded the 13-year old for the work he has done in his community. Applause filled the room.
During the discussion, Weekly shared that someone he had mentored and loved had recently taken his own life. He knows the issue is an important one, which is why he wanted to bring members of his community together with partners to show there are support systems for people struggling in Nevada. 
"We're a 24-hour county and so much is going on. It's constant moving parts. We have to have an infrastructure in place to help people keep it together," said Weekly in an interview with The Nevada Independent. "There's a lot of things we deal with on a personal level and none of us are exempt from this. We all need each other."
The discussion lasted close to two hours and covered a range of mental health topics — addiction, thoughts of suicide, depression, anxiety, PTSD, sexual assault and concern for loved ones. Candid voices from around the room shared their struggles, defeats and questions regarding mental health. Many began their comments with a note that they were speaking up to help erase the stigma that often surrounds these issues and help others in the room feel supported. 
Health-care providers had lined the room with brochures and bulletin boards that answered questions about community resources. Partners included the Nevada Office of Sucidie Prevention, Nevada Coalition for Suicide Prevention, H.O.P.E Counseling Survivors, Clark County Public Defenders, Boys Town, Westcare Nevada Inc., Vet to Vet of Southern Nevada, Ignite Treatment Centers and Agape Family Enrichment Center, among others. The resources offered ranged from a veteran-to-veteran mental health support group to meditation to spiritual counseling to legal support for those who want to help loved ones battling addiction or mental illness.
Sylvia Kennedy, a 73-year-old retiree, came to the event to support her daughter who is a therapist, and to learn more about how to erase the stigma on mental health. Kennedy believes that with Vegas being a 24-hour city, "people over-do it" with working and partying. She said the first step is that people need to be more open: If you have a problem, talk to somebody.
"You can't solve problems yourself," Kennedy said. "Everyone can get help if they want." 
But Las Vegas Recovery Center Mental Health coordinator James June said the problem is that most people don't know where to start or what resources exist. As a coordinator, he attended the event to get resources so he can pass on the information. 
"There's not enough resources. Also, many treatment centers are not aware of these resources either," June said.
Some attended the event to learn how to talk about mental health issues with loved ones.
Karen Heyer moved to Las Vegas from Washington a year ago. The grandmother of eight said she came to the event because she said she needs to know how to speak to her children who show signs of mental illness. Having struggled with depression herself for many years, she knows the importance of not feeling ashamed or alone.
"I see the cycle of the mental illness," said Heyer, who also struggled within abusive partnerships. "The place that I lived for 35 years, all the doors felt like they were closing, but it was only because God was trying to get me out of there and detach myself." 
Heyer said she feels blessed to have a community that wraps its arms around her. She hopes to recruit other people to join similar events in the future.
"That's what I love most about Las Vegas," she said. "We don't sit in silence here."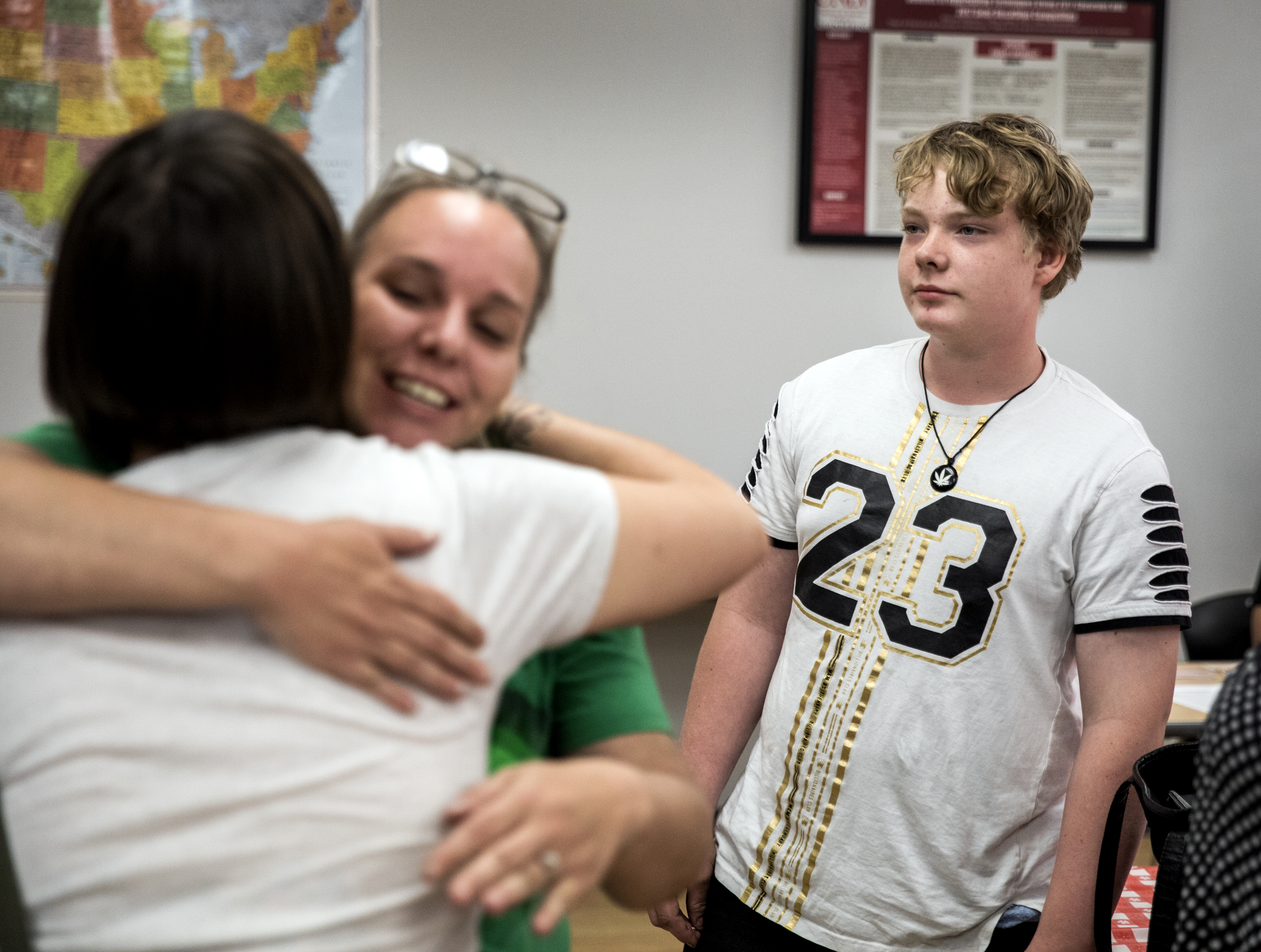 'A mountain of shoes'
Kyler Nipper's first shoe hand-out occurred outside his apartment in Colorado, shortly after he was stabbed. Nipper could not bring himself to leave the house yet, so he stood in the window watching his parents give away the shoes he had collected. 
"When Kyler's Kicks first started, Kyler couldn't leave our apartment. He couldn't go to the grocery store. He had PTSD and anxiety so bad, he felt every corner he turned he was going to be stabbed again," Sherise Nipper said. But her son spent time calling businesses and asking them to donate shoes to his cause. "When those shoes were ready, he would sit in the apartment and clean them and look out the window. This went on for a few months, and we started collecting a mountain of shoes in our apartment. We were like, 'Son, what are you going to do with all of these?'"
One Saturday, Kyler mustered the courage to leave the house. He didn't go far. Instead, he set a folding table out front and hung a sign labeled, "Free Shoes." 
"He hadn't physically spoken to another person besides his family since the day he was stabbed," she said. 
After setting up the table, he ran back inside and, from the kitchen window, watched his parents hand out shoes. Sherise Nipper said it was the first time she saw him smile after the attack.
"Next weekend he came out for five minutes and then 10 minutes and then 15 minutes, and before we knew it, people were knocking on our door asking for shoes," she said. "For the first year of Kyler's Kicks, nobody knew why they were getting shoes from Kyler. They just knew they were getting shoes." 
Sherise said giving out the shoes "became a way for Kyler to communicate with everyone else."
Kyler's Kicks picked up pace when the family moved to Las Vegas and Kyler was able to connect with Zappos, an online shoe retailer. 
Leader of the Zappos For Good program Steven Bautista learned about Kyler through employees who had heard his story via social media. Bautista eventually met with Kyler for his 2018 Christmas shoe drive when Zappos donated 1,000 pairs of shoes to homeless people at the Las Vegas Rescue Mission. They then helped Nipper pair up with Lady Gaga's Born This Way Foundation, and the two teams went into local high schools to give away shoes. 
In June, Zappos For Good gave Kyler a $15,000 donation for his cause. In July, Kyler's Kicks became an official 501(c)3 nonprofit. 
Another dream 
In the community room of a Findlay Chevrolet location in May, Kyler and his family hosted a volunteer sign-up to ask for help with his upcoming project: Kickin' It with Kyler Lounge, where teens could hang out and also receive mental health services. 
"There should be a place you can walk in as a teenager and say 'Hey, I need to talk to somebody for about 30 minutes,'" said Sherise. "Unfortunately that's not available to teens." 
His family knows about the daily fight that comes with balancing finances and mental health care. It's what fuels the family to support Kyler's efforts with the shoes and his vision for a teen lounge.
"When we give someone a pair of shoes or give a child free mental health care, that is worth more than any amount of money our family could ever have," Sherise said.
Kyler, who continues to struggle with anxiety and PTSD, said he wants the lounge to be a free place for mental health care but also to provide programs such as six-week courses on music, art therapy, financial help, career skills and cooking. Other planned resources and opportunities include free access to computers, motivational speakers, field trips and community-involvement programs. 
Sherise has a smile on her face as the volunteer sign-up comes to a close. 
The Never Give Up Behavioral Health Center has committed to providing a free, 12-week therapy program for three to four hours a day. Kyler says there will also be a full-time therapist on staff. He estimates the lounge will be able to service 100 students, from the ages of 7 to 17, at any given time. 
Matthew Leland Cox, the chief executive officer of Never Give Up Behavioral Health Services, will serve as the board president of Kickin' It With Kyler Lounge. Cox met Kyler when the teen came to him for help related to his PTSD.
Cox, who has a learning disability, was told as a child that he would never attend college or amount to much. Like Kyler, he was determined not to let other children feel the same way he did.
"I saw myself in him," Cox said of Kyler.
A hurdle to opening the lounge, though, is finding a space to house it. Supporters need a building that works with zoning laws, Sherise said, and one that will allow them to offer resources to the public. Sherise said it's clear that many teens — not just her son — need mental health support.
"When I saw the kid that bullied and stabbed my son in court, I was expecting to see somebody I would have negative feelings for," she said. "That moment that I walked into the courtroom and I saw this little boy that almost took my son's life, all I saw was another child that was hurting just as much, if not more, than my own child."
IndyFest is proudly sponsored by:
Comment Policy (updated 4/20/2021): Please keep your comments civil. We reserve the right to delete comments or ban users who engage in personal attacks, use an excess of profanity, make verifiably false statements or are otherwise nasty. Comments that contain links must be approved by admin.