A whole new world of distance education: Clark County parents add school meal pick-up to their daily schedules as children learn online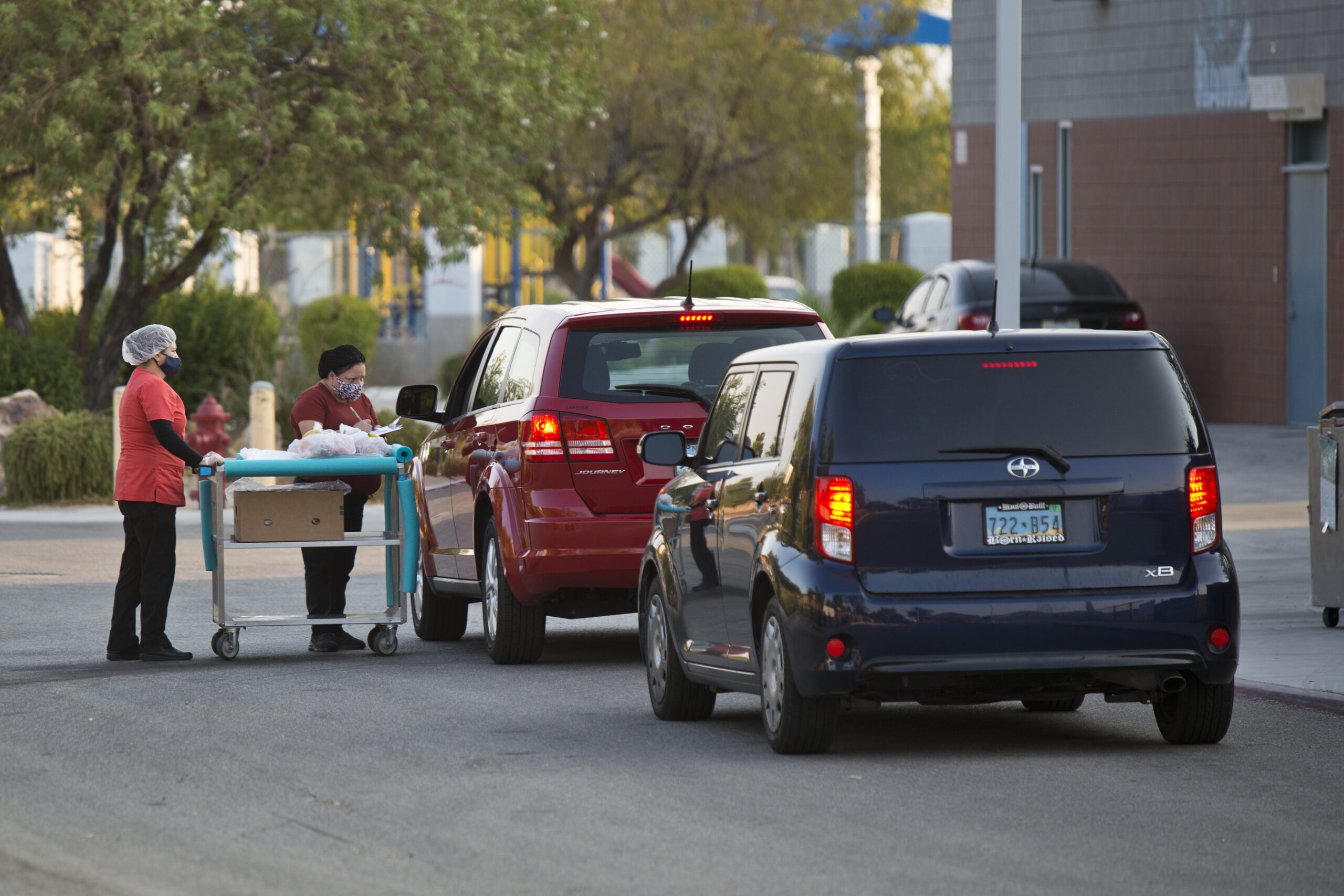 The first car at Hummel Elementary School in Las Vegas on Wednesday had been waiting across the street since 6:45 a.m. when the sun was first rising over the building. As soon as the school employees were set up out front, masks and hairnets on, at 7 a.m., its driver quickly pulled through the school's bus lane to pick up plastic bags of breakfast and lunch and rush back home for a full day of distance learning.
A few cars later, Charline Archer pulled into the pick-up lane at the school where her grandchildren are in third, fourth, and fifth grade. Archer had visited the Hummel site every day this week, trying to show up about 6:55 a.m. to pick up food as early as possible before returning to help the kids get ready.
Although Archer has had some trouble getting her grandkids set up with distance learning, she supports the online model both as a way to limit the spread of the virus and to allow parents to be more actively involved in their children's learning experience.
"When I was growing up, we had parents at home, saying, 'Come on, let's sit down and do some homework,'" she said. "And they're learning with me, and that's something a lot of kids don't have with their parents. They have other stuff, tutors and stuff, but that doesn't give you that connection with your child."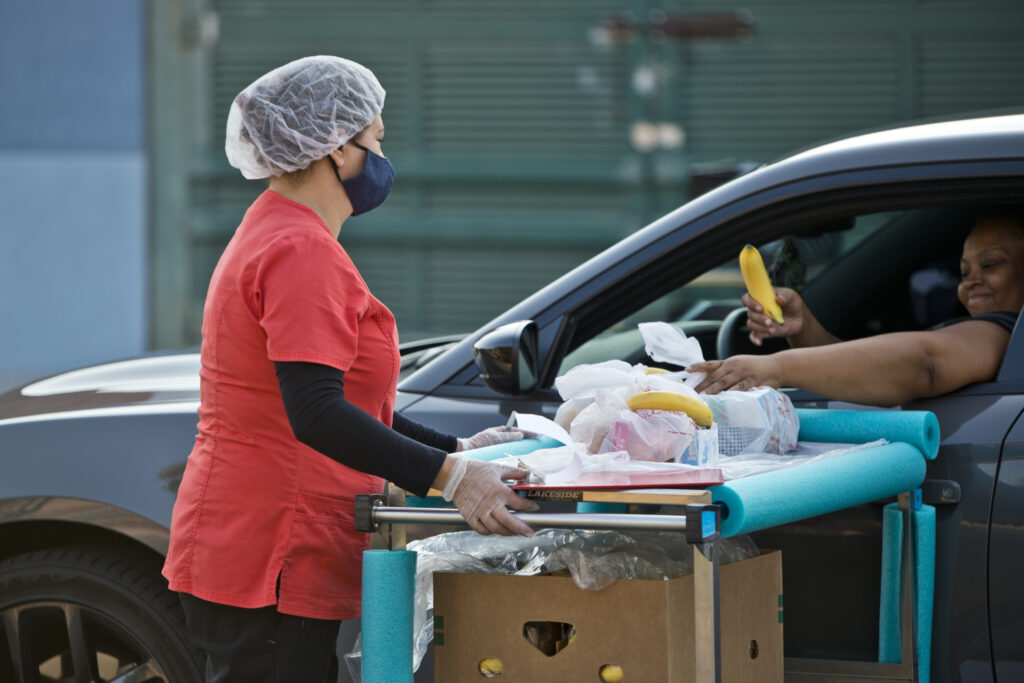 A part of the new distance-learning daily schedule for Archer, and many other parents and guardians throughout the district, is meal pick-up — a stand-in for the daily cafeteria lunch ritual of in-person schooling. School meals have been shown to be beneficial for health, with research saying students have fewer nutritional inadequacies and consume more fruit, vegetables, and milk when they eat school breakfast and lunch.
The Clark County School District has opened more than 300 sites while schools operate online to distribute packaged, microwavable breakfasts and lunches to students. The first day of school, Aug. 24, the district served almost 34,000 meals. On Wednesday, the district served more than 40,000. The district typically served 100,000 breakfasts and 175,000 lunches to students each day before the pandemic.
While CCSD has greatly expanded the sites where food is available for pick-up, transitioning from the 46 sites open over the summer to 300 now, that expansion has come with some limitations of service. Without an extension of a previous waiver from the U.S. Department of Agriculture that allowed CCSD to provide free meals for all children, students now have to pay for lunch.
The spring and summer meal sites that CCSD ran in partnership with Three Square Food Bank served free meals to all children ages two through 18, but now to receive a meal, students must be enrolled in a CCSD school and pay out of their online meal accounts. Although breakfasts are free, lunches cost $2 at elementary schools and $3.25 at middle and high schools.
Students can receive free lunches if they apply and are deemed eligible for free and reduced price meals through the National School Lunch Program, which provides federal reimbursements for free meals served to low-income students. Two-thirds of CCSD students are eligible for these discounted meals.
Many CCSD schools are also "provision schools" based on income in their zoned area, meaning all students enrolled are eligible for free meals without application.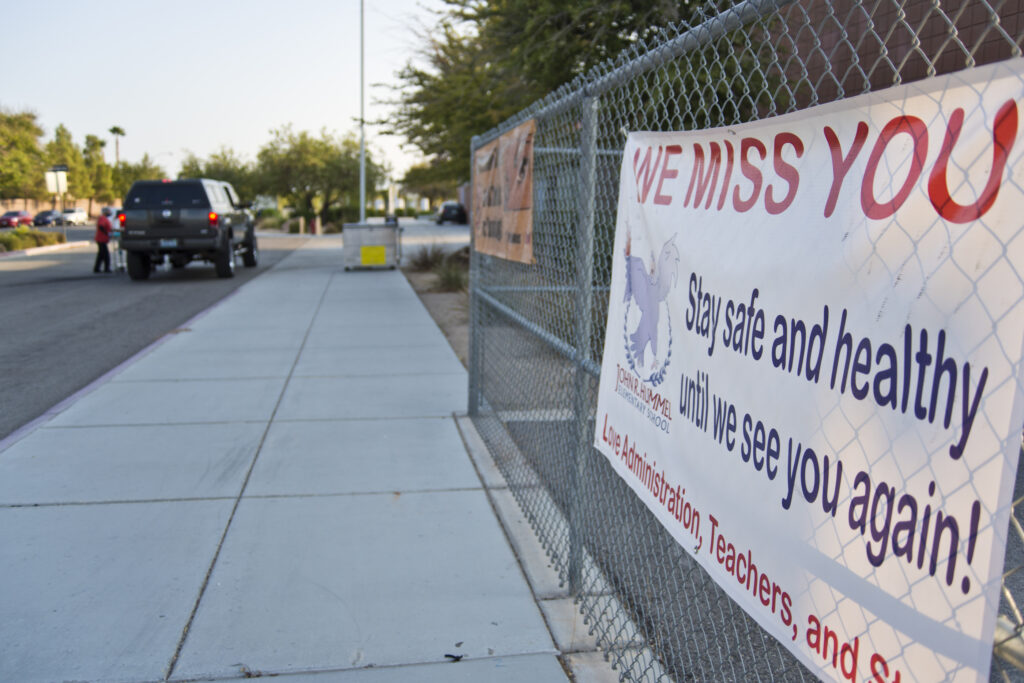 Challenges of online learning
For many parents, the online school year has come with obstacles. Jerushua Maiava, a stay-at-home mom picking up meals at Silvestri Junior High School in southeast Las Vegas, has been trying to adjust with her four children participating in digital learning and two who are too young for school.
With school out and nowhere to go because of the pandemic, the household in the summer was "crazy," she said. She's been grateful for the little bit of added peace the regimen of school has brought, but is now juggling helping her students with distance learning while taking care of her younger children — including some bursts of the terrible twos — while her husband works six days a week.
"It's kind of hard trying to get away and trying to do other things while keeping an eye on everything," Maiava said. "It's a learning experience, but hey, we gotta do what we gotta do."
Maiava, who qualifies for the free lunch program, said she is grateful for the assistance of free food, both from sites open over the summer and from the school district sites newly opened for the fall semester.
"It helps out financially. I don't have to buy that much more or scramble or kind of stretch our food — it'll last," she said.
Maiava received more help from the distribution sites in the summer because she was able to get food for her two young children as well as her four school-aged children whereas the district-operated meal sites provide one meal bag per student ID. But that change hasn't affected her too much because she has food available at home.
Still, she's thankful the extra meals have lessened the burden of cooking in an already packed schedule.
"I tell my kids, 'I'm only doing dinner, nothing else. You guys can go fetch for yourself,'" she said, laughing. "It's kind of busy."
What's on the menu?
Valerie Fredas brought her seventh grader with her to Hummel on Wednesday before his classes started to pick up food for him and his two siblings, who are in fourth and ninth grade. The process, she said, was very smooth, and it was convenient to be able to get meals for all three children at one site.
Her son, who Fredas preferred not give his name, spoke up to express his appreciation of the meals, saying he thought the food they picked up was better than what he would normally be served at school. However, that opinion didn't appear to be widely shared.
Archer said that her three grandchildren were not fans of the food.
"When it comes to the meals, I guess they're okay. I know a couple things that the kids won't eat. I might have to go out and pick something up, like Taco Bell, to offset that," she said.
Chanelle Cleo thinks the problem has less to do with the food and more with the environment. During an in-person school year, her four kids would eat school lunches daily. However, while her children say the food they're receiving is the same as the food they'd normally get from school, they're less happy about eating it.
"Now that they're home, whatever they get they don't want it," she said. "They'd rather just find whatever they can at home."
Jennifer Robertson's only complaint, which she deemed "petty," about the school sites was that her five children received the same food two days in a row.
"If the kids didn't eat it one day, they certainly don't want to eat it the second day. But we're grateful for things, like the fruit they love. And the juice, they love. The chocolate milk, they love," she said, with her second grader in the back of the car nodding enthusiastically to reaffirm her love for the chocolate milk. "So there's always something in there that they will eat, even if they don't like the main entrees."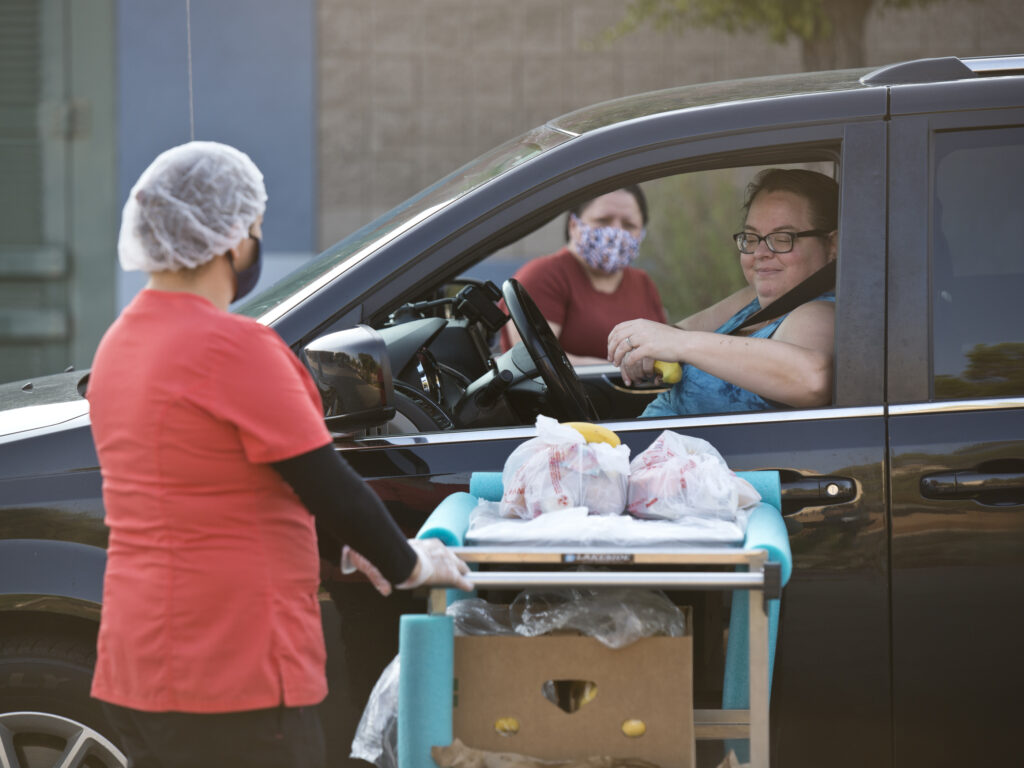 Convenience
Maya Lono's second, sixth and 11th graders haven't had complaints about the meals — the breaded cheese stick being a fan favorite — but she said she thinks the time window to pick up meals is too small and doesn't give parents enough flexibility.
"I feel like I'm rushing because I have to teach the kids and then I have to feed them and then come here before 10," she said. Their 10 a.m. lunch is their first break of the day.
The district offers three different time periods for meal pick-up. Elementary school sites operate from 7 a.m. to 10 a.m., middle school sites from 10 a.m. to 1 p.m. and high school sites from 11 a.m. to 2 p.m.
Marisa Atabay, who stays home with her seventh grader during distance learning, said the times have been perfect for her, going to Silvestri when his classes start later and Gehring Elementary School, only five minutes away, when they start earlier.
Although she doesn't qualify for the free lunch program and has to pay for the meal, Atabay said the school meals have been handy in supplementing the food at home and satisfying the growing appetite of her son, who frequents the fridge during class breaks.
Roberta Laswell was picking up food for her five great grandchildren, all of whom are eligible for free and reduced price lunches, on Wednesday at Silvestri. Three of Laswell's great grandkids attend the school — two of them in the sixth grade and one in seventh — and it was a conveniently located site for her to pick up food for all of the children she watches and helps with distance learning.
This was Laswell's first trip to these new school meal sites. She didn't have time on Monday or Tuesday because she was too busy trying to help all five kids adjust to school online.
"We had enough problems trying to get them set up on the computer," she said. "We didn't have time to come get food."
Laswell said she had visited Three Square's food sites during the spring and summer "almost every day," and that the process she experienced on Wednesday at Silvestri was "just as easy" as it had been at those sites.
Other parents said the new food sites were even more convenient than those operated by Three Square as they were closer to their homes, parents are allowed to pick up at any nearby site, and they didn't have the same wait time issues that some Three Square sites experienced earlier in the year.
However, although the process is convenient for Laswell as a retiree, she's not sure her great grandchildren's parents would be able to pick up food and watch their younger kids throughout the school day without her help.
"If it wasn't for me, they wouldn't have anyone at the house," she said. "I feel for some of the other parents, I really do. I don't think they have it that easy. [If] I was working and had kids, and I don't know how I would have done this, personally."
Cleo is one working parent who is worried about that issue. She took the week off of work to help her four children adjust to their new distance learning schedules and says daily meal pick-ups have been "convenient" so far, but she's worried it won't go as smoothly once she returns.
"When I go back to work it's going to be a hassle," she said. "For some parents, they can't make it every single day."
An appreciated resource
Rosemary Mathis' second grader, middle schooler and two high schoolers have loved the crumb cakes and barbecue rib sandwiches of the free meals, but it's the additional help during difficult times that the laid-off casino worker praises.
She's been picking up meals for her children throughout the summer and has found the system fast and easy.
"I just think it's really easy and people should take advantage of it," Mathis said. "For me, it helps me out a lot because … I'm laid off and unemployment [benefits] pay the rent, the bills, food, and it's hard. So I would say if you're struggling like I am, come here. It helps."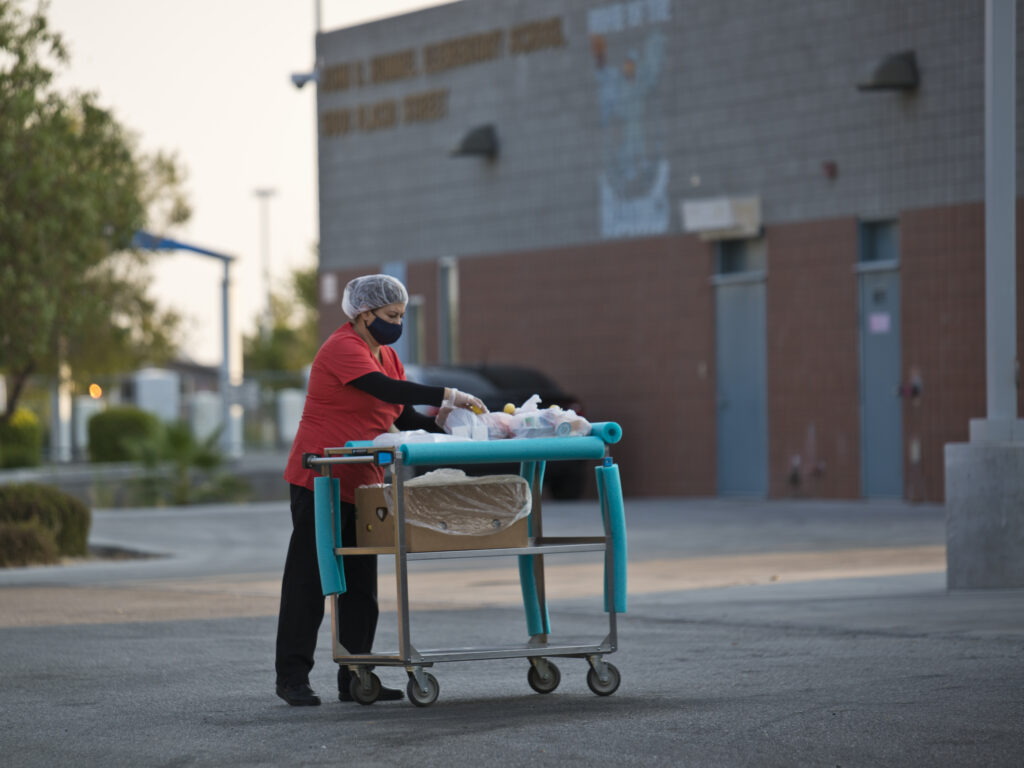 Parents expressed their appreciation not only for the food provided by the site but also for the workers who spend their days distributing it. Fredas described the pick-up process as "wonderful" and said she "loves" everybody working the sites.
Robertson has also found the meal distribution system to be efficient and is thankful for the workers.
"If there's a message I would like, it's just to thank the food workers for their work all summer," she said. "They really do make it easy."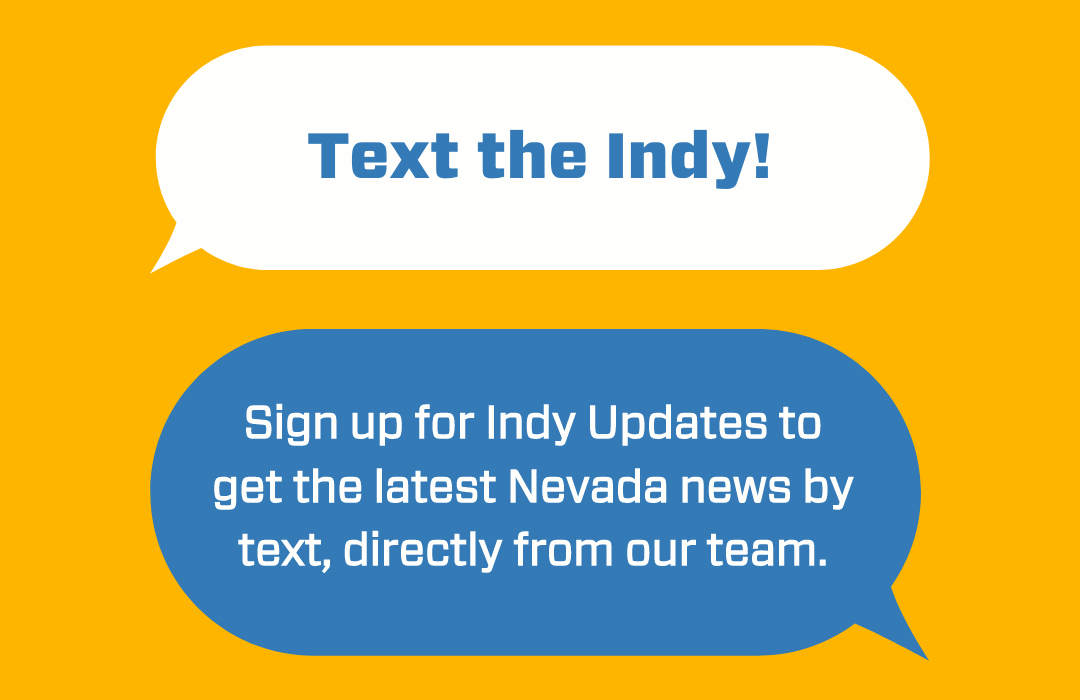 Featured Videos