Agricultural secretary on listening tour of Southern Nevada gets earful on migrant farm work program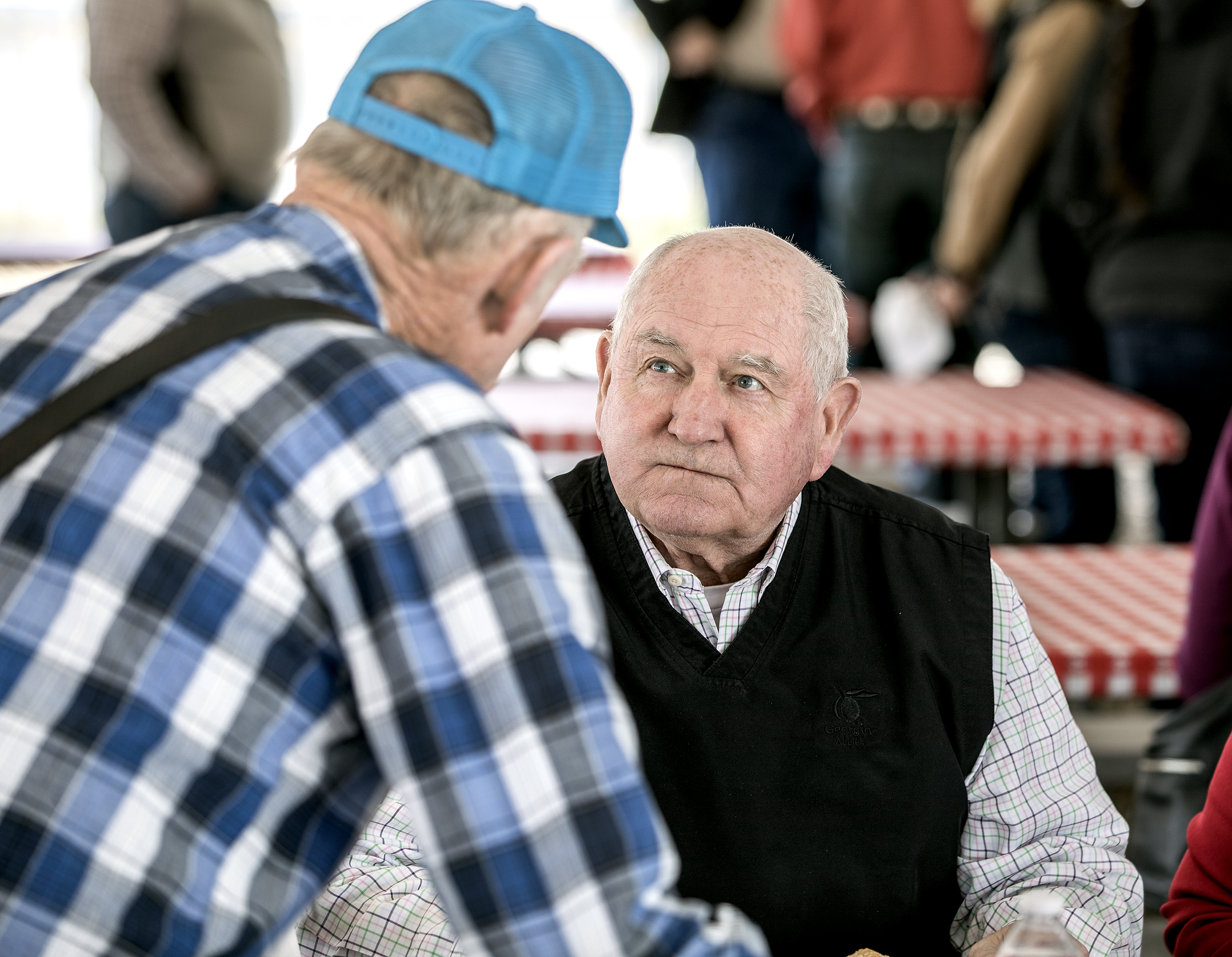 As the wind shifted and the pungent stench of Hank Combs' family hog farm filled the air of the Apex landfill,  Agriculture Secretary Sonny Perdue realized the farmers had not come to hear him talk about the administration budget released Monday.
It was immigration and grazing rights on government-owned land that was of concern to the livestock producers and farmers who had come to be part of Perdue's listening tour in Southern Nevada, a stop on his travels to Western states. And they had questions.
Perdue was asked by sheepherder and rancher Hank Vogler what could be done to roll back conservation efforts that affect farm animals' grazing ability. Both Volger and Combs were also concerned that immigration reform would not allow more migrant workers to have access to the H-2A visa program. The visa allows foreign nationals to enter the U.S. and obtain agricultural jobs.
"No one wants the job," Volger said before adding that it was hard to get American-born workers to do farm work.
"I am hopeful that we can get some type of legal guest worker program into the greater immigration debate that would take place," Perdue replied.
It is hard for farmers to get workers regardless of how much the job paid, said Perdue. "It is just very difficult to originate American workers on the farm would do these kinds of jobs," he added. "You don't find many Las Vegas kids who want to come out here and help the Combs family on the pig farm. It's not a career that many people want to do. The legal guest worker program is necessary and I am hopeful that we can get that discussion. I know the president understands that and he is in favor of that."
The next stop on the listening tour was Gilcrease Orchard where the 4-H Club—the Wranglers, Rattlers, and Road Runners—served a lunch of pulled pork sandwiches and asparagus. The pork came from the Combs' hog farm and the asparagus from Gilcrease Orchards. Perdue sat down to a plate before taking questions from the small crowd reminding them that he was really there to listen. One of Perdue's plans for the USDA was to streamline operations so that different departments could work in a way that would expedite the needs of the farmers.
When asked by The Nevada Independent how the USDA would be able to pursue this agenda with 16 percent less money than the 2017 budget levels, Perdue said he was trying to change ineffectual operations in the department so farmers and producers would not be hindered by bureaucracy.
"We are trying to do more with less, frankly, and that's with the budget cuts throughout all of government," said Perdue. "The president is trying to be fiscally responsible. As we get our fiscal house in order, I am hoping we can operate in a way that is more cooperative with our people in America, our producers, and ranchers, without burdensome regulations that create some inefficiencies."
Perdue, a former Georgia governor and state legislator, said he has worked with budgets that for five out of eight years consistently had less money than the year before. He added that cutting inefficiencies from the Georgia budget allowed residents to "thrive during that time."
"We will do the same things in the Department of Agriculture," said Perdue. "I'm not willing to kick a $20 trillion debt down to my grandchildren and their grandchildren. We have to buckle up and do what it takes."
What it takes, Perdue says, will be removing burdensome regulations that would allow Nevadan farmers to be more effective and efficient in their operations. Perdue declined to answer when asked what specific regulation he would remove or make more efficient for Nevada farmers and agricultural producers.  
The proposed budget was released late Monday morning. It calls for cuts that would directly affect the Farm Bill, which expires on Sept. 30. Passed in 2014, the Farm Bill appropriated subsidies that created a financial cushion for farmers in case of unpredictable weather and market conditions.
But the bulk of the bill's cost was the allocation made for the Supplemental Nutrition Assistance Program or SNAP. According to the USDA profile of SNAP recipients, 439,782 Nevadans received monthly food benefits in the 2016 fiscal year. The SNAP program also served 81.2 percent of those eligible for benefits in Nevada in 2015. The profile also states that the SNAP program has an economic multiplier effect: Nevada's economy earns $1.80 for every SNAP dollar spent.
If the 2019 proposed budget passes—and most presidential blueprints never make it off the page—it would cut the SNAP program by $800 million a year, or around 1 percent. Perdue says the administration is trying to use innovative concepts to deliver healthier food to people who cannot afford groceries.
"USDA has a long history of the food programs both in our school and both in our WIC (Women, Infants and Children) program. We are big participants in that. I think the Farm Bill will instruct that even more as that goes along and you will see the USDA continue to be a big participant in feeding America," Perdue said.
In the budget proposal, food stamp recipients would get a box of food instead of using an electronic card that is similar to a debit card to buy what they want. Money is deposited to the card and users can purchase food from an approved USDA list. The White House argued the approach would provide significant savings to taxpayers. Other reforms would seek to reduce SNAP benefits for people considered able-bodied adults and capable of working.
Not all of the budget consists of stringent cuts. The proposal includes an expansion of a 10-year, $50 billion Rural Formula Funds that would address rural infrastructure needs to include broadband internet service. Another $50 million would go to increasing agricultural science education programs like 4-H clubs. The budget creates a $3.5 billion fund to give loans in support of rural community development or improve essential services or facilities.
Nevada was Perdue's 33rd stop of his listening tour.
"President Trump wants me to get out across America and listen to the people, that have been forgotten and to bring back the ideas of how we can make their lives better," Perdue said.
Comment Policy (updated 4/20/2021): Please keep your comments civil. We reserve the right to delete comments or ban users who engage in personal attacks, use an excess of profanity, make verifiably false statements or are otherwise nasty. Comments that contain links must be approved by admin.