Frustrated Amodei speaks out on McCarthy's ouster as speaker
Nevada's three House Democrats joined the rest of their caucus and eight Republicans to remove the speaker.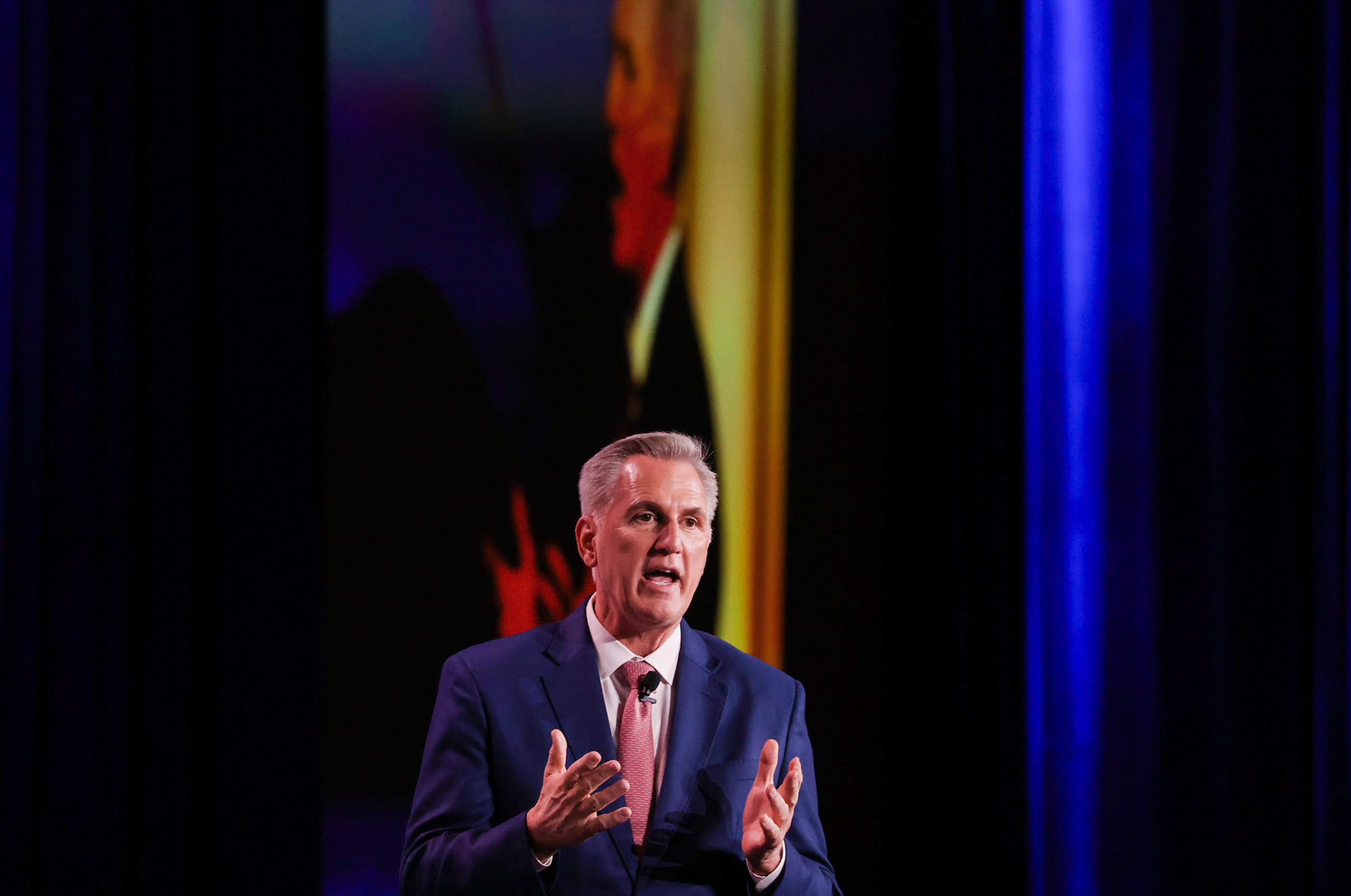 In a historic vote, Speaker Kevin McCarthy (R-CA) was removed from his position leading the House of Representatives by a vote of 216-210 on Tuesday, with eight Republicans joining all House Democrats (including Nevada's three Democratic members) to oust the speaker.
Rep. Mark Amodei (R-NV), the Nevada delegation's lone Republican and a McCarthy ally, voted to keep the speaker in power.
Rep. Matt Gaetz (R-FL) brought the motion to vacate the speaker on Monday in response to McCarthy's leadership decisions in the face of the looming government shutdown at the end of September. McCarthy brought a clean 45-day stopgap funding bill Saturday to avert a federal government shutdown, relying on the support of 209 Democrats and just 126 Republicans.
Amodei stuck with McCarthy to the bitter end, from the first speakership ballot on Jan. 3 to the motion to vacate. But right-wing rebel insurgency and Democratic unity proved too much for McCarthy to overcome.
"[McCarthy's] got the support of 97 percent of his people," Amodei said in an interview. "Only in this business is 97 percent a flunking grade."
Given that the House has never voted to remove its speaker before, next steps are unclear. Rep. Patrick McHenry (R-NC) was named acting speaker pro tempore. McCarthy could run for the speakership again, either by trying to cut a deal with enough of his Republican opponents or with Democrats. However, he told the caucus Tuesday night that he does not plan to run, according to reports.
If he decides against running, Republicans will likely turn to another member of their caucus. Or moderate Republicans, as Minority Leader Hakeem Jeffries (D-NY) has urged, could come to Jeffries and attempt to form a unity governing coalition.
Before McCarthy's announcement, Amodei said he plans to continue supporting McCarthy. Having seen prior speakers John Boehner (R-OH) and Paul Ryan (R-WI) retire rather than continue to lead a caucus simmering with internal tensions, he said he doubts anyone else could achieve as much as or work as hard as McCarthy has.
"First of all, he's not a bad guy," Amodei said. "Second of all, he's been very good to Nevada. Third of all, he's been instrumental in getting us to the majority."
He also noted that McCarthy's fundraising prowess helped power Republicans' 2022 midterm take back of the House — albeit by a small margin, evident in today's vote.
On the Democratic side, Rep. Susie Lee (D-NV), a member of the moderate, bipartisan Problem Solvers' Caucus, said it was a "sad day," but that there was no room for Democrats such as herself to help save McCarthy's speakership because he never made them an offer.
"There was no negotiation," Lee said. "You can only negotiate with someone who wants to negotiate."
She added that bipartisan negotiations for a potential path forward have not yet occurred.
In a statement, Rep. Dina Titus (D-NV) said she voted to vacate to "restore trust, integrity, and accountability to the House."
Amodei said emotions were running high on the Republican side, and that he wants members to take a few days to cool off. He added that if the insurgents who ousted McCarthy think they won a victory for conservatism, they actually empowered the left, enabling a path for moderates to join Democrats and form a coalition government.
"If you think impeachment … if that was important to you, forget it," he said. "If you think a coalition is going to focus on the border, forget it. If you don't like our spending, wait til you go back to [Nancy] Pelosi, [Chuck] Schumer, White House stuff, because that's spending on steroids."
Rep. Steven Horsford (D-NV), calling the moment "solemn and sober," urged moderate Republicans to do just what Amodei suggested they might — turn to Jeffries.
"If the Republicans are not ready to govern, they can step aside and allow Democrats to elect Hakeem Jeffries as Speaker, and let us get to work on behalf of the American people," Horsford said in a statement.
Both parties will have conference meetings to determine how to proceed. Amodei said he plans to attend, but that it will be an "exercise in futility."
"When the white smoke comes out the chimney, let me know," he said. "I think for right now, a couple of days of everybody staying the hell away from each other might be helpful."
This headline was changed Wednesday at 9 a.m. to reflect that Kevin McCarthy will no longer be running for Speaker of the House.
The Nevada Independent is raising $200,000 by Dec. 31 to support coverage of the 2024 election.
Tax-deductible donations from readers like you fund this critical work.
If you give today,your donation will be matched dollar-for-dollar.
Give + Get Matched
Featured Videos