Indy Analysis: What led to thousands of uncounted ballots in Nevada's 2020 primary election?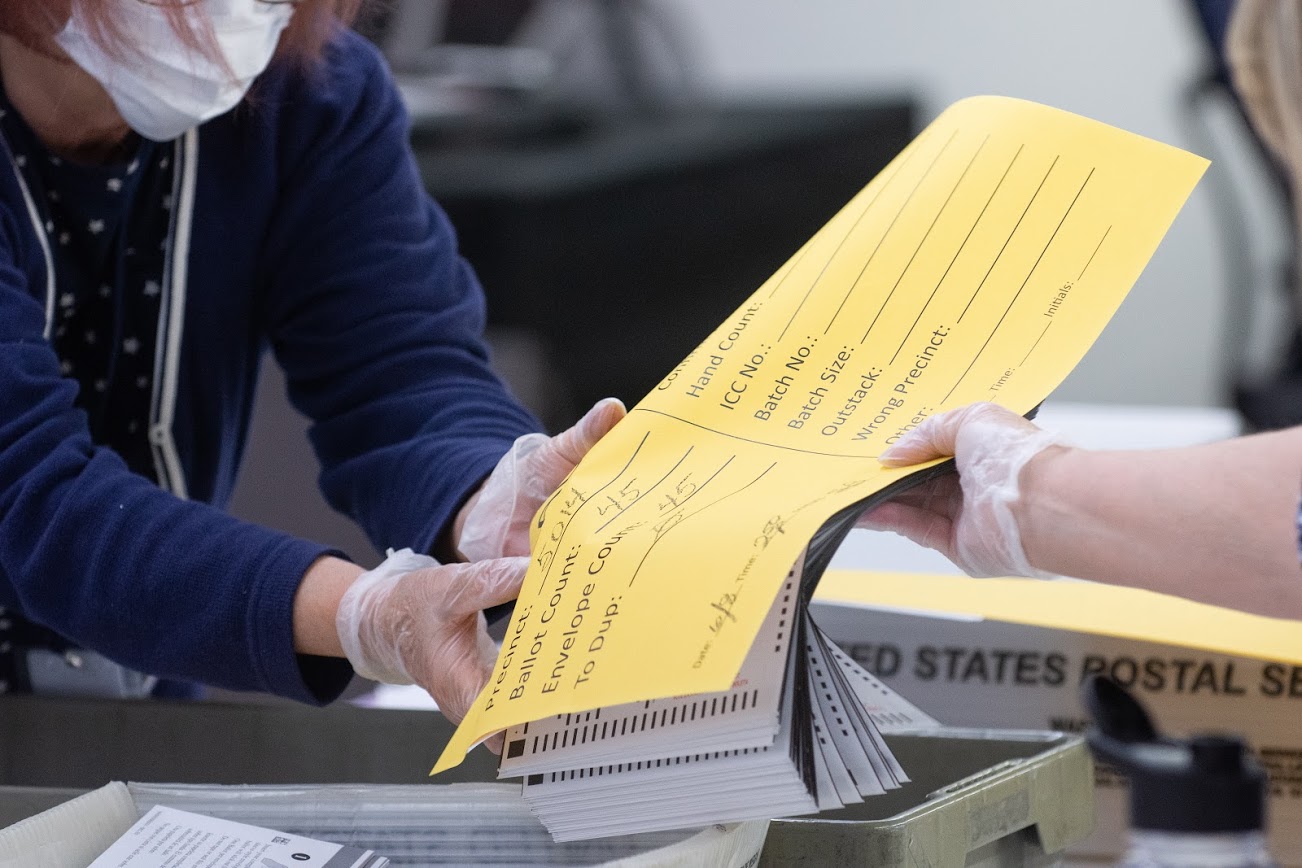 Nevada's mail-in June primary was one of the highest-turnout primary elections in state history, with more than 490,000 ballots cast and voters in some parts of the state waiting upwards of eight hours for a chance to vote.
Of those ballots, more than 10,000 could not be counted.
The state reported 480,855 votes were successfully counted in the primary, a turnout of 29.5 percent of active registered voters in the state.
Generally, rural counties saw higher turnout percentages than Clark or Washoe, with the highest turnout in Humboldt, where 48.5 percent of the county's 7,502 active registered voters cast ballots. Humboldt's turnout rate for this year's primary was 21 percentage points higher than it was for the 2018 primary.
Douglas, Esmeralda, Lander, Pershing, Storey, and White Pine counties also saw turnout higher than 40 percent, and 10 counties in the state had turnout higher for 2020's primary than was seen in the 2018 primary.
Many of the issues leading to uncounted ballots in the state were a result of incorrectly submitted mail-in ballots. While there are more than 100 mail-in precincts in the state, most voters, especially those from Clark and Washoe, have never had to vote by mail.
Some county officials are pushing for a similar, mostly mail process for the general election. For voters unfamiliar with a mail-in system, mistakes may lead to a similar percentage of uncounted votes in the November.
How many ballots were not counted?
When a county challenges a ballot for a reason that cannot be fixed by a voter, or a voter does not fix an issue with a challenged ballot by the Election Day deadline, that vote is not counted.
The state reported 10,799 uncounted ballots out of 491,654 ballots cast, or 2.2 percent.
Of the 14 counties that responded to a request for information on uncounted ballots, Clark had the highest rate of uncounted ballots at 2.8 percent. Clark also has the most registered voters of any county in the state but had the lowest turnout percentage.
Nye had the lowest rate of uncounted ballots with only 26 of its 11,140 submitted ballots unable to be counted.
Both Clark and Washoe were able to provide information on the party affiliations of voters whose ballots were not counted. Clark was able to give a breakdown by party of voters who failed to cure the signatures on their ballots — the reason for 51 percent of uncounted votes in the county — while Washoe could breakdown voters who failed to cure their signatures as well as voters whose ballots arrived late, collectively accounting for 98 percent of the county's uncounted votes.
Missing or mismatched signatures are an issue that voters have the opportunity to correct in order to make sure their votes are counted, through a process called signature curing.
If a ballot was not signed or the signature on the ballot did not match county records, the voter was sent a letter within 48 hours notifying them of the need to "cure" the signature. Voters were able to cure their signatures digitally or physically via fax, mail, or in-person drop-off. A voter simply needed to sign an unsigned ballot or fix a mistake with their original signature.
Of the voters who failed to cure signatures in Clark County, Democrats accounted for 48 percent, Republicans for 33 percent and nonpartisan voters for 19 percent.
In Washoe County, the group of voters who failed to cure their signatures was 39 percent Democrat, 45 percent Republican and 16 percent nonpartisan or registered with minor parties. Democrats cast 46 percent of ballots postmarked late, while 35 percent were cast by Republicans and 20 percent by nonpartisan or minor party voters.
Why were some ballots not counted?
While the state was able to provide statewide information on uncounted ballots because of signature issues, only individual counties could provide breakdowns of the reasons ballots went uncounted. Fourteen counties were able to immediately provide this information while Douglas, Esmeralda and Mineral did not.
Counties can challenge submitted ballots for a variety of reasons — some that can be remedied and some that cannot. When a challenged ballot has an issue that cannot be remedied or that the voter does not successfully remedy by the Election Day deadline, that ballot is not counted.
Statewide, and in the majority of counties, the biggest reason for ballots not to be counted was failure to cure a missing or mismatched signature. Ballots that were postmarked late was the second most common reason in the state as a whole and was the biggest reason for uncounted ballots in Lincoln and Storey counties.
Reasons a ballot may be challenged that cannot be corrected include ballots that are postmarked after Election Day and provisional ballots that are cast by voters determined to not be eligible. Provisional ballots are cast in-person during early voting or on Election Day and can only be counted after it is certified that the voter provided adequate identification, is eligible to vote in the election and has not already cast a ballot.
At a special meeting of the Clark County Commission on June 19, Joe Gloria, the registrar of voters, reported that 32 voters who cast provisional ballots were not registered to vote. According to officials, those voters were attempting to register same-day but did not provide adequate identification. Because of their lack of ID, they were unable to register but still filled out ballots that were later rejected.
Clark was also the only county to report a voter casting multiple ballots. One provisional ballot cast on Election Day was from a voter who had also mailed in a ballot. The provisional ballot was rejected.
There are multiple ballot issues that can be corrected by a voter and will not lead to automatic rejection of a ballot. The Lyon County election department received two ballots from voters who mistakenly submitted their ballots in Lyon County despite being registered in different counties. The department was able to return their ballots and certify that they were later counted in the correct counties.
Signature validation issues are another issue that leads to challenged ballots but can be corrected by voters in order to ensure their votes are counted.
Statewide, 12,366 signatures were challenged and of those, 5,617, or 45.4 percent, were successfully cured by the Election Day deadline.
Success in curing signatures varied between counties. Storey County was the most successful with 80 percent of the 40 challenged signatures successfully cured. Washoe County had a success rate higher than that of the state as a whole, at 52.6 percent, as did Churchill, Elko, Humboldt, Lincoln, Lyon, Nye, Storey, and White Pine.
While Eureka County had the lowest percentage of successfully cured signatures at 20 percent, only five ballots in the county required signature curing at all. Clark County also had a success rate lower than the statewide rate with 39.3 percent of challenged signatures cured. Additionally, Carson City, Pershing and Lander reported successful cure rates lower than the statewide rate.
Undeliverable ballots
In part because ballots were mailed to inactive voters — a decision that has caused partisan conflict and even led to a lawsuit filed by state Republicans —many ballots mailed to voters were returned to counties as "undeliverable."
Some counties were able to provide information on the ballots that were returned to them. In Clark County, nearly 200,000 ballots were returned undeliverable, and, in Washoe, 27,407 ballots were undeliverable.
Two counties, Carson City and White Pine, were able to provide complete breakdowns for every mail-in ballot sent to a registered voter for the primary.
Ballots were classified as either received and counted, received and uncounted, returned undeliverable, spoiled and unable to be filled out, or not returned at all. Spoiled ballots are those that were reported as damaged or lost without a replacement ballot issued, ballots delivered to deceased voters and ballots delivered to voters who had moved out of the county.
How do I know if my ballot was counted?
Voters who want to ensure that their vote was counted in the primary can do so through the secretary of state's website by logging in and checking their voting history. If a voter has "mailing ballot" listed in their history for the 2020 primary election, that means the voter's ballot was counted.
If a voter does not have anything listed under history for the primary but did cast a ballot, that means the ballot was uncounted in the county. Voters can reach out to county officials to inquire as to why their ballot was not counted.
Voters who cast provisional ballots in Clark County can check whether ballots were counted online. Voters also can check the status of their ballot's delivery through the county site.
In Washoe County, voters who voted by mail and through provisional ballots were able to check their ballot status through reports provided by the registrar of voters.
The Nevada Independent is raising $200,000 by Dec. 31 to support coverage of the 2024 election.
Tax-deductible donations from readers like you fund this critical work.
If you give today,your donation will be matched dollar-for-dollar.
Give + Get Matched
Featured Videos