'Another challenging year:' Nevada faces continued wildfire risk amid drought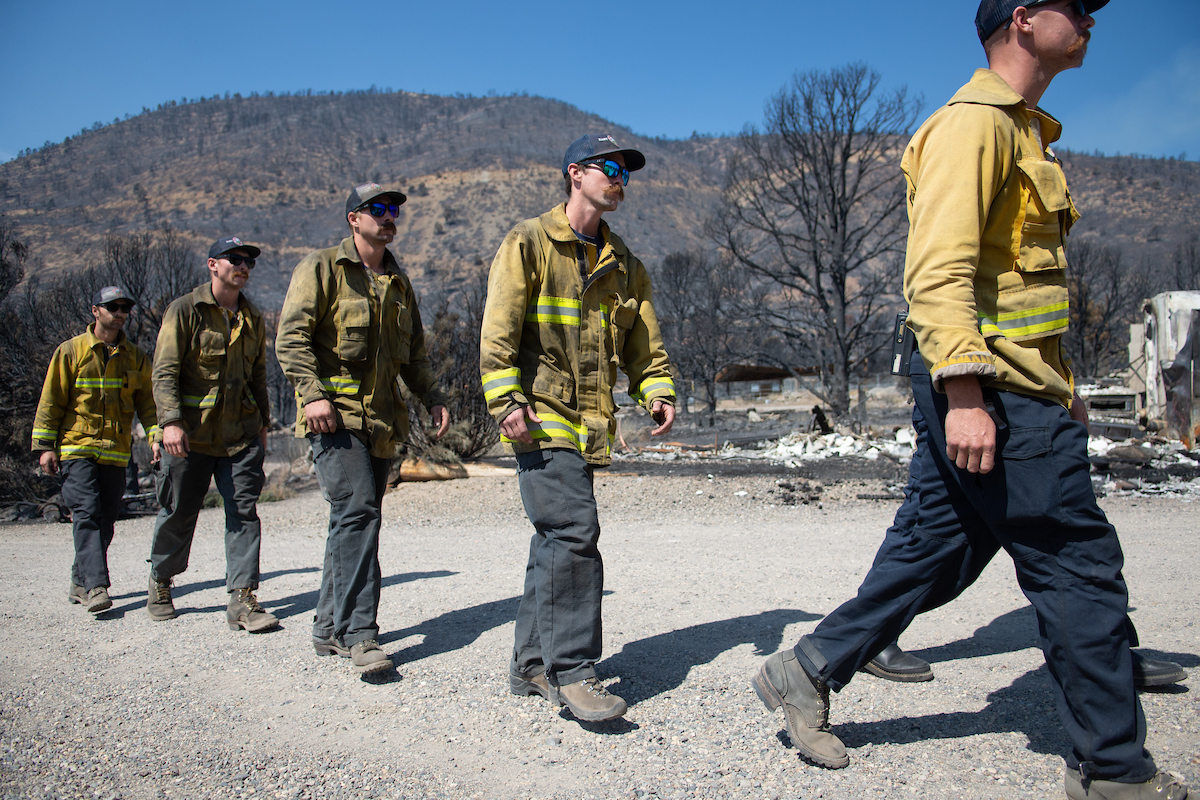 Good morning, and welcome to the Indy Environment newsletter.
As always, we want to hear from readers. Let us know what you're seeing on the ground and how policies are affecting you. Email me with any tips or suggestions at [email protected]
To get this newsletter in your inbox, subscribe here.
---
In a third year of drought, Nevada officials are preparing for several hot months that could see high-elevation blazes ignite across the West, straining frontline fire crews and limited resources.
In a briefing to Gov. Steve Sisolak last week, the state's Division of Forestry and federal officials laid out plans to confront wildfires, while providing an overview of what to expect heading into a year that has already seen large wildfires, including a devastating fire in northern New Mexico.
This week, The Nevada Independent interviewed Ryan Shane, a deputy administrator for the Nevada Division of Forestry, to get more information about the projections.
"We expect another challenging year with fire," Shane said, noting the amplifying effects of the prolonged drought.
What that means, though, varies depending on where you are in Nevada. In past years, the Great Basin area, which stretches from Reno to Salt Lake City, has often seen less acreage burned at low elevations during drought. When there is less moisture, grassland vegetation on valley floors — the fuel for large-scale fires — is less prevalent. Instead, Shane said, areas that are most at risk during drought are high-elevation, forested areas scattered across the state.
That poses a challenge and risk for firefighters. High-elevation wildfires are difficult to put out quickly, burning on steep terrain and capitalizing on dry fuels that can resist suppression efforts. And in recent years, a changing climate has increased the intensity of extreme fire behavior.
Such fires can have a big impact, Shane said, noting that "even though we might not burn the most acres this year that we've ever seen, the fires that we do have will be very destructive to important ecosystems for watersheds and wildlife and even threatening to a lot of communities."
The drought poses other barriers for fighting fire too, including limited access to water in creeks and lakes that might be used for suppression. In addition, when the landscape is drier, there are often fewer natural areas that could help break the path of a wildfire, Shane said.
Last year, Nevada officials reported 610 fire ignitions, burning a total of 134,145 acres within the state. Of those fire starts, nearly 363 were human-caused, burning about 10,494 acres. The remaining 247 natural-caused fires, though smaller in number, accounted for the vast majority of acreage burned: 123,651 acres. But Nevadans were also affected by the large-scale fires burning in California, including the Caldor Fire that threatened South Lake Tahoe, and the Dixie Fire, which threatened rural communities northwest of Reno.
Those fires, in addition to other fires burning across the West, blanketed Reno and other parts of Nevada with smoke for days in a row, causing school cancelations and prompting public health warnings.
Shane said the public can prepare by following rules meant to decrease the number of fires that are caused by humans. In recent years, fires have been started by runaway campfires, target shooting and illegal fireworks. Land management agencies, such as the U.S. Bureau of Land Management, are expected to announce restrictions to prevent fire in the coming weeks.
"We really need the public to abide by the fire restrictions," Shane said.
For residents that live in higher-elevation areas or where urban development interfaces with wildlands, Shane said residents should be prepared for a fire and consider creating defensible space, an area that buffers their property from vegetation. Communities that have prepared for fire in advance, he argued, tend to be more resilient when they face a nearby wildfire.
In addition to preparing for fire, Shane said local, state and federal wildfire managers have all been working together to adapt to changing fire dynamics in the West. This includes recognizing the distinction between "good fire" and "bad fire."
Historically, wildfire managers have defaulted to suppression at all costs. But that has removed ecosystems, in some places, from their natural fire cycles, making them less resilient when a fire does come. He said agencies are applying a number of tools to address this, including prescribed burns and controlling invasive species.
The result, Shane hopes, is that "you're going to have less frequent fires, you're going to have smaller fires, fires that actually contribute to the health of a lot of these landscapes because vegetation oftentimes is fire-dependent to survive and regenerate."
When fires do come, the response is often regional, with fire crews and trucks dispatched from across the nation. Nevada, for instance, has recently contributed fire resources to the wildfires in New Mexico, one of which has spread to more than 200,000 acres. But fires have been so pronounced in recent years, many occurring simultaneously, that resources can be strained.
Like many public and private workplaces across the nation, Shane said the state has faced issues recruiting and retaining firefighters. With prolonged drought, burnout and mental health issues can compound for wildland firefighters. And while the state has received federal funding to increase its firefighting capacity, supply chain issues have created delays.
"Everybody wants their own fire put out the fastest," Shane said.
"But if five states are pulling at the same pot of resources, it can get very challenging from the suppression side to give what we need to put them out quickly," he added.
---
Here's what else I'm watching this week: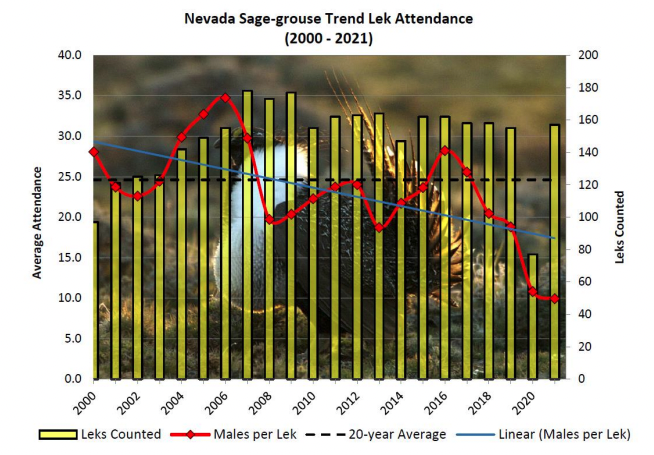 Nevada officials report declines in Greater sage grouse numbers: States across the West are observing steep declines in populations of Greater sage grouse, an iconic bird known for an elaborate mating ritual and found in 11 states across the West. Nevada is no exception. The bird faces threats from wildfire and the conversion of landscape from sagebrush to invasive grasses, such as cheatgrass. It also faces threats from the fragmentation of habitat due to development.
More from E&E News' Scott Streater: "The state of Nevada, as part of its Sagebrush Ecosystem Program, released a report in December that showed the average male attendance rate at the breeding grounds they surveyed was only 11.2 per lek in 2021 — 41 percent below the 20-year average of 19.1 males per lek between 2000-2020." Sage grouse breeding grounds are known as leks and used to determine population counts. In the background, federal land managers are working to update management plans that are meant to protect Greater sage grouse, but there is growing pressure to protect the species using the Endangered Species Act.
Southwest Gas CEO leaves as company settles deal with Icahn: Southwest Gas settled a months-long feud with activist investor Carl Icahn, who had criticized the Las Vegas-based gas utility's management practices and its relationship with regulators. As part of the deal, reported by Bloomberg's Scott Deveau and Mark Chediak, Southwest Gas' CEO John Hester stepped down from his role and Icahn can appoint up to four new members of the company's board.
Washoe County transportation agency hits 'clean air milestone:' The transportation agency for Reno and Sparks announced plans on Friday to operate with 100 percent "alternative-fuel buses." Although last week's announcement is a significant step for the Regional Transportation Commission of Washoe County, the agency has not fully phased out fossil fuels. One-third of its bus fleet is electric, and another two-thirds of the fleet are diesel-electric hybrids, according to a press release. The agency had originally planned to operate its fleet using alternative-fuel buses by 2035. In a statement, the agency's director, Bill Thomas, said that the announcement means that it "will be able to deliver cleaner air for our region now – not 13 years from now." Thomas said federal funding from the Department of Transportation helped accelerate the transition.
A project to line parts of the Truckee Canal got some federal funding.
The Washington Post's Maxine Joselow looks at efforts underway to reform the General Mining Law of 1872 as more mining is expected to meet the demand for the minerals that power electric vehicles, large-scale batteries and other technologies needed to transition the economy toward more renewable forms of energy. Proposed legislation would require mining companies to pay royalties for operating on federal land while seeking to bolster environmental standards and consultation with tribes. The story quotes a spokesperson for Sen. Catherine Cortez Masto (D-NV) who said "Senator Cortez Masto will continue to oppose legislation that negatively impacts Nevada's mining industry and the over 30,000 jobs it supports."
"The gravity of the immediate situation is serious:" Arizona officials last week discussed shortages on the Colorado River, The Los Angeles Times' Ian James reports. "Our future is probably what we would now call living with shortages," said Tom Buschatzke, who leads the state's water agency. "We all have to come together to help solve these Colorado River issues."
Adaptation in Arizona could prove to be costly. "From the millions of dollars the state is paying users to leave water in the river's largest reservoir to the $1 billion lawmakers could spend to fund a new Arizona Water Authority, the future of water security for the fast-growing state will be costly," The Arizona Republic's Brandon Loomis writes.
As water levels drop, more remains are found in Lake Mead, via KTNV.
Former Las Vegas Mayor Oscar Goodman weighs in on Lake Mead and speculation around organized crime. "There's no telling what we'll find in Lake Mead," Goodman told The Associated Press' Ken Ritter this week. "It's not a bad place to dump a body."
What can be learned about water in the West: A fantastic piece by The Los Angeles Times' Hayley Smith and Ian James about communities adapting to arid conditions.
More federal funding for geothermal? Sen. Jacky Rosen (D-NV) and Cortez Masto wrote a letter to the Senate Appropriations Committee's subcommittee on energy, water and development, calling for more than $200 million in federal geothermal funding.
The Nevada Independent is raising $200,000 by Dec. 31 to support coverage of the 2024 election.
Tax-deductible donations from readers like you fund this critical work.
If you give today,your donation will be matched dollar-for-dollar.
Give + Get Matched
Featured Videos