At Sparks rally, Joe Biden says President Donald Trump is lying about Obama administration's record on Iran
Democratic presidential hopeful Joe Biden said President Donald Trump "is literally lying" for saying the Obama administration provided funds for missiles launched at American troops this week.
The former vice president made the statement Friday evening to a crowd of about 600 people at a campaign rally at Sparks High School. He argued the Obama-era nuclear deal with Iran freed up money that had been frozen internationally, and blamed the current tensions with Iran on Trump's decision to withdraw from the agreement.
"Everything's been brought on by walking away from the nuclear deal," Biden said, adding that "America First has made America last."
The nuclear deal with Iran was a joint agreement in 2015 between six countries including the U.S. which specified Iran would not develop more nuclear weapons in exchange for the other countries lifting economic sanctions on Tehran. As part of the agreement, Iran also agreed to allow international inspections of its nuclear facilities.
Biden said he predicted aggression with Iran as "the walls close in on Donald Trump" and added that a potential war with the country could isolate the U.S. and give foreign rivals and terrorist groups a foothold.
"This is a gift on a silver platter to Russia. This is a gift on a silver platter to China," Biden said.
Shortly after Biden arrived on stage for a speech that lasted almost an hour, a group of protesters silently stood up in the audience, holding up papers with letters spelling out the words, "Where's Hunter?"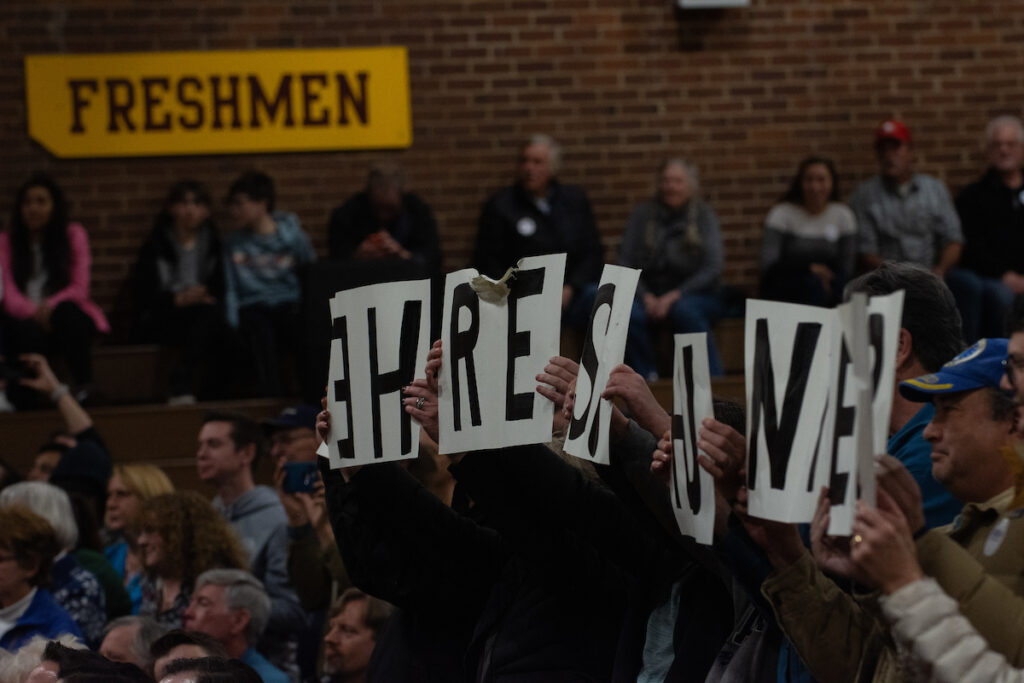 The sign referred to Biden's son, whose involvement with a Ukrainian natural gas company during Biden's time as vice president is a central theme in a series of actions that led up to Trump's impeachment. The impeachment proceedings stemmed from concerns over Trump's request for Ukraine to investigate the former vice president's son.
"[Hunter's] in California and he's doing really well, thank you for asking…I'm really proud of my son," Biden said to the protestors, asking them to "sit down so the people behind you can see."
After the protesters filed out of the event, one of them — 67-year old Mark Leonard from Reno— explained the group's motives.
"Our group has a very grave concern about the integrity of the man whose speaking in front of us," he told The Nevada Independent.
Leonard, who identifies as an independent voter, said he was concerned about corruption.
"Well, here's a guy who has no qualifications, is getting millions of dollars from a foreign corporation, and he gets billions of dollars from China. And what are his qualifications? None. Smells like corruption to me," Leonard said.
The Friday event was part of the candidate's two-day campaign swing through Nevada. Biden is slated to appear at a community event with Mi Familia Vota in Las Vegas tomorrow.