Barrasso looks to climate change to nudge Democrats to back Yucca project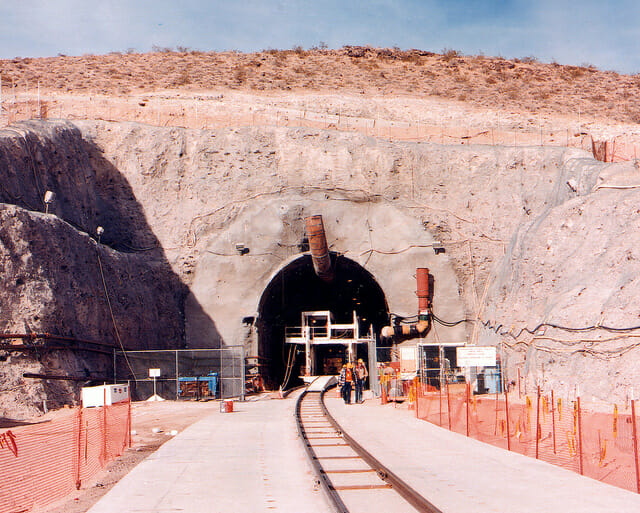 U.S. Sen. John Barrasso, a Republican from Wyoming, has opened a new front in the battle over whether to store nuclear waste in Nevada, and he has put addressing climate change at the center of his argument in favor of building a repository at Yucca Mountain.
"If you actually want to deal with climate change, doing something that matters, you have to include nuclear and you have to include carbon capture," Barrasso, who is chairman of the Energy and Public Works Committee, said Wednesday after a hearing on his bill to restart the licensing process for the Yucca project.
"Those are the only things that get you to the scale that we need for the future of the planet," he continued.
Both Sen. Catherine Cortez Masto and Sen. Jacky Rosen appeared before the panel to make the case against the project—which is opposed by Gov. Steve Sisolak and all Democrats in the congressional delegation.
Cortez Masto argued that "Yucca Mountain is a seismically and geologically unfit site to store this dangerous material" and that the process by which Yucca was chosen smacked of "political opportunism" that "was used to scapegoat Nevada."
Rosen said that the transportation of the waste poses a considerable risk.
"We are talking about shipping roughly one to three trains or one to two truck shipments across the country per week, every week for 50 years from 76 shipping sites," she said. "Is it hard to imagine that shipping over 5,000 truck casks of high-level nuclear waste over a span of 50 years won't result in at least one radiological release somewhere in this country."
Barrasso said he was hopeful that the bill would pass the Senate, but had no timeline for legislative action. A similar measure championed by Illinois Republican Rep. John Shimkus passed the House last year by an overwhelming 340 to 72 vote. But even if it is passed by the Senate, it is unclear that the measure would be considered by the House, where Democrats hold the majority and control the legislative calendar. Speaker Nancy Pelosi has historically opposed the project.
The more immediate fight is on the annual appropriations for the Department of Energy, said Sen. Shelley Moore Capito, a Republican from West Virginia who is a member of the environment panel.
"You can block through the appropriations committee," Capito said, adding that former Senate Majority Leader Harry Reid "was good at that."
Reid was key to winning over President Barack Obama who reversed course on the project and Nevada Democrats have managed to block funds for it since fiscal 2012.
At the hearing, Geoffrey Fettus, with the Natural Resources Defense Council was skeptical Yucca would ever be built due to opposition from the state. Other witnesses, Anthony O'Donnell, who serves on the Maryland Public Service Commission and Timothy O'Connor of Xcel Energy, pleaded for Congress to act, citing the growing cost of storing waste on site.
Barrasso's environmental argument is designed to put pressure on Democrats, for whom addressing climate change is a central issue.
Cortez Masto dismissed the idea that opposition to Yucca put Nevada Democrats at odds with nuclear power, which is a key bipartisan element for dealing with climate change.
"What we are opposed to is the nuclear waste coming into a state that, number one, doesn't want it, and two, that is a safety, health and national security risk," she said in an interview off the Senate floor. She added that, along with Rosen, the two are making the case against the project to their Democratic colleagues and that pursuing Yucca will only delay getting to a solution for nuclear waste storage.
Nevertheless, the argument resonates with Democrats, including Sen. Tom Carper, who is the top Democrat on the environment panel.
"I believe the greatest threat that we face on this planet is too much carbon, it's climate change, it's all this crazy weather that we're experiencing," Carper said after the hearing. "If we're serious about addressing that, nuclear energy is part of the solution."
But Carper said he is sympathetic to Nevada's position. He spoke to Sisolak Tuesday and discussed visiting Yucca again. He previously visited in 2002. Carper's discussion with the governor came after Sisolak wrote last week to both Barrasso and Carper and invited them to meet.
"A number of years have passed since I visited Yucca Mountain," Carper said. "I spoke with the governor of Nevada yesterday, and our colleagues who testified here today, and I am very much interested in going back and visiting the facility. Maybe it's something the chairman and I can do with some of our colleagues."
"As it turns out, that [nuclear energy] solution, which helps us with climate change, also creates this problem with disposal and storage" he continued. "And what we have to do is be smart enough to use technology and research to be able to take what is, on one hand, a good thing for our planet, and to make sure we are not loading a problem...at the feet of folks in Nevada or other states as well."
When asked if he would vote for Barrasso's bill, Carper said that he would not in its current form. But he wants to have the debate and find a solution that may not involve Yucca.
"There is a way to provide incentives, to rearrange the incentives, so the communities actually will stand in line to be a repository, do so on their own volition, do so in a way that creates jobs and economic opportunities for them and does good things for our planet," Carper said. "We've got to go for the whole package and I am committed to trying to do that."
The hearing marked the second time in two days nuclear waste legislation has been the topic of a discussion in the Senate.
On Tuesday, Alaska Republican Sen. Lisa Murkowski, Tennessee Republican Lamar Alexander and California Democrat Dianne Feinstein introduced a bill that would create a new independent agency to manage the country's nuclear waste program in place of the Department of Energy. The agency would be authorized to look for new public and private temporary storage sites.
The bill, titled as the Nuclear Waste Administration Act, would require consent from the affected communities to designate a storage site. However, the measure is silent on Yucca, which drew the ire of Cortez Masto.
"The bill introduced by Senators Alexander, Murkowski and Feinstein creates a process allowing any state, except for the State of Nevada, to provide their consent to host a nuclear repository or interim storage facility, before a licensing application is submitted to the Nuclear Regulatory Commission (NRC)." said Cortez Masto spokeswoman Lauren Wodarski. "However, Yucca Mountain is 'grandfathered' out of that protection since Yucca Mountain's licensing application is already pending with the NRC."
Wodarski noted that the bill would also " lift the 70,000 metric ton cap for storage in any repository, virtually guaranteeing that Yucca could one day house all of America's nuclear waste without providing Nevadans the crucial consent-based siting privileges they're affording to every other state."
The Nevada Independent is raising $200,000 by Dec. 31 to support coverage of the 2024 election.
Tax-deductible donations from readers like you fund this critical work.
If you give today,your donation will be matched dollar-for-dollar.
Give + Get Matched
Featured Videos