Biden narrowly leads Trump, but major Nevada races too close to call after Election Day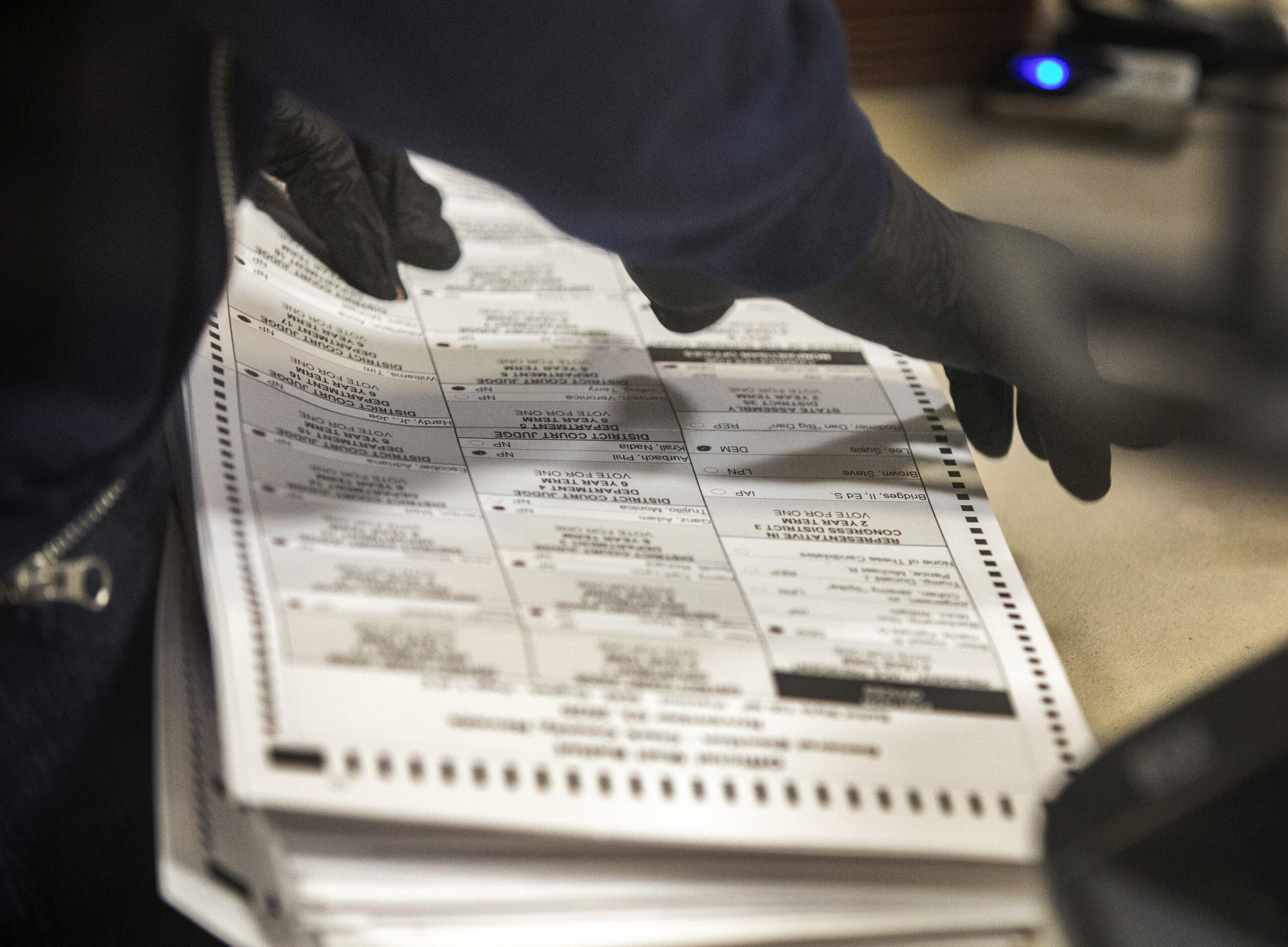 Joe Biden maintains the slimmest of leads in Nevada over President Donald Trump, while the other major congressional, statewide and local races significantly narrowed early Wednesday morning.
Biden and Democratic congressional candidates running in the state's two competitive House districts — Susie Lee and Steven Horsford — maintain small leads over their Republican opponents but the races remain too close to call, particularly after a late batch of results from Clark County helped Republicans candidates there catch up to their Democrat opponents.
Down the ballot, it appears unlikely that Democrats will have supermajorities in either chamber of the Legislature next year, while a well-funded ballot question to take the Board of Regents out of the state Constitution appears in danger amid strong rural opposition.
More than 1.2 million Nevadans cast a ballot in the general election, although it's unclear what the total turnout will be as last-minute ballots mailed in or dropped off have not yet been tallied.
Here's a look at the status of major races on the 2020 ballot after initial results on Election Night:
Presidential:
The presidential race in Nevada remained too close to call Wednesday morning with former Vice President Joe Biden leading over President Donald Trump by a narrow 0.6 percentage points, or 7,647 votes. Hillary Clinton defeated Trump by 2.4 percentage points in the Silver State four years ago.
The presidential election itself also remained up in the air as of early Wednesday morning, with key races in Wisconsin, Pennsylvania, Michigan, North Carolina and Georgia still yet to be decided.
Congressional:
In a pair of the state's most competitive congressional races, preliminary vote tallies favored incumbent Democrats — though by narrow margins.
In the hotly contested race for Nevada's 3rd Congressional District in suburban Clark County, incumbent Democrat Susie Lee led Republican challenger Dan Rodimer by 1.5 percentage points, or 3,233 votes.
And in neighboring District 4, incumbent Democrat Steven Horsford led his Republican challenger, former one-term Assemblyman Jim Marchant, by 2.4 points, or a margin of 6,697 votes.
Meanwhile, incumbents in Nevada's remaining two congressional districts sailed to victory after early returns, with Democratic Rep. Dina Titus securing Las Vegas' District 1 by a 26.6 point margin, and Republican Rep. Mark Amodei winning Northern Nevada's District 2 by a 15.8 margin as of early Wednesday morning.
Legislature:
Democratic dreams of holding super-majorities in both the Assembly and Senate appeared on thin ice after initial results were posted late Tuesday, with no clear decision yet in many of the swing districts that will determine super-majority control.
Two Las Vegas-area state Senate districts remained too close to call early Wednesday, with Democratic Senate Majority Leader Nicole Cannizzaro and Democratic candidate Kristee Watson trailing their Republican opponents — April Becker and Carrie Buck, respectively. In Reno, incumbent Republican Sen. Heidi Gansert posted a notable lead over her Democratic opponent, Wendy Jauregui-Jackins, in a seat necessary for Democrats to take to capture a two-thirds majority in the state Senate.
In the Assembly, Democrats appeared to be in danger of losing three seats — two in Southern Nevada, Districts 4 and 37, and one in Northern Nevada, District 31 — while leading narrowly in a fourth competitive seat in Assembly District 29. Republicans are likely to keep control of the fifth competitive seat, Assembly District 2, where Republican Heidi Kasama is leading by a sizable margin over Democrat Radhika Kunnel.
Democrats can only afford to lose one of the four competitive seats they currently hold in the Assembly in order to retain their supermajority.
Other less competitive races that remained too close to call early Wednesday morning include Assembly Districts 21, 35 and 41.
Candidates who have won their races include:
Dina Neal (D) in SD4
Dallas Harris (D) in SD11
Pete Goicoechea (R) in SD19
Brittney Miller (D) in AD5
Shondra Summers-Armstrong (D) in AD6
Cameron "C.H." Miller (D) in AD7
Jason Frierson (D) in AD8
Steve Yeager (D) in AD9
Bea Duran (D) in AD11
Susie Martinez (D) in AD12
Maggie Carlton (D) in AD14
Howard Watts (D) in AD15
Cecilia Gonzalez (D) in AD16
Clara Thomas (D) in AD17
Venicia Considine (D) in AD18
Glen Leavitt (R) in AD23
Lisa Krasner (R) in AD26
Teresa Benitez-Thompson (D) in AD27
Edgar Flores (D) in AD28
Natha Anderson (D) in AD30
Alexis Hansen (R) in AD32
Shannon Bilbray-Axelrod (D) in AD34
Jim Wheeler (R) in AD39
PK O'Neill (R) in AD40
Alexander Assefa (D) in AD42
The 11 Assembly and three Senate candidates who were the only person running in their districts are automatically assumed to have won their races.
Local Government:
Three Democrats emerged victorious in Clark County Commission races, but one contest was too close to call after initial results.
Clark County Commissioner Michael Naft, a Democrat, retained his District A seat, snagging 52 percent of the votes in initial returns. His opponent, Republican Michael Thomas, captured 48 percent.
Clark County Commission Chair Marilyn Kirkpatrick, a Democrat, also coasted to re-election, with 53 percent of early returns in the District B race. Her challenger, Republican Kevin Williams, garnered 44 percent of early returns.
Democrat William McCurdy, meanwhile, handily won the District D race, replacing term-limited Commissioner Lawrence Weekly. McCurdy captured 77 percent of the early returns, while his opponent, David Washington, who's not affiliated with a political party, only earned 23 percent.
The District C race for Clark County Commission was neck-and-neck based on early returns. Republican Stavros Anthony received 50.8 percent of early returns, while Democrat Ross Miller grabbed 49.2 percent. The winner in this race will replace term-limited Commissioner Larry Brown.
Up north, Republican incumbent Vaughn Hartung won the District 4 race for the Washoe County Commission. Hartung grabbed 58 percent of the early returns, while his competitor, Marie Baker, snagged 42 percent.
In the other Washoe County Commission race — for District 1 — Democrat Alexis Hill defeated Republican incumbent Marsha Berkbigler in an election upset. Hill emerged with 55 percent of the early returns, while Berkbigler received 45 percent.
Three Reno City Council members were re-elected to the board, but one race remains too close to call. Reno City Councilman Oscar Delgado won the Ward 3 race, capturing about 63 percent of the early returns. His opponent, Rudy Leon, won about 37 percent of the vote.
Councilwoman Neoma Jardon was re-elected to represent Ward 5, winning about 54 percent of the early returns, while her opponent, Darla Fink, received about 46 percent of the vote.
Councilman Devon Reese defeated his opponent, Eddie Lorton, to continue serving in the council's at-large seat. Reese snagged roughly 55 percent of the early returns, while Lorton received about 45 percent.
But the Ward 1 race remains close. Reno City Councilwoman Jenny Brekhus retained a slight 104-vote lead in a closely-watched race against real estate agent J.D. Drakulich.
Supreme Court
District Court Judge Doug Herndon defeated Assemblyman Ozzie Fumo in a race for an open Nevada Supreme Court seat, capturing about 47 percent of the early returns. Fumo received about 36 percent of the vote. "None of these Candidates" made up about 18 percent of the early returns.
Herndon was running to replace Associate Chief Justice Mark Gibbons, who announced last year that he would not run for re-election.
Fumo, who has practiced law since 1996 and served as an adjunct professor at the UNLV Boyd School of Law, won the support of progressives. Herndon, a former deputy district attorney who has sat on the bench since 2005, received support from a PAC primarily funded by Sheldon Adelson.
Ballot Questions
The campaign for Question 1, a measure that would remove the Board of Regents of the Nevada System of Higher Education from the Nevada Constitution, remained too close to call after initial returns.
However, all four other ballot measures have prevailed. They include:
Question 2, which amends the Nevada Constitution to permit same-sex marriage
Question 3, which restructures the Board of Pardons
Question 4, which enshrines a voter's bill of rights in the Nevada Constitution
Question 6, which raises the state's Renewable Portfolio Standards calling for greater use of renewable energy
Comment Policy (updated 4/20/2021): Please keep your comments civil. We reserve the right to delete comments or ban users who engage in personal attacks, use an excess of profanity, make verifiably false statements or are otherwise nasty. Comments that contain links must be approved by admin.