Buffets, banquets and yellow bins: How some of Nevada's resort companies are trying to cut food waste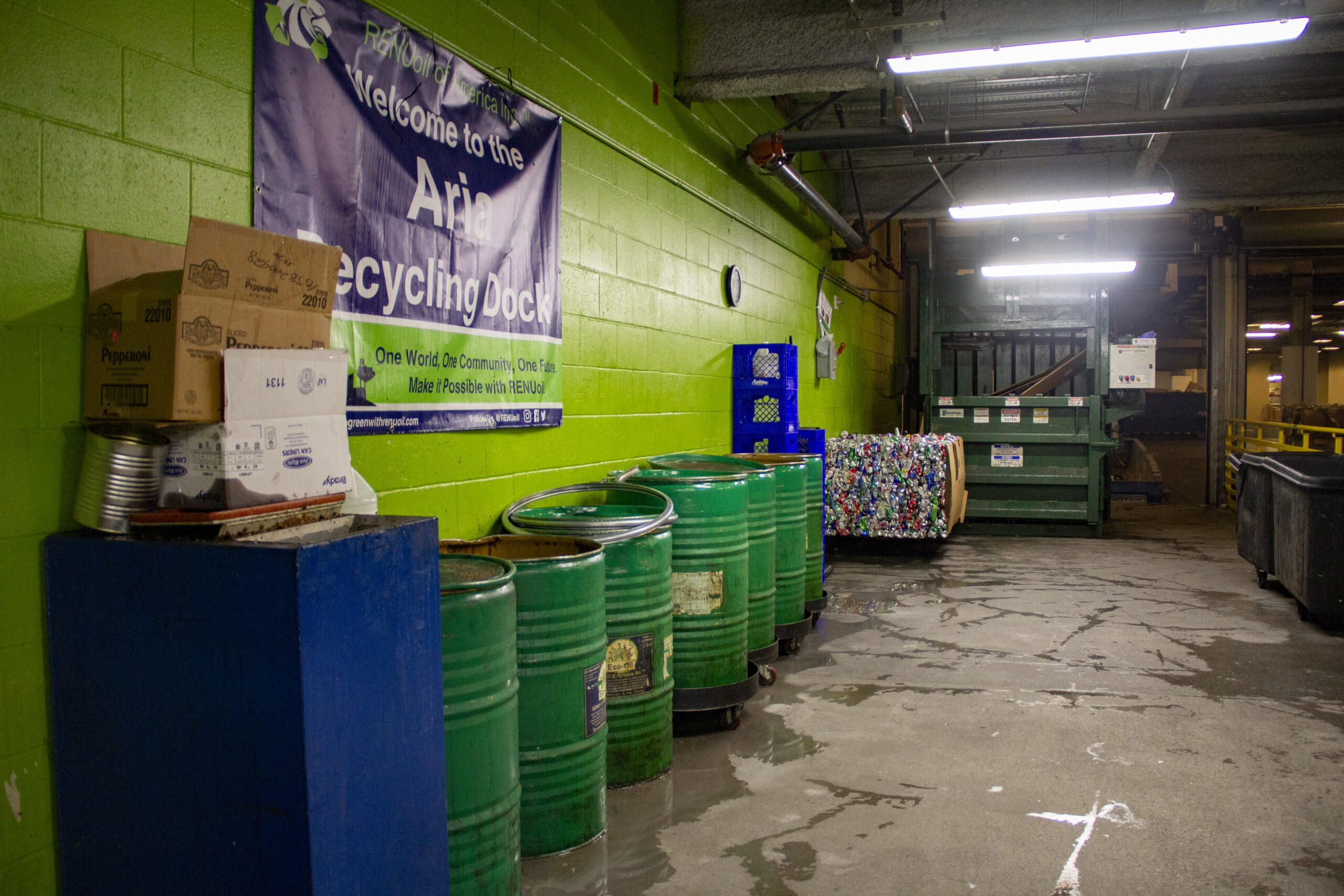 Dumpsters overflowing with glass, stacks of plastic cups with a gold crown resting on top, and rainbow cubes of compacted aluminum are among the maze of obstacles in this underground lot, made more overwhelming by the unceasing noise – shouting, beeping and the roar of truck engines.
Brittany Price deftly navigates the Aria food waste and recycling dock, undaunted by the machinery and mess and unbothered by the smell permeating the air. She flips open the lid of a bin nearby to reveal it is stacked to the brim with empty oyster shells — just another odd prop found behind the scenes of one of the largest hospitality companies in the world.
Price is the director of sustainable operations at MGM Resorts International, a role in which she oversees food waste and recycling programs for the hospitality chain, which is the largest employer in the Las Vegas Valley. The Aria is one of 12 resorts she oversees in Las Vegas.
Price has been working for MGM for 13 years and first got involved with their environmental sustainability programs five years ago. She says it was the birth of her son that first inspired her to get involved.
"I have a 7-year old-son and a 4-year-old daughter, and when my son was born I started to rethink everything, and for me that really started with food and our food system," she said. "I had to take a step back and say, 'what can I do personally to help with this much broader issue than just food, but the environment in general and wanting to make the world a better place for him?'"
Every major resort company on the Strip have Corporate Social Responsibility (CSR) initiatives at a corporate level. In order to better enact these initiatives, every individual MGM resort has its own CSR Council. Working at the Luxor at the time, Price joined the property's green team and began work with the environmental division before eventually moving on to the job she holds today.
This is no small job. Between the 12 resorts on the Strip, MGM operates more than 4 million square feet of convention space, 450 restaurants and buffet-style employee dining halls for all 50,000 of its employees, producing in 80 tons of food waste every day.
Between 2008 and 2018, the resort company diverted 200,000 tons, or about two-thirds of its total food waste, away from landfills. Instead, the waste has been used for composting, sent to pig farms, and most recently, thanks to a partnership with Three Square food bank, has been donated to those in need. 
The major resort companies in Nevada are huge sources of food waste in the state. Las Vegas Sands estimates that 23 percent of the waste produced at The Venetian resort is food waste.
Katarina Tesarova, the vice president of global sustainability for Las Vegas Sands observes that the volume and variety of food waste produced by resorts on the Strip makes it vital for companies to develop comprehensive strategies to reduce their waste production and divert the waste that is produced away from landfills.
"From full meals that are prepared ahead of time, such as for banquets or conventions, but never served and have to be discarded, to waste that starts right at the preparation stage, such as trim and peel waste, the potential for waste is there at nearly every turn," said Tesarova. "So it's necessary to have a multifaceted strategy to truly address it and prevent it wherever possible."
Las Vegas Sands has been making efforts since 2015 to reduce food waste, according to Tesarova. The company enlists creative strategies to reuse foods and minimize waste, including using unserved bread from conventions in a bread pudding recipe for team member dining rooms. Since 2015, The Venetian has reduced food waste by 29 percent.
Food waste is a crucial topic in Nevada, a state where one in eight households are food insecure, according to the 2018 annual report by the Nevada Council of Food Security. The council was first created in 2014 through an executive order by the governor, and in 2019, lawmakers passed a bill that formally set membership and operating guidelines.
The same bill, SB178, also created the Food for People, Not Landfills program as a part of the Department of Health and Human Services. The bill intended to create formal committees focused on reducing food insecurity by minimizing waste and ensuring that food that can be donated, is donated.
Crushed cans and bins of bottles
Recycling programs are something many resort companies in Las Vegas have invested in. Caesars Entertainment say it has diverted 397,000 tons of recycling away from landfills since 2012, and Las Vegas Sands' Venetian Resort has a recycling rate of 56 percent.
And, while MGM has also heavily invested in these programs, walking through an MGM resort, you won't be able to find a recycling bin.
"You may find that odd as a company that is environmentally minded like we are," Price said. "But it's actually by design."
Instead of having resort-goers sort their own recycling, every MGM resort has at least one recycling dock that is staffed 24 hours a day. The employees at these docks, who are hired through a partnership with RENUoil of America, a Las Vegas-based company that has partnered with hospitality companies to process recycling for nearly 20 years, hand-sort the recycling from the trash that is brought in.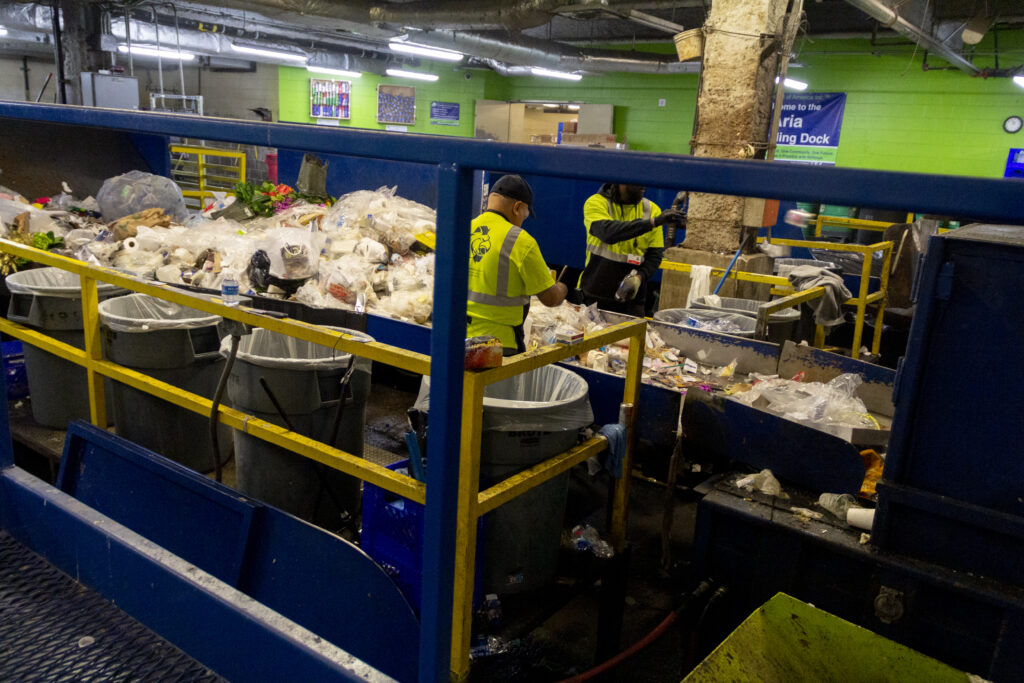 "That really allows us to maximize our overall diversion rates," Price said.
Hand sorting the recycling prevents recyclable materials from being mistakenly sent to a landfill and prevents non-recyclables from being mixed in with the recycling. There are more than 20 recycling docks between the MGM resorts. Mandalay Bay alone has 11 in order to deal with the volume of waste produced by their convention space.
Over 50,000 tons of recycling are produced annually by the resorts, and between 2008 and 2018, 450,000 tons of recycling was diverted from landfills.
Source reduction and food donation
All food waste from MGM Resorts is transported to their waste docks in unlined yellow bins. The yellow color lets employees know not to put any other kind of trash in these bins, because glass or plastics would prevent the food waste from being effectively recovered.
In dealing with this waste, MGM adheres to the Environmental Protection Agency's (EPA) Food Recovery Hierarchy, which ranks methods of waste reduction and use from most to least preferable.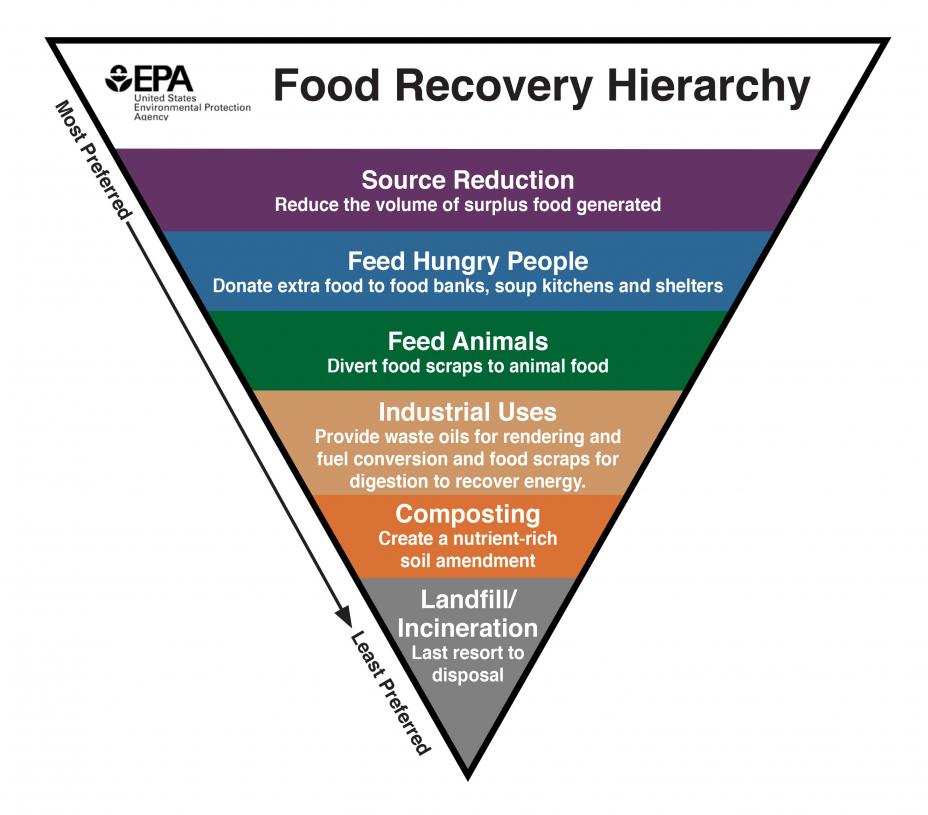 At the top of the hierarchy is the most preferable option — source reduction. Source reduction is a concept that is heavily pushed in the buffet-style dining halls that all MGM resort employees can use.
Signage throughout the halls reminds employees not to put more on their plates than they intend to eat in order to avoid that food being wasted.
However, source reduction is a difficult task for MGM when it comes to food in their restaurants and client-serving programs.
Part of Price's role as director is making events more sustainable and working with convention clients to consider the environmental and societal impact of the choices they make in the planning process. However, there are some impacts that planning cannot alleviate.
"As a company, we have an obligation to serve the client," said Price. "If they tell us that 1,000 people are coming to eat, and we have a contract with them to feed 1,000 people, we need to have that amount of food available. However, there's a no-show factor that we can't always account for."
For the most part, food from employee dining halls and from most restaurants owned by MGM is then diverted to livestock farms to feed pigs or used for composting.
In order to deal with the inevitable surplus food at their conventions, however, MGM began partnering with Three Square food bank, a non-profit based in Las Vegas focused on solving food insecurity in Southern Nevada. MGM identifies food and beverage events that are likely to have a large surplus of food, and Three Square is able to collect the food that has been unserved and untouched. The food is then blast chilled and stored frozen before being used at community events or distributed at food banks.
Since 2016, MGM has donated 1.2 million pounds of food — the equivalent of 1 million meals. They have an overall goal to put 5 million pounds of food into the community by 2025.
Other resort companies on the Strip participate in similar programs, including Las Vegas Sands which has donated more than 250,000 meals since 2014.
20 million oysters and $20 forks
There are other initiatives that MGM has recently introduced in order to make their operations more sustainable. Every recycling dock has its own asset recovery station where employees can pull out resort property such as reusable glass and plastic cups, utensils, and any other mistakenly thrown away item to be thoroughly cleaned and returned to the resort.
Price emphasized the importance of this for helping the resorts keep costs down, noting that one fork mistakenly thrown in the trash can be worth upwards of $20.
MGM is also making an effort to use compostable materials such as single use plates and utensils. It can be a challenge to find compostable materials that are properly suited for a desert environment because often, widely used compostable materials don't break down in this climate. MGM employs a preferable purchasing policy, looking into what products have the lowest environmental impact in order to determine what items to use in their resorts to ensure that they can be properly disposed of.
Additionally, MGM has been making efforts to assist in oyster restoration projects. The National Harbor Resort opened outside of Washington, D.C. in 2016, and it was at this time that MGM became aware of the problems with shrinking oyster populations around the world. Oysters are a natural source of water filtering, but across the world they are about 85 percent extinct.
Oysters populations grow when new oysters attach to old shells. However, when oysters are harvested and the shells are removed, new oysters have nothing to latch onto.
By partnering with different organizations in that region, MGM is able to send empty oyster shells from their resorts all over the country, including Las Vegas, to be used in reintroduction efforts. Since 2017, the company has been able to divert 76 tons of oyster shells, enough to grow 20 million new oysters.
Casino coalition
The Nevada Resort Association, an advocacy group for the gaming and resort industry in the state, has a coalition focused on environmental and social initiatives, made up of representatives from more than 70 resorts.
In late 2019, the coalition formed a food security working group.
"It's a really exciting time because all of our competitors and peers on the Strip — Caesars, Sands, Wynn — we're all sitting together at a table talking about the issues surrounding food insecurity and food donations and how we can collectively come together as a unit to help drive and scale food donations even more within our city," said Price. "It's amazing to see all of us coming together to help drive this very important cause."
Tesarova is a co-chair of the association's environmental coalition and leads the food security group.
"This all means I help lead the rest of the group in identifying the most meaningful initiatives that we should collectively take on to improve the lives of people in Southern Nevada," said Tesarova. "Together, we're focusing on developing and implementing efficient processes for transferring our respective resorts' unused and unserved food to those in need in our community."
Tesarova believes that an important part of coordinating between resort companies to supply nonprofits with food is that it allows those nonprofits to redirect the resources they had previously used to purchase and prepare food.
Looking forward
In 2018, MGM committed to the EPA's Food Loss and Waste Champion Commitment. Companies and organizations that make the commitment pledge to reduce their food waste by 50 percent by the year 2030.
Additionally, the company intends to increase the rate at which they divert materials from landfills from its current rate at just under 50 percent to 60 percent by 2025 and 75 percent by 2030. MGM's 2025 and 2030 environmental sustainability goals are also displayed on their website.
Las Vegas Sands says it has aligned its company values with United Nations Sustainable Development Goals, with a specific emphasis on seeking a 50 percent reduction of per-capita global food waste.
While it can be complicated and costly to make these sweeping changes in these large resort companies, Price feels they have an obligation to continue these efforts and work towards a more sustainable future.
"Food is really a core, essential part of our business," said Price, "Because of that, we think that it's our responsibility to help solve some of these really complex issues surrounding food."

The Nevada Independent is raising $200,000 by Dec. 31 to support coverage of the 2024 election.
Tax-deductible donations from readers like you fund this critical work.
If you give today,your donation will be matched dollar-for-dollar.
Give + Get Matched
Featured Videos