Commercial Center businesses looking forward after block party bust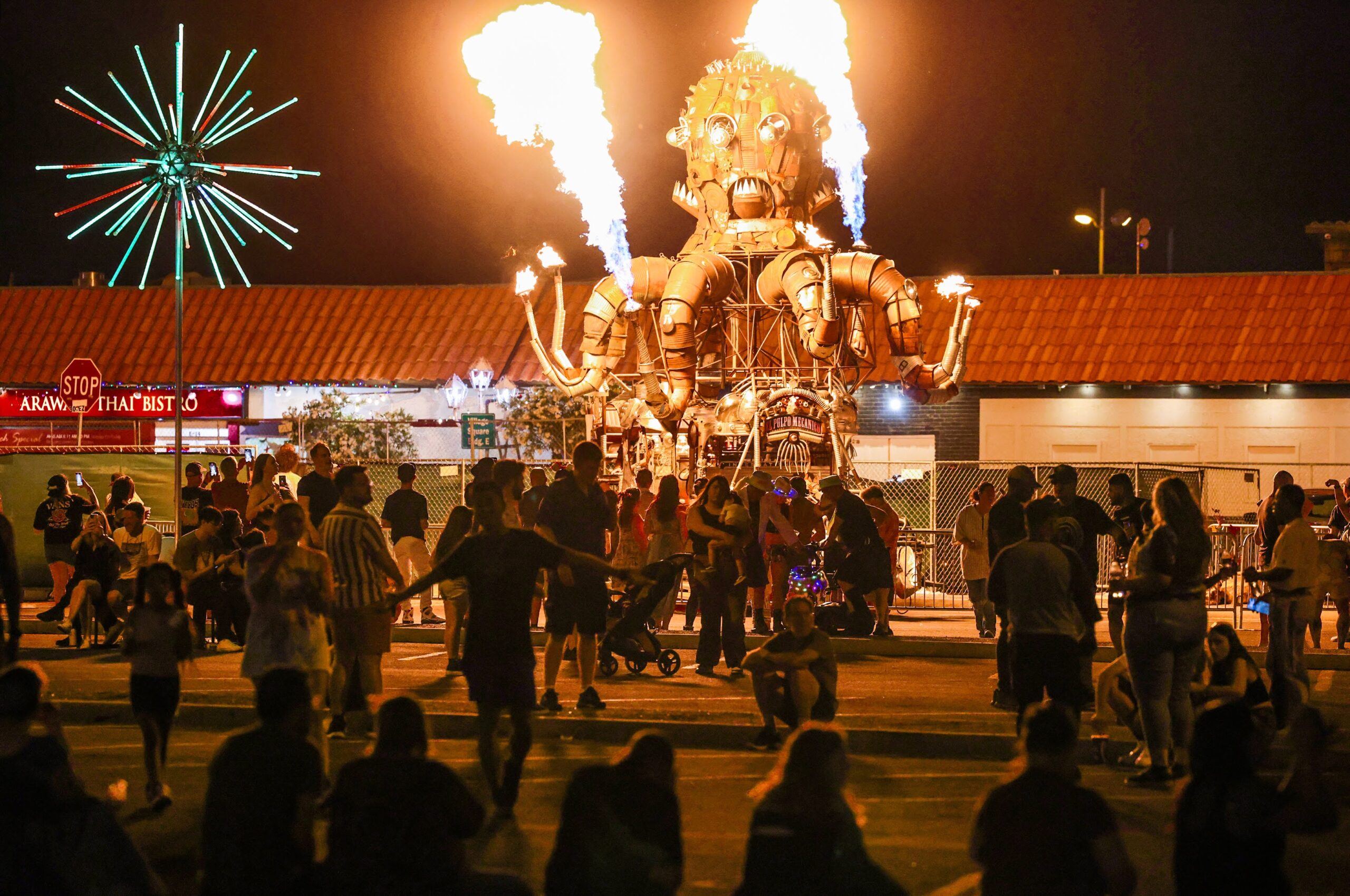 The Historic Commercial Center neighborhood about a mile east of the Las Vegas Strip has a storied history as a haunt for the Rat Pack in the 60s and a haven for LGBTQ+ communities from the 70s to the late 90s.
Now, perceptions of the 40-acre, 150-store complex that makes up the larger part of the South of Sahara Avenue District are mixed, with some loving the unique vibe of the area and others describing it as run down.
And efforts from Clark County to re-energize the area via a massive block party and world famous DJ last week left a bad taste in the mouth of many of the neighborhood's business owners.
The Historic Commercial Center block party was originally meant to be a small-scale event commemorating the birthday of the iconic, late Las Vegas performer Liberace, according to Clark County Commissioner Tick Segerblom, who represents residents in the area. However, two weeks before the event was scheduled, it turned into what Nancy Good, curator at the neighborhood's Core Contemporary Art Gallery, called "EDC [Electric Daisy Festival] lite" on Tuesday.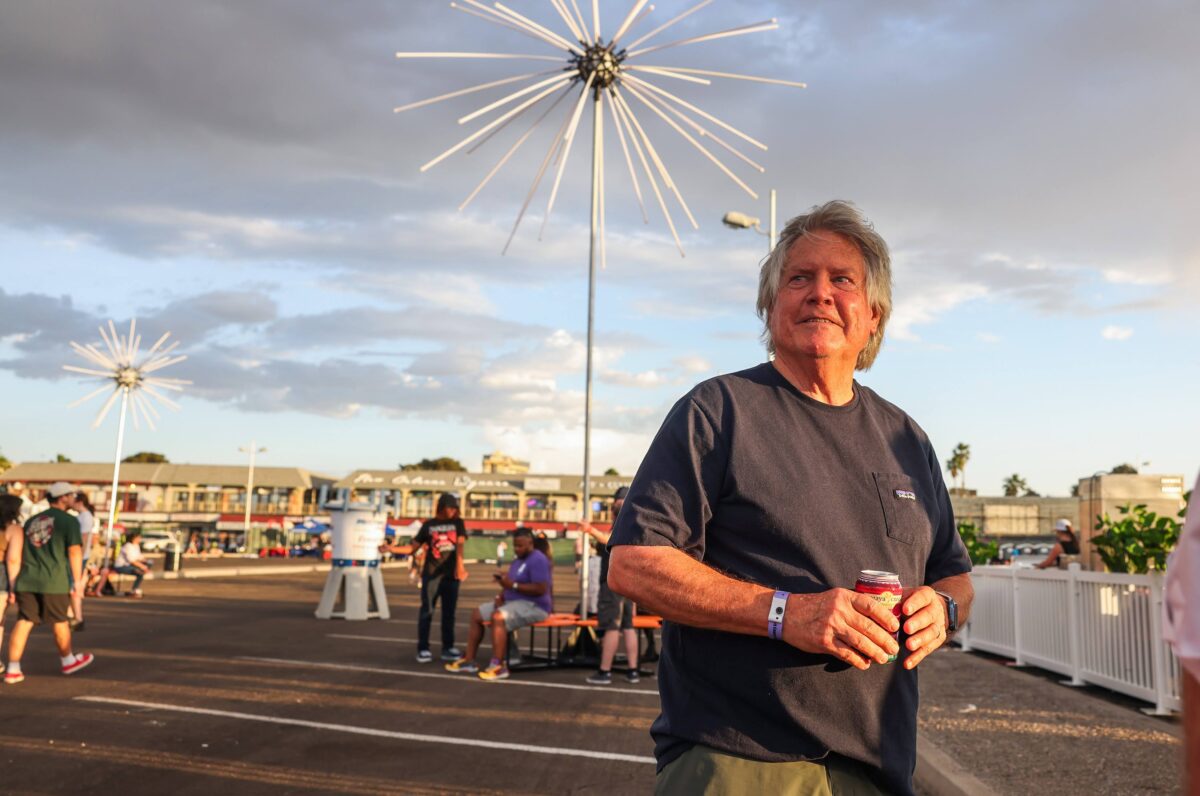 DJ deadmau5 became a headliner and a large security fence erected by the county at the request of the Las Vegas Metropolitan Police Department blocked the entrance to several businesses, causing them to lose income for multiple days, with some even needing to fundraise to make up the revenue lost during the event. KSNV reported that Segerblom called the business owners "ungrateful miscreants" in an email thread with fellow county Commissioner Ross Miller (Segerblom later told KSNV "it was not good on my part").
During the block party, Miller allegedly told owners of Get a Haircut in Commercial Center that they were a waste of resources and he could buy the building up and burn it to the ground and nobody would care, according to KSNV.
Miller did not respond to The Nevada Independent's multiple requests for comment, but a spokesperson for the county released the following statement.
"Clark County values and respects the perspectives of our constituents. We recognize that tensions have been high regarding Commercial Center and the Fabulous Commercial Center Block Party, and we regret some of the communication that has occurred. We are hoping to move forward in partnership with residents and business owners in this area as we work to revitalize this important area in our community."
Good said she wishes the county and businesses had worked together through the event planning process. On Thursday— two days after The Nevada Independent's interview with Good — Segerblom posted on his Twitter account a photo of him and Good holding hands with the text: "Moving forward to promote and enhance commercial center - starting with our vital arts community."
"Change is not necessarily a bad thing, but there was almost no communication about that," Good said. "There was no real explanation as to why all of a sudden we were shut out of the event. It was a very bizarre and confusing set of days."
Segerblom said during an interview with The Nevada Independent on Tuesday that he apologizes for how the event was handled. He said the county was so focused on getting top entertainers to the celebration held in the county-owned parking lot that he neglected to see the effect on the neighborhood's small businesses.
"It just got so out of hand as far as trying to make the concert a success that we didn't really focus on [the small businesses'] needs or their concerns, and so they rightly feel offended and ignored and maybe even harmed," Segerblom said. "It was a real misunderstanding and really a failure on my part."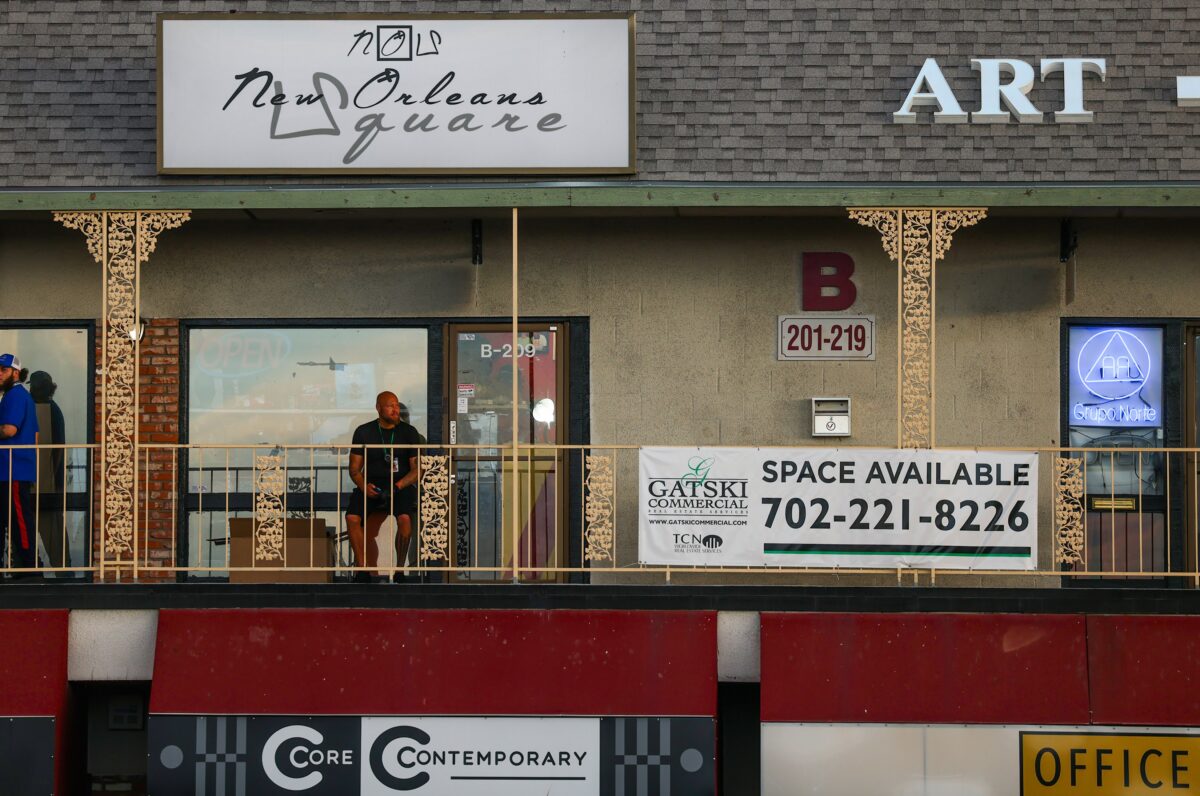 A 'funky' history
UNLV History Professor Michael Green said the Commercial Center was created at the hands of "the most important economic leaders in Southern Nevada during the 1960s, including Edward "E." Parry Thomas and Jerry Mack — who together ran the Las Vegas Bank, the first bank to give loans to Southern Nevada casinos — as well as the team from Paradise Palms development including Irwin Molasky and Merv Adelson.
Designed as a shopping place offering a variety of everything, Commercial Center became a commerce hub for residents moving out of downtown Las Vegas into what was then the region's suburbs.
Green described the complex as always being "funky."
"It is different, but in a way it isn't, if you think of Janis Joplin as someone who was not necessarily then mainstream as Las Vegas would define mainstream," Green said. "You might find Sinatra and company hanging out at a place there, [but] they're probably not performing there twice nightly."
Green said Southern Nevada's growth pushed the suburbs further out, making Commercial Center a more urban area by the 80s. By the time the 90s came, the area saw a resurgence as a hub for LGBTQ+ nightlife.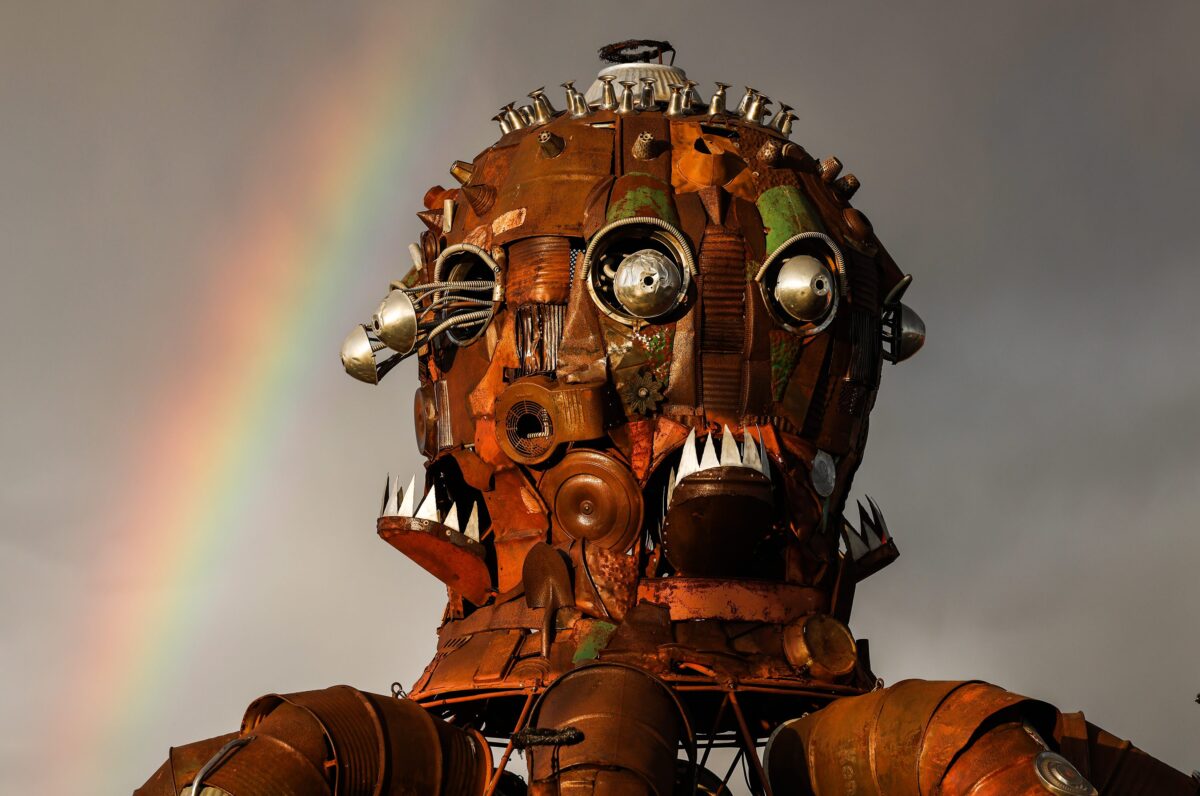 It was during this time that Paula Sadler, the president and founder of the Commercial Center Business Association and Historic Society since 2005, first visited the Commercial Center.
In 1994, Sadler was on a band trip from Los Angeles and stopped by the Commercial Center to look inside a violin store. Three years later, Sadler was attending beauty school and singing at bars inside the 150-store complex.
After finishing school, Sadler decided to open her own salon at Commercial Center in 2004. Her first customer was the manager of the La Quinta hotel on Paradise Road.
"She called to cancel her appointment and I said, 'What's wrong?' And she says, 'Well, I'm sorry, I just don't feel safe,'" Sadler recalled. "And I didn't really understand what she [meant] at the time."
Sadler said the area was getting new sidewalks, parking lot resurfacing and various other improvements at that time. She didn't see it as dangerous, but as more people told Sadler they felt unsafe, she decided to reach out to the county. Five gallons of paint from the county to clean up graffiti was the beginning of what would become the Commercial Center Business Association.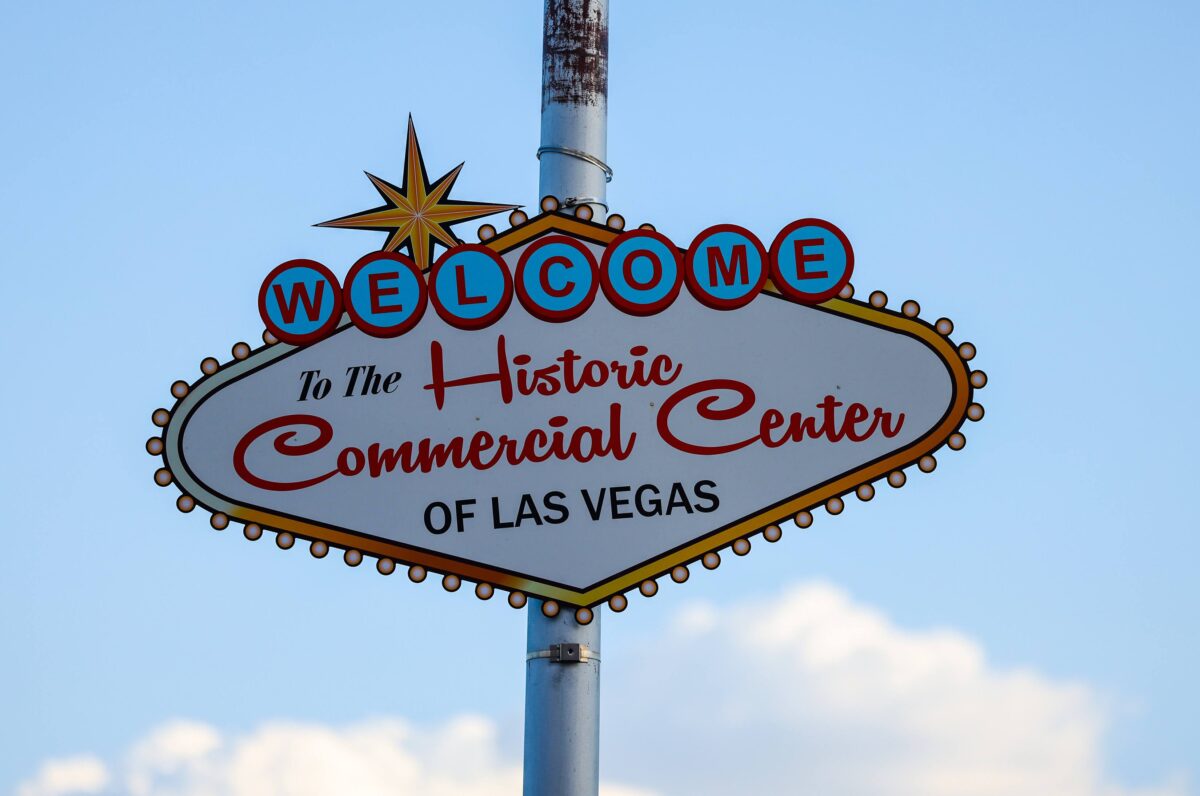 Redevelopment
Segerblom said Commercial Center is part of one of Clark County's Redevelopment Areas, meaning the county has a responsibility to invest in it. He said it's also a prime area because of its proximity to the Strip, and though the county had thought of building a stadium there at one point, he would like to invest more in the businesses that call Commercial Center home.
"The rents here are very affordable and we'd like to keep [the businesses] because they're a vital part of our artistic community and we don't want to gentrify the place so much that their rents go up too," Segerblom said. "But again, that's kind of a work in progress."
Despite the loss of business and backlash from business owners toward the block party, Sadler said she's happy that the neighborhood is getting more attention.
"The most important point for everyone to take in is that we've never been here before," Sadler said. "There has to be some give and take and some leeway, obviously, for improvement."
Derek Stonebarger, the owner of ReBAR in the Las Vegas Arts District, recently signed a 20-year lease in the area to open a steakhouse and art bar called Arty's. When asked about the block party, Stonebarger said "events are hard." He also blames deadmau5 more than the county for the fence.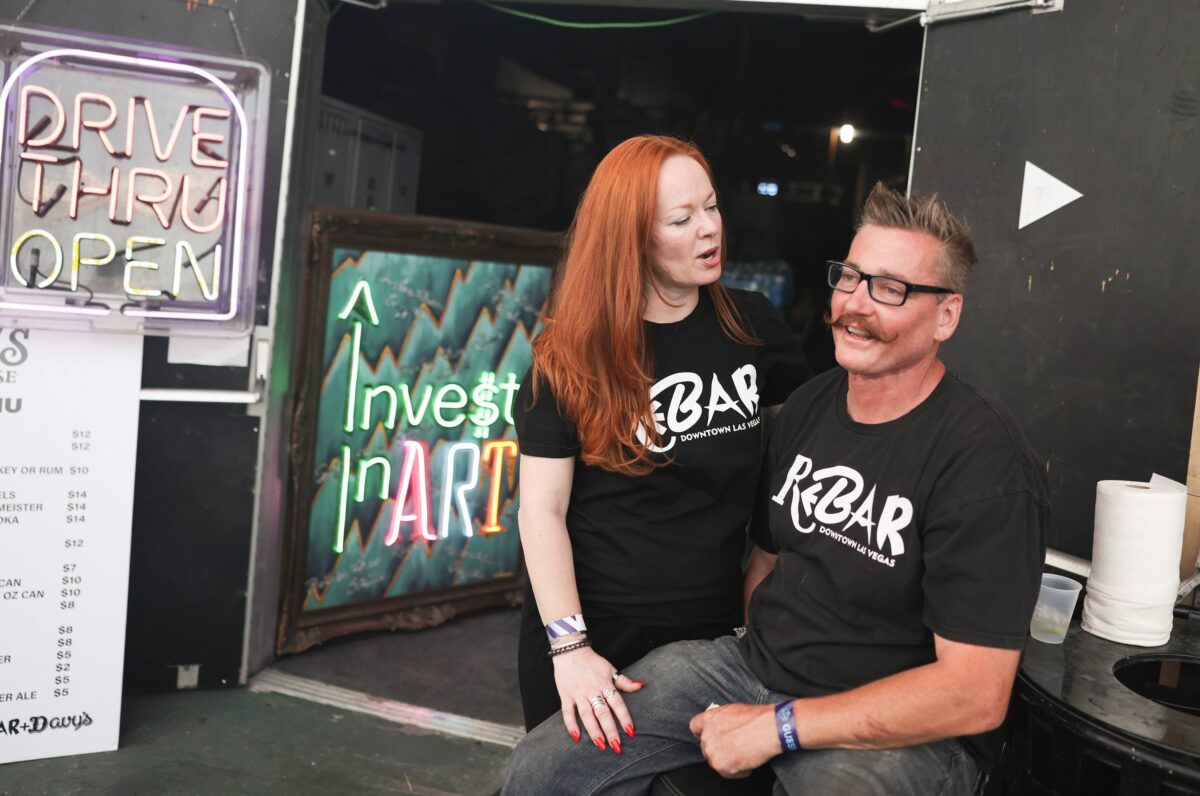 "Regardless of what happens around me, I just really want to focus on my business," Stonebarger said.
He said he feels optimistic about the future of Commercial Center and wants the county to invest more in arts.
"It's a product that we can export and it's something that's different than gambling. Every city in the world now has gambling," Stonebarger said. "We need to diversify … we could be Paris in 1920. It could all be centralized right here in the arts district and in Commercial Center."
Green said as the county talks about redevelopment, he has hopes for the complex but anticipates problems with construction in the area.
"Something that was built in the early 1960s, the word asbestos comes to mind," Green said. "There could be problems, [but] I think that it has considerable potential, especially as more people have an interest in coming into what they would consider more of a center city atmosphere. I don't want to say downtown, because it's not downtown. It's not in Las Vegas."
Green said that Commercial Center has always been a reflection of the area's diverse population. He said he hopes some of the center stays the same as redevelopment discussions continue.
"I hope that it can maintain its character, while also renovating and improving," Green said.
The Nevada Independent is raising $200,000 by Dec. 31 to support coverage of the 2024 election.
Tax-deductible donations from readers like you fund this critical work.
If you give today,your donation will be matched dollar-for-dollar.
Give + Get Matched
Featured Videos