Complaint alleges Reno mayor violated ethics law in matter involving her personal lawyer
The state ethics commission will decide whether Hillary Schieve should have disclosed a connected law firm was involved in a project before the city council.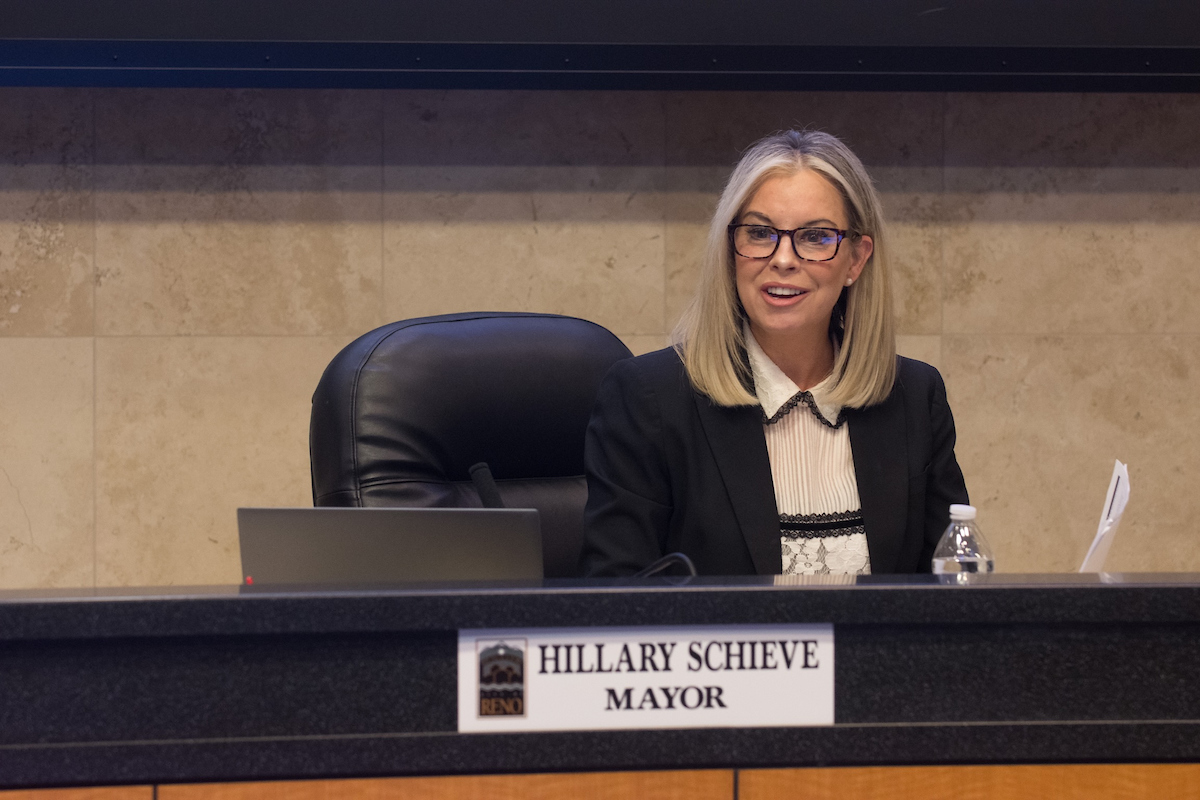 A Nevada Commission on Ethics review panel has recommended the commission develop an opinion on an allegation that Reno Mayor Hillary Schieve violated ethics laws when she failed to disclose a professional relationship with a law firm that also worked on a home development project that came before the council.
McDonald Carano is the law firm Schieve hired to sue Sparks private investigator David McNeely after he put a tracking device on her car. The company also represents Toll Brothers, a home construction company that discussed a $30 million bond with the Reno City Council on Feb. 22.
The complaint filed April 3 accused Schieve of violating ethics laws after she failed to disclose an attorney-client relationship with the law firm during the meeting.
"I'm glad it's getting addressed because the law is very vague," Schieve said in a phone call with The Nevada Independent on Friday.
The review panel that made the finding was made up of commissioners Teresa Lowry, Amanda Yen and Vice Chair Thoran Towler. However, Yen had to abstain from the decision because she is also an attorney for McDonald Carano.
Schieve said her personal attorney, who works for McDonald Carano, was not present when the council was discussing the bond deal with Toll Brothers. She said she would like to see more clarity on what the proper protocol government officials should follow when they and a private entity utilize the same firm.
The person who filed the complaint requested that the commission redact their name and accused the mayor of three violations of ethics laws. The first was "seeking or accepting a gift, favor, employment, engagement, emolument or economic opportunity for herself or any person to whom she has a commitment in a private capacity which would tend to improperly influence a person in her position to depart from the faithful and impartial discharge of her public duties." The ethics commission did not find sufficient evidence to investigate that accusation.
The other two are the accusations the commission will develop an opinion on at a later date.
One is "failing to sufficiently disclose the acceptance of a gift or loan, pecuniary interest, commitment in a private capacity to the interest of another person or the nature of any representation or counseling provided to a private person for compensation before another agency in the preceding year that is reasonably affected by an official matter."
The other is "failing to abstain from acting on an official matter which is materially affected by the acceptance of a gift or loan, pecuniary interest, or commitment in a private capacity to the interest of another person."
The case is the third ethics complaint Schieve has had against her while in office. The first was in 2018, when competitor Eddie Lorton accused the mayor of using her position in office to campaign in a re-election bid, and again in 2021 when a different person accused Schieve of accepting gifts from and having a personal relationship with developer Jacobs Entertainment.
The ethics commission found insufficient evidence to investigate either complaint. However in the 2021 complaint, Nevada Commission on Ethics Director Ross Armstrong served Schieve a "Notice of Additional Issues and Facts" regarding the violations highlighted in the complaint.
Armstrong told The Nevada Independent in an email on Friday that he couldn't comment on the specific matter pending an adjudicatory hearing.
"I can say that public officers should be aware of individuals or entities that match the statutory definition of a 'commitment in a private capacity,'" Armstrong said, referring to the state law's definition.
He also highlighted the commission's explainer video of the types of personal and business relations that would qualify.
"When I do training for elected officials, one of my compliance tips is to write down your list of relationships that meet the definition and update it on a regular basis. That process will help a public official identify a potential conflict of interest down the road," Armstrong said.

For more information on how the Nevada Commission on Ethics works, check out our explainer.
The Nevada Independent is raising $200,000 by Dec. 31 to support coverage of the 2024 election.
Tax-deductible donations from readers like you fund this critical work.
If you give today,your donation will be matched dollar-for-dollar.
Give + Get Matched
Featured Videos