Cortez Masto launches 2022 re-election bid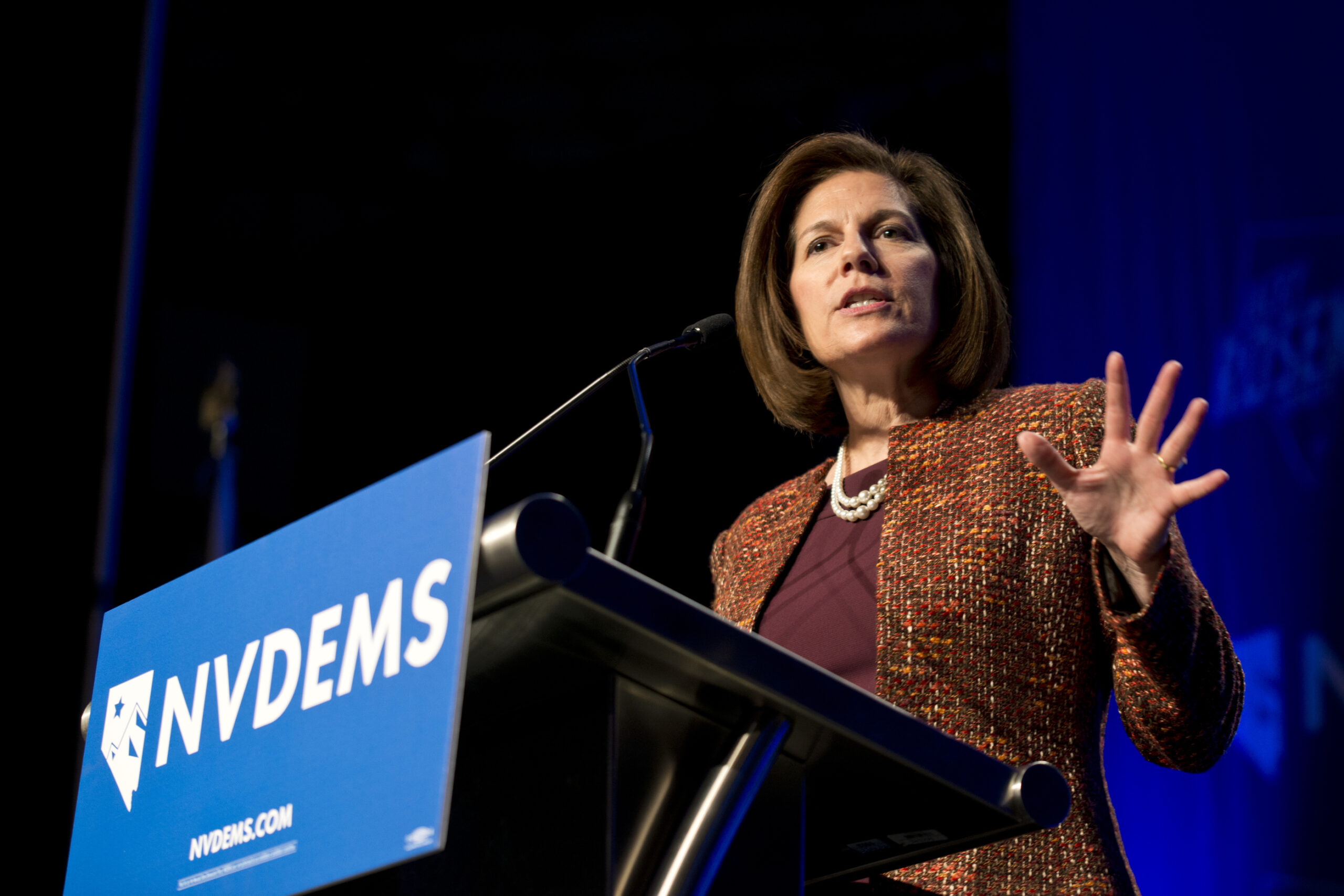 With a message largely focused on providing better access to health care, immigration reform and helping Nevada rebound from the pandemic-triggered recession, Sen. Catherine Cortez Masto (D-NV) officially announced her bid for a second term Wednesday.
In a video announcing her campaign, Cortez Masto highlighted her vote to fend off a 2017 GOP effort to repeal the Affordable Care Act (ACA).
"I have fought again and again to make health care affordable for all Americans, including casting a critical vote to protect the Affordable Care Act when Republicans were so close to repealing it," Cortez Masto said.
Enacted in 2010, the sweeping health care law was designed to insure more people, including expanding Medicaid eligibility, establishing insurance exchanges and requiring insurance companies to cover people with pre-existing medical conditions. Repeal of the ACA would have affected 1.2 million Silver State residents with pre-existing conditions and 371,000 who were covered because of the expansion of Medicaid.
Cortez Masto also underscored her background as a daughter of immigrants and signaled her support for immigration reform.
With regard to economic recovery, she criticized Senate Republicans for opposing a $1.9 trillion Democratic-drafted COVID-aid package that is expected to be considered by the Senate as soon as next week. A recent CBS News/YouGov poll showed that 83 percent of those asked supported passing a new economic relief package.
"Despite broad bipartisan support for this urgently needed COVID relief, every Republican in the Senate has signaled their opposition to this package," her campaign said in a release.
Republicans have argued that the bill costs too much and includes funding for programs extraneous to tackling the pandemic. The CBS poll showed 39 percent of those polled thought the size of Biden's bill was "about right," another 40 percent said it should be larger and 20 percent said it was too big.
Nevada is suffering from the nation's second-highest unemployment rate, 9.2 percent in December. Widespread unemployment may spark a potential eviction crisis, which Cortez Masto has argued threatens to exacerbate the pandemic.
The first Latina to serve in the U.S. Senate, Cortez Masto defeated Rep. Joe Heck (R-NV) in 2016 by just a little more than two percentage points — and her 2022 race is also expected to be tight. The National Republican Senatorial Committee (NRSC), which exists to elect more Republicans to the Senate, released its first ad of the cycle against Cortez Masto last week.
Senate Minority Leader Mitch McConnell (R-KY) also called attention to some of her votes on amendments offered to the budget resolution, Congress' annual spending framework. Those votes usually end up in political attack ads.
Nevada's candidate filing deadline is more than a year away, and no high-profile Republican candidates have yet publicly announced intentions of challenging Cortez Masto.
With the GOP's crosshairs on her back, Cortez Masto is looking to beef up her war chest to prepare for what is likely to be an expensive campaign. Along with a video announcement, Cortez Masto and her allies, including the Democratic Senatorial Campaign Committee (DSCC), the Senate Democrats' campaign arm, have launched a fundraising effort. She headed the DSCC last cycle.
As The Nevada Independent reported earlier this month, Cortez Masto's campaign entered this year with more than $3 million in the bank, in addition to $209,000 in her All for the Country leadership PAC.
"That will just be the beginning, and with Cortez Masto's deep connections to Democratic leaders from her time at the DSCC, she will be well-positioned financially for the 2022 race," her campaign said.
Serving as chair of the DSCC is likely to give Cortez Masto a leg up on raising funds for her 2022 race because the position introduced her to the Democrats' national network of donors.
Cortez Masto was the first Latina and second woman to head the DSCC. She helped flip the Senate to Democratic control—the first time in six years—with two runoff races last month in Georgia won by Democratic Sens. Jon Ossoff and Raphael Warnock and that unseated two incumbent Republicans.
While the Nevada Democrat has stepped away from the DSCC chair post, she will remain a part of the Senate Democratic leadership as vice chair of outreach.
With Democrats now in the majority in the Senate, Cortez Masto was tapped to lead a subcommittee on the Senate Energy and Natural Resources Committee that oversees public lands and the mining industry. Both are key to Nevada.
Featured Videos
Comment Policy (updated 4/20/2021): Please keep your comments civil. We reserve the right to delete comments or ban users who engage in personal attacks, use an excess of profanity, make verifiably false statements or are otherwise nasty. Comments that contain links must be approved by admin.