Cortez Masto to lead public lands, mining Senate subcommittee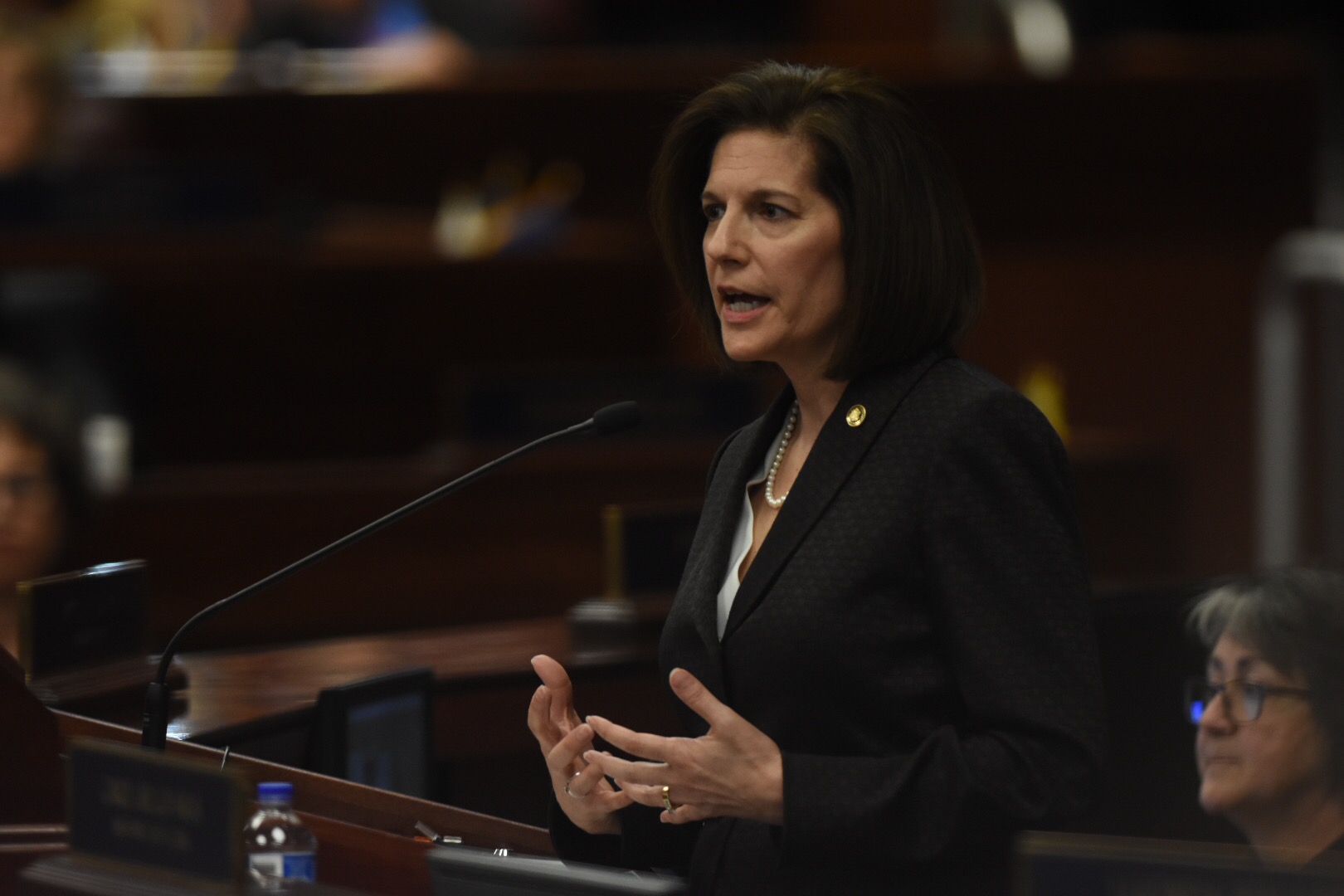 Sen. Catherine Cortez Masto (D-NV) will help direct policy over public lands and other issues relevant to the Silver State as chair of the Energy and Natural Resources Committee's Public Lands, Forests, and Mining Subcommittee during the current two-year legislative session, The Nevada Independent has learned.
The subcommittee has jurisdiction over the Bureau of Land Management (BLM), which controls much of the nation's public lands. Nevada is about 85 percent federal land.
Cortez Masto is not expected to officially get the post for about two weeks, when the committee is expected to approve its new lineup for the 117th congressional session.
It is typical for congressional committees to shuffle their members after an election, but this one left the Senate evenly divided 50-50. Democrats got their 49th and 50th seats in January when they won two runoff elections in Georgia. That allowed Vice President Kamala Harris to break ties in the Senate and gave Democrats the edge. The Senate approved its organizing resolution earlier in February, which placed equal numbers of Democrats and Republicans on committees.
The panel also oversees mining laws, including national mining and minerals policy, surface mining, reclamation and enforcement, mining education and research, federal mineral leasing and deep seabed mining.
Mining is Nevada's largest export industry and is best known for its gold, silver, and copper production.
According to the Nevada Mining Association, mining accounted for $3.3 billion of the state's gross domestic product in 2019. Mining directly employs more than 12,000 people, according to state data.
Some mining occurs on public lands and Nevada leads the nation with the most extensive mining program within BLM, with more than 180,000 active mining claims—49 percent of the BLM total— 198 authorized mining plans of operations, and 282 active exploration notices, according to BLM.
The subcommittee also has jurisdiction over military land withdrawals, in which the government authorizes the use of public lands for military purposes. Her post as chair of the panel will give her oversight of any proposals pushed by the Air Force and Navy to expand facilities in Nevada.
Other aspects of the committee's purview include the U.S. Forest Service and farming and grazing in federal forests, wilderness areas, the establishment of wildlife refuges on public lands and wilderness designation on public lands.
Nevada has 70 congressionally designated wilderness areas, according to Friends of Nevada Wilderness. Those include the Desert National Wildlife Refuge in Southern Nevada and the Jarbidge Wilderness located in the Northeast.
Cortez Masto's new post could also help with the passage of a bill she introduced last session to help energize Pershing County's economy by allowing for public lands in the county to be sold to the private sector.
Land ownership in Pershing is divided up because of decades-old policies instituted by the federal government to spur transcontinental railroad construction. Railroads were granted ownership of every other section of land along the rail corridor, creating what is known as a checkerboard.
The committee held a hearing on the bill in November. Cortez Masto argued that while checkerboarding was an innovative way to incentivize railroad construction, it has now created management inefficiencies for both local land managers and private landowners.
The bill would allow the county to nominate parcels for selloff that have already been identified as prime for sale—or exchange them in collaboration with BLM.
"This effort is unlikely to result in a net loss of public lands but rather it incentivizes a net public land management benefit," Cortez Masto said at the hearing.
The bill would also allow mining businesses or those that hold mineral rights to buy the land.
Last congressional session, she helped defeat separate efforts to enlarge Fallon Naval Air Station in Northern Nevada and the Air Force's Nevada Test and Training Range near Las Vegas.
Cortez Masto has served on the panel since arriving in the Senate in 2017. Last legislative session, she was the ranking member of the panel's Water and Power Subcommittee.
Comment Policy (updated 4/20/2021): Please keep your comments civil. We reserve the right to delete comments or ban users who engage in personal attacks, use an excess of profanity, make verifiably false statements or are otherwise nasty. Comments that contain links must be approved by admin.