The U.S. Supreme Court as seen on March 4, 2017. (Phil Roeder/Courtesy under Creative Commons https://flic.kr/p/T2SxdT)
Cortez Masto says she's undecided on Kavanaugh while Heller signals support
Democratic Sen. Catherine Cortez Masto warned Monday that conservative Judge Brett Kavanaugh, President Donald Trump's Supreme Court nominee, could be the deciding vote on civil rights and other issues, but she declined to oppose his nomination off the bat as GOP Sen Dean Heller signaled support.
"President Trump's nominee for the Supreme Court will hold immense power over the most critical issues facing our nation, including a woman's right to choose, protection for those with preexisting conditions, LGBTQ rights, money in politics, and workers' rights," Cortez Masto, a Democrat, said in a release. "We need a Justice who respects the rights and freedoms enshrined in our Constitution, not someone who is beholden to special interest groups. I plan to meet with Judge Kavanaugh in the coming months and will review his qualifications thoroughly."
Her comments contrast with Senate Minority Leader Charles Schumer, who said he would oppose the nomination "with everything I have, and I hope a bipartisan majority will do the same."
But there seems little that Democrats can do to stop Kavanaugh's confirmation. In April, Senate Republicans changed the procedure for confirming Supreme Court judges by erasing the filibuster so they could confirm Justice Neil Gorsuch. Now, a majority of those voting advances a nomination instead of the 60 votes that were needed to overcome a filibuster before the change. Democrats currently control 49 votes and Republicans control 51, but Sen. John McCain, a Republican from Arizona, is being treated for cancer and has not been available to vote. In order to stop a nomination, Democrats would have to win over at least one Republican, an unlikely scenario.
Cortez Masto and Heller will be among the senators who will meet with Kavanaugh during the nomination process, which will culminate with a vote on the Senate floor expected this fall. The length of the months-long confirmation process is due, in part, to give lawmakers time to go through the more than 300 opinions Kavanaugh has authored.
A 53-year old appeals court judge, he served as staff secretary in the George W. Bush Administration and under Special Counsel Ken Starr on the report that argued for impeaching President Bill Clinton. But upon being nominated, he pledged not to decide cases based on ideology.
"I will tell each senator that I revere the Constitution," Kavanaugh said. "I believe that an independent judiciary is the crown jewel of our constitutional republic. If confirmed by the Senate, I will keep an open mind in every case, and I will always strive to preserve the Constitution of the United States and the American rule of law." 
Similar to most Republicans who weighed in on the nomination, Heller, who attended the announcement in the East Room of the White House, indicated his support for Kavanaugh.
"Tonight, I had the opportunity to join my colleagues at the White House for the President's announcement that he has nominated Judge Brett Kavanaugh to fill the upcoming vacancy on the U.S. Supreme Court," Heller said in a release. "Judge Kavanaugh has a record of adherence to the Constitution and has demonstrated a commitment to interpreting the law – not making it. I expect the U.S. Senate to conduct a fair, thorough confirmation process, and I look forward to meeting with the nominee."
Rep. Jacky Rosen, who is running against Heller, sought to make Kavanaugh's nomination an issue in one of the country's most-watched campaigns, raising concerns about abortion rights and the landmark case, Roe v Wade, which ruled that laws restricting abortion were unconstitutional. She also noted that access to health care, workers rights, gay rights and efforts to limit spending in politics were also under threat.
"Based on President Trump's own statements, it's critical the next Supreme Court justice affirm their belief that the Constitution protects individual liberties – including reproductive rights," Rosen said in a release. "I have serious reservations about whether Judge Kavanaugh will meet that standard. Nevadans will be watching closely to see whether Sen. Heller will be an independent voice who will ask these tough questions, or if he will once again bend to his party leaders and rubber stamp another nominee from President Trump."
But Senate Majority Leader Mitch McConnell dismissed issues raised by Democrats as hyperbole, which he said is a typical tactic employed with every Supreme Court nominee.
"Give the American people some credit," McConnell said on the Senate floor Monday. "The far-left rhetoric comes out every single time. But the apocalypse never comes. Americans see beyond the far-left fear mongering they've tried over and over again for forty years. Senators should do the same."
Schumer called on outside groups to go all out to pressure senators to oppose Kavanaugh.
"If Americans believe in a woman's right to make her own reproductive choices, and that health insurance companies shouldn't be able to charge people more based on pre-existing conditions, now is the time to fight," Schumer said. "I'm calling on Americans from all walks of life to make their voices heard from now until the end of this battle."
That call has been heard in Nevada, where Lindsey Harmon, executive director of Nevada Advocates for Planned Parenthood Affiliates, the group's political arm, hopes to mobilize opposition to the nomination.
"We see abortion rights on the line with this decision and this nominee," Harmon said. "We know that now Mitch McConnell and President Trump hold the balancing seat in their hands and President Trump has made it very clear that he plans to only appoint anti-abortion justices who would automatically overturn Roe v Wade and strike down the Affordable Care Act, so we see this as a direct threat to women's rights and our reproductive rights in America."
Rather than pledge to respect precedent and established law, she said she wants Kavanaugh to answer whether he believes the Constitution protects personal liberties.
"What we're currently asking for is the Senate to hold nominees to the personal liberty standard, which means they must affirm and declare that they believe the Constitution protects individual liberty and the right of people to make personal decisions about their bodies and personal relationships, including the right to use contraception, to have an abortion and to have the freedom to marry whom they choose."
INDY FAST FACTS
Jacky Rosen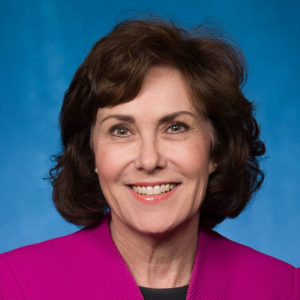 Job:
 Member of the U.S. House of Representatives Nevada's 3rd Congressional District
Party:
Democrat
In current office:
2017-present
Birthdate:
August 2, 1957
Education:
University of Minnesota, Twin Cities (B.A.)
Other public offices held:
None
Total donations: 
$
9,013,380
 (
1/1/16-5/23/18
)
Top donors:
EMILY's List $178,768 League of Conservation Voters $80,270 DE Shaw & Co $69,500 University of Nevada $40,038 Omni New York $32,400 Last Report: 6/1
1/18
Credit: Center for Responsive Politics
INDY FAST FACTS
Catherine Cortez Masto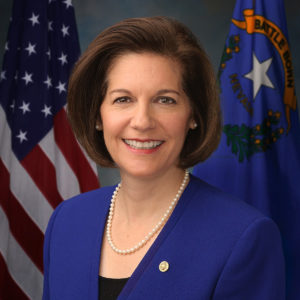 Job
: U.S. Senator
Party
: Democrat
In current office
: 2017-present
Birthdate
: March 29, 1964
Education
: University of Nevada, Reno (B.A.) Gonzaga University (J.D.)
Other public offices held
: Nevada State Attorney General (2007-2015)
Total donations
: $21,304,624 (1/06/11 - 3/31/18)
Top donors
: EMILY's List $565,735 League of Conservation Voters $401,508 J Street $185,558 University of California $77,798 University of Nevada $57,754 Last Report: 12
/31/2017
Credit: Center for Responsive Politics
INDY FAST FACTS
Dean Heller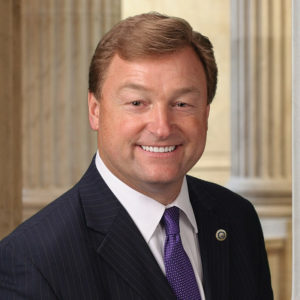 Job:
U.S. Senator
Party:
Republican
In current office:
2011-present
Birthdate:
May 10, 1960
Education:
University of Southern California (B.A.)
Other public offices held:
Member of the U.S. House of Representatives Nevada's 2nd Congressional District (2007-2011) Nevada Secretary of State (1995-2007) State Assemblyman (1990-1994)
Total donations: 
$24,223,634
 (1/1/05-5/23/18)
Top donors:
Station Casinos $117,900 Votesane PAC $92,000 MGM Resorts International $74,500 Blackstone Group $48,400 Capital Group $38,800 Credit: Center for Responsive Politics
From the Editor
The Nevada Independent
is a 501(c)3 nonprofit. We need help to attain the elusive goal of sustainability. We depend on recurring donations from you, the readers who believe in our mission of nonpartisan, transparent journalism. I know you are busy. I know you have many commitments. But if you would take a moment to
support our work
or bump up your current donation, I would be forever grateful.
Thanks for all of your support.
Best,
Jon Ralston
get our morning newsletter,
The Daily Indy
Stars & Struggles
Take a peek into today's education world through the lens of Sunrise Acres Elementary School in Las Vegas.
@TheNVIndy ON TWITTER