Clark County Commissioners Steve Sisolak, left, and Susan Brager during a commission meeting on Tuesday, Dec. 5,2017. (Jeff Scheid/The Nevada Independent)
County Commission proposal would lead to de facto 'moratorium' on new marijuana dispensaries
Clark County commissioners are preparing to again bring up a policy requiring recreational marijuana dispensaries have a component serving medical patients — which some in the industry say will create a de-facto stay on new dispensaries.
After an aborted attempt to bring a similar policy forward in December, Commissioner Susan Brager is again pushing for a requirement that any new recreational marijuana dispensaries in the county are also set up to serve patients registered in the state's medical marijuana program.
Although several members of the industry have warned that such a requirement would create an unofficial "moratorium" on new dispensaries — given the fact the state isn't accepting licenses for new medical dispensaries — Brager said in an interview that she wanted the county to "tread carefully" and take its time reviewing enforcement and management of the program before accepting additional dispensaries.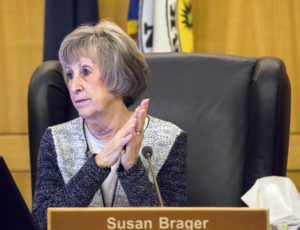 "I think we need to go slower," Brager said. "This was pretty much slammed down on every municipality."
The potential barring of new dispensaries comes from a quirk in the ballot question approved by voters in 2016, which allows Clark County a maximum of 80 recreational marijuana dispensary licenses for retail marijuana dispensaries (though local governments are allowed to request more if needed.) Forty-eight retail stores in Southern Nevada opened last summer as part of the state's "early start" program, which means the state is allowed to allocate 32 more retail marijuana licenses before hitting the limit set in state law.
Because the allocation of licenses is based on population, and because Clark County already has the lion's share of retail marijuana shops from the early start program, the county is due to receive just 10 licenses from the state during the next application period sometime in the spring.
But under Brager's proposal, those additional 10 wouldn't be able to operate a standalone retail store, and would need a medical marijuana license to operate. Because the commission is scheduled to discuss the issue Tuesday, the earliest it could adopt an ordinance would be a month from now.
That potential decision has several dispensary owners concerned that the county will artificially limit new players from entering the lucrative market.
"The County has done a great job balancing complex land use issues regarding dispensaries," Inyo dispensary owner David Goldwater said in a text message. "A moratorium seems a bit premature this far ahead of the State licensing process. We want to continue to work with Commissioners who have concerns so small operators and cultivators have an equal opportunity to succeed."
Will Adler, director of Sierra Cannabis Coalition, said that several jurisdictions in Northern Nevada, including Sparks and Carson City, have approved similar ordinances in order to cap the number of dispensaries once they felt market demand was being met. He said anecdotally that most of the issues with dispensaries in other states came from businesses those only trying to serve recreational and not medical customers.
"People that get into recreational with no medical experience, they feel the green rush is on," he said. "They think they can make a lot of money, without serving medical patients. There's not a lot of money in it anymore."
As of February, Nevada has slightly more than 21,700 medical marijuana cardholders, with the bulk (15,524) residing in Clark County. Medical patients can purchase different amounts of cannabis with higher concentrations of THC — the active drug in marijuana — and avoid paying a 10 percent excise tax levied on recreational purchases.
Adler said the state's medical program was increasingly becoming "boutique," as medical patients abandoned the program (along with its fee and paperwork) in favor of just legally purchasing the drug.
"We're still seeing people just not renewing cards," he said. "They're taking the 100 bucks and going to the store with it, rather than doing the paperwork with the state."
Other commissioners sounded cautious on the proposal, or wanted to hear more details.
Commissioner Chris Giunchigliani said discussion about the requirement seemed "premature"  and that the policy would create an artificial market cap on the number of dispensaries in parts of the county, which would hurt those seeking to enter the market.
"I think people need to understand that recreational passed in Nevada, and it's legal," she said. "I really don't know what we're trying to fix here."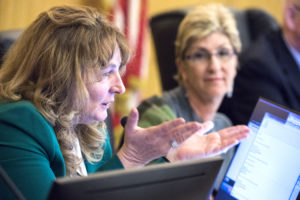 Commissioner Marilyn Kirkpatrick said she was still waiting to see proposed language before deciding how to vote, but favored requiring recreational stores to have a medical component in order to insulate them from potential targeting by the federal government given that medical programs have more protections under federal law.
Commission Chairman Steve Sisolak, who originally brought forward the agenda item in December, said he hadn't made up his mind on the new proposal, but thought the larger issue with dispensaries was ensuring they were spread evenly through the county and not clustered around the Strip.
"I don't want 30 marijuana licensees up and down Paradise Road and Dean Martin Drive," he said. "This was supposed to be spread out."
Brager, who will be termed out of office after the 2018 election, pushed back on the notion that a stay on new dispensaries would hurt small businesses, saying that the lack of banking options and huge start-up costs already limit entrance to the market to the wealthiest. She said she would continue to advocate her position even if it continued beyond her term.
"We can't just keep rushing," she said. "We already rushed through it once."
Disclosure: Steve Sisolak

 and 

Chris Giunchigliani

 have donated to The Nevada Independent. You can see a full list of donors here.
Stories
Candidate Trackers
Endorsements, Ads, Policies, Visits
& More
visit now
Comment Policy (updated 10/4/19): Please keep your comments civil. We reserve the right to delete comments or ban users who engage in personal attacks, use an excess of profanity, make verifiably false statements or are otherwise nasty.