D.C. Download: In first week in charge, House Republicans take aim at abortion, IRS expansion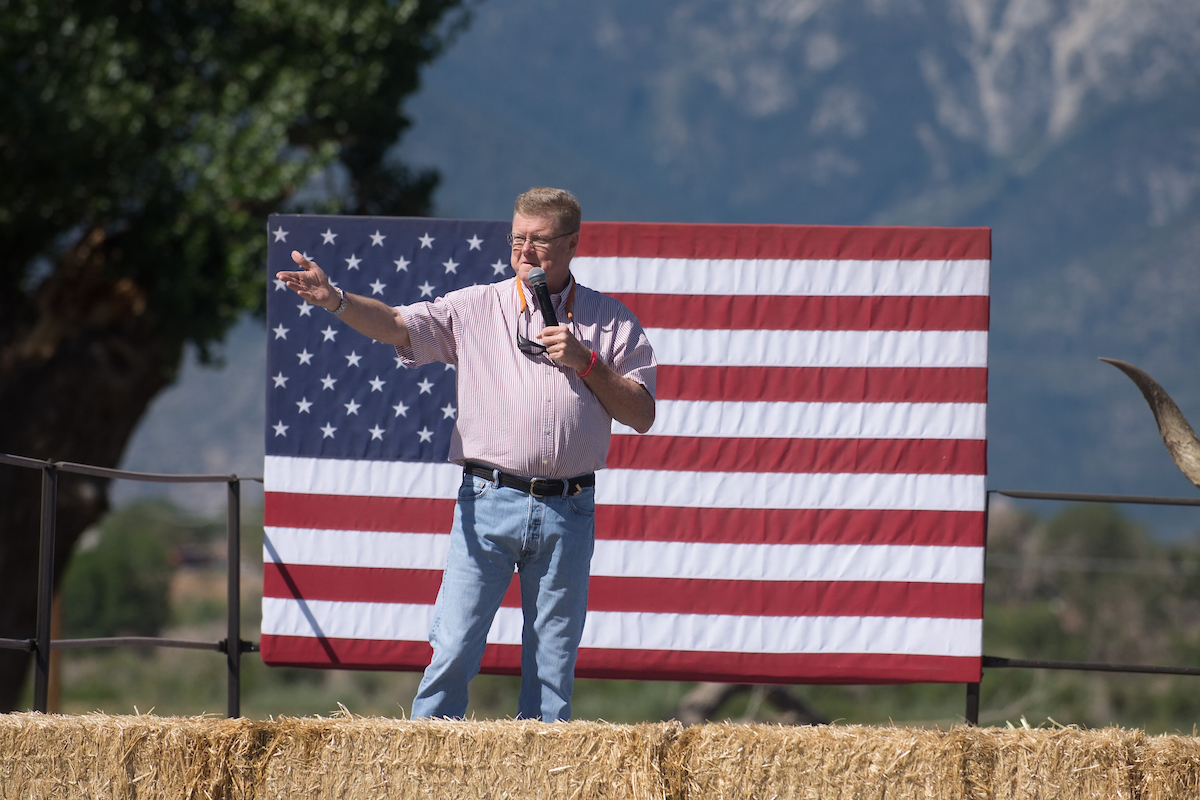 When the Senate is away, the House will play.
House Republicans began enacting their legislative agenda this week – most of which will be dead on arrival in the Democrat-controlled Senate. But the first bills in a new Congress are an important window into the message a party wants to send. Republicans are telegraphing to voters that their priorities are de-funding the IRS, standing up to China, and remaining firmly anti-abortion.
Meanwhile, a spending fight is looming, with Medicare and Social Security potentially caught in the crosshairs, and Democrats interested in bipartisanship, such as Rep. Susie Lee (D-NV), are looking for new partners in the majority.
Republicans begin their legislative agenda
House Republicans kicked their legislative agenda off with some bipartisan efforts to become more competitive with China, signal their continued embrace of the anti-abortion movement, begin their investigations into the executive branch, and repeal freshly approved IRS funding.
For their first bill on the floor, every House Republican voted to revoke new funding authorized for the IRS in the Inflation Reduction Act, passed by Democrats in 2022. The act will give $80 billion in new funding for the IRS over 10 years, about $46 billion of which will go to strengthening the agency's enforcement capabilities.
The intent is to replace much of the agency's aging and retiring workforce, to improve customer service, process backlogs and increase audit capacity on people and businesses earning more than $400,000 – which the Congressional Budget Office projects will augment revenue. But House Republicans have narrowed in on the enforcement aspect, saying the funding is to hire more than 80,000 agents to audit small businesses.
The Congressional Budget Office (CBO) projects that House Republicans' bill will increase the deficit by $114 billion over a decade.
Rep. Mark Amodei (R-NV) said he would have wanted more definitive language specifying the spending in the Inflation Reduction Act, and projected that the cost burden of salary and benefits for new agents would override new tax collections. He added that he found CBO projections, particularly for 10-year time horizons, to be untrustworthy.
"Credibility for numbers around this place is not high right now," he said.
On the bipartisan side, Republicans created a select committee to focus on strategic competition between the U.S. and China. The panel, which will include nine Republicans and seven Democrats, earned the votes of Democratic Reps. Lee and Steven Horsford (D-NV), as well as Republican Amodei.
The House also passed a bill banning the sale of oil from the Strategic Petroleum Reserve to China – a measure which the Senate is not expected to vote on given the opposition of President Joe Biden, who sold off oil from the strategic reserve last year to bring down the global price of oil. Still, the bill received 113 Democratic votes, including those of Horsford and Rep. Dina Titus (D-NV).
Amodei said the Biden administration's China policy has not inspired confidence, and that the bipartisan vote reflects a "pretty strong feeling" in Congress that the U.S. should be more defensive in its dealings with China.
The other panel that House Republicans voted to create – which was passed along party lines – will investigate the "weaponization of the federal government," including looking into the Justice Department's probe into former President Donald Trump. Rep. Dan Bishop (R-NC) described it as "putting the deep state on notice."
House Republicans also passed two initiatives related to abortion – one condemning attacks on anti-abortion facilities, groups, and churches, and another that would penalize doctors if they do not attempt to save the life of an infant born alive during or after an attempted abortion. Such cases are incredibly rare, and those babies already receive emergency care under existing law.
Amodei voted for both bills, while Nevada's House Democrats voted against them. Neither bill is expected to come up in the Senate.
Lee said she found their inclusion in Republicans' early agenda disappointing.
"It's an indication that they're more interested in making a statement than getting things done," she said. "It's sad that it comes on the heels of the 117th Congress, where we were able to pass some serious bipartisan legislation that helps bring down costs for American families."
But Lee, who is running to co-chair the bipartisan Congresswoman's Caucus with Rep. Kat Cammack (R-FL) this term, said she is still meeting with Republicans to gauge interest in bipartisan measures. She named Reps. Claudia Tenney (R-NY), Brian Fitzpatrick (R-PA), and Tony Gonzales (R-TX) as members she has working relationships with.
Amodei says Rs will "take a look" at reforming Medicare and Social Security
With the debt ceiling set to expire on Sep. 30 and a looming budget fight coming with it, Speaker Kevin McCarthy (R-CA) secured his position by promising his most right-wing caucus members that House Republicans would not raise the debt ceiling unless the measure was paired with spending cuts.
Cutting government spending has been the GOP's calling card for decades. With a new avenue to force the issue, retirees have feared that cuts to Social Security and Medicare could be on the table.
Those fears were exacerbated by a screenshot obtained by CNN from a presentation from House GOP leadership to the caucus, which said priorities would include reforming mandatory spending – which is the category entitlement programs fall under.
In an interview, Amodei said he supports "tak[ing] a look at reforms going forward." He spoke to changing eligibility requirements – currently, the starting age for Social Security and Medicare is 65 – but added that it would be unfair to make changes for those who are already vested in the program, whether they are beneficiaries or within a yet-to-be-decided, predetermined number of years.
"We need to start talking about, prospectively, what we're going to do," he said.
Social Security and Medicare remain among the most well-liked government programs. A CBS News / YouGov poll from early January found that 71 percent of respondents said the new Congress should prioritize "protecting Social Security / Medicare," the second most frequent response behind lowering inflation.
Fights over Social Security were frequent in the George W. Bush and Obama eras. Bush championed a partial privatization plan, but its popularity was low and Democrats won the next midterm election, with the reform effort playing a role in tanking Bush's approval rating.
Democrats have consistently voted against Republican efforts to privatize both programs, change eligibility requirements or lower benefits, while Republicans have stood against attempts to raise taxes or empower Medicare to negotiate lower drug prices. Mandatory spending is 63 percent of the federal budget, per the Center on Budget and Policy Priorities, and the two programs make up 37 percent of the pie.
Amodei said he supports reforms in the name of fiscal responsibility to decrease the amount the U.S. borrows, particularly as the Baby Boomer generation reaches retirement age.
"That snake's got a big bulge, and it's the Baby Boomers," Amodei said. "And it's going to be bulging for a while."
Amodei suggested that some House Republicans might be afraid of attack ads calling them anti-senior, but that "political courage" is needed.
Both the Senate and the White House would likely reject entitlement reform, heightening the chance of a potential government shutdown, or even a debt default, if House Republicans refuse to unlink the debt ceiling from spending cuts or if both parties cannot come to an agreement.
Cardinal Mark
Newly minted House Appropriations Committee Chair Rep. Kay Granger (R-TX), one of the most influential members of Congress, has not released her list of subcommittee chairs or given Amodei an official call. But according to a report from Politico, Granger is planning to tap Amodei to chair the subcommittee on the legislative branch, making him one of 12 "cardinals" who craft annual spending bills.
Each year, the 12 subcommittees hold hearings, produce bills, and do bill markups to determine federal funding levels for the agencies under their jurisdiction. As the most powerful members of one of Congress' most significant committees, being a legislative cardinal is a responsibility typically bestowed upon caucus members who have accumulated seniority and demonstrated party loyalty and expertise.
If Granger's recommendations pass through the Republican Steering Committee and then in the full conference, Amodei will be in charge of crafting spending policy for what former-Rep. Jamie Herrera Beutler (R-WA) called a "tiny, but mighty subcommittee." The legislative branch subcommittee approves a budget for the Capitol Police, the Architect of the Capitol (AOC), and the Library of Congress, among other budget items.
Its membership is small – eight members in the last Congress – and will experience significant turnover, given that both the Republican and Democratic leaders are no longer in office.
Herrera Beutler lost a primary election in 2022, leaving a leadership vacancy. Amodei was one of just three Republicans to serve on the subcommittee, along with Rep. Dan Newhouse (R-WA). But Amodei has served for two more terms than Newhouse, giving him greater seniority. Amodei was outranked on the subcommittee that pertains to most of his land conveyance legislation — Interior, Environment and Related Agencies.
In the last Congress, when the subcommittee was chaired by then-Rep. Tim Ryan (D-OH), the legislative branch subcommittee increased funding for the Capitol Police and the AOC, and to modernize the electronic systems that House members use. A few of the Republican priorities that did not make last year's bill, such as removing the metal detectors outside of the chamber that were installed after the Jan. 6 insurrection and re-opening the Capitol complex, including the House gallery, to the public after COVID-related closures, were enacted by Republican leadership last week.
Another Republican priority for the subcommittee is to keep the congressional Office of Workplace Rights, which falls under legislative branch subcommittee jurisdiction, from facilitating House staffer unionization efforts. In 2022, 14 House offices – all Democratic – began unionization efforts, with one earning a contract.
Republicans' rules package, passed this week, aimed to stop unionization efforts, but with legal murkiness around its enforceability, the legislative branch subcommittee will likely exert pressure from the appropriations side.
And all 12 cardinals will have far more influence this year if House Republicans keep their promise to move the 12 spending bills separately rather than jointly in an omnibus – a time-consuming process that has not been used in decades.
Rosen to lead Senate Middle East trip
Sen. Jacky Rosen (D-NV) will co-lead a bipartisan group of senators on a trip to the Abraham Accords countries, her office announced Friday.
The Abraham Accords are a series of diplomatic efforts negotiated by the Trump administration in 2020 to normalize relations between Israel and the Arab nations of Bahrain and the United Arab Emirates (UAE). Bahrain and the UAE recognized Israel's sovereignty for the first time, allowing for diplomatic relations to begin between the nations.
Leaders of the three countries held a signing ceremony at the White House in September 2020. Sudan and Morocco followed suit later in the year.
Rosen is a co-chair of the Senate Abraham Accords Caucus.
The trip will include visits to Israel, Bahrain, the UAE and Morocco. In addition to Rosen's caucus co-chair Sen. James Lankford (R-OK), who is also leading the trip, Sens. Kirsten Gillibrand (D-NY), Michael Bennet (D-CO), Mark Kelly (D-AZ), Dan Sullivan (R-AK), and Ted Budd (R-NC) will participate.
In a statement, Rosen said she hopes the trip will strengthen the Accords and encourage other countries to join.
"The historic Abraham Accords have transformed the Middle East – paving the way for unprecedented cooperation and normalization between Israel and Arab partners," she said. "My colleagues and I look forward to meeting with senior government officials, business leaders, and civil society organizations to discuss how we can strengthen the relationships fostered by the Accords and expand them to new countries."
Around the Capitol
Horsford introduced a bill to make Dec. 1 a federal holiday to honor Rosa Parks, who refused to give up her seat on a segregated bus on Dec. 1, 1955.
Sen. Catherine Cortez Masto (D-NV) tested positive for COVID.
Titus joined 45 House Democrats in a letter calling on the Biden administration to revoke former Brazilian president Jair Bolsonaro's visa. Bolsonaro fled to Orlando. His supporters stormed the Brazilian capitol last week, falsely claiming election fraud.
Notable and Quotable
"You know what they're gonna say – he's trying to murder seniors. If you're not prepared to discuss that, you're in the wrong business. Because those chickens are home and they're in the process of roosting."
Rep. Mark Amodei, on how GOP members must be willing to reform Social Security and Medicare despite potential attack ads
Legislative Tracker
https://docs.google.com/spreadsheets/d/1743bFk4vrInAOJk66TmXhN2t9KrmKgzMb35hKzOwXjA/edit#gid=2073570913
REP. DINA TITUS
Legislation co-sponsored:
H.Con.Res.7 – Commending the bravery, courage, and resolve of the women and men of Iran demonstrating in more than 133 cities and risking their safety to speak out against the Iranian regime's human rights abuses.
H.R. 33 – Medicare Dental, Vision, and Hearing Benefit Act of 2023
H.R. 34 – Assuring Medicare's Promise Act of 2023
H.R. 35 – Close the Medigap Act of 2023
H.R. 40 – Commission to Study and Develop Reparation Proposals for African Americans Act
H.R. 51 – To provide for the admission of the State of Washington, D.C. into the Union.
H.J.Res 14 – Amending title 36, United States Code, to direct the President to issue an annual proclamation establishing Democracy Day.
H.R. 243 – To amend the Agricultural Act of 2014 and the Consolidated Farm and Rural Development Act to require producers to establish disaster preparedness plans to be eligible for certain disaster assistance programs, and for other purposes.
H.Res. 27 – Condemning attacks on health care facilities, health care personnel, and patients.
H.Res. 28 – Condemning the Supreme Court's decision to overturn Roe v. Wade and Planned Parenthood v. Casey and committing to advancing reproductive justice and judicial reform.
H.R. 293 – To amend the Energy Policy and Conservation Act to prohibit the export or sale of petroleum products from the Strategic Petroleum Reserve to certain entities, and for other purposes.
H.Res. 30 – Recognizing the 94th birthday of Martin Luther King, Jr., and the 40th anniversary of the Martin Luther King, Jr., Holiday.
H.R. 309 – To amend the Higher Education Act of 1965 to require institutions of higher education to provide notice to students receiving work-study assistance about potential eligibility for participation in the supplemental nutrition assistance program, and for other purposes.
H.R. 345 – To require Members of Congress and their spouses and dependent children to place certain assets into blind trusts, and for other purposes.
REP. MARK AMODEI
Legislation co-sponsored:
H.Con.Res.3 – Expressing the sense of Congress condemning the recent attacks on pro-life facilities, groups, and churches.
H.J.Res 8 – Proposing an amendment to the Constitution of the United States to require that the Supreme Court of the United States be composed of nine justices.
H.R. 26 – Born-Alive Abortion Survivors Protection Act
H.R. 38 – Concealed Carry Reciprocity Act
H.R. 264 – To amend section 530D of title 28, United States Code.
H.R. 337 – To prohibit Federal agencies from banning gas-burning stoves.
REP. SUSIE LEE
Legislation co-sponsored:
H.Con.Res.7 – Commending the bravery, courage, and resolve of the women and men of Iran demonstrating in more than 133 cities and risking their safety to speak out against the Iranian regime's human rights abuses.
H.Res. 27 – Condemning attacks on health care facilities, health care personnel, and patients.
H.Res. 30 – Recognizing the 94th birthday of Martin Luther King, Jr., and the 40th anniversary of the Martin Luther King, Jr., Holiday.
REP. STEVEN HORSFORD
Legislation co-sponsored:
H.R. 40 – Commission to Study and Develop Reparation Proposals for African Americans Act
H.R. 51 – To provide for the admission of the State of Washington, D.C. into the Union.
H.R. 286 – To amend the Public Health Service Act to authorize grants to health care providers to enhance the physical and cyber security of their facilities, personnel, and patients.
H.Res.30 – Recognizing the 94th birthday of Martin Luther King, Jr., and the 40th anniversary of the Martin Luther King, Jr., Holiday.
H.R. 308 – To amend section 6103 of title 5, United States Code, to establish Rosa Parks Day as a Federal holiday, and for other purposes.
The Week Ahead
Both the House and the Senate are out next week. 
This story was updated at 7 a.m. on 1/17/23 to indicate that Rep. Susie Lee is running to co-chair the Congresswoman's Caucus, and has not yet won the position.
The Nevada Independent is raising $200,000 by Dec. 31 to support coverage of the 2024 election.
Tax-deductible donations from readers like you fund this critical work.
If you give today,your donation will be matched dollar-for-dollar.
Give + Get Matched
Featured Videos