D.C. Download: Nevada's House Democrats reject Israel bill over inclusion of IRS cuts
Nevada's senators said the House's proposal, which is expected to increase the deficit by reducing tax collections, was dead on arrival in the upper chamber.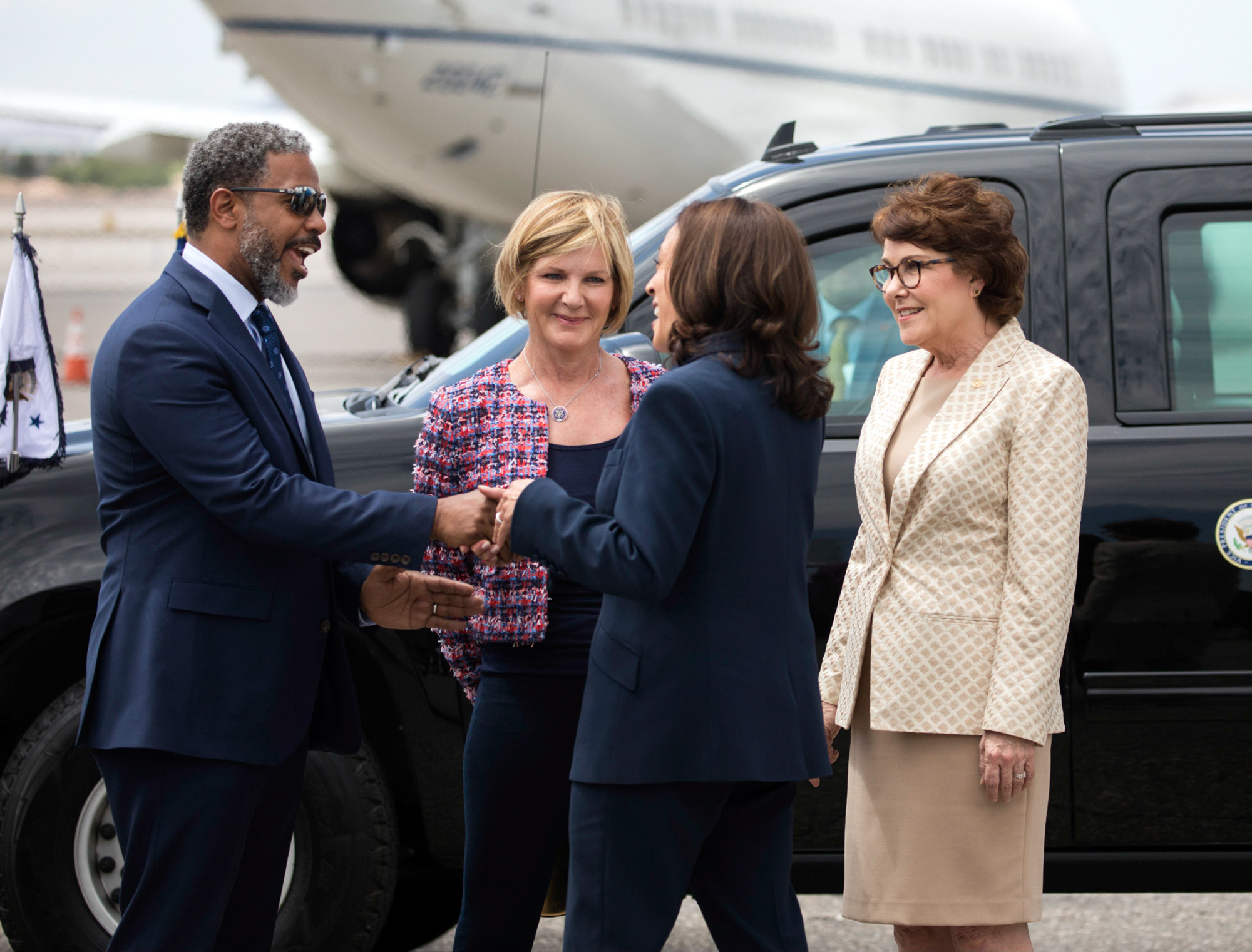 The new House speaker took a gamble with an Israel aid bill, tying it to IRS budget cuts that left Nevada Democrats outraged. And Rep. Mark Amodei's (R-NV) legislative branch funding bill received its long-awaited vote, where it passed with the support of all Republicans and even a few Democrats (but none of his Nevada colleagues).
Nevada delegations weighs House Israel proposal
Speaker Mike Johnson's (R-LA) Israel funding proposal was met with dismay from Nevada's congressional Democrats, who said the newly elected speaker was politicizing national security objectives. The state's three House Democrats voted against the bill, but 12 of their colleagues crossed the aisle in support, leading to the bill's 226-196 passage Thursday.
Johnson's proposal — pairing $14 billion in aid to Israel with an equal-sized cut to the Internal Revenue Service — is a bone for hardline deficit hawks in the Republican conference who do not want to see new spending. An analysis from the Congressional Budget Office projects the bill would actually add $26 billion to the deficit over 10 years, because diminishing the IRS' capacity to collect taxes and audit tax cheats decreases revenue.
It's new territory for foreign policy — funding offsets are not typically included for emergency funding requests. And the proposal ignores other items in President Joe Biden's national security supplemental funding request, including security assistance for Ukraine and Taiwan and humanitarian aid for Gaza.
Before the vote, Rep. Susie Lee (D-NV) said she was undecided, but slammed Johnson for putting conditions on aid to Israel. She ultimately stuck with Democratic leadership and voted against the bill.
"We've never voted on conditional aid to Israel," Lee said. "It's not attached to Ukraine funding, it's not attached to any of our national security priorities. And this speaker has chosen to politicize what truly has been a bipartisan issue and jeopardize our national security on many other fronts."
Reps. Steven Horsford (D-NV) and Dina Titus (D-NV) also voted against the bill, while Amodei voted for it as a cosponsor.
Titus, a member of the House Foreign Affairs Committee, slammed Johnson for playing "political games."
"This effort to tie Israel's defense to allowing the wealthy and big corporations [to] evade their tax responsibilities is egregious," Titus said in a statement. "Israel is not, nor should it ever be, merely a bargaining chip."
Johnson's gambit might have worked in the House to divide Democrats, but Senate Majority Leader Chuck Schumer (D-NY) and Senate Democrats have said it will be dead on arrival in the Senate. Both Nevada senators are opposed to the bill.
Sen. Jacky Rosen (D-NV), a vocal supporter of Israel, was visibly frustrated by the House's proposal, saying Israel, Ukraine, and other national security priorities need to be packaged together.
"It's irresponsible to separate it and use Israel as a bargaining chip for a political bill that's actually going to add to the deficit," she said.
Sen. Catherine Cortez Masto (D-NV) agreed with that assessment, adding that the bigger package has bipartisan support in the Senate with backing from both Schumer and Minority Leader Mitch McConnell (R-KY). Moving forward, the Senate will either send a bill to the House with the other national security priorities (if that measure can get 60 votes) or potentially add more U.S.-Mexico border funding than Biden requested to placate Republicans.
When asked if she supported a "humanitarian pause," — a stoppage of Israeli military action to allow the release of hostages, escape of foreign nationals via the Egyptian border, and aid to properly enter Gaza — as Secretary of State Anthony Blinken has pushed for, Cortez Masto did not answer directly but said ensuring Gazans have access to aid will be critical moving forward.
"We need to make sure that we can open up the border for humanitarian aid, absolutely," she said. "We see it now happening with the opening in Egypt, and now allowing Palestinians and Americans that are there as well [to leave], and the aid to actually get into Gaza. I think it is essential."
Horsford, in his capacity as Congressional Black Caucus chair, called for a pause Friday morning, as well as for broader de-escalation through the region. He was immediately criticized by the National Republican Congressional Committee in a statement.
Amodei's legislative branch funding bill passes
Amodei's legislative branch funding bill passed on the House floor Wednesday, marking the first appropriations bill passed under the new speaker and the sixth overall spending bill approved by House Republicans.
The bill, which Amodei wrote and shepherded through the appropriations committee as the chair (or cardinal) of the legislative branch subcommittee, sets the funding level for spending on the staff and operations of Congress. As the smallest of the 12 annual funding bills, the legislative branch bill is typically a lower-profile piece of legislation.
The bill passed Wednesday with the support of four Democrats and all Republicans.
Democrats, who opposed the bill in committee, voted against Amodei's bill on the basis of its defunding of the House Office of Diversity and Inclusion, elimination of House agencies' ability to hire DACA recipients, and its overall cut to House funding of 4.7 percent. Lee and Horsford voted against it, while Titus, who was absent Wednesday, did not vote.
Amodei took to the floor to defend the bill, saying he supports the values of diversity and inclusion but claiming that oversight of that office revealed inappropriate use of funds.
And though the bill is small, he said it represents House Republicans' commitment to cutting spending across the board.
"The House has done its job in terms of leading by example," he said.
Around the Capitol
Rosen signed onto a letter calling on the Federal Trade Commission to investigate whether mergers in the oil and gas industry violate antitrust law, and to oppose them if so, saying existing consolidation is already contributing to high prices for consumers.
A group of caucus leaders including Congressional Black Caucus Chair Steven Horsford (D-NV) sent a letter to congressional leaders asking them to prioritize fully funding the Special Supplemental Nutrition Program for Women, Infants and Children (WIC) program in the next government funding vehicle, citing the program's high participation rate among children.
Golconda Butte Farms in Winnemucca received a grant of nearly $1 million from the Department of Agriculture to install a solar power system as part of the Biden administration's new tranche of investments in rural America.
The Senate passed a three-bill minibus this week that contains a number of priorities for Nevada's senators — $6 million to combat Mormon crickets, an expansion of telehealth for veterans, funding for infrastructure on tribal land, over half a million dollars for a new veterans cemetery in Elko and funding for affordable housing initiatives.
Rosen sent a letter to the secretary of education calling for greater action to combat antisemitism on college campuses, including forming a new task force.
The Department of Energy is supporting the creation of a new transmission line connecting existing systems in Nevada and Utah. The department is in contract negotiations on the line, and construction is expected to start in early 2025.
Both Nevada senators joined a letter to Biden administration officials calling on departments to ensure birth control is fully covered by insurers, whether or not the patient has a prescription, as the first over-the-counter birth control pill comes to market next year.
Horsford is the latest Nevada Democrat to clap back at Rep. Dean Phillips (D-MN), whose long shot presidential bid is skipping Nevada.
Titus introduced a bill to allow the Southern Nevada Water Authority to build a new pipeline on Sloan Canyon National Conservation Area land, a provision Cortez Masto has previously introduced in the Senate.
Notable and Quotable:
"I actually felt very proud of my colleagues. Because a lot of folks over there — Senator [Joni] Ernst, Senator [Dan] Sullivan — they served in the military, willing to put their lives on the line for your safety and my safety."
— Sen. Jacky Rosen (D-NV) on Thursday on a group of Republican senators confronting Sen. Tommy Tuberville (R-AL) on the floor of his monthslong holdup of military promotions
Legislative Tracker
CATHERINE CORTEZ MASTO
Legislation co-sponsored:
S.3193 — A bill to amend the Controlled Substances Act to allow for the use of telehealth in substance use disorder treatment, and for other purposes.
DINA TITUS
Legislation co-sponsored:
H.Res.824 — Supporting the goals and ideals of "National Veterans Small Business Week."
H.R.6121 — To amend title 38, United States Code, to improve the benefits furnished by the Secretary of Veterans Affairs to certain individuals who served in the forces of the Philippines and the Philippine Scouts.
H.R.6122 — To require the secretary of health and human services and the secretary of labor to conduct a study and issue a report on grant programs to support the nursing workforce.
H.Res.831 — Original National Domestic Violence Awareness Month Resolution of 2023
H.R.6135 — To implement title IX of the Education Amendments of 1972 with respect to elementary and secondary schools, and for other purposes.
MARK AMODEI
Legislation co-sponsored:
H.R.6126 — Israel Security Supplemental Appropriations Act, 2024
SUSIE LEE
Legislation co-sponsored:
H.Res.824 — Supporting the goals and ideals of "National Veterans Small Business Week."
H.R.6122 — To require the secretary of health and human services and the secretary of labor to conduct a study and issue a report on grant programs to support the nursing workforce.
The Nevada Independent is raising $200,000 by Dec. 31 to support coverage of the 2024 election.
Tax-deductible donations from readers like you fund this critical work.
If you give today,your donation will be matched dollar-for-dollar.
Give + Get Matched
Featured Videos