DNC sees Nevada as key battleground for presidential victory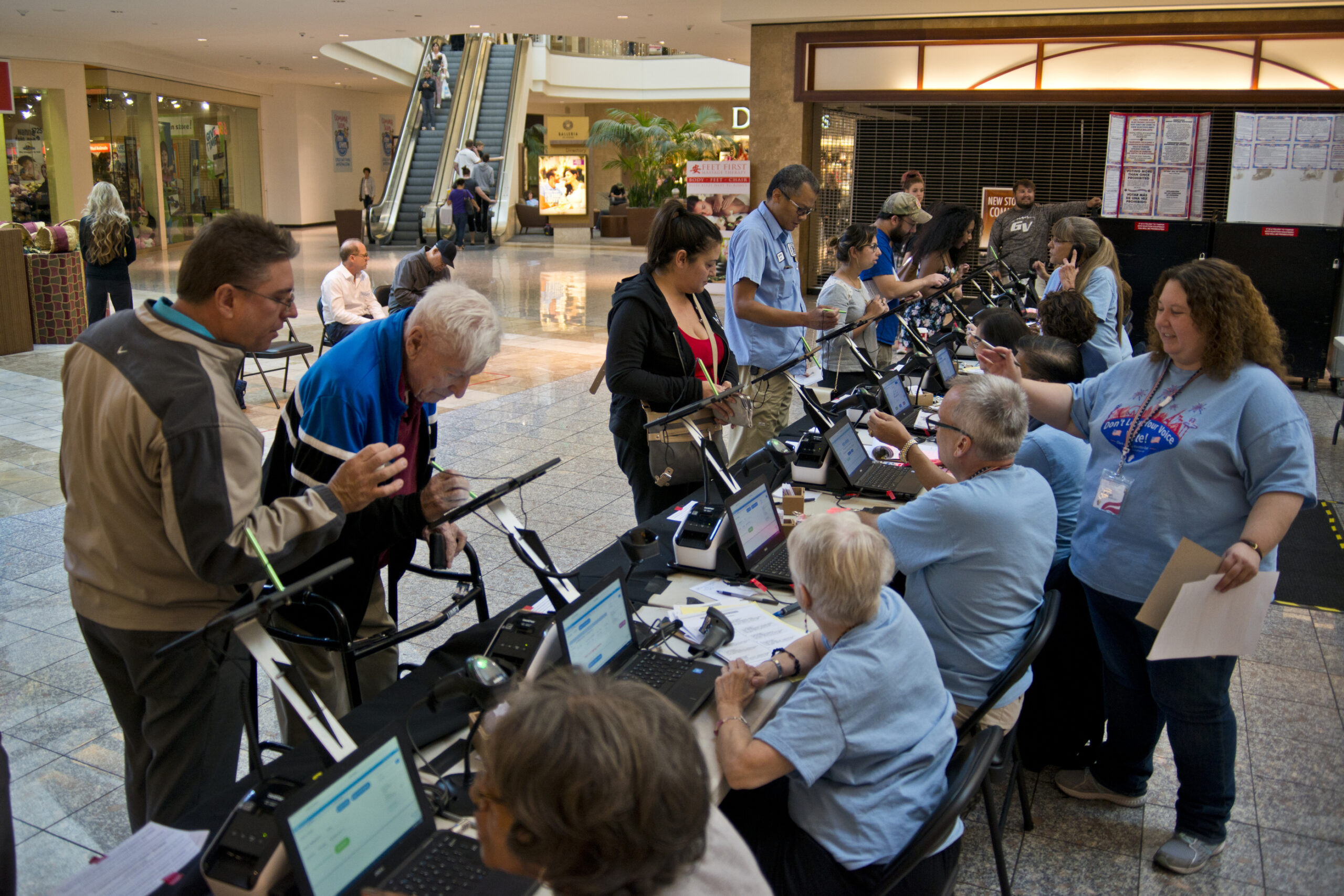 Victory for the Democratic presidential nominee runs through Nevada, according to the Democratic National Committee, which has designated the Silver State as a crucial swing state that could be decided by a relatively small number of votes.
"We absolutely view that as a battleground state," said David Bergstein, DNC director of battleground state communications, who updated reporters Thursday on the party's 2020 outlook.
The DNC highlighted 11 states that hold that designation, based on the party's calculation, a status that means the party will focus on building up the campaign infrastructure need to win in the general election after a nominee is determined by primaries and caucuses. The DNC has already begun investing in Nevada, helping hire organizers to boost caucus participation.
In coordination with the Nevada Democratic Party, the DNC has already hired about 15 Asian-American and Latino organizers, a move announced in September. Those organizers will reach out to voters in their communities to boost caucus participation among other things. More organizers are expected to be brought on board.
One reason Democrats are hopeful about Nevada is that Trump's support has faltered in the state. The president's net approval rating fell by 24 points since he took office, according to a Morning Consult tracking poll.
Trump faces "historic headwinds" in Nevada, Bergstein said. "There's not a lot of evidence that he can successfully compete and win there."
Democrats have also won the state in the last three presidential contests.
Still, party strategists are paying attention to turnout because they remember that the 2016 presidential election was determined by a small slice of votes. Democrat Hillary Clinton lost Michigan by just under 11,000 votes in 2016, or two votes per precinct, said Rachel Haltom-Irwin, who oversees a DNC program targeting seven states, not including Nevada. That is in the same ballpark as the number of votes that pushed Clinton over the top against Trump in Nevada three years ago. Clinton won by a little over 27,000 votes, or about 2 percentage points in 2016.
Nevada, along with every state Democratic party, received a 33 percent increase over funding doled out this time in 2015 when the DNC was prepping for the 2016 election.
Trump's 2020 re-election campaign, which is eyeing the state given Clinton's 2016 small margin of victory, dismissed the Democrats' efforts and instead sought to highlight Trump's record and campaign operation.
"No surprise here," said Trump campaign spokeswoman Erin Perrine in a statement. "While Democrats are trying to organize and garner' support from Latinos in Nevada ahead of an election, President Trump has been busy delivering on his promises of a better economy, a stronger military, secure borders and more opportunity for all. The DNC knows it can't compete with the support, ground game, data, and most importantly the successful track record of President Trump."
In addition to winning in the state in 2016, Democrats were also successful in 2018. Sen. Jacky Rosen defeated incumbent Republican Sen. Dean Heller by 5 percentage points with the help of a Latino electorate energized by Trump's sharp rhetoric against immigrants.
Bergstein said that Democrats hope to duplicate their success next year.
He characterized Nevada as "a state that Donald Trump will do everything he can to try and put in his category and one that he will fail to do so just like Dean Heller was kicked out of office last cycle."
The Nevada Independent is raising $200,000 by Dec. 31 to support coverage of the 2024 election.
Tax-deductible donations from readers like you fund this critical work.
If you give today,your donation will be matched dollar-for-dollar.
Give + Get Matched
Featured Videos