DOJ tells Cortez Masto that Obama-era policy to minimize White House contact is still in place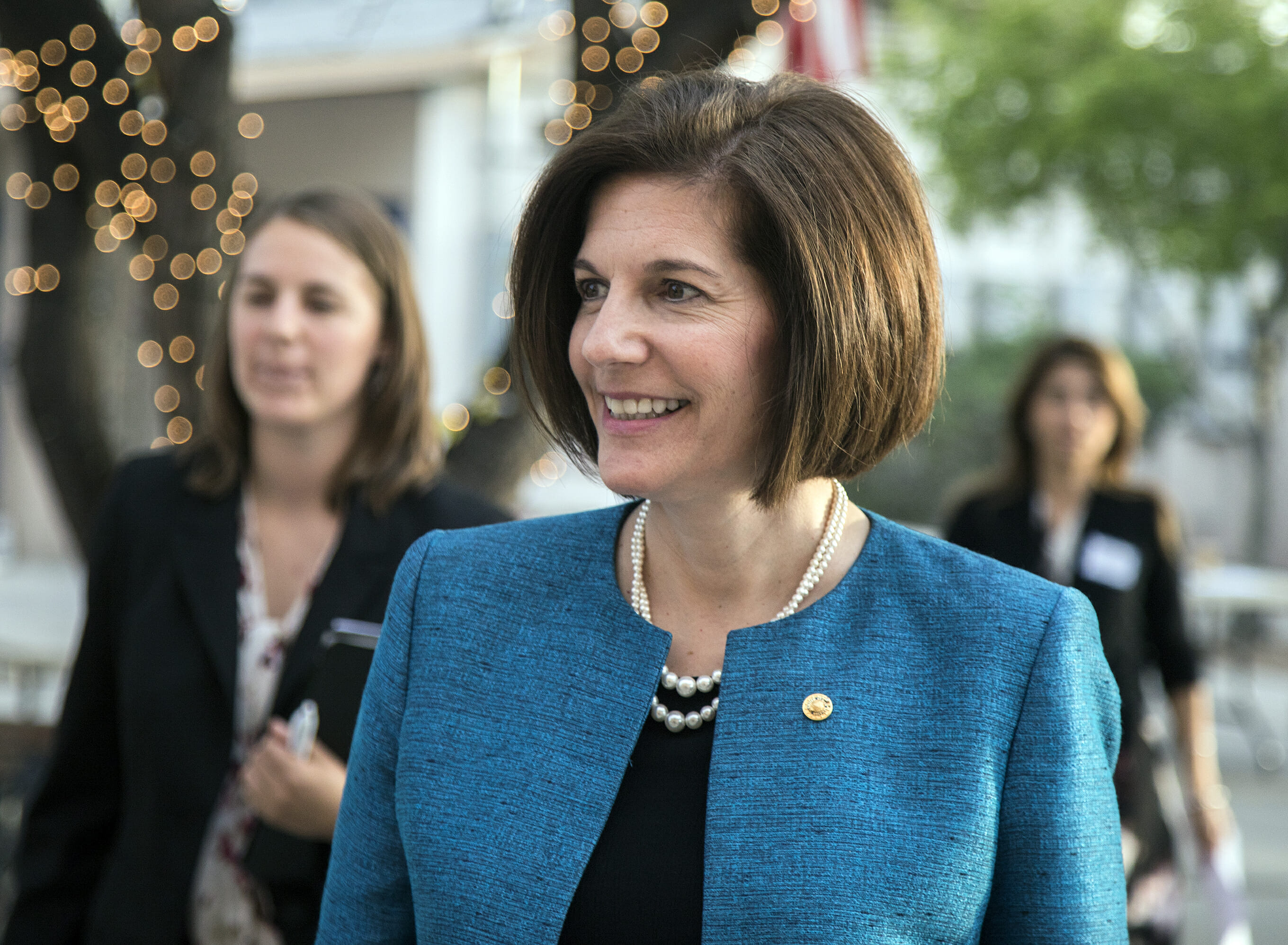 After nearly a year, Sen. Catherine Cortez Masto received a response from the Department of Justice saying it is abiding by a Barack Obama-era policy that limits contact between the White House and DOJ in order to prevent any partisan influence on investigations or prosecutions.
"The Department is committed to ensuring that the law is administered and applied without regard to partisan political considerations," DOJ said in a Feb. 5 letter, obtained by The Nevada Independent, that came in response to a letter Cortez Masto sent to President Donald Trump and Attorney General Jeff Sessions in March of last year.
"The Department has specific policies and guidance...that limit discussions between the White House and the Department regarding ongoing or contemplated investigations," the DOJ letter said. "We are committed to following and enforcing applicable policies and procedures related to such contacts with the White House."
The Obama-era policy at issue is known as the Holder memo, which is named after former Attorney General Eric Holder who drafted the policy in 2009.
The DOJ letter to Cortez Masto is the latest word on the Holder memo. In October, eight months after the letter was sent, Sessions indicated at a hearing convened by the Senate Judiciary Committee, which has jurisdiction over the agency, that DOJ was writing its own policy, but that the Holder memo remained in place.
"Those rules remain in effect and we are reviewing whether they should be altered in any way," Sessions said.
In interviews this week with some Republican and Democratic members of the Senate Judiciary panel, lawmakers said they believe the policy, as written by Holder, continues to be in place. They were careful not to speculate about whether the protocol has been broken—Cortez Masto's letter raised specific instances of possible influence. However, the senators did underscore the need for a robust policy to be in effect.
A DOJ spokesperson declined to comment for this story.
Cortez Masto's letter was prompted by concerns—voiced by several members of Congress, particularly Democrats—about Trump's and his administration's efforts to downplay and discredit an FBI investigation into whether the Trump campaign colluded with the Russians to influence the outcome of the election in favor of the president.
Since the letter was written, those concerns were further heightened when Trump last year fired Federal Bureau of Investigation Director James Comey, who was overseeing the investigation. After Comey's termination, the FBI then appointed Special Counsel Robert Mueller, who is currently conducting the investigation.
The DOJ reply did not address other issues raised by Cortez Masto's letter, including calling on the White House to publicly disclose the names White House officials who have had contact with the DOJ, FBI or other law enforcement agency with regard to the Russia interference investigation, because of Mueller's ongoing investigation.
The Nevada senator's letter cited as an instance of possible political influence when former White House Chief of Staff Reince Priebus reportedly contacted the FBI to ask the agency to rebut news reports that Trump campaign affiliates had contacts with Russian intelligence officials.  
"I urge you to stand by DOJ's long-standing policy of limited communications with the White House," Cortez Masto wrote.
During the Senate hearing in October, Sessions mentioned a scenario he deemed would be inappropriate. "It's not appropriate, say, for White House officials to call lower-level prosecutors or civil attorneys and carry on conversations," Sessions said.
The example is analogous to when senior White House advisor Stephen Miller reportedly called Robert Capers, the U.S. Attorney for the Eastern District of New York, to tell him how he should defend an immigration executive order in early 2017.
Asked if it violated the policy and Session's example, Rhode Island Democratic Sen. Sheldon Whitehouse, a member of the Senate Judiciary Committee, said "it's borderline."
"The concern is most acute when you're dealing with the prosecutive and investigative functions," Whitehouse said. "When the government is a defendant and the White House is a client, to have client conversations is not that out of line."
He noted that specific policies should be in place to prevent Miller from calling DOJ officials with regard to investigations. At 32, Miller has been criticized for having an outsized influence at the White House, despite his tender age, especially on immigration issues where he has pushed federal policy to the right.
"There ought to be really strict controls over the extent to which junior people like him can have any influence on the investigative and prosecutor functions," Whitehouse said.
North Carolina Republican Sen. Thom Tillis, also a member of the panel, said that the issue underscores the "a unique relationship" between the White House and DOJ.
"On the one hand, it's in the administration," Tillis said. "On the other hand, it has to be at arm's length."
Featured Videos
Comment Policy (updated 4/20/2021): Please keep your comments civil. We reserve the right to delete comments or ban users who engage in personal attacks, use an excess of profanity, make verifiably false statements or are otherwise nasty. Comments that contain links must be approved by admin.