Early voting, caucus process pose major challenges for people with disabilities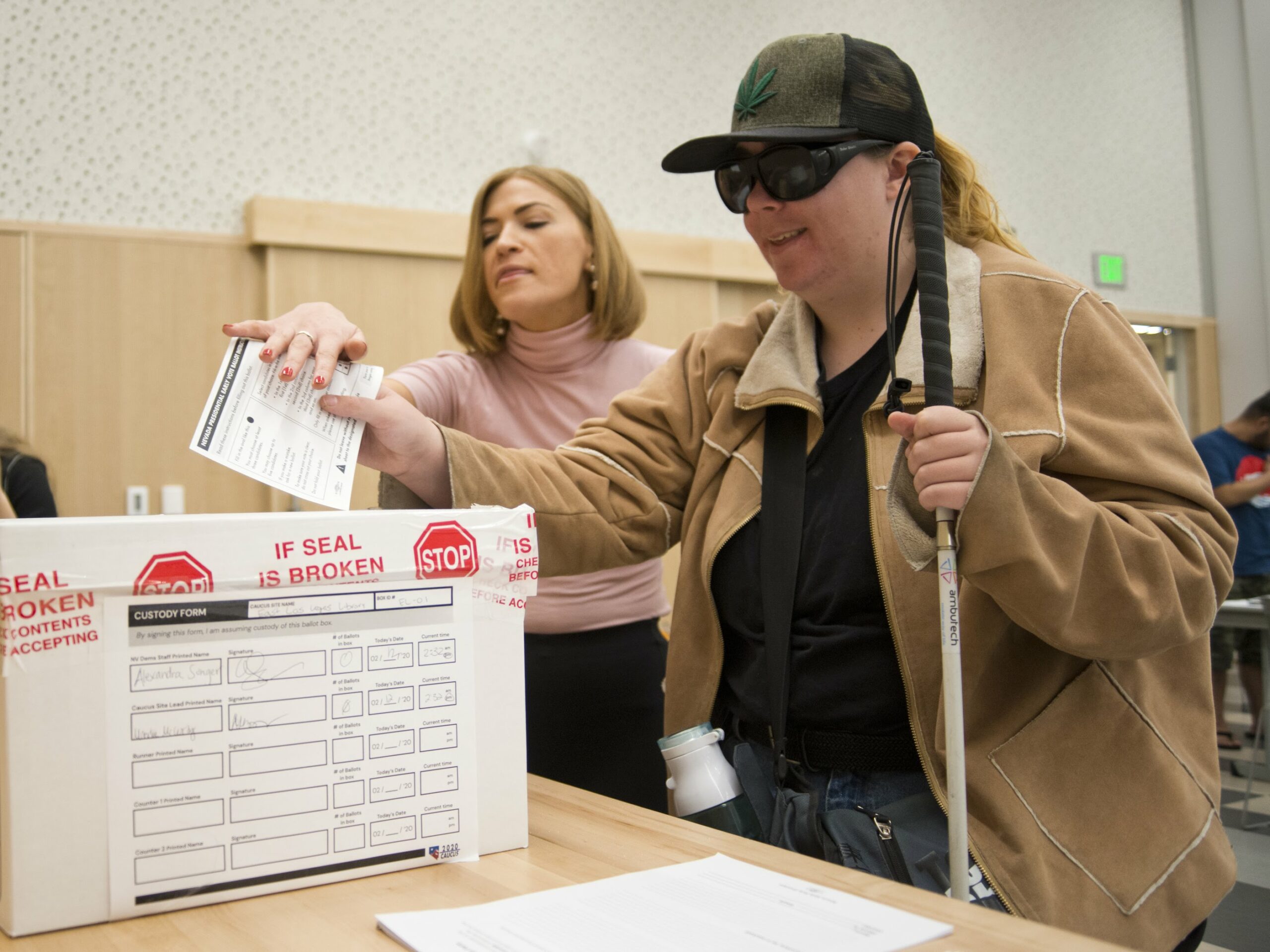 At an early vote site in Henderson on Monday, volunteers from three different campaigns rushed to help a man using a walker who fell while making his way toward the voting line.
The man had to park down the street from the site as orange cones marking the boundaries of where people could campaign, and a large booth set up by Andrew Yang supporters, blocked access to handicapped parking spaces in a parking lot already jam-packed with cars.
The mishap illustrated the challenges of getting people with disabilities — who make up one in four adults in the U.S. — involved in a Nevada caucus process that in many cases requires standing in an hours-long line to vote early or standing for hours in a chaotic large group setting on Caucus Day.
Scott Youngs of the Nevada Center for Excellence in Disabilities at UNR said crowded walkways could prevent wheelchair users such as himself from accessing voting centers, pose transportation difficulties for disabled voters who are on fixed incomes and overwhelm voters who struggle with sensory overload at noisy voting locations.
"A lot of these issues … add up to making a decision not to participate," Youngs told The Nevada Independent. "People with disabilities bring value to the discussion. They are experts in poverty, civil rights, diversity and inclusion, health care, and many other things. You just need to remove a few barriers and include us."
In practice, many caucus sites have been letting voters with mobility issues move to the front of long lines. But the lack of communication about the policies prompted some to leave sites without voting early or to stay home altogether.
"They don't say nothing in the paper," said 61-year-old Lyle Greenhill, who came to early vote at the Centennial YMCA in Las Vegas on Sunday without his wife, who he said was handicapped and would be unable to wait in a long line.
Erik Jimenez, a member of the state and Washoe County Democratic central committees, is an active voice on disability issues and accessibility of the caucus. He said he and party officials have been working with advocacy groups representing people with disabilities, offering interpreters, rides to the polls and other services for people who need them.
But he acknowledged that people with disabilities may not ask for help or know about the available resources. There is little public-facing information about rides and people having the ability to skip lines.
"We've been just doing it organically," he said. "And I think that's something that we're striving to do better as a party."
According to a party official, sites are allowed to make their own choices, but organizers have given early voting sites guidance to create a separate line for people with disabilities or, if lines are relatively short, then have people needing assistance move to the front of a line. As part of its preparations, the party also made sure all early voting sites were ADA compliant and had sufficient handicapped parking.
Although campaigns and organizations may make efforts to comply with the Americans with Disabilities Act (ADA), Youngs said that ADA compliance is a minimum standard, and merely meeting the letter of the law may not translate to full accessibility, especially if people who are part of the disabled community are not included in decision-making.
"Whatever you're doing, whatever the program is, whatever the activity or services have to be accessible and usable by everyone with a disability," he said. "And there's a huge disconnect between somebody applying some sort of a checklist versus having people with disabilities actually guiding the process."
Staff at the Washoe Dems early vote site in Reno on Monday were on the lookout for people who might need special assistance, helping people exit their cars and informing them they could skip to the front of the line if they needed to do so.
Margaret Meyer, 88, who was using a walker, said she had many offers from volunteers to move her to the front of the line but kept refusing.
"I have had so many people tell me to come up to the head of the line … and I have to be kind of stubborn because I don't feel it's fair," she said. "I mean, somebody that really needs it should take advantage of it."
George McKinlay, who retired from UNR's University Center for Excellence and Disabilities after working there for more than 20 years, said the inclusion of people with disabilities in planning and organizing events leading up to the caucus is of the utmost importance.
"It's not just the ability to attend the actual caucus itself. It's the whole engagement process," McKinlay said. "It's participating in the campaigns themselves, the ability to go to volunteers' homes which frequently are inaccessible."
Mary Jo McMorran, 65, a retired banker, was using a cane at a Monday event for Democratic presidential candidate Pete Buttigieg in Reno. She thinks changes are needed — including using absentee ballots and moving to a primary instead of a caucus, so people don't have to stand for hours.
But she'll still be serving as a precinct captain for Buttigieg on Caucus Day. She already knows her site will have cafeteria tables and benches to accommodate those with limited mobility.
"The place of the caucus that I have has ramps," she said. "Other caucus locations are not as accessible, but that's something that they need to work on."
Youngs said that although people may advocate for absentee ballots to increase voter participation for people with disabilities, it should be made available as an option, not as a way to avoid putting resources into making an event more accessible.
McKinlay added that the conscious inclusion of people with disabilities is essential, as disability intersects with gender, race, religion and socio-economic backgrounds, and people with disabilities need to be able to have their voices heard.
"The real measure of a campaign would be how many people with disabilities are actively involved in the process, and there's a range of disabilities, not just walkers or wheelchairs or just the blind it's also people with cognitive processing or language difficulties," he said. "How much time are people given a chance to speak out on new ideas as they're interacting?"
Youngs said the process of including people with disabilities and making them the center of planning decisions might be complicated, but it is necessary, and one that everyone should strive to accomplish.
"It's not only one person's responsibility … or one agency," he said. "It's a cultural shift and a recognition that everybody's input has to be meaningful, especially the underrepresented and the marginalized populations."
Kristyn Leonard, Jackie Valley, Michelle Rindels and Megan Messerly contributed to this report.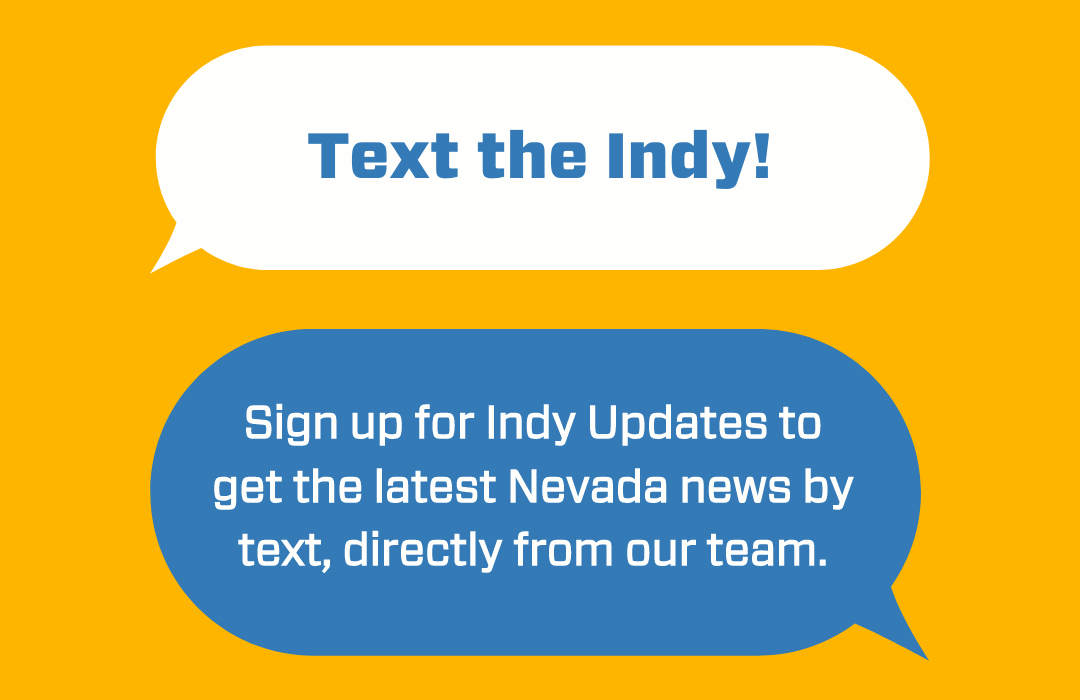 Featured Videos