Elected officials, health care companies seek solutions to nurse shortage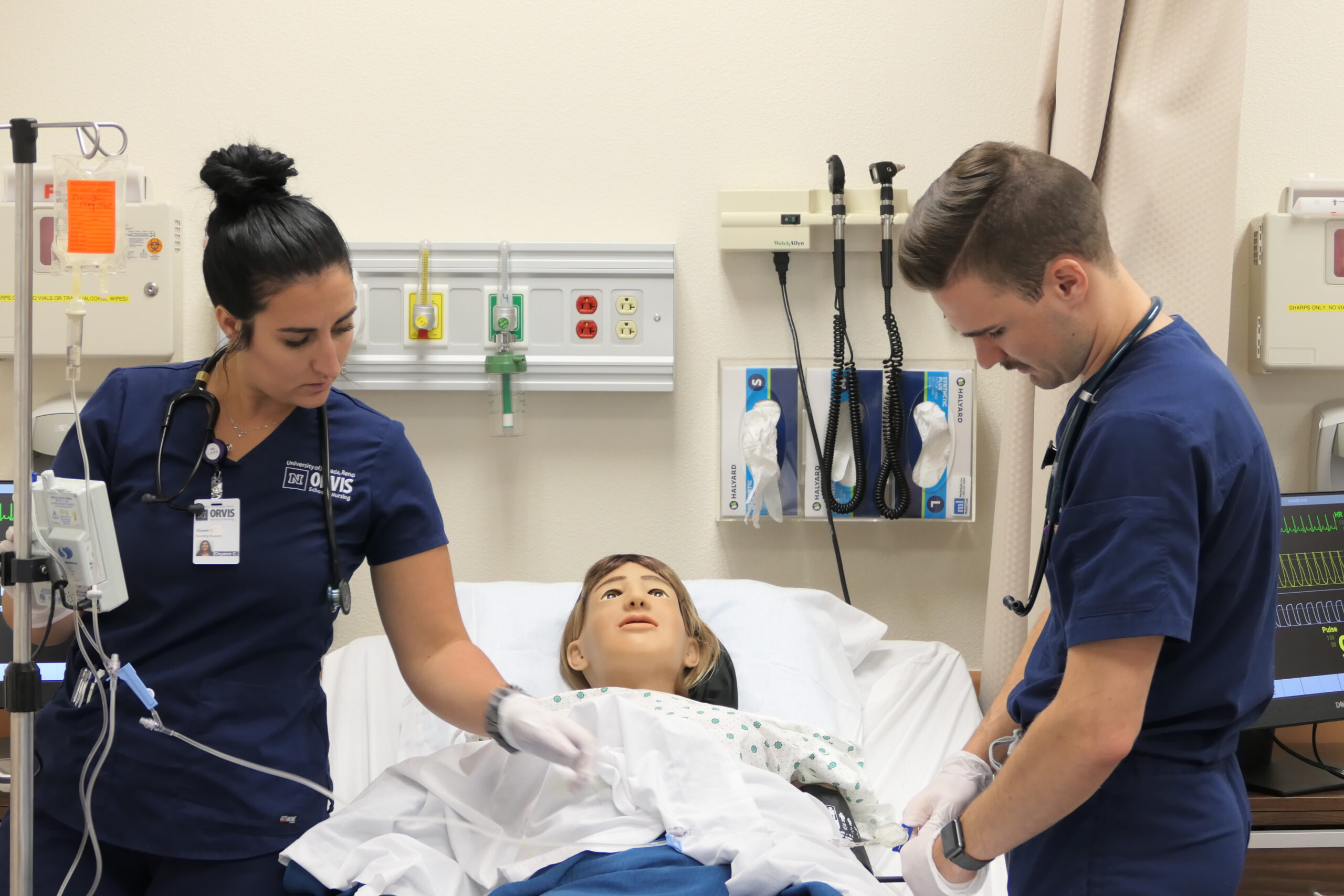 Nurses in red T-shirts — some with the word "heroes" crossed out and replaced with the word "humans" — held signs and played music outside of St. Mary's Regional Medical Center on a June afternoon as passing drivers honked in support.
The strike was one of several in the past few years organized by nurses, who are finding themselves overworked amid a staffing shortage. Caitlin McDaniel, a nurse on the surgical-orthopedic floor of St. Mary's, said that she was out striking for the well-being of her patients, who could face safety hazards on account of understaffing.
"The biggest part is we don't have safe patient ratios. Even though patient ratios are included in our union contract, they don't follow it," McDaniel said. "[Safe patient ratios are] an evidence-based practice that shows nurses can only take care of so many patients before, you know — we're human, we start making mistakes, and we can't be everywhere at once."
Though St. Mary's in Reno got an "A" for the Leapfrog Hospital Safety Grade and said in a media statement to The Nevada Independent that it "has successfully deployed resources to effectively recruit and retain staff" despite the nursing shortage, the labor crunch has affected St. Mary's nursing staff — as it has for hospital staff throughout Nevada.
According to a 2021 report published by the Nevada Hospital Association, 2 million Nevadans live in an area without enough primary care providers. The same report showed that Nevada would need to recruit more than 4,000 registered nurses to meet the national average.
Aging population
According to the 2022 NSI National Health Care Retention & RN Staffing Report, nurses are leaving hospitals at "a dramatically higher" rate than last year. In March, more than 80 percent of hospitals nationally reported a vacancy rate over 10 percent. The same study noted that it takes on average three months to recruit an experienced nurse.
A nursing summit hosted by UNR staff in Reno in mid-July gathered nursing educators, lawmakers and bedside nurses to discuss the root causes. Many panelists at the summit mentioned that while it is easy to blame the nursing shortage on the pandemic, it is a multi-layered problem that has been going on even before COVID-19.
One is the large aging population of Baby Boomers who are contributing to the need for a larger health care workforce and also make up a large chunk of the nursing workforce. As they retire, the need grows.
In a phone interview with The Nevada Independent, Dr. Angela Silvestri-Elmore, the director of the undergraduate nursing program at UNLV, said one-fifth of the current nursing workforce will retire within the next five years. That, coupled with Baby Boomers' increasing need for more long-term medical care, means the demand is outpacing the ability to train the upcoming generation of nurses.
Hospitals increasingly understaffed
This creates a snowball effect. As nurses switch professions or retire, hospitals become understaffed, forcing remaining staff to juggle jobs of multiple people.
While the pandemic was not the cause of this, it exacerbated the effect. As surgeries were postponed and other non-urgent medical procedures were put off to avoid having patients unnecessarily exposed to COVID-19, nurses, certified nursing assistants and licensed practical nurses had less work and were laid off or furloughed.
Dr. Joanne Spetz from the University of California, San Francisco said at the summit that while most nurses came back, many CNAs and LPNs, which are lower-paid positions that require less education compared with registered nurses, have not returned — and scholars don't know where they went.
"We don't know quite where they are. Turnover for RNs increased in the 2020 period and then mostly returned … turnover for LPNs increased in 2020 and continued to increase in 2021," she said.
If it were a matter of not enough job opportunities for LPNs and CNAs, unemployment statistics would show that trend, Spetz said. Because they aren't returning to the health care workforce, it is likely that they left the health care workforce altogether to seek different opportunities.
This leads to unsafe patient ratios for registered nurses without the support of CNAs or LPNs. These unsafe ratios not only lead to burnout in current staff, but they are a "fear factor" for nurses entering the workforce unsure if they will be able to provide adequate care, furthering the nursing shortage, Silvestri-Elmore said.
Education
Investments in education are a key solution to the nursing shortage, according to Silvestri-Elmore.
"[We need to] acknowledge that they are an extension of the workforce," she said.
Despite the need for nurses, in 2020 UNLV's nursing program had an acceptance rate of 33 percent, turning away 145 out of every 218 applicants. Silvestri-Elmore said this is because the nursing school doesn't have enough programs or staffing to take in that many applicants.
"The interest is there," she said, but the ability to train them is not.
Educating students from Nevada to work in the state is a particularly important solution to the nursing shortage. A nurse with ties to the state is more likely to stay in Nevada and become long-term hospital staff, which should incentivize hospitals to partner with training programs, Spetz said.
It would also be beneficial for hospitals and training programs to recruit from underserved communities, such as rural areas and Spanish-speaking communities, because they are more likely to return to serve those communities, according to Spetz.
This could also decrease the state's reliance on short-term solutions such as travel nurses. Travel nurses are nurses contracted with a company that sends them nationally or internationally to work in understaffed hospitals.
While this is vital to emergency situations like the pandemic, it is far from a permanent solution. Travel nurses — because they are not permanent staff and have no reason to stay within a community — are an unstable labor force. They're also more expensive and can cost hospitals $160 or more an hour compared to an on-staff nurse, Spetz said.
Because travel nurses make more money than long-term hospital staff, many new graduates have more incentive to become travelers, furthering the state's shortage of nurses.
The biggest solution, Silvestri-Elmore said, is for the state to invest in education and training for incoming nurses to bulk up the workforce.
ChyAnn Campbell, 24, and Nicolas Poynter, 23, are third-year students in the accelerated program at the Orvis School of Nursing at UNR. They both want to eventually become nurse practitioners. Right now, their days consist of school and apprenticeships at hospitals, where the students said they see nurses who are burnt out and overworked.
Campbell and Poynter said it can be disheartening to see those in their chosen career path working long, hard hours but not receiving the same compensation as travel nurses.
Campbell, like many new graduates, wants to become a travel nurse right after she graduates. Not only is it a chance to see the world and find her "forever home," said Campbell, travel nurses receive more pay than nurses who stay in one hospital.
"They're making a ton of money," said Campbell about travel nurses. "That's why a lot of them [long-term nursing staff] are burning out because we do hard work and work that a lot of people wouldn't like … but then we're not getting paid for that."
Poynter agreed that travel nursing is appealing not only for the ability to travel, but also for the fair compensation for dealing with the increased patient ratios at many hospitals.
"It's also frustrating especially for the nurses that are at the hospital that are full-time employees, that they're not getting compensated for that," Poynter said.
Because hospitals are so understaffed, Campbell also pointed out that this causes longer wait times, sometimes leading to disgruntled patients.
But Campbell and Poynter said that despite staffing shortages and the stress they are going through as students, they still find their career path fulfilling.
"I've been second guessing [pursuing a career in nursing] but then when I reflect on it, it's like, I wouldn't want to do anything else," said Poynter. "When I leave … my apprenticeship, I feel good about what I've done, and I couldn't imagine different ways to spend my 12 hours for the shifts."
Washoe County career incentive tiers
Another solution would be to increase nurses' wages.
In 2021, Nevada nurses made some of the highest wages in the country at $82,660 to $124,000 annually, according to a report from the U.S. Bureau of Labor Statistics. However, the increasing living costs in Nevada prompted the Washoe County Nurses Association to ask for an update of the "career incentive tiers" — essentially longevity pay — from its last update in 2011.
In June, Washoe County commissioners approved the update to their agreement with the Nurses Association to increase the "career incentive tiers" by $1,000 more for people who stay in the nursing profession more than five years, $2,000 more for the 10- to 29-year tier and up to a maximum of $3,000 more for the nurses who have stayed more than 30 years. This money, which at maximum would equate to $5,000, would be given in full to the nurse when they retire or resign from their job.
Interstate compacts
State lawmakers are also prioritizing the issue of strengthening the workforce, honing in on staffing struggles and possible solutions during a recent meeting of the interim Commerce and Labor Committee.
A major discussion point: interstate licensing compacts, which are agreements between states that allow a nurse's license to work in a state that is not their home with minimal barriers.
According to Nevada State Board of Nursing Executive Director Cathy Dinauer, Nevada is not currently part of a compact that includes 37 states and two territories even though 93 percent of Nevada nurses surveyed are in favor of this compact.
Acquiring a nursing license is similar to getting a driver's license, Dinauer said. Because Nevada does not currently have a compact with other states, a nurse would have to pass tests and pay fees to comply with each state's requirements, as well as wait for the license to arrive.
The waiting can be not only a hurdle for nurses, but detrimental to a state if there is a disaster or emergency. Dinauer said during the legislative meeting that the October 2017 mass shooting on the Las Vegas Strip was an instance when a nursing licensing compact could have been beneficial because the state could have taken in out-of-state nurses to help with the large number of patients.
Compacts give nurses more licensure portability and allow them to pursue more lucrative opportunities, in part because it would remove the barriers such as costs or time to get various licenses. The compact can be amended if all states involved are in agreement and the compact could be repealed at any time.
While the arrangement is popular among nurses who are military spouses, veterans or immigrants and more prone to move to different jurisdictions, some critics worry it would make it more difficult to regulate nurses and the state could lose some patient protections.
But Michael Hillerby, a lobbyist representing the State Board of Nursing, said such concerns were overblown.
"Would you, as Legislature, and we, as Nevada, be giving up any jurisdiction?" said Hillerby. "The simple answer is no."
Sen. Roberta Lange (D-Las Vegas) wanted to know how they would handle a complaint filed against travel nurses, or nurses hired by a separate company than the hospital they are working in who move from place to place to fulfill needs in hospitals. Hillerby assured her that the nurses are not only required to know the laws where they are practicing, but that there are protection groups and disciplinary actions in place to handle a complaint filed against a nurse.
Reciprocity also raises questions about how to handle differences in laws from state to state on issues such as abortion and health care for transgender people. Assemblywoman Venicia Considine (D-Las Vegas) asked Hillerby about the protection for nurses after a Supreme Court ruling putting abortion rules more squarely into the hands of state governments.
While it is legal to get an abortion or trans heath care in Nevada, Considine wanted to know if a nurse from Nevada performing these services in other states or across state lines through telehealth could face legal action.
"Frankly, I don't think we know yet and we're trying to figure out what that means," Hillerby said about the different laws that are emerging in states in response to the Supreme Court overturning Roe v. Wade.
However, if an illegal action were performed, it would be beyond the scope of the compact to either discipline or protect that nurse.
While the legislative meeting was just to discuss possible solutions to the nursing staffing crisis and no final decisions were made, it opened the door for ideas to be turned into legislation and eventually brought to a vote, Hillerby told The Nevada Independent.
Lawmakers on a panel at the nursing summit told attendees the biggest chance for change is to present and advocate for bills that would help them before the legislative session begins next winter.
"Now is not the time to be quiet," Assembly Majority Leader Teresa Benitez-Thompson (D-Reno) told healthcare workers and educators at the nursing summit. "This is the time to speak up and say we got to talk about this."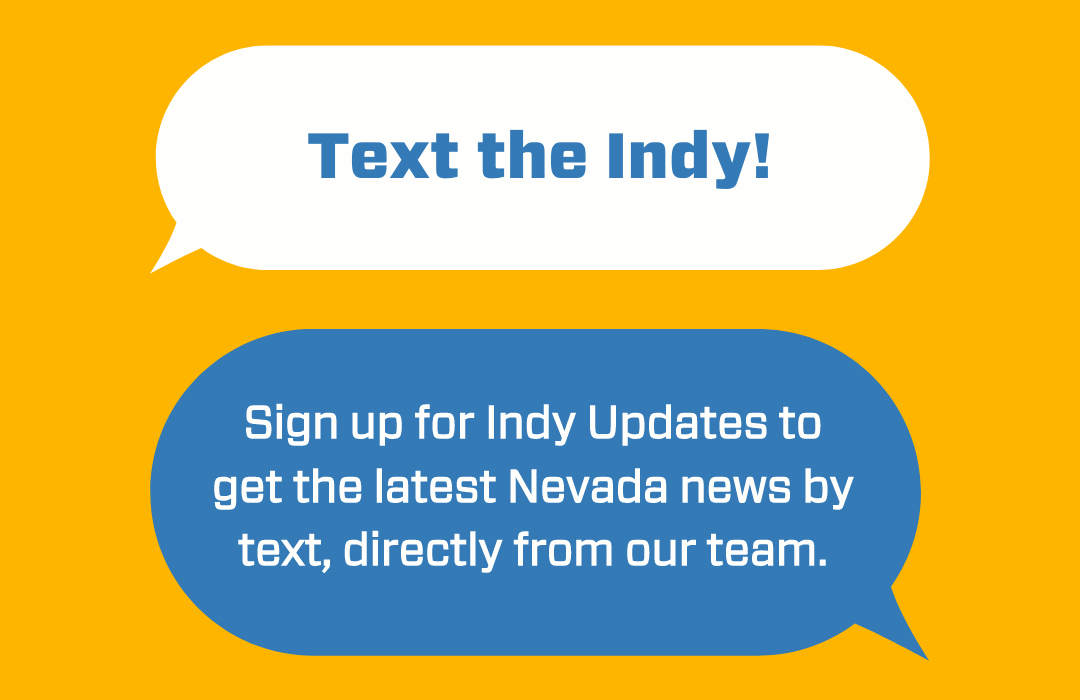 Featured Videos
Comment Policy (updated 4/20/2021): Please keep your comments civil. We reserve the right to delete comments or ban users who engage in personal attacks, use an excess of profanity, make verifiably false statements or are otherwise nasty. Comments that contain links must be approved by admin.