Election Preview: State board candidates compete to have a hand in determining the future of education in Nevada
Nevada's schools have had an unconventional year, faced with sudden closures and a shift to digital learning and the future is uncertain as administrators and elected officials determine what education will look like in the age of the coronavirus.
Just as schools let out for the summer, voters will have the opportunity to choose between the candidates who will sit on the state board that helps make these decisions.
The Nevada State Board of Education works in tandem with the state Department of Education, voting and adopting administrative regulations about allocations of funding, setting standards for areas of study and determining graduation requirements for Nevada's high schoolers.
There are 11 seats on the board, chaired by Elaine Wynn, a director of Wynn Resorts; four of those are elected positions. Of the seven remaining seats, three are voting members nominated by the governor, the Senate, and the Assembly while the remaining four are nominated to represent the interests of various education-focused organizations.
The elected seats on the board represent each of Nevada's four congressional districts, and all four are up for election this year, with two seats empty and two incumbents hoping to be re-elected.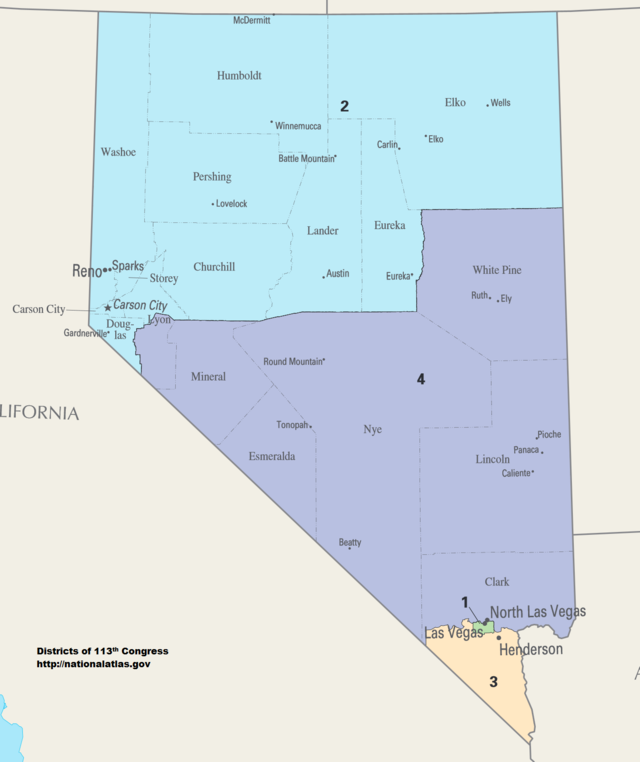 For these nonpartisan primary races, the field will be narrowed to two candidates who will go on to compete in the general election in November. If elected, candidates will serve four year terms on the board.
Though District 2 has only one candidate on the ballot, District 1's crowded race has five candidates competing in the primary, including Tim Hughes, determined to win after losing the seat in 2016.
In District 3, candidate Justin "Steeve Strange" Mickanen is taking on Bruce James-Newman and incumbent Felicia Ortiz by touting his "Ban Schools" platform, and in District 4, board Vice President Mark Newburn hopes to successfully defend his seat against two competitors.
District 1
The Las Vegas Valley will see the most crowded race for the board this year, as Southern Nevada's District 1 has five candidates vying for the seat.
Tim Hughes received the Culinary Union's endorsement for the position as well as an endorsement from the AFL-CIO and the Clark County Education Association.
Hughes' campaign has reported $3,500 in contributions since January including a $1,000 donation from Leadership for Educational Equity, a non-profit organization focused on supporting diversity in educational leadership. As of April 15, the candidate had $2,265 cash on hand.
Hughes is the vice president for the western region of TNTP, a teacher training program, and formerly worked for Teach for America. Hughes also ran for the seat in 2016, losing to Robert Blakely.
Incumbent Blakely is not seeking re-election.
Newcomer Aaron Mason is also campaigning for the seat but hasn't reported any contributions to his campaign this year. Mason is portraying himself as an outsider to a "broken system." The Las Vegas resident is the director of ticket operations and analytics for the Las Vegas Lights FC soccer team and says he is running not as a politician or an educator but as a concerned father.
Mason is up against multiple career educators, including Michael Robison, a retired teacher, principal and associate professor. Robison has represented both the University of Nevada, Las Vegas and the University of Phoenix at Board of Education meetings in the past.
Angelo Casino has been an educator for five years and currently teaches at a charter school. Career and technical education is a major issue for the candidate, who is advocating for increased vocational training as well as an increase in funding for magnet programs in schools.
Neither Casino nor Robison reported any campaign contributions.
The fifth candidate in the race is Steve Esh, a former electronics engineer who is self-funding his campaign with a $200 contribution made in his own name.
District 2
For Northern Nevada's District 2 seat, Katie Coombs is the only candidate. The Reno resident has worked in the financial industry and has written multiple parenting and lifestyle columns, including one in the Reno Gazette-Journal, in addition to hosting a radio show.
Incumbent Kevin Melcher is leaving the Board of Education to run for a position on the Nevada Board of Regents. Melcher was appointed to the board in September 2019 to finish the term of David Carter, who had resigned earlier that year.
Coombs has been endorsed by multiple organizations, including the Culinary Union and the Nevada State Education Association. Despite running unopposed, the candidate has spent $3,858 this year campaigning, leaving her with $634 cash on hand.
District 3
In Southern Nevada's District 3, incumbent Felicia Ortiz faces two opponents in her push for a second term on the board.
Ortiz was first appointed to the board in 2016 by then-Gov. Brian Sandoval before running for and being elected to the District 3 seat later that year. Ortiz has received $9,265 in donations since January, including a $5,000 donation from the Clark County Education Association.
Ortiz's competitors, Bruce James-Newman and Justin "Steeve Strange" Mickanen, have not reported any contributions made to their campaigns.
Mickanen, an outspoken Trump supporter and founder of The Scoop, an online news platform, is campaigning on a "Ban Schools" platform, claiming that the public education system is about "indoctrination" rather than education.
James-Newman ran for Assembly as a Libertarian in 2018, losing the election for the District 29 seat which is currently held by Democrat Lesley Cohen.
District 4
District 4 includes the northern segment of Clark County and portions of Central Nevada. This district will also see an incumbent competing against two challengers. Mark Newburn, the vice president of the board, was first elected to the seat in 2012.
Newburn has received endorsements from the Nevada State Education Association and the Culinary Union. His campaign has been entirely self-funded, and he has spent over $2,700 this year on advertising expenses.
The candidate sits on multiple education boards and is the chair of the UNLV Computer Science Department Industry Advisory Board. Prior to his work in the public sector, he worked in the technology industry for 40 years.
Neither of Newburn's competitors have reported any spending by their campaigns so far this year.
Candidate Vincent Richardson has been endorsed by the Clark County Black Caucus. Richardson is an elementary school teacher and an instructor at the College of Southern Nevada where he previously worked as diversity coordinator.
Rene Cantu, the executive director of Jobs for Nevada's Graduates (JAG Nevada), has 29 years of education experience and previously served as the District E trustee for the Clark County School District.
10:42 a.m.: This story was updated to reflect that Mark Newburn was elected in 2012, not 2016.
5:52 p.m.: This story was updated to correct the geographic descriptions of Districts 3 and 4.