Nevada Prep students board a school bus in northeast Las Vegas on Wednesday, Feb. 12, 2020. (Jeff Scheid/The Nevada Independent)
Last updated: June 16th, 2020 - 10:30am
Election results: Primary narrows pool of candidates seeking a hand in the future of Nevada schools
Updated June 16th, 2020 - 10:30am
The June 9 primary thinned the field of candidates for a range of posts overseeing education in Nevada, clearing some challengers for incumbents but also dimming the hopes of some former elected officials hoping to make political comebacks.
Below are highlights of races for urban school boards, the Board of Regents overseeing higher education and the state school board. Check back for updates as additional results come in.
Regent race shows frontrunners pulling ahead, competitive races for second slot for general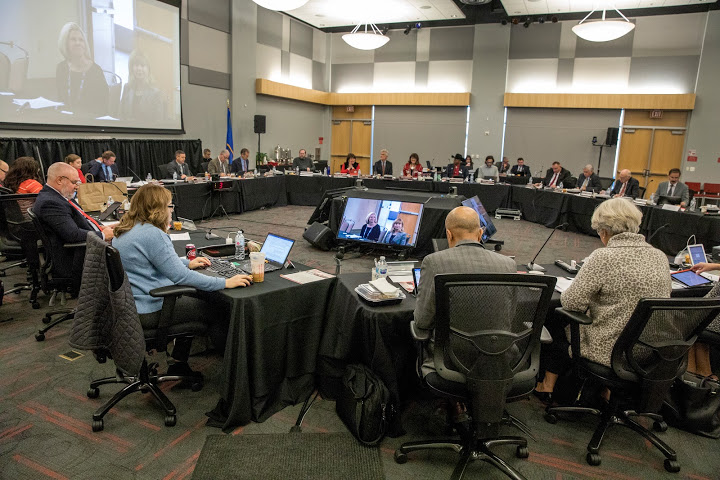 Clear frontrunners have emerged in each of the three primaries for a seat on the Board of Regents, but it's a tight race to fill the second spot on the ballot in November, according to preliminary results released Wednesday.
The top two candidates from each district will head to the general election, but the complete ballot won't be settled until official results are finalized June 19. That's when all ballots from delayed in-person voting in Clark County and mailed-in ballots are counted.
Of the five candidates for District 10 in Northern Nevada, it appears Kevin Melcher will be facing off against either Joseph Arrascada or Vince Lombardi in the general election.
A former regent for District 8 from 2010 to 2016, Melcher has 28.7 percent of the vote.
"I'm very pleased obviously to be where I'm at in the primary election, and I look forward to moving on in the general," Melcher said Wednesday. "I have four good opponents to run against, and they all ran a good campaign, and I'm happy to be where I'm at."
He said he will keep his campaign focused on his leadership experience and follow the same grassroots campaign strategy he used for the primary.
Arrascada, who has been outspoken about wheelchair accessibility in Mackay stadium at UNR, and Lombardi, a faculty member at the UNR medical school, are neck and neck for second place with 21.9 percent of the vote and 20.6 percent respectively.
Andrew Diss, an executive at Grand Sierra Resort who had endorsements from the Culinary Union and the Nevada State Education Association and led the money race, has 17.2 percent of the vote. John McKendricks, the executive director of the Reno campus of a private Christian school, has 11.7 percent.
District 5 in Southern Nevada originally included incumbent Sam Lieberman, who was running for his second term, but his death in early April leaves the seat between Patrick Boylan, a former member on the Nevada State Board of Education, Kevin Child, a former Clark County School District trustee, and Nick "Doc" Spirtos, the medical director at Women's Cancer Center in Las Vegas. Spirtos ran against Lieberman in 2014.
Boylan leads with 37.6 percent of the vote as of Friday, but Spirtos, who has 33 percent, and Child, who has 29.3 percent, are close behind. 
The candidates have done limited campaigning prior to the primary. None reported any fundraising or spending in the first quarter. Only Child reported having any available cash, ending the period with $1,046 in cash on hand.
In Southern Nevada's District 3, Byron Brooks, a veteran and managing partner at Brooks Brothers Bail Bonds, is leading with 31.8 percent of the vote. He is followed by Swadeep Nigam with 23.6 percent, Lachelle Fisher with 23.3 percent and Stephen Silberkraus with 21.3 percent.
Both Brooks and Silberkraus lost their most recent races for the Legislature in 2018. Nigam has also lost races for two different Assembly Districts in 2012 and 2016.
This is Fisher's first race. She has been running her campaign primarily on her Facebook page and doesn't have a campaign website.
Only Silberkraus, a Republican former assemblyman who represented District 29 from 2014 to 2016, did any campaign fundraising in the first quarter. He raised over $4,500 and spent almost double that on advertising and office and volunteer expenses.
Silberkraus has endorsements from the Clark County Education Association and the Clark County Black Caucus. Nigam, the former commissioner of the Nevada Equal Rights Commission, has the support of the Culinary Union and NSEA.
With the third candidate withdrawn in District 2, Bret Whipple and Lois Tarkanian will go straight to the general election.
Whipple held the seat in the mid-2000s and at one point chaired the board but lost his re-election bid in 2008 to a political novice after doing little campaigning and expecting to win.
Tarkanian, the widow of celebrated UNLV basketball coach Jerry Tarkanian and mother of frequent GOP candidate Danny Tarkanian, termed out last year as the Ward 1 representative on the Las Vegas City Council.
Only Tarkanian reported any fundraising in the first quarter.
— Savanna Strott
Two candidates are on track to skip the general election in the nonpartisan State Board of Education race, while two districts remain too close to call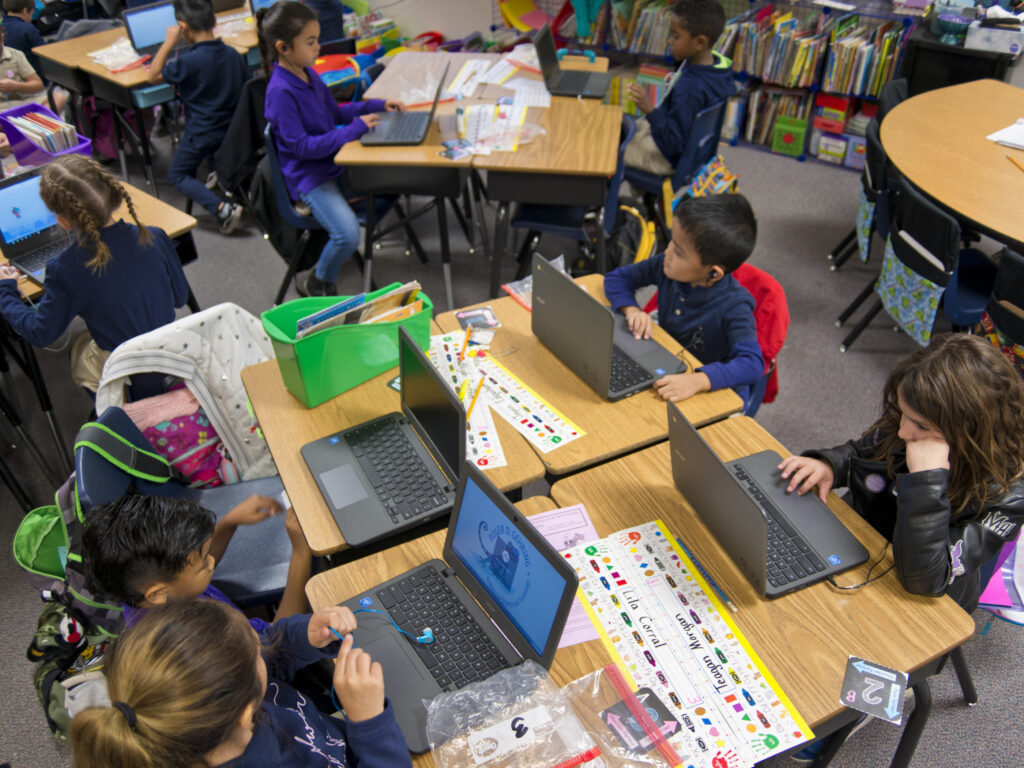 Nevada State Board of Education races appear to be all but settled for unopposed candidate Katie Coombs in District 2 and incumbent Felicia Ortiz in District 3. But in Districts 1 and 4, the contests are still too close to call.
The state board, chaired by Elaine Wynn, works in tandem with the Nevada Department of Education to implement administrative regulations, determine course standards, and set graduation requirements.
There are four elected seats on the board, and all four are up for election this year. As they are non-partisan positions, the two highest performing candidates in the primary will go on to face off in the general election in November.
In District 1, which includes portions of the Las Vegas Valley, five candidates competed for those two spots.
Candidates Tim Hughes and Angelo Casino are currently in the lead after initial results have been released. Hughes, the vice president of TNTP, a teacher training program, has 37.8 percent of the vote while Casino sits at 23.8 percent.
Hughes felt good about his standing after Wednesday morning's results were released.
"I'm feeling, obviously, optimistic. I know there's still many more of those to be counted as they trickle in from sort of the postmark date," he said. "I spent a lot of time engaging with families and community members and educators, you know, who are all very concerned about making sure we have a high quality of education, and that's really been my top priority in this campaign, so it really will continue to be the focus in the general election."
Candidates Michael Robison and Aaron Mason sit at 15.1 and 14.2 percent of the vote, respectively. The final candidate, Steve Esh, has 9.2 percent.
In Northern Nevada's Katie Coombs has effectively won the District 2 seat. Coombs was the only candidate on the ballot and has been endorsed by the Culinary Union as well as the Nevada State Education Association.
In District 3 in Southern Nevada, incumbent Felicia Ortiz took on two competitors and has a strong lead.
Ortiz received 63 percent of the vote, with James-Newman coming in second at 24.3 percent. 
Ortiz said she was up late on Tuesday waiting for results and woke up several times in the night to check as well. In an interview on Wednesday morning, she said she was feeling very good about where she stood.
"I'm super excited with the results. I was praying for getting over that 50 percent because we have so much work to do that I just want to be able to focus on the work and not have to think about the election," Ortiz said. "That's awesome. I hope that sticks."
If Ortiz can stay above 51 percent, she will automatically win the seat and won't need to compete in November's general election.
"I'm going to focus on helping some of the other education candidates to win and keep their seats," she said. "It's going to be a really, really hard year. It's already been a hard year."
Central Nevada and northern Clark County's District 4 also saw an incumbent defending his seat. Board Vice President Mark Newburn's self-funded campaign has put him in what appears to be a close race with challenger Rene Cantu, the executive director of Jobs for Nevada's Graduates (JAG Nevada).
Newburn has 35.6 percent of the vote after election night while Cantu took a narrow lead Tuesday at 35.8 percent. Elementary school teacher and instructor at the College of Southern Nevada Vincent Richardson trails behind in the District 4 race with 28.6 percent of the vote.
— Kristyn Leonard
Frontrunners emerge in Washoe County School Board race, including first openly LGBT member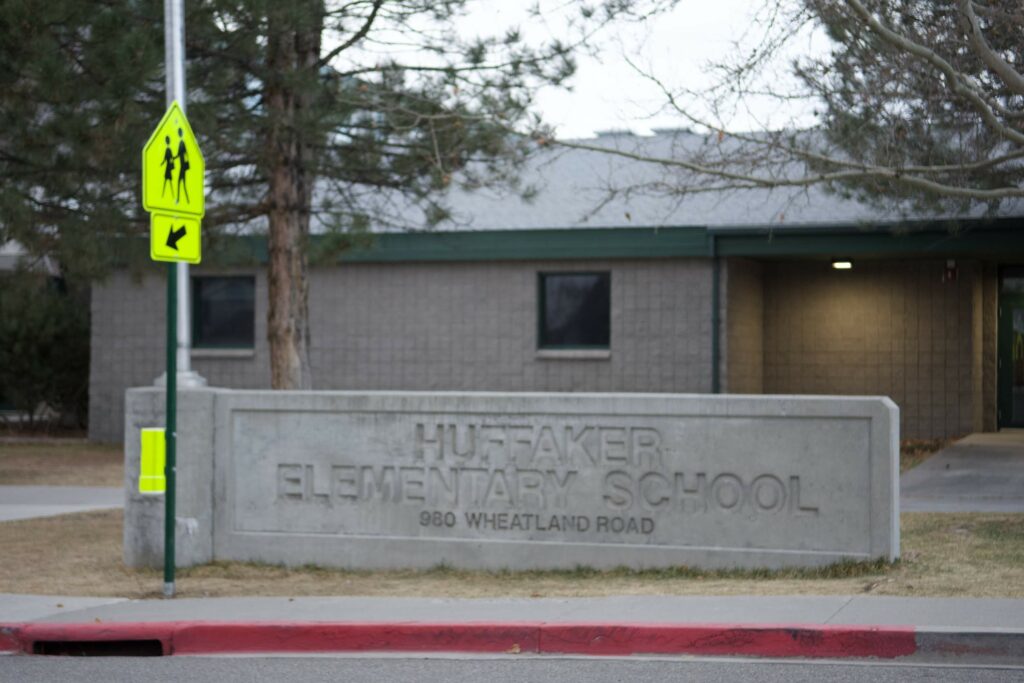 A few sleepy candidates who waited long hours for election results on Tuesday night celebrated the long-awaited news of their leads on Wednesday morning.
Kurt Thigpen is the presumptive winner for the seat on the board for District D with 52.5 percent of the vote and Diane Nicolet is advancing with a significant lead in the race for the At-Large District G, with 43.5 percent of the vote. District A incumbent Scott Kelley also leads the race for his re-election with 33.5 percent of the vote, followed by Jeff Church at 23.3 percent and Lisa Genasci at 21.9 percent. 
"I'm really surprised," Thigpen said in a phone call with The Nevada Independent Wednesday morning. "I'm very grateful for all the support and all the volunteers that we've had that helped us reach people, especially during the pandemic. So I'm feeling really good."
Although Thigpen has over 50 percent of the vote in the nonpartisan race, marking him the outright seat-holder, he said he won't declare victory until all the votes are in by June 19, making time for mail-in ballots to arrive at the voter registrar's office.
With Thigpen's presumptive win comes a notable achievement and milestone for the school board — the first LGBTQ board member.
"It gives me great pride," he said. "I think having a school board that is very diverse in perspective and life experiences and ideas is going to be crucial. I hope to be a voice, certainly for all students, but to speak to the experiences of LGBT students ... and create a more inclusive school district."
Nicolet is also processing the news of her lead in the race for the at-large District G seat that spans the western region of the county.
"I'm thrilled and I'm honored and a little scared," she said in a phone call with The Nevada Independent Wednesday morning.
This is Nicolet's second time running for a seat on the board after losing in 2012 in the race for District E. However, she was appointed to the board for a few months in 2016.
Kelley feels confident in his first place spot and looks forward to knowing who his opponent will be for the general election in November.
"I'm feeling good," Kelley wrote in a text message to The Nevada Independent. "I know there are still many ballots to be counted but I'm confident my lead will hold and perhaps even improve."
Meanwhile, Church is in the lead to become Kelley's opponent.
Church said he felt "good and bad" knowing he could become the second name on the ballot for the seat.
"I really, really would support anybody except the incumbent… I would much rather go up against the 19-year-old kid," he said, referring to candidate Jack Heinemann, who garnered 11.4 percent of the vote.
Church cited Kelly's support for previous Washoe County School District Superintendent Traci Davis and budgets approved by Kelley during his eight years on the board as reasons.
Kelley refutes the allegation he supported Davis by recalling instances in which he voted against the proposed 2018-2020 contract for the then-superintendent and in 2017 when he was one of two trustees who voted against classifying Davis' job performance as "accomplished."
If he moves forward in the election, Church plans to do a "full court press" in campaigning and reaching voters. His ideas for change range from pay raises for teachers, shifting the funds allocated for building new schools from the 2016 ballot measure WC-1 to hiring more teachers, and even a "living academy" for "at-risk kids" where homeless students or students whose parents work the night shift could stay, instead of "running amok."
"I'm for change, I am the best candidate to get her done," he said.
Genasci feels energized by the results and said she hopes the pandemic can serve as a catalyst for unity and transparency among the school board trustees.
"We have to prioritize transparency and eliminate conspiracies and speculation," she said in a phone call with The Nevada Independent Wednesday afternoon. "We're in a time where there's not time for that. We have to be raw, fact-based and we have to move forward with tangible and sustainable goals. And I think that sometimes we got lost in this 'he said, she said' — there's just no time for that."
Genasci also believes that the best way for the school district to move forward amid pandemic decisions regarding distance learning is to listen to teachers.
"We are moving into uncharted territory," she said, "with reduced budgets and the need for collective approaches to learning. This is an area that no school board member has been on. And many of our teachers who have really been beta testing this for the past few months with kids have the expert solutions and they will consider every single child's needs."
— Jazmin Orozco Rodriguez
Updated at 5:51 p.m. 5/10/2020 to include comments from Lisa Genasci and clarify Scott Kelley's position on allegations from Jeff Church. Updated at 11:02 a.m. 5/11/2020 to reflect updated numbers.
Clark County School Board
In District A, Lisa Guzman leads with 26.1 percent of the vote, followed by Liberty Leavitt with 18.9 percent. The seat is open because current officeholder Deanna Wright is term-limited.
In District B, Katie Williams — a candidate who garnered attention as an outspoken conservative — leads with 23.9 percent of the vote. Union business manager Jeff Proffitt is in second place with 18.9 percent. The seat is open because current officeholder Chris Garvey is termed out.
In District C, Tameka Henry is ahead with 20.8 percent of the vote, with Evelyn Garcia Morales in a close second with about 20.3 percent of the vote. The seat is open because current officeholder Linda Young is termed out.
In District E, incumbent Lola Brooks has a modest lead with 21.6 percent of the vote, ahead of her next closest competitor, Alexis Salt, who has about 17.5 percent.
Stories
Candidate Trackers
Endorsements, Ads, Policies, Visits
& More
visit now
Comment Policy (updated 10/4/19): Please keep your comments civil. We reserve the right to delete comments or ban users who engage in personal attacks, use an excess of profanity, make verifiably false statements or are otherwise nasty.