Election results: Primary whittles field of candidates for local government positions across Nevada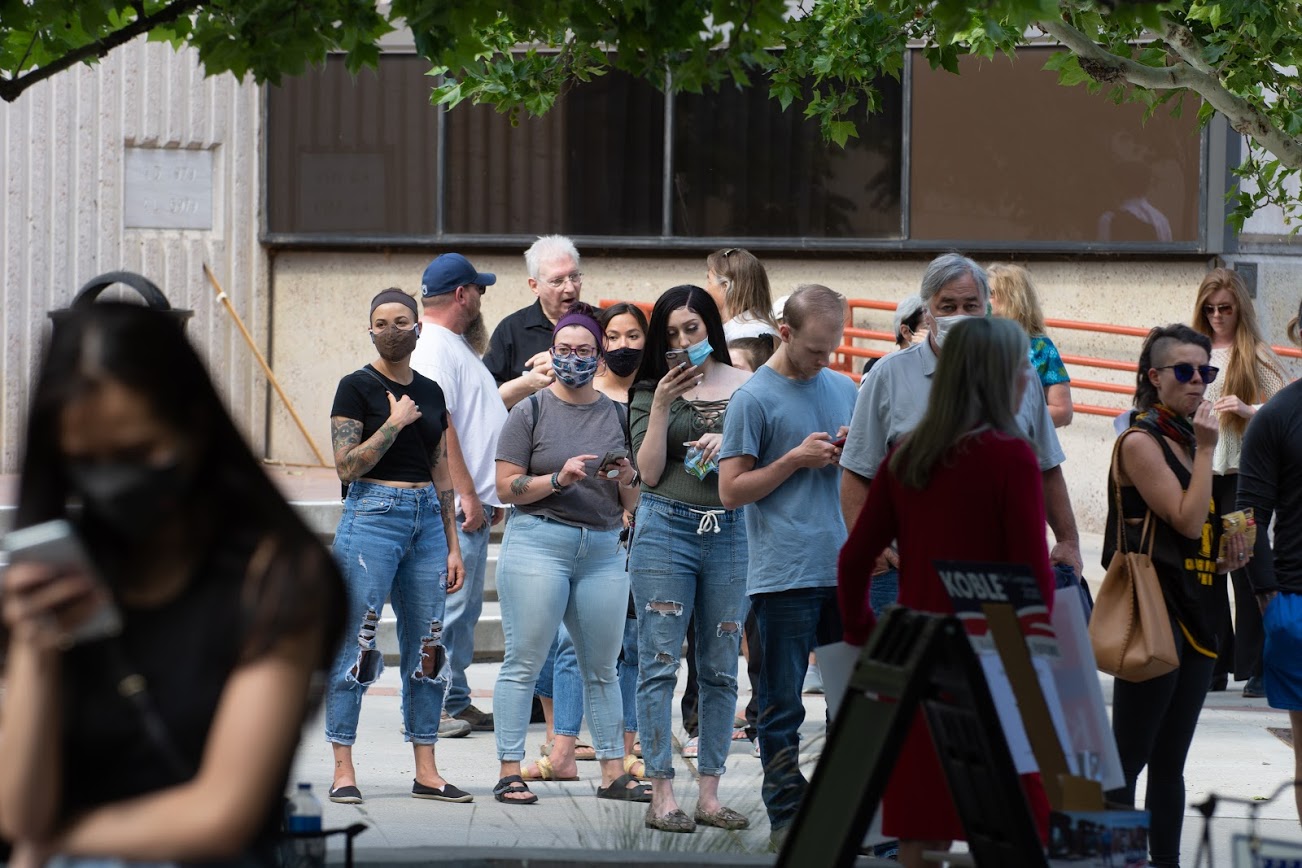 Nevada voters weighed in on a range of local government races in Tuesday's primary, in some cases handing seats outright to candidates and in other cases narrowing the field to two for the general election in November.
Incumbents made strong showings in lively races for Reno City Council and Sparks City Council, while two big-name Democratic candidates separated themselves from the pack in Clark County Commission primaries.
Here are the highlights of some of those races. Check back for updates as more results are released.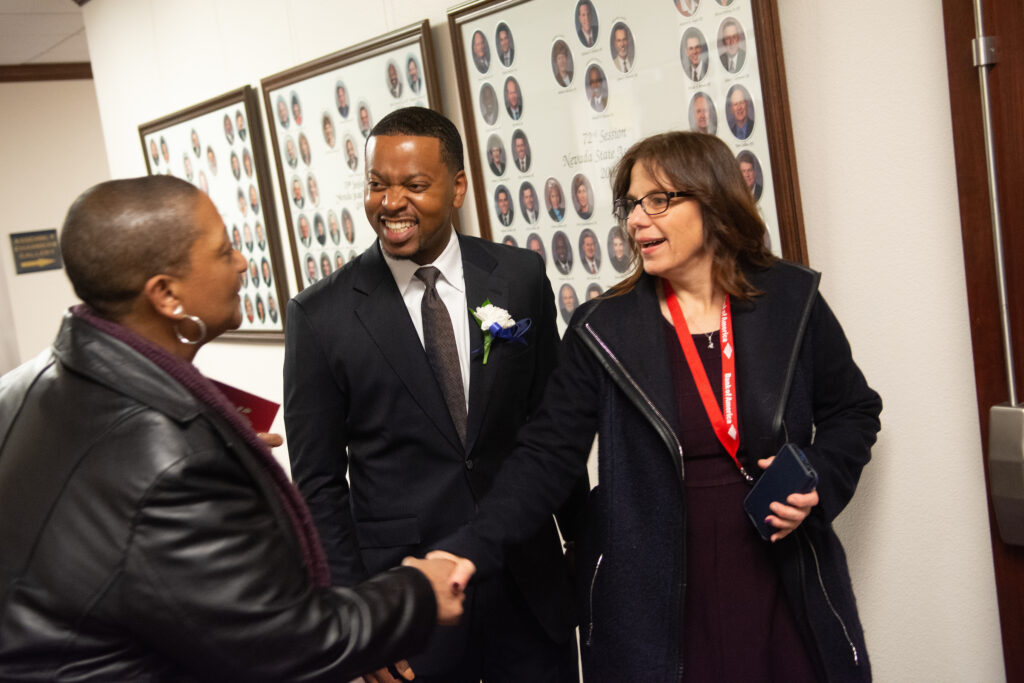 Incumbent Naft coasts to victory in Clark County Commission race; two major players in the Democratic Party take strong leads
Four seats are up for election this year on the Clark County Commission, the state's most powerful local government body, and incumbent Michael Naft along with two big names in the Democratic Party have taken decisive leads in their races.
District C, the Democratic-leaning district in the northwest region of the Las Vegas Valley, had a crowded primary with six Democrats vying for the nomination. Commissioner Larry Brown is leaving the seat open after reaching his term limit this year.
Former Nevada Secretary of State Ross Miller has taken a strong lead with 38.8 percent of the vote, followed by Hunter Cain, the former director of community outreach for Rep. Dina Titus, who is in second with 24.7 percent. 
Miller himself said he was "very encouraged" by these initial results.
"We've now lapped the field in a seven person race," Miller said. "So that's very encouraging, so we'll wait for the rest of the votes, but we're starting to look forward to the general election."
If Miller holds the lead, he will compete against Republican Stavros Anthony in the November general election. Anthony is a Las Vegas city councilman and has been the biggest spender in the race for a commission seat thus far.
"I think that [my] message will be in stark contrast to my general election opponent who is a career politician and really, I think, embodies, this Trump philosophy," Miller said of Anthony. "He's a Trump crony, his entire career, and, clearly, we need to have a different direction."
When reached for comment on Wednesday, Anthony said "I support President Trump. I don't know what a 'Trump Crony' is, but I support him."
Anthony added that while it was "nice" to have an idea who he would be competing against in November, it would not change his campaign strategy.
"It doesn't matter who wins the Democratic primary. I'm going to run my campaign and get out there and tell people why they should vote for me, and why I'm the best person to represent District C," he said.
District D incorporates much of North Las Vegas and parts of Downtown Las Vegas including Fremont Street. Commissioner Lawrence Weekly has also reached his term limit this year and leaves an open seat.
This heavily Democratic district had the most crowded primary, with seven Democrats. The winner will face three non-partisans in the general election.
Assemblyman William McCurdy II, chairman of the Nevada State Democratic Party, is leading Democrats by a large margin against several big-name candidates after the first round of results. Others in the race include Tanya Flanagan, president of the board of directors for the breast cancer foundation Susan G. Komen Nevada, North Las Vegas City Councilman Isaac Barron and State Sen. Mo Denis.
McCurdy received 42.6 percent of the initial vote. Flanagan has the second highest share with 20.5 percent.
In District A, which incorporates southern portions of Clark County, Democratic incumbent Michael Naft faced only one competitor in the primary, former casino worker Ken Patrick O'Sullivan.
Presumptive winner Naft has taken a commanding lead, with Thursday's results showing him receiving approximately 74.2 percent of the vote.
"Particularly as this is my first time on a ballot, it's particularly humbling to have the support of so many thousands of my base," Naft said in response to Wednesday morning's results. "It gets me excited to continue the work from the last 18 months and work hard to continue to gain that support from my constituents in November."
In the general election in November, Naft will take on Republican Michael Thomas, who had no competitors in the primary. Naft, who has been endorsed by the Culinary Union and Gov. Steve Sisolak, is the heavy favorite in the general election in this district, where 39 percent of voters are registered Democrats, compared to 31 percent registered as Republicans.
Democratic incumbent and Commission Chairwoman Marilyn Kirkpatrick is also up for re-election this cycle but was unopposed in the primary. She represents District B on the commission, which includes the northeastern portion of Clark County.
Republican Kevin M. Williams and Independent Warren Ross Markowitz will be on the ballot in the general after running unopposed in Tuesday's primary.
— Kristyn Leonard
Incumbents hold lead in Reno Council primary races, challengers prepare themselves for November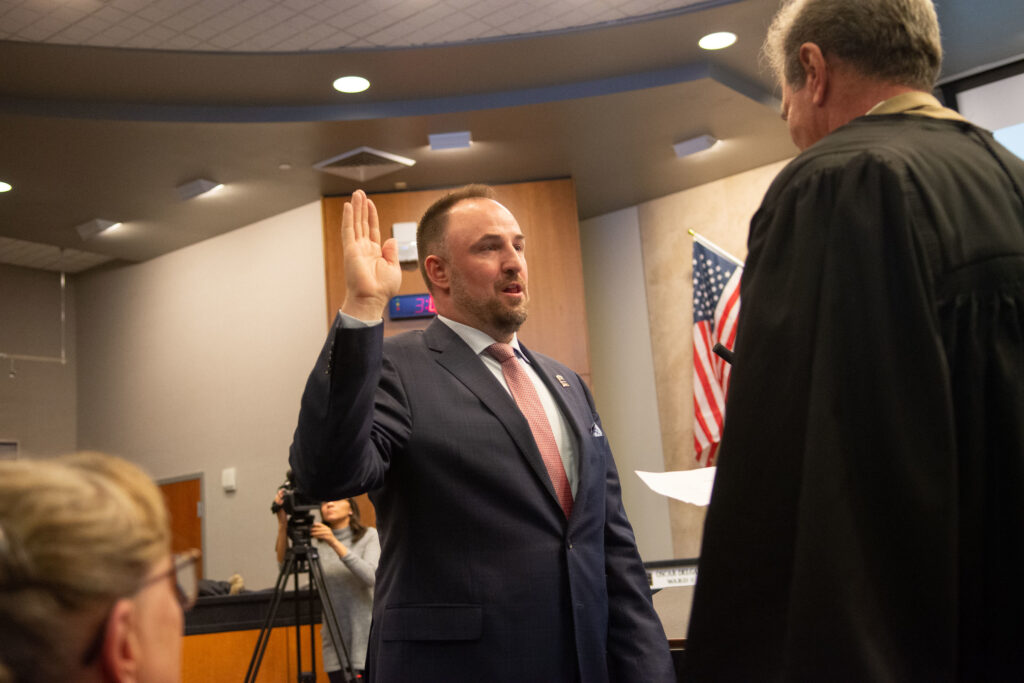 After Reno City Council candidates spent months campaigning, writing op-eds and adjusting campaign strategies to the pandemic, preliminary results for the four nonpartisan races show incumbents have decisive leads over their challengers.
Incumbents defending their seats in every city ward hold a lead over challengers, but the top two candidates from each race will advance into the November general election.
For the Reno City Council at-large position, which represents residents of the entire city but will be replaced in 2024 with a sixth ward, attorney and council vice-mayor Devon Reese will square off in the general election with perennial candidate and businessman Eddie Lorton.
As of Saturday morning, Reese leads the primary race with 47.7 percent of the vote, 17.6 percentage points more than Lorton. The other two candidates, Joe Moskowitz and Michael Walker, received 11.8 and 10.4 percent of the vote, respectively.
In an interview Wednesday morning, Reese said he was humbled by the support in the primary, but that the work is not over and he wants to continue addressing social and economic inequalities, both in his campaign and his capacity as a sitting council member.
"I'm going to wake up and do all the good for as many people as I can for as long as I can," Reese said. "For me, it is going to be those people-first issues that drive the conversation about our campaign ... housing, our unsheltered population, racial inequality issues and quality of life issues."
Lorton is optimistic about the future.
"I'm feeling very positive about our campaign. This is a new process for all of us. We are just waiting for the final results," Lorton told The Nevada Independent in a text message on Wednesday.
In a Facebook post later in the day, Lorton thanked his supporters and criticized the voting system.
"This is something new that we have never been through before with alot [sic] of issues. I hope the voting system is back on track for the general election," he wrote. "We always gain alot [sic] of ground in the General election, we didn't even do TV in the primary. Let's carry on and win this, our City really needs strong good leadership at this time."
The three-way race to represent Reno's historic neighborhoods in Ward 1 was close, but two-term Councilwoman Jenny Brekhus and real estate agent J.D. Drakulich are edging out Britton Griffith, vice president of her family's development firm Reno Engineering Corporation.
Brekhus has received about 45.6 percent of the votes and Drakulich came in a close second with around 35.4 percent. Griffith, who had been endorsed by Mayor Hillary Schieve last fall, hovered around 19 percent.
"Thank you Ward 1 Voters for last night's primary win. And to my family, friends and supporters also, I could not have done this without you," Brekhus wrote in a Facebook post on Wednesday. "Congratulations to my two opponents also. You demonstrated your care for the residents of our ward in stepping up to represent. I am so excited to continue the conversations with voters into November!"
Drakulich also sent out a message on Facebook, thanking his supporters and well-wishers.
"This is a tough race, and I can't begin to express my gratitude to everyone who believes in me. The incredible amount of support I have received is truly humbling," he wrote. "Thank you for voting! We've got a long road in front of us until November...but we are ready!"
Griffith congratulated Drakulich and Brekhus via social media, and noted that the race "is just the beginning of things for our Biggest Little City."
In the general election, Councilwoman Neoma Jardon and retired public administrator Darla Fink will face one another to determine who will represent Ward 5, which includes Northwest Reno, the University of Nevada, Reno, the Old Northwest and various residential neighborhoods as well as parts of downtown.
So far, Jardon leads the race with 52.6 percent of the votes and Fink, the second-highest vote getter, holds about 26.9 percent of the vote. The other two candidates did not break 13 percent.
Jardon's goals center around increasing housing inventory, working with vulnerable populations, addressing safety issues, improving the city's financial stability, supporting local businesses, and helping the city grow in a smart and sustainable way.
She emphasizes the need for the city and other regional partners to work together to create a stronger and more stable community.
"I'm incredibly thankful for the many who turned out to vote and supported me in the primary. The work before us as a community is significant," Jardon told The Nevada Independent. "I commit to continue to put in the work for our community and to lead our City in a positive direction."
Fink's platform is dedicated to increasing public safety, honesty and transparency and responsible city growth, which she says on her campaign website "relies on citizen involvement and accountable representation."
On Twitter, Fink sent out a message of gratitude to voters and volunteers.
"It is time now to focus on November with the goal of providing a representative to Ward 5 who will always fight for YOUR interests at the Reno City Council," she wrote. "I know our shared values in social justice, public health and responsive representation will create a more inclusive Ward 5."
As candidates move on to the general election, they will face questions about how they plan to tackle homelessness, affordable housing, budget issues and police reform.
— Tabitha Mueller
Incumbents leap ahead of competitors in Sparks City Council race but likely not enough to evade a general election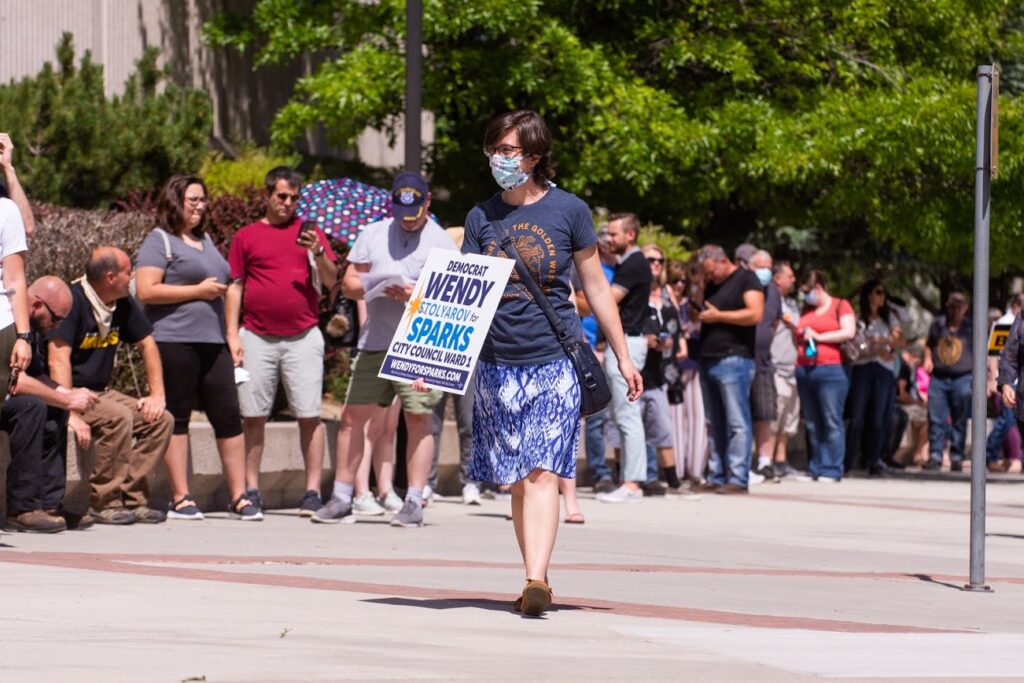 In the race for Sparks City Council, well-funded incumbents have a lead over their slew of challengers, but not enough to claim the seat outright in June.
Incumbents Donald Abbott of Ward 1 and Paul Anderson of Ward 3 both held significant leads as of Saturday morning — 46.3 and 45.1 percent, respectively — but are falling short of the 50 percent plus one needed to reclaim their seats automatically. 
"It will be a fun next five months — let the fun begin," Abbott said in an interview with The Nevada Independent. "I love running for office. I love talking to my neighbors. I love that part of it. It's a fun time."
Abbott said he looks forward to continuing reaching out to community members, particularly those who did not vote, and hopes it is safe to knock on doors soon after coronavirus hampered the campaigning process.
It appears he will face Wendy Stolyarov, who has 32.7 percent of the vote, in November. Both made their volunteer work and involvement in their community a central part of their campaign, but it was Abbott who dominated in fundraising. He ended the first quarter with more than $40,000 in available cash more than Stolyarov, a political activist who had previously worked for the Nevada Libertarian Party during the 2017 legislative session.
Other challengers include Kristine Grimes, a retired civilian employee of the Washoe County Sheriff's Office who had 15.7 percent of the vote, and Dick Kirtley, a retired maintenance staffer for the City of Sparks, with 5.6 percent.
Like Abbott, Anderson said he hopes he can engage with the community once more as social distancing restrictions are being lifted.
"I'm just excited that it's looking like I get to move on in November and continue serving the City of Sparks," Anderson said the day after the election. "It's definitely been an honor since I was appointed. We're doing great things, and I look forward to continuing that."
Anderson was appointed to the seat in 2018 and spent $9,500 in mostly advertising and consulting in his attempt to keep it. His funding overshadowed other competitors; he ended the first quarter with $27,000 more in cash on hand than his closest opponent in funding, Quentin Smith, who had $1,000.
The race to compete against Anderson in November is close.
As of Sunday, it appears Anderson will face Smith, who has 18.4 percent of the vote. But Diaz and Andrea Tavener, a development officer for the Washoe County Library System, are close behind, with 18 percent and 12.9 percent of the vote, respectively.
Opponent Dan Ness has 5.5 percent of the vote.
Facing no challengers, Ward 5 incumbent Kristopher Dahir, a pastor and administrator at a private Christian school, will reclaim his seat.
— Savanna Strott
Carson City Ward 4 has a new supervisor, Bagwell has wide lead in mayor race, close contest in Ward 2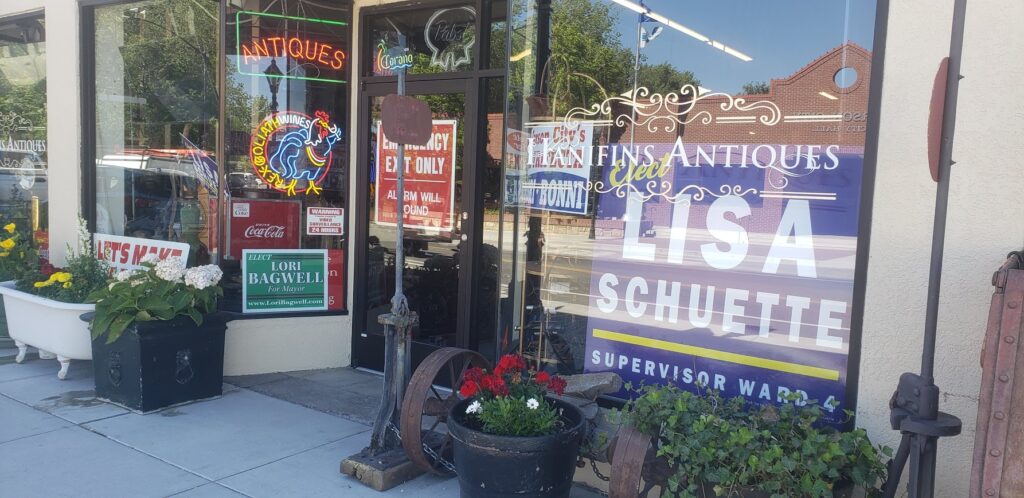 One race for the Carson City Board of Supervisors ended Election Night with an evident victor, although it's still too early to say what the results mean for two other municipal races.
In Carson City, candidates who get over 50 percent of the vote during the primary take the seat automatically and avoid a general election in November.
Lisa Schuette claimed the Ward 4 supervisor seat early on in Election Night. As of Sunday, Schuette has 65.5 percent of the vote. In a distant second place is Ronald Bratsch, a security manager and Marines veteran, with 18.8 percent of the vote.
"I am really just thrilled and grateful, and I appreciate everyone who voted for me," Schuette said in a phone call on Election Night. "I grew up in Carson City. I care deeply about our community, and I'm very excited about moving forward."
Once in office, Schuette, the founder of the Carson Animal Services Initiative that helps animals and pet owners in the city, said her main priority will be on getting back on track with pre-pandemic progress and preparing for a potential second wave of COVID-19. She wants to be transparent in decision-making and help the community understand the process behind projects and plans.
During the campaign season, Schuette crushed her opponents in fundraising and spending in the first quarter. She out-raised her closest competitor in funding — Michael "Mike" Smith, a program manager of the American Job Center of Nevada — by more than $10,000, though $5,000 of her almost $13,000 came from various donations from herself and her husband.
Smith, who moved to Carson City three years ago, took 15.8 percent of the vote.
The races for mayor and Ward 2 supervisor still lack clear results.
In the five-way race for mayor, Supervisor Lori Bagwell leads with 50.4 percent of the vote as of Sunday. Although early results show Bagwell meets the 50 percent plus one requirement to win mayor outright, more votes are needed to declare Bagwell the winner with certainty. If the official results on June 19 show that Bagwell does not have the majority of votes, she will face a challenger in November.
"I'm excited to represent the people of Carson City," she said in an interview on Election Night. "I'm most appreciative of their faith in me."
Bagwell describes financial responsibility as "near and dear to my heart," and says she will focus on ensuring the city has enough in savings if elected mayor. She has held the Ward 3 supervisor seat since 2014 and put budgeting high on her list of issues during her campaign.
In second place, with 23 percent of the vote, is Jim Shirk, a former supervisor who first ran for mayor in 2008. He often took to Facebook during his campaign to tell voters not to choose Bagwell, criticizing her approval of construction projects on Carson Street that some critics have said are unnecessary and will increase traffic. He also criticized her for accepting a campaign donation from the company with which the Board of Supervisors contracted for citywide trash pick up.
Bagwell ended the first quarter with $9,000 more in available cash than all of her opponents' funds combined. Candidates Aaron Sims, a political activist and former Carson City Republican Party vice chairman, and Tod Jennings, an Air Force veteran and teacher, both raised less than $300. Nathaniel Killgore, a small business owner, and Shirk did not report any fundraising.
Jennings has 15 percent of the vote, Killgore has 6 percent and Sims has 6 percent as of Sunday morning.
In Ward 2, it's a three-way neck and neck race between Maurice "Mo" White, Stacie Wilke-McCulloch and Ronni Hannaman, who have 34.2 percent of the vote, 30.9 percent and 28.8 percent respectively.
Both White, a retired diesel mechanic, and Wilke-McCulloch, a Carson City School Board trustee, have run for the seat before. This is the first race for Hannaman, who is the executive director of the Carson City Chamber of Commerce.
All three self-funded their campaigns and reported no spending outside of candidate declaration filing fees.
Marine veteran and two-time candidate for sheriff Lorne Houle has 5.7 percent of the vote.
The top two candidates from the Ward 2 primary will face off in November.
— Savanna Strott
Douglas County Commission
Results current as of 3:45 p.m. on Friday.
Incumbent Dave Nelson leads challenger Danny Tarkanian by a mere 17 votes in the District 1 Republican primary.
Mark Gardner leads incumbent Larry Walsh in the District 3 Republican primary, with 60.2 percent of the vote.
Walt Nowosad leads Nathan Tolbert in the Republican primary for District 5, an open seat, with 52.4 percent of the vote.
The Nevada Independent is raising $200,000 by Dec. 31 to support coverage of the 2024 election.
Tax-deductible donations from readers like you fund this critical work.
If you give today,your donation will be matched dollar-for-dollar.
Give + Get Matched
Featured Videos