Equity, climate on the table at Colorado River conference as new negotiations loom for Southwest water managers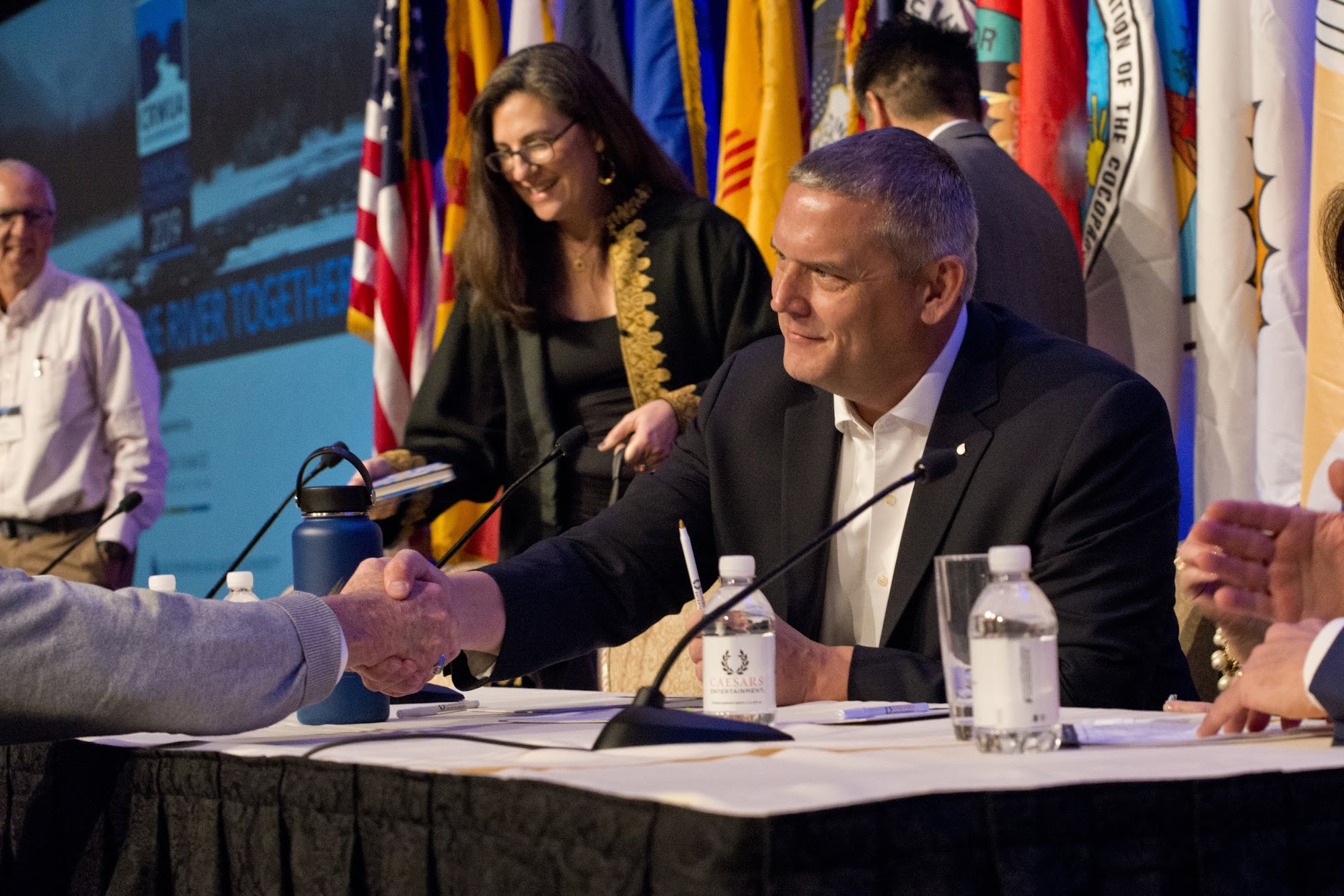 After years of deliberations over how to cut back water use on the Colorado River, Southwest water managers clicked pause on a new round of negotiations — likely to be even more challenging — during a conference in Las Vegas last week.
Sort of.
The country's top federal water manager said it was not time to renegotiate rules for managing water among the seven states and two countries that share the river. The current guidelines for the Colorado River are governed by a 2007 agreement that expires in 2026.
First, the U.S. Bureau of Reclamation, which operates a series of dams and reservoirs in the watershed, will conduct a review of how the current rules have worked and report back by the end of next year. That review will encompass input from the states, tribes and other water users. After the review is complete, negotiations for a new set of guidelines are set to begin in 2021.
"This is an important, foundational task," said Brenda Burman, who leads the agency.
But the history of the Colorado River is a history of ongoing deliberation within a legal framework that has traditionally overestimated how much water the river could deliver to farms, cities and businesses from Wyoming to Mexico. Agreements tend to be complex. Although five years might seem like enough time to hammer out a deal, water users expect reaching a deal to be a difficult task.
"It's going to be a much more complex set of agreements that we've done on the river," said Bill Hasencamp, who oversees Colorado River resources for the Metropolitan Water District of Southern California.
Even though the negotiations won't start for at least another year, top water managers were already laying the foundations for future talks last week, or at least identifying the questions that are likely to come into play. How do you prepare for the uncertainty of climate change on a river that is already strained? How do you share risk in a fair way? Who gets to be at the table?
"There are some very big [unresolved] questions," said John Fleck, who directs University of New Mexico's water resources program and is the co-author of "Science be Dammed."
'Most water secure area'
Of the seven states that share the Colorado River, Nevada has the smallest share. At the same time, Las Vegas gets 90 percent of its drinking water from the river.
In recent years, the Southern Nevada Water Authority has spent hundreds of millions of dollars on new infrastructure to ensure that it can access water from Lake Mead, even if the man-made reservoir behind Hoover Dam ever fell so low that other states couldn't access their supplies. With increased conservation and turf removal, the water authority has also decreased how much total water it removes from the reservoir each year. It consumes less than 80 percent of its total share.
"Between our physical security and our [conservation efforts], I really do feel that we're the most water secure area in the Colorado River Basin," water authority General Manager John Entsminger said during an interview at the conference.
After a two-decade drought sapped reservoir supplies, the Colorado River states signed a water reduction plan in May, a stopgap measure while the new rules are negotiated. The first cutbacks for Arizona and Nevada will go into effect in January. Because Nevada is already consuming less than its share, the cuts will not have an effect on water deliveries.
Still, they are a symbolic recognition of a future where scientists expect there to be less water available in the river as populations, including in Las Vegas, are growing.
Over the past decade, Las Vegas' population has grown as its overall consumption of Colorado River water decreased. Entsminger said more can be done to remove grass that only serves ornamental purposes, arguing that "Las Vegas can no longer afford the luxury of grass in medians and traffic circles and business parks."
"It's cliche," Entsminger said, 'it's not if you grow, it's how you grow."
Who's at the table?
In 2007, the 29 federally recognized tribes in the Colorado River Basin were largely left out of the negotiations of the guidelines. But several speakers, including Burman, stressed the importance of tribal participation moving ahead.
Together, tribes are entitled to a share of water equal to about one fifth of the Colorado River, with many of their claims unresolved. Their water rights tend to be the most senior and protected from shortages. Tribal leaders say that it is all the more reason that they should be part of long-term river planning negotiations.
"Somebody used the word certainty," Daryl Vigil, a member of the Jicarilla Apache Nation in New Mexico, said during a panel discussion on Thursday. "If you don't include tribes in the conversation, given the nature of the volume of water rights that they have, how is that we start to create certainty if there is a big piece of the puzzle missing in terms of water rights in the basin?"
He said the track record is that states have not protected tribal rights in negotiations. Not including tribes now, he said, would be "irresponsible."
"We have a long way to go," he said.
Climate rhetoric and reality
In addition addressing equity issues in the upcoming negotiations, water managers will be tasked with a new challenge looming over the river: how to prepare for climate change. Warming temperatures and more evaporative demand are expected to decrease river streamflow. River flows could decline by about 20 percent in the middle of the century, according to climate scientists.
During a panel, Entsminger stressed the importance of being prepared for that.
"Success is knowing in advance objectively what everyone's pain is going to be," he said, when asked how to prepare for a climate change scenario of low river flows.
Entsminger said the water authority is already incorporating additional cuts into its planning. He also cast recent infrastructure investments as climate adaptation.
"By April of next year, we will have completed $1.5 billion in infrastructure that can only be described as climate change adaptation projects to protect our community," he said.
Other water managers who were representing Arizona, California and Colorado stressed the importance of addressing climate change, acknowledging a need to use less water. But their direct rhetoric contrasted with the rhetoric from federal officials who spoke at the conference. When one reporter asked about human-caused climate change, federal officials gave non-answers.
At #CRWUA2019 @LukeRunyon asked this panel of federal officials about human-induced climate change (as they're talking about the future and water reliability). Fair to say he received non-answers. pic.twitter.com/m2b0rLUAfG

— Laura Paskus (@LauraPaskus) December 13, 2019
Despite that, Fleck said "Reclamation is taking climate change seriously."
Given the administration's position (President Trump is withdrawing the U.S. from the Paris Accords), he said that "they use their language with care."
In an interview with reporters, Interior Secretary David Bernhardt said the climate was changing, but his rhetoric about how it fit into the calculus was restrained.
"I certainly believe the climate is changing," he said. "I spend a lot of time with our scientists and I spend a lot of time with our models. Scientists tell me the best thing we can do is make sure we use multiple models and multiple ranges within each model."
He added that scientists say it is the most "speculative" part of forecasting.
Although the negotiations heading into 2026 will encompass more issues, some water managers cautioned against biting off too much at once.
Ted Cooke, who manages the Central Arizona Project, a canal that runs that delivers water to Tucson and Phoenix, said that the guidelines should not be viewed as the only opportunity to revisit how the Colorado River is managed.
"This job is never done," he said. "There is always something new to deal with."
The Nevada Independent is raising $200,000 by Dec. 31 to support coverage of the 2024 election.
Tax-deductible donations from readers like you fund this critical work.
If you give today,your donation will be matched dollar-for-dollar.
Give + Get Matched
Featured Videos