Expected rain arrived as snow and damaged the grid. Now, more storms are on the way.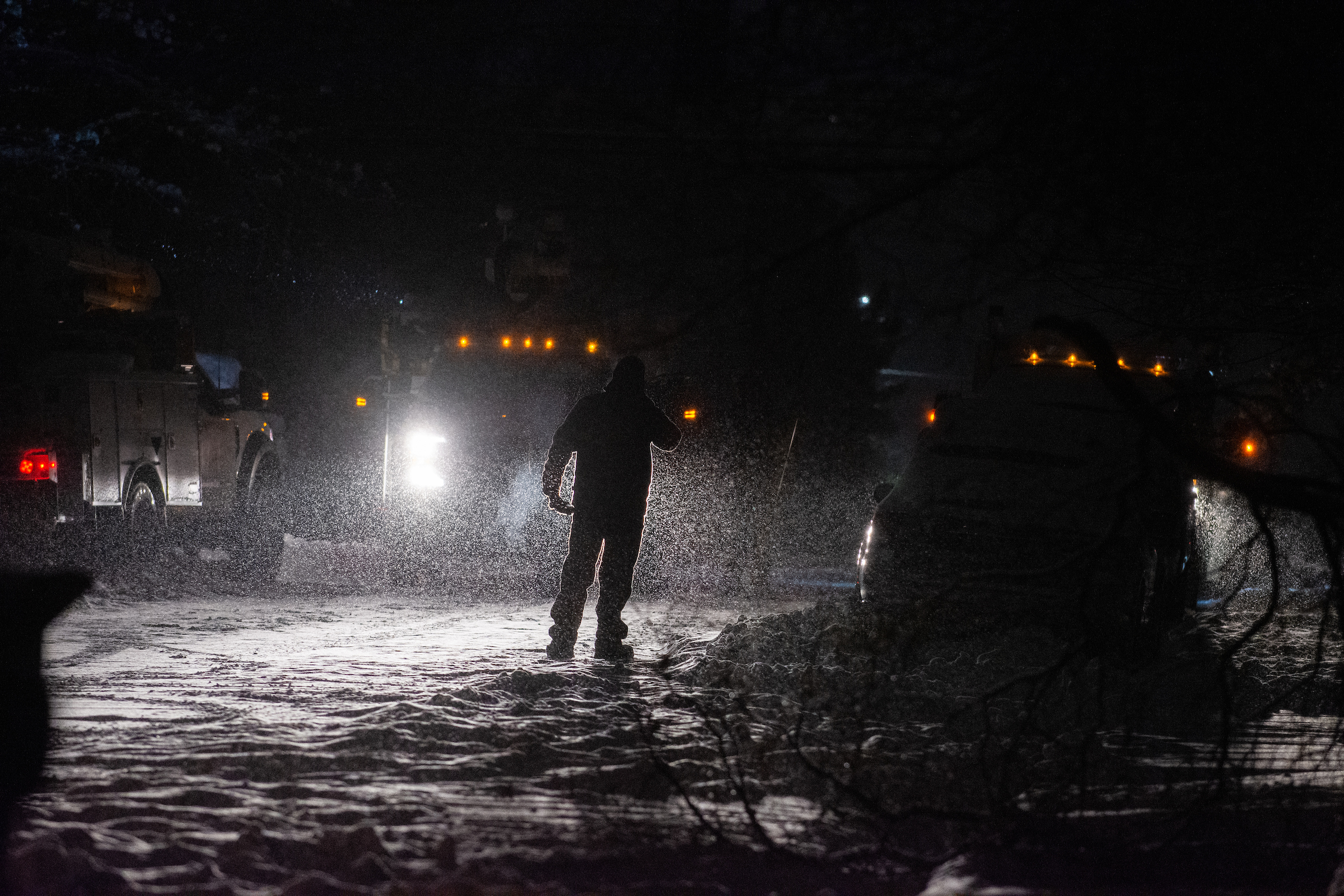 On New Year's Eve, Jennifer Naprstek and her family lost power as heavy, wet snow downed energy lines across western Nevada, with disruptions extending about 100 miles from Reno-Sparks to Smith Valley. Four days later, Naprstek was still waiting for electricity to come back.
"We just need the power back on," she said. "We need the heater back on."
Naprstek lives in an older Sparks neighborhood, and she said the prolonged outage has taken a toll on her family and their pets, including four cats — Precious, Freddy, Jason and Midnight — and a guinea pig named Ethel. They are charging their phones in the car, and with the inside of their home in the low 40s, they have been shuttling back-and-forth to stay with family. Naprstek said she realizes "people are struggling just as much as I am," especially her elderly neighbors.
Even so, it's been stressful to go this long without power, she said with a note of frustration that was shared by many this week. All told, more than 70,000 customers lost electricity, NV Energy reported, with many outages clustered in the urban areas of Reno, Sparks and Washoe County.
Throughout the week, the utility's field repair crews have worked to fix damaged infrastructure. Still, many residents faced multi-day outages. Many more were also frustrated by NV Energy's automated communication system, which was churning out overly optimistic time estimates for completing the repairs (the utility has since stopped using the system). As of Wednesday afternoon, fewer than 1,000 people were disconnected, making Naprstek one of the last to get power back.
"I want to know how they determine who is more important than whomever to get the heat back on," she said. "Will they compensate us for loss of this time? Will they help us with our bill?"
The storm that hit western Nevada over New Year's Eve was the first of several that are forecast to blanket the West with precipitation during the first two weeks of 2023. These storms can be difficult to forecast, with abrupt changes in temperatures dictating whether precipitation falls as snow or rain — a variable that greatly affects a storm's impacts, from power outages to flooding.
"Expect the unexpected," cautioned David Fogerson, the state's chief emergency manager, in an interview on Wednesday. In the coming days, he said the public should "stay abreast of the news and the local weather to know what is going on. Have a plan. Have a kit. And be ready."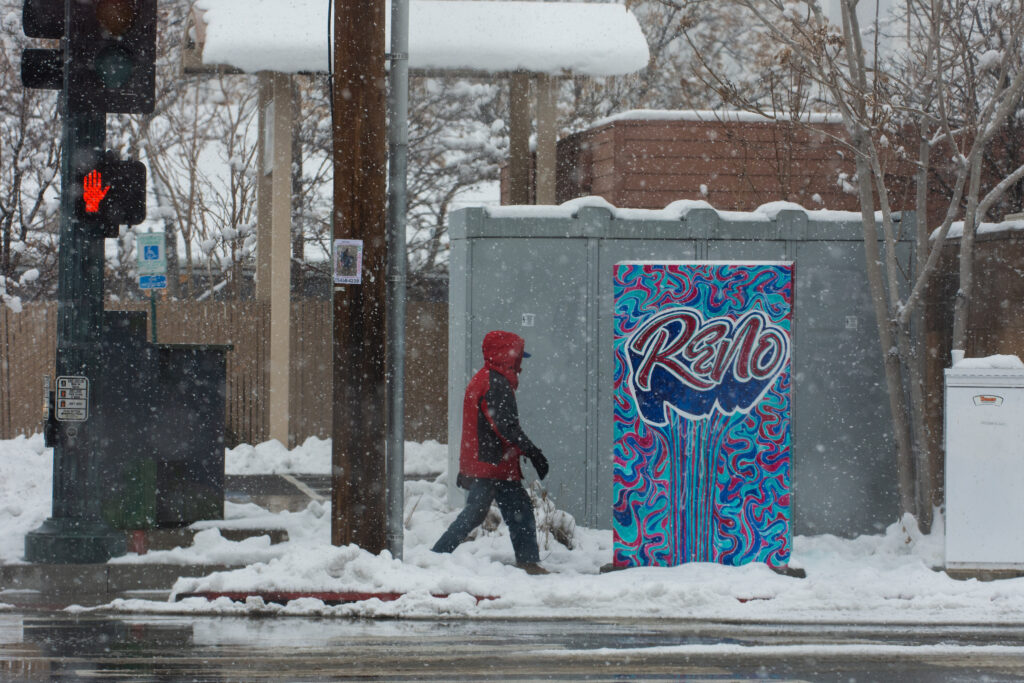 On the final day of 2022, as the Truckee River and Carson River began to rise, meteorologists had predicted a warm and rainy storm to hit western Nevada. But when the storm finally arrived, it pumped cold air into the region, meaning snow, not rain, fell in the valleys and foothills. Below 5,000 feet of elevation, about six to 12 inches of snow fell in Reno and 12 to 30 inches fell in Carson Valley.
The snow significantly reduced major flood risk in the region's watersheds, especially within the creeks and main tributaries of the Carson and Susan rivers. But the unexpected snow brought a slew of other cascading impacts: Emergency officials quickly pivoted from flood preparations to plowing main roadways, and power outages hit as the storm crippled infrastructure.
The unplanned snowfall, storm conditions and the widespread outages left some of the region's most vulnerable, including unhoused residents, searching for shelter and a place to stay warm. In Washoe County, the Cares Campus shelter has been nearly full throughout December. Five western Nevada counties and three tribal nations opened warming centers, Fogerson said.
Lilith Baran, policy manager for ACLU Nevada, said prolonged exposure to cold temperatures under 50 degrees pose significant health risks, especially for unhoused residents. Those who lost power faced a situation that is the reality for many for most months of the year.
"That information has been given repeatedly through social media and public testimony," she said, advocating for warming centers that open when temperatures drop below 50 degrees (the current centers open when the temperature drops below 35). "But they are not fixing it."
She said it's everyone's responsibility to practice caring for one another as much as possible, especially during cold storm events that can cause further displacement as well as risks to health and safety. Whenever there is the possibility of floods, those risks can be even greater.
During the storms last year, Baran said, "there were people living in the storm drains, and we were walking through six inches of water to get people's belongings into a motel room."
Widespread power outages
The outage, in both its geographic range and its complexity, was a large-scale emergency event for the state's largest utility, NV Energy. On Tuesday, Nevada utility regulators opened an official investigation into the incident. The Public Utilities Commission of Nevada, known as the PUCN, requested the company submit a report by Wednesday detailing the incident and its response.
In an interview Wednesday evening, NV Energy CEO Doug Cannon said the utility, working with local governments, had prepared for flooding. But after the storm instead pushed in heavy, wet snow, it collected on the branches of trees, many of which fell, breaking utility lines and poles.
At the peak, about 71,000 customers lost power, with about 1,000 different nodes across the grid causing outages, nearly five times the 200 outage points the utility expects to see in a big storm.
Cannon said company executives and employees planned to personally call all 500 customers still without power by Wednesday evening. He said the utility's message is this: "We understand this is a huge disruption in your life. Power has become such an essential part of our personal lives. And we recognize that not only is not having power a disruption, but not having power during these cold temperatures has created significant discomfort. And for that, we're sorry."
"That is never what we want to see our customers experience," he added.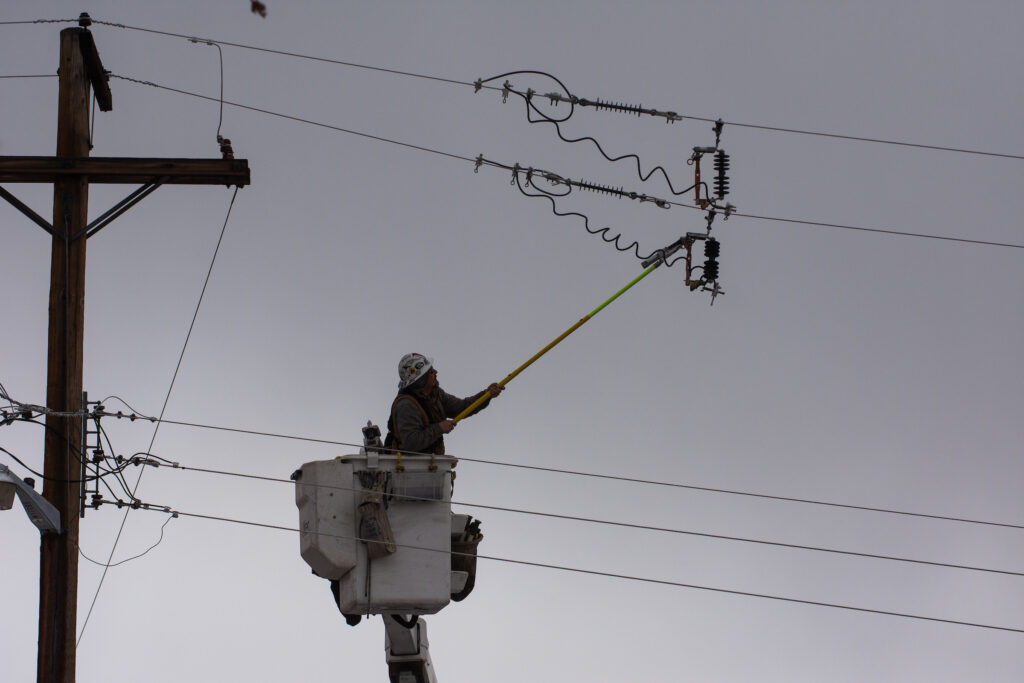 Typically, the utility stations about 50 to 60 line workers between Reno and Carson City. They are on the frontlines of fixing damaged energy infrastructure during storms in western Nevada.
"Normally, that is plenty of staff to deal with normal storm outages that we might see. Because of the size of this event, and work to get customers back on, we've increased the size of that [workforce] to between probably 160 and 170 personnel," Cannon said, noting that line workers have come from Las Vegas, other utilities such as PacifiCorp, and contractors across the West.
Those workers, Cannon said, will stay in place with more precipitation heading to Nevada in the coming week. Nevada is not alone. Across northern California, utilities have reported significant power outages amid a fierce "bomb cyclone" that drenched the area Wednesday and Thursday.
More storms expected to hit
What meteorologists and Nevada emergency managers are watching for is how yet another storm system develops over the weekend and into next week. That system, an atmospheric river, or what some liken to "rivers in the sky," could create more risk of flooding and damage.
"How that forecast plays out, and the absolute rain and snow elevations, are going to have a tremendous effect on the impacts," said Tim Bardsley, a hydrologist with the National Weather Service in Reno. Depending on that, "you're talking more snow impacts or more rain impacts."
A lot of this hinges on temperature. If the storm is colder, forecasters might expect to see snow at a lower elevation. If it is warmer, however, then there could be more rain, raising concerns of flooding, especially in otherwise small creeks and tributaries that feed river channels. With snow accumulated on the valley floor and foothills, rain could accelerate the pace at which it runs off.
"We watch the [rain] gages as well as the forecast, and we are watching the river levels very carefully," said E. George Robison, who directs the Truckee River Flood Management Authority.
It's too early to tell exactly where the atmospheric river could hit next week. He said residents in flood prone areas should always prepare for the impacts of winter storms. On Wednesday, Washoe County released a list of areas where residents can pick up sandbags.
Extreme variability, shifting between dry spells and intense precipitation, is not a new trend for California or northwest Nevada. But recent research has pointed to more "weather whiplash."
"A lot of that is a function of the warmer climate being able to hold more water vapor," he said.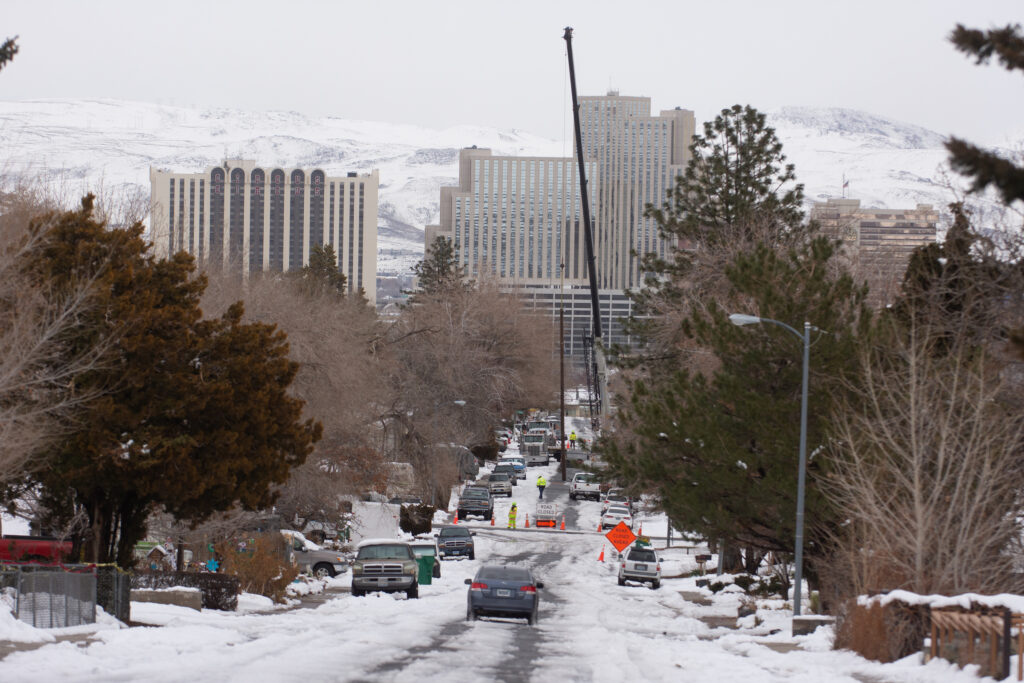 The flurry of precipitation this month comes as Nevada and much of the West has faced several years of drought and low reservoirs. According to the U.S. Drought Monitor, the entire state continues to face some level of drought, though conditions improved slightly after the last storm.
In the mountains across Nevada, including in the Humboldt River watershed, the recent storms have boosted the snowpack, a critical measure for water supply in the West. In the spring, snow accumulated on mountains across the region gradually runs off into creeks and into large rivers.
In western Nevada, the snowpack is hovering around or above 200 percent of average. That is welcome news for water managers, especially in the Lahontan Valley at the end of the Carson River.
The valley's farmers, in and around Fallon, typically rely on diversions from the Truckee River to supplement their supply. With the Truckee Canal under construction as part of work by the U.S. Bureau of Reclamation, irrigators are relying entirely on water from the Carson River.
"It's hard to even think about drought when you have this much rain and snow," said Dan McEvoy, an associate research professor with the Desert Research Institute. "[But] you can't say yet that the drought is over, even with about two more weeks of storms."
The storms, McEvoy said, would need "to continue throughout the winter."
The Nevada Independent is raising $200,000 by Dec. 31 to support coverage of the 2024 election.
Tax-deductible donations from readers like you fund this critical work.
If you give today,your donation will be matched dollar-for-dollar.
Give + Get Matched
Featured Videos