Researchers: Facing habitat loss, sage grouse remains under threat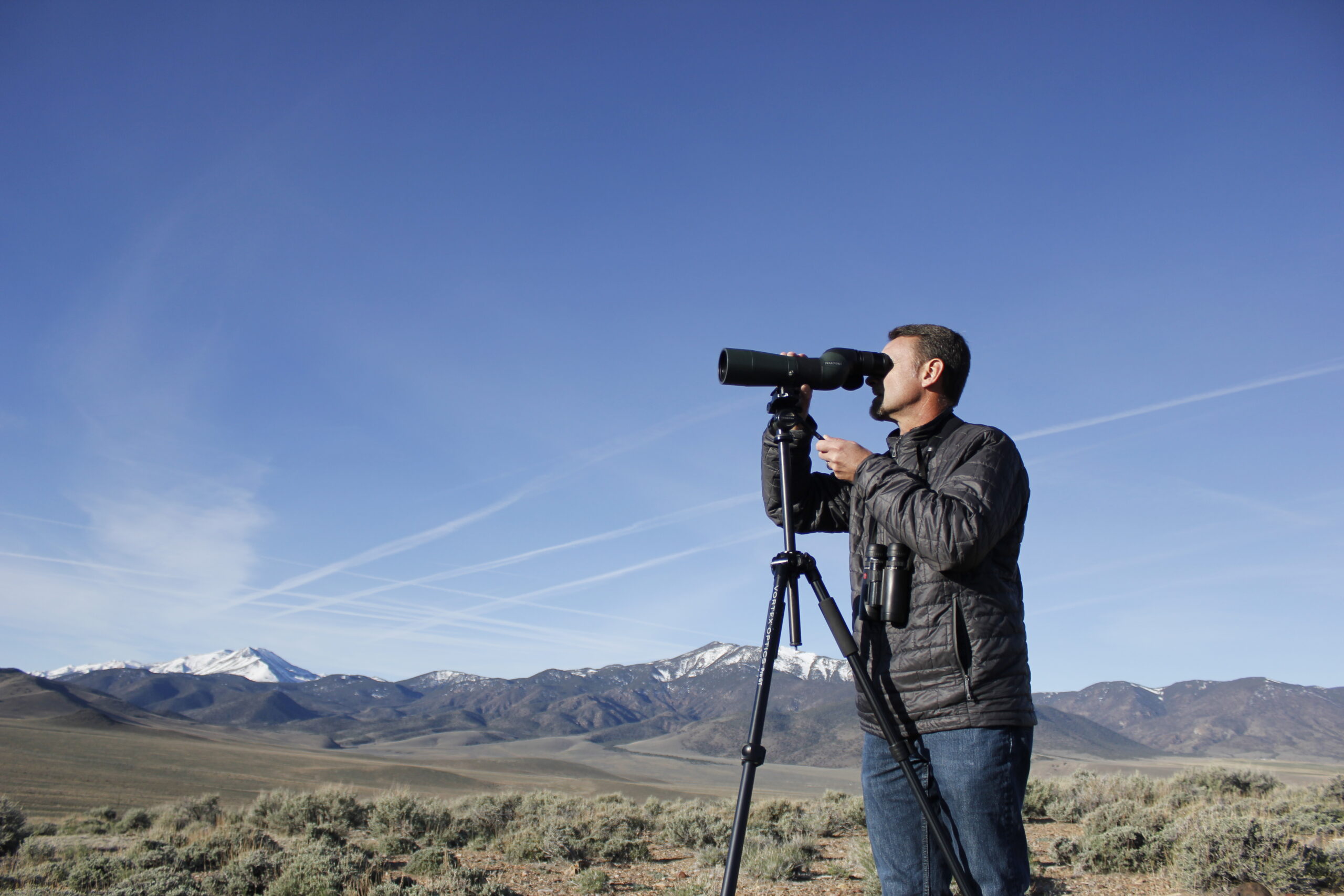 On a cool April morning, Nevada Department of Wildlife biologist Shawn Espinoza peers out of his binoculars, tablet in hand. He can already hear what he is looking for. A popping sound, like a muffled gurgle, echoes out from the sagebrush. Eighty yards away, the naked eye — squinting — can almost see the birds strut.
As Espinoza listens to the unique mating ritual of sage grouse, he counts about 15 birds and notes it on the tablet as part of a seasonal mating survey to assess the bird's condition. The birds produce the idiosyncratic sound by inflating two yellow air sacs. Historic accounts suggest sage grouse were abundant in the early days of the West. Today the birds are in trouble.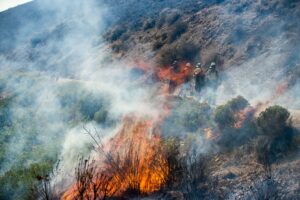 Researchers say its habitat across the West is being squeezed by land disturbances, from intense wildfire to energy development, transmission lines, wild horses and invasive plants.
When asked to characterize the status of sage grouse in Nevada, Espinoza said "declining."
"And habitat is certainly in jeopardy," he added.
The Greater sage-grouse, a stately bird that struts its elaborate 180-degree fan under the cover of sagebrush in 11 Western states, has come to symbolize the complicated tensions between development and conservation on public land in Nevada and across the West. For more than a decade, groups have petitioned the federal government to list the bird under the Endangered Species Act. But a listing is controversial. Western governors have argued such a move could splinter rural economies, halt development and, in some places, hinder conservation efforts.
The threats to the sage grouse vary across its expansive, yet shrunken, range.
In the Eastern part of the range including in Wyoming and Colorado, oil and gas development poses a major threat to the bird. Out West in the Great Basin, the geologic province that most of Nevada occupies, the biggest threat is fire. More than two million acres of Nevada have burned in the last two years. And when fire strikes, it often re-colors the landscape from pale-green sagebrush to golden flammable cheatgrass, an invasive plant that overtakes the natural habitat, intensifies the fire cycle and poses a direct threat to native species. Habitat loss has made it harder for sage grouse, which are fidelic to their mating grounds known as "leks," to survive.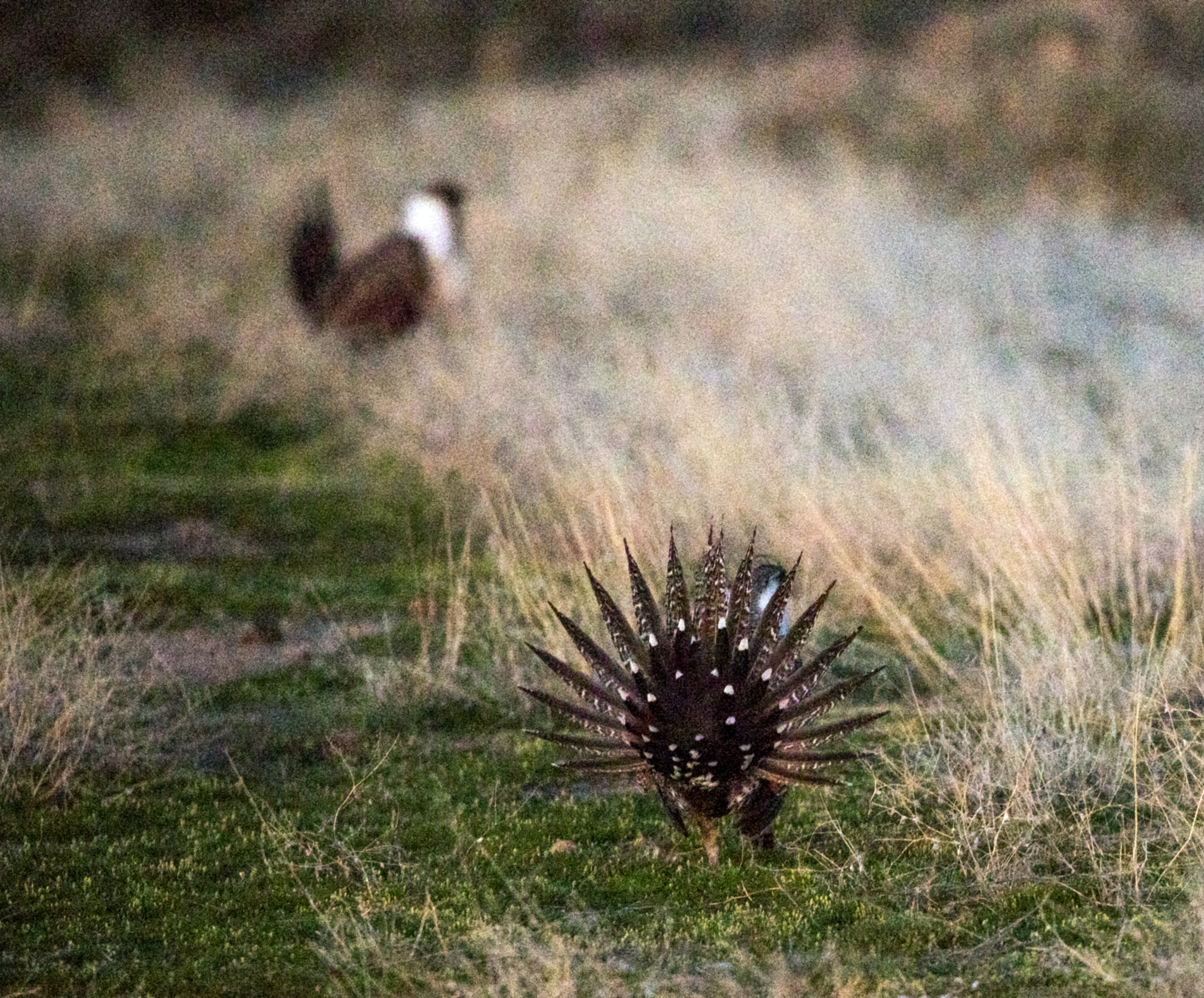 "If you look at the general picture: We've had this massive amount of fire over the last couple of decades," said Jim Sedinger, a UNR biologist researching sage grouse. "It's certainly occurring at a rate that the management agencies can't keep up with. The combined amount that the agencies have to put toward these fires is I think about 10 percent of what would be needed."
In the past 20 years, Espinoza said fire has burned about 27 percent of the bird's habitat in Nevada. The more extreme fire regime can be frustrating for wildlife biologists. A single wildfire can wipe out years of conservation work, destroying hard-fought projects across the range. 
"It's absolutely devastating, particularly when it happens in basically a 30-day period," Espinoza said, driving a new Tacoma back to Reno after surveying five leks in Western Nevada. "When you burn a million acres of some of the best sage grouse habitat in the state, you feel helpless. You feel upset, and then, you start thinking about, 'Okay, how are we going to deal with this?'"
The grouse mating near the Sweetwater Mountains in Lyon County on the cool morning in April are known as bi-state sage-grouse. As a population, they are genetically distinct from Greater sage-grouse, which strut across a much larger range. Because of that, they are subject to a different management plan, one that Espinoza said has been funded, taken seriously by federal land managers and is "one of the more effective conservation plans" he has worked on.
Across the larger Greater sage-grouse range, though, he said more work could be done.
"We're certainly lacking in funding and resources to be able to do what needs to be done with current personnel and financial resources," Espinoza said. "So from that perspective, it needs to be taken more seriously, and I think that we need to establish some areas across the range that are basically conserved for grouse and other sagebrush obligate species."
Researchers said land managers should direct more attention to fire management, though the topic is often controversial. There is a debate over where to direct resources — on fighting fire or preventing it — and how to coordinate the government's multi-agency response. Nevada lawmakers convened a working group earlier this year focused on tackling the issue.
"Fires are just too large right now," said Peter Coates, a wildlife biologist for the U.S. Geological Survey. "We're experiencing more megafires."
In a 2016 paper, Coates found that the current wildfire cycle, if unabated, would decrease sage grouse populations by about 50 percent in the next 30 years. What's more, the paper found that even in wet years that should help boost sage grouse populations, the negative effects of fire can negate the positive effects of precipitation. Fires become an overpowering force.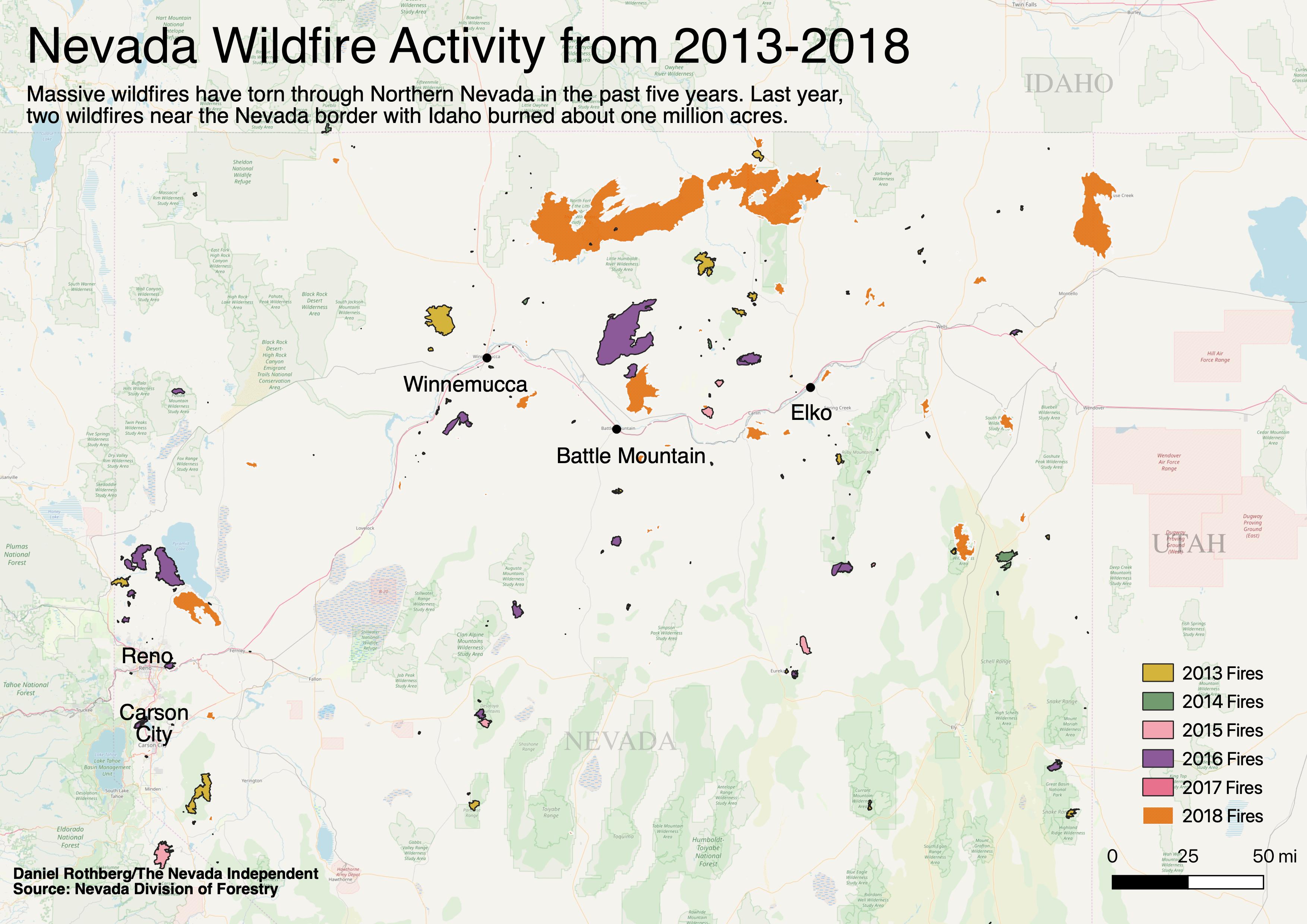 He said that, on average, his team was "seeing larger fires, hotter fires and more fires. Areas that have been burned are being re-burned. It is, in the Great Basin, the largest driving factor for the loss of sagebrush."
As an upland game biologist for the state, Espinoza has witnessed the changes to sage grouse populations firsthand. He estimates he has surveyed about 200 of the state's roughly 500 known leks. The term "lek" comes from the Swedish word for play. Although the chest-puffing lek ritual often appears playful, even human, male sage grouse are known to get into nasty fights with each other on the lek. Espinoza has witnessed them, and they're well-documented on YouTube.
More importantly, the lek survey is an important measure of sage-grouse health. And the health of sage-grouse, Espinoza explains, reflects the health of the Great Basin's sagebrush sea, the main ecosystem in most of Nevada, supporting wildlife, hunting and recreation. That's why Espinoza and other wildlife biologists refer to the sage grouse as an "indicator" species. To survive, grouse need a mix of healthy meadows, sagebrush and springs for their life cycle.
After Espinoza counts how many grouse he sees through his binoculars, he records the count on a tablet and checks again. Everything is computerized. The survey is one of the key metrics to track population trends. And in Nevada, average lek attendance has declined over the past two years from 24.3 grouse per lek to 16.6, though it has recovered from lower points before.
"It's not the greatest metric in the world, but it is probably the best information we have in order to determine trend," he says. "It doesn't really tell us much in terms of population size per se, unless it's coupled with many other factors. But because it's had such a long-term history and we've gotten better at it over time, it can certainly tell us which way populations are trending."
In 2015, the Obama administration agreed to drop a finding that the bird should be listed under the Endangered Species Act if the states agreed to conservation measures. It was a bipartisan approach that signaled a preference for bringing back grouse populations through a voluntary, collaborative process. President Donald Trump's administration has removed sweeping habitat protections in the original plans, which faced opposition from the oil and gas industry.
The plans still have some bipartisan buy-in, even if there is wariness from conservationists. Gov. Steve Sisolak said he supported the revised plans because it included a carve-out for the state to pursue a program requiring industry to offset impact on public land by paying for mitigation.
The decision of whether the bird is listed could very well be a political one. Under the 2015 agreement, federal wildlife managers are scheduled to start revisiting a possible listing next year. Already, the federal government is reconsidering the status of bi-state sage grouse after a judge ruled last month that the Obama administration acted illegally when it deferred a listing in 2015.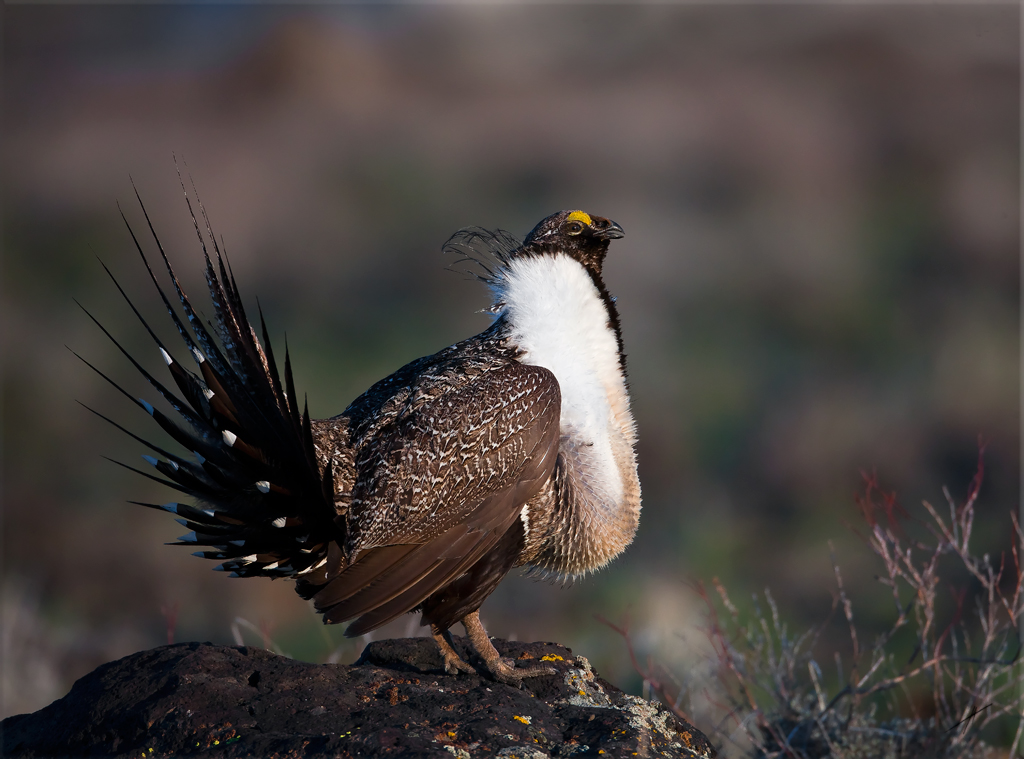 Since then, the health of the bird has varied across the range. Although Coates said he has seen declines in the population, the health of the bird often cycles depending on climatic conditions. In wet years, grouse populations tend to recover. In dry years, population numbers tend to decrease. Periods of prolonged drought have made it more difficult for sage grouse to recover. Still, grouse populations also vary significantly across different parts of the range.
"When we look at the longer-term trend, we've seen a general stabilization when you look across geographic ranges," said Christian Hagen, a researcher at Oregon State University who has studied sage grouse populations by Nevada's northern border. "But within those geographic ranges, there are more local populations that are exhibiting trends that are concerning."
Hagen argues it's still too early to tell whether the 2015 plans are working. Habitat restoration, especially in areas with concentrated invasive species growth, is difficult and can take years. In addition, sage grouse live for about six years and are stubborn about adopting new habitat.
"What we have to continually remind people is we are not building duck ponds for ducks," Hagen said, noting how little precipitation the Great Basin gets, even in good years. "Most of our actions are going to take a long time to manifest themselves."
"We just have to keep reminding people of that," he added.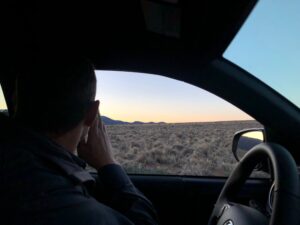 Espinoza said that conservation of the bird — and its habitat — is not only a rural issue, even though it's often framed that way. It should matter to everyone who uses the public land that makes up more than 85 percent of Nevada. The issue is about what the landscape should look like.
And it's a question more and more Americans are being forced to grapple with as more pressure is placed on wildlife with land disturbance from extreme wildfire, energy development and more transmission lines, which serve as artificial perches for predators, such as ravens, to easily pounce on prey.
"It's an indicator species of how healthy the habitat is," Espinoza said after the survey. "If people in America think of their public lands like they might think of their backyard and take ownership of it — they want their backyard to be tidy. The alternative to that is to have a backyard full of weeds and junk. We owe it to our public lands to take care of it for future generations."
For more environmental news, you can sign-up for our weekly newsletter here.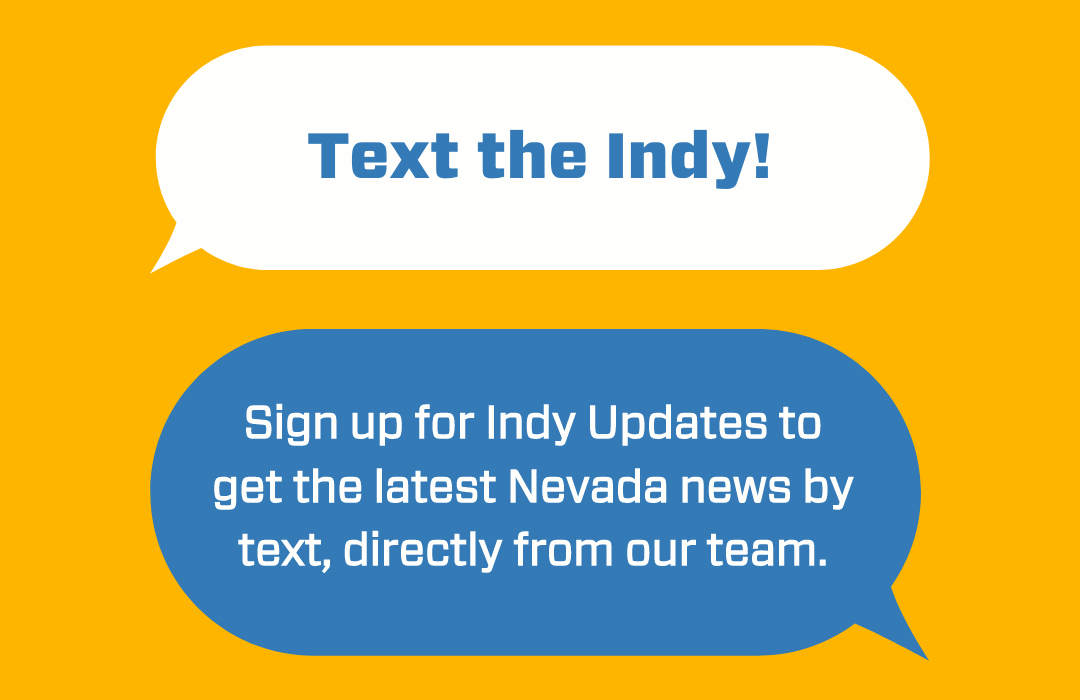 Featured Videos