Feds cut Colorado River water allocations. What does it mean for Nevada?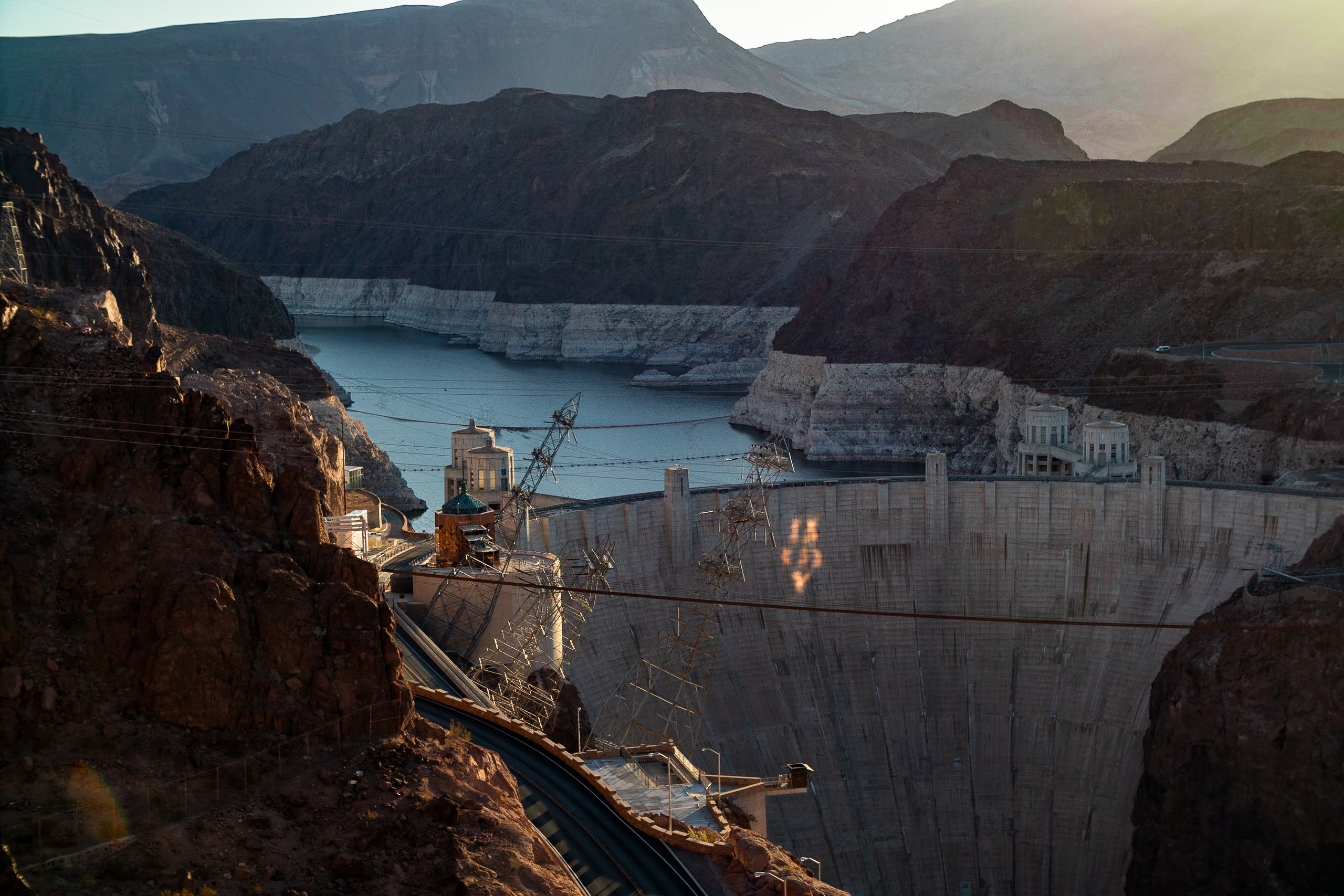 Facing critically low water levels at two large reservoirs and an extreme drought in the West, federal water managers announced Tuesday that Nevada, Arizona and Mexico will have less water to use in 2023.
Those cuts are not likely to affect water use in Nevada in the short term. But Colorado River users, working under a federally imposed deadline set in June to negotiate unprecedented water reductions, failed to agree on new, additional cuts by Tuesday needed to preserve the stability of the region's water system.
With no agreement in place, federal officials said on Tuesday they were starting the process of figuring out next steps. They emphasized the need for states to bring forward voluntary solutions and did not say whether their next steps would include mandating cuts from each of the states.
In June, Camille Calimlim Touton, who leads the U.S. Bureau of Reclamation — the agency responsible for managing water infrastructure in the West — laid out an ultimatum for the seven states that depend on Colorado River water: Come up with major cuts, or the federal government will impose the cuts itself.
Those cuts are necessary to protect water levels at the largest Colorado River reservoirs — Lake Mead and Lake Powell, both of which have hit record-low levels in the past year and have continued to drop amid the region's "megadrought," which began in 2000. Under the Colorado River compact, states, tribes and Mexico are collectively entitled to more water annually than what has actually flowed through the river over the past two decades.
If those reservoirs continue to drop, it could severely hamper the production of hydroelectric power and deliveries of water to residents and farmers in the Southwest.
In June, Touton highlighted "unprecedented" drought and climate conditions in the region, and said those seven states — Nevada, California and Arizona in the lower river basin and Wyoming, Colorado, Utah and New Mexico in the upper basin — must come up with a plan to reduce annual use by ​​2 million to 4 million acre-feet.
One acre-foot is enough water to fill one acre, about the size of a football field, to a depth of one foot. It is 325,851 gallons of water and weighs about 2.7 million pounds.
Those states did not come to an agreement on new reductions by Tuesday, but the newly announced cuts in water use for Nevada, Arizona and Mexico follow the bureau's release of new projections for water levels at the reservoirs over the next two years.
The bureau forecasts that for the first time, Lake Mead will operate in a Tier 2 shortage condition starting in 2023. Under existing Colorado River agreements, that condition means starting next year, Nevada will have its water allotment cut by 25,000 acre-feet (8 percent). Arizona faces steeper cuts at 592,000 acre-feet (21 percent) of its annual apportionment.
Nevada, for years, has had the legal right to consume 300,000 acre-feet per year, less than 2 percent of all the legal entitlements in the Colorado River system. Last year, the state's consumption was 242,000 acre-feet, and this year the state is on track to use about 240,000 acre-feet, John Entsminger, general manager of the Southern Nevada Water Authority, said in an interview Tuesday.
That puts Nevada's usage below the 275,000 acre-feet the state will have to draw from next year following the cuts.
"At least in the near term, we're in a relatively enviable position," Entsminger said in a press release on Tuesday.
Inaction on greater water use reductions
Since Touton issued the ultimatum roughly two months ago, the seven states have been in negotiations to reduce use, with representatives from each meeting as recently as last week in Denver. But those discussions have not yielded an agreement.
The failure to act triggered a scathing review from Entsminger, who in an open letter to the bureau and the U.S. Department of the Interior, criticized the lack of progress made in Colorado River negotiations.
"Sixty-two days ago, Commissioner Touton and I sat side by side in the United States Senate and conveyed to the world that the Colorado River is on the brink of a crisis," he wrote in the letter on Monday. "Through our collective inaction, the federal government, the basin states and every water user on the Colorado River is complicit in allowing this situation to reach this point."
With no plans for additional cuts in place, Gov. Steve Sisolak called for additional action to conserve water use.
"We all need to do more," he said at the Lake Tahoe Summit on Tuesday. "Whatever you're doing, now isn't time to point fingers, now's the time to do a little bit more than we were doing to protect our environment and protect that lake and that water and the Colorado River."
The upper basin states have rolled out a five-point plan for conserving water, but a top water policy official in Colorado last week placed the onus of cutting use on the lower basin states, KUNC reported. That argument has largely been echoed by the entire group of upper basin states.
But Arizona officials, too, have taken issue with the lack of progress. In a statement released Tuesday, the state's top water managers said "Arizona and Nevada put forward an aggressive proposal that would achieve 2 [million acre-feet] of reductions among the Lower Basin and Mexico in 2023 and beyond."
"That proposal was rejected," they said. "It is unacceptable for Arizona to continue to carry a disproportionate burden of reductions for the benefit of others who have not contributed."
On Tuesday, federal officials with the bureau and Department of the Interior did not identify what action they might take to force cuts on Colorado River users, instead saying that Tuesday was the start of a process to push for those changes.
"The risks that we see to the system [are] based on the best available science that we've seen, and those risks have not changed," Touton said. "So today we're starting the process, and more information will follow as far as the actions we'll take in that process."
Entsminger took issue with that lack of action, noting that massive cuts — 2 million acre-feet — are "going to be required to stabilize this river system."
"I was certainly hoping for more specificity in terms of what they would do in the absence of an agreement by the states, but they were pretty vague," Entsminger said.
But Jennifer Pitt, Colorado River program director with the conservation group Audubon, said in an interview Tuesday that she was reassured by the federal government's response, knowing that those officials will step in if the states fail to come up with their own agreement.
"I believe that the states and the federal government all understand the seriousness of the situation," she said. "They have had to make agreements about shortages in the past, but never at this scale. This is completely unprecedented."
Though federal officials did not announce specific action to take greater cuts, such reductions will likely involve all seven Colorado Basin states as well as tribes living in the region and Mexico. They will likely also mean cuts for large agricultural districts in Arizona and California.
With no specific path forward for major reductions, Pitt added that questions remain about how those cuts will leave water levels at the large reservoirs.
"Does it leave them lower than they are today? That would be dangerous. Does it leave them where they are today? That would be we're just in a holding pattern," she said. "Or are we beginning to move toward a more reliable water supply?"
Despite the lack of agreement between Colorado River users, Entsminger, in his letter, highlighted the steps Southern Nevada has taken to reduce use, primarily through recycling indoor water and aggressive water conservation measures. He noted that the region has reduced its consumptive use of the river by 26 percent, while the population of the Las Vegas Valley grew by more than 750,000 people since 2002.
Entsminger recommended several measures for federal officials to consider for reducing use, including investing in water recycling projects and creating a grass reduction program for all Colorado River users.
On Tuesday, federal officials highlighted recent legislation to help with drought conditions in the region, pointing to $8.3 billion from the federal infrastructure package to address water and drought challenges and $4 billion from the Inflation Reduction Act for water management and conservation efforts in the Colorado River Basin and other drought-stricken areas.
Pitt noted that some of those funds can be used for environmental restoration, and she called attention to several areas of the basin threatened by declining water levels, including the Salton Sea in California, where a receding shoreline is exposing local communities to toxic fumes.
"We need to get busy using that funding to begin to adapt as the river's flows are declining," she said.
For residents in the Las Vegas Valley, Entsminger said it is crucial for them to follow the water authority's mandatory watering restrictions. Outdoor water consumption accounts for about 60 percent of Southern Nevada's overall water use.
He also urged residents to consider removing grass from their homes or businesses to help reduce use.
"It is imperative that our community continues to be aggressive in conservation because now is clearly no time to be resting on our laurels," he said.
Update: 8/16/22 at 3:22 p.m. - This story has been updated to include additional comments from Gov. Steve Sisolak and Jennifer Pitt.
Carly Sauvageau contributed to this story.
The Nevada Independent is raising $200,000 by Dec. 31 to support coverage of the 2024 election.
Tax-deductible donations from readers like you fund this critical work.
If you give today,your donation will be matched dollar-for-dollar.
Give + Get Matched
Featured Videos