An orphan one year old Labrador Retriever mix at The Animal Foundation on Monday, Jan. 27, 2020. (Jeff Scheid/The Nevada Independent)
Five years after Las Vegas shelter sets 'zero euthanasia' goal, success is within sight
Dream, a five year-old cat with long black and rust-colored fur, perks up to greet visitors who approach her "condo" at The Animal Foundation, the primary hub for sheltering Southern Nevada's lost and homeless pets.
The condos include at least two compartments for each cat — one for sleeping and eating and one for its litter box. It's part of an effort to meet or exceed the Standards of Care outlined by the Association of Shelter Veterinarians, the authority in the shelter medicine industry. The foundation is one of the few shelters in the country to meet or exceed all of those "appropriately strict" standards, Chief Operating Officer Carly Scholten said during a tour of the foundation's 8-acre campus in Las Vegas.
By the end of the year, the organization aims to hit another standard that has been five years in the works — reaching "zero euthanasia" by the end of 2020.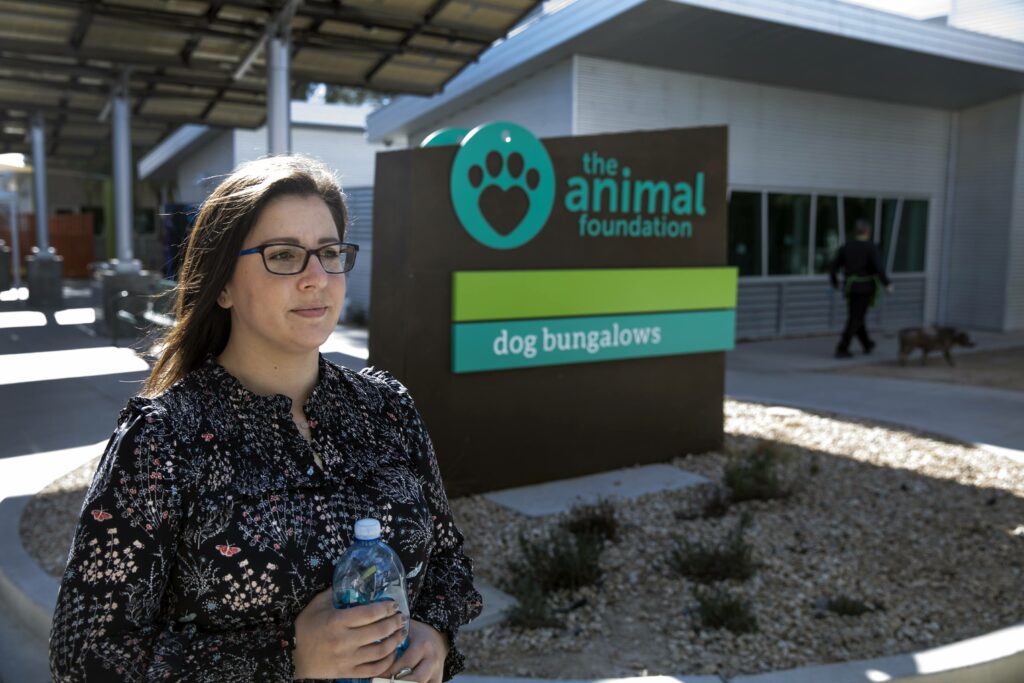 Partly prompted by animal welfare advocates, the zero-euthanasia mission launched in 2015, a year in which the foundation euthanized about 9,400 cats and dogs. Last year, it euthanized 2,800, less than one-third of the annual population that was euthanized five years ago.
Rather than using common "no-kill" terminology, a designation where the shelter must reach a benchmark of saving 90 percent of its animals, foundation staff say that their goal is not so much about meeting a percentage but more importantly about saving every healthy and treatable animal that comes into their care and euthanizing only as a last resort.
"[A Live Release rate of] 90 percent was a number we first set in our Mission Possible: 2020 goal because it was a measurable way to show progress toward that goal," Scholten said, explaining a metric commonly used in animal welfare.
The Live Release rate is the number of all pets that are adopted, rescued, transferred to another shelter, reclaimed by owners after being lost or, for cats, placed in programs for free-roaming cats. In January, the foundation's rate for cats and dogs was just 2 percent away from that goal.
CEO Christine Robinson says that the foundation has made "substantial headway" in bringing its intake numbers down from about 50,000 a year when she joined the foundation in 2007, to about two-thirds of that volume. Having fewer animals allows the foundation to provide a higher level of care for those that they do have.
The foundation contracts with the cities of Las Vegas and North Las Vegas and with Clark County, and sometimes has to take in animals that are incurably suffering or are dangerous to people, in which case euthanasia is the only humane option.
"We know there is always going to be a certain percentage of incoming animals that we cannot responsibly save or place in homes," Scholten said. "There will always be a need for euthanasia in any community."
If they meet their goal, more partnership and fundraising opportunities would open up, which Robinson says will help the foundation care for the larger "animal community" in Southern Nevada, not just those who come through the foundation's doors.
The foundation also renovated the Lied animal shelter and opened the Engelstad adoption center last year, giving staff and hundreds of volunteers more space to refine their processes of caring for lost and homeless animals.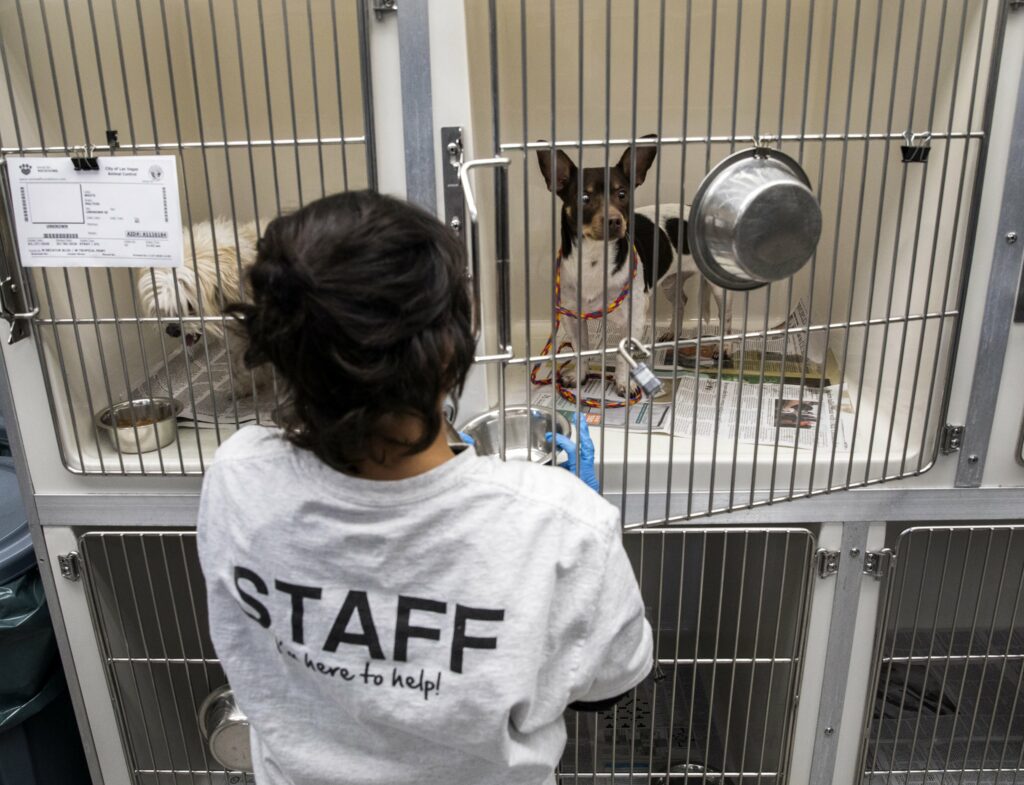 Decreasing euthanasia by increasing positive placements
On a typical day, the foundation's 185-member staff and team of more than 1,000 volunteers care for 800 to 1,000 animals. Since 2015, the organization has taken in an average of 30,000 animals per year.
The Animal Foundation is usually the first place that lost, stray or otherwise homeless animals are brought. Sometimes, though, bringing them in is not in the animal's best interest.
"For so long, across the country, we've trained the community that the best thing they can do is to bring them to the animal shelter," Scholten said. "But without the option to put them back, we had very few opportunities to save their lives. And for many of them, placing them through a typical shelter system is not what's best for them."
Staff estimate that 25 to 30 percent of lost dogs who come to the foundation end up being reclaimed by their owners, but only about 4 percent of lost cats have the same result. This may be largely because of the free-roaming nature of domestic cats, where owners might not notice their cat is gone until it already has been in a shelter for 72 hours and possibly moved onto adoption.
The foundation has focused on educating the public — about not bringing all feral cats in, for example — to address bottlenecks in intakes.
Local laws have helped with community awareness too, by eliminating the requirement for shelters to hold stray cats for 72 hours. The hold provides a window of opportunity for lost animals to be reclaimed and creates a buffer for a potentially sick, contagious animal to be weeded out before it can mix with the population in the adoption center.
In 2015, the City of Las Vegas and Clark County adopted laws that eliminated the 72-hour hold requirement for cats positively identified as strays, allowing for the foundation to perform Trap Neuter Return and better control cat colony populations. Rather than euthanize unowned cats, the foundation vaccinates, sterilizes and "ear tips" cats (cuts a corner of their ears) to indicate that they have been through the process.
In 2016, the year that local laws allowing Trap Neuter Return went into effect, the foundation decreased overall cat euthanaisias by 52 percent and increased cat spay and neuter surgeries five-fold — from 355 cats in 2015 to about 2,000 in 2016.
In addition to releasing cats back into urban and suburban communities, cats that are more independent-minded may be microchipped and hired for "mouse keeping" in warehouses, barns, plant nurseries and churches, free of an adoption fee. The program provides yet another way to increase the foundation's Live Release rate for all healthy cats, not just the ones that can be adopted.
Upon intake, dogs are vaccinated, dewormed, photographed, scanned for a microchip and undergo a "triage exam" to check for medical issues. After the 72-hour hold, unclaimed and unidentified dogs are groomed and, per local laws, spayed and neutered if they are older than 4 months.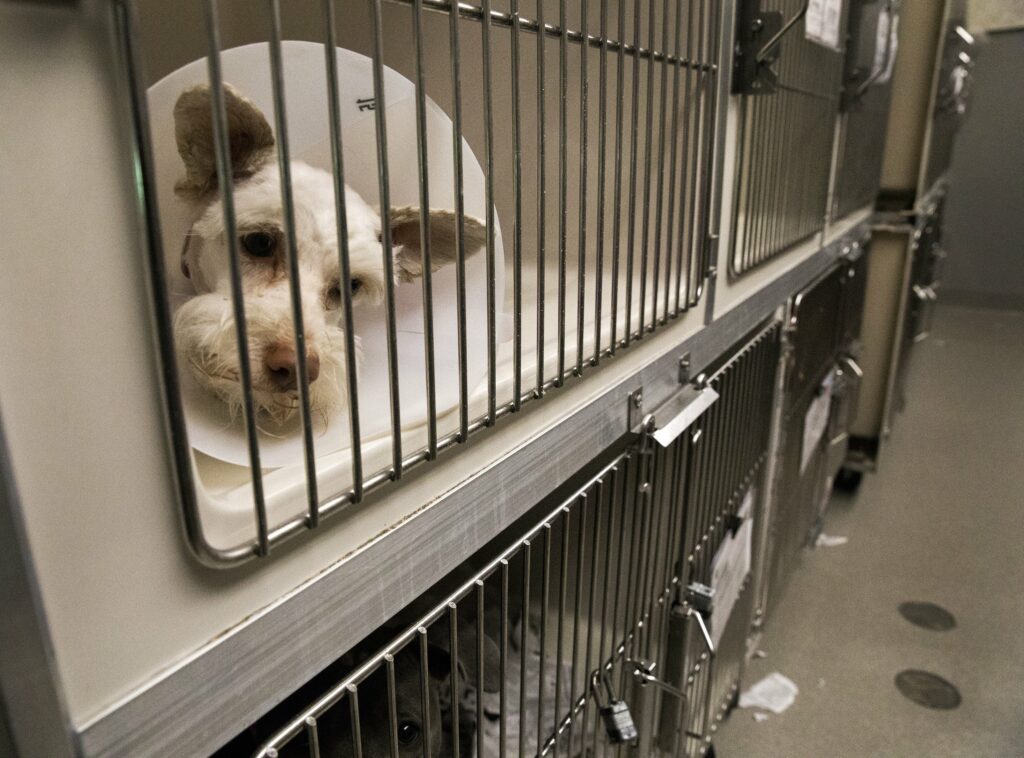 "All of that information we gather plays into how they move through our system," Scholten said, adding that the majority of animals they get are friendly, do not have medical issues and can be moved to adoption relatively quickly.
In January, the foundation's Lied Animal Shelter had about 100 stray or lost cats and 200 dogs in holding rooms, where the animals stay while waiting to be claimed or moved into the adoption process.
Skylights in dog holding rooms give a sense of what time of day it is, allowing the dogs to maintain natural sleep cycles while confined to a four-by-six kennel during their legal hold. After vaccinations and required surgeries, the foundation has 264 dog adoption kennels or "bungalows," each outfitted with its own doggie door, allowing the dogs to go outside to do their business and to socialize in a group housing setting.
Members of the public are allowed to walk through the bungalows to look for lost pets, and may ask volunteers to take dogs and cats (housed separately) out of their kennels for a "test play" to see whether they get along with their new family — a big decision barrier for those who are thinking about adopting a new pet or who have other pets at home, but are unsure about throwing a new personality into the mix.
Like cats, dogs have personal and professional development opportunities while staying at the adoption center. Volunteers take dogs out of their kennel areas for "play group" where they can socialize and be stimulated.
Some dogs receive training to ease their transition to new homes, and some may go on to become certified by the American Kennel Club as Canine Good Citizens, which is the first step to becoming an accomplished therapy dog.
Eight full-time veterinarians are at the shelter on any given day to perform shelter medicine for the animals staying there and for those from the foundation's foster programs that come in for regular check-ups. There also is a groomer on staff to clean the animals up before surgery, making them less likely to get infections and more likely to get adopted as they wait to heal.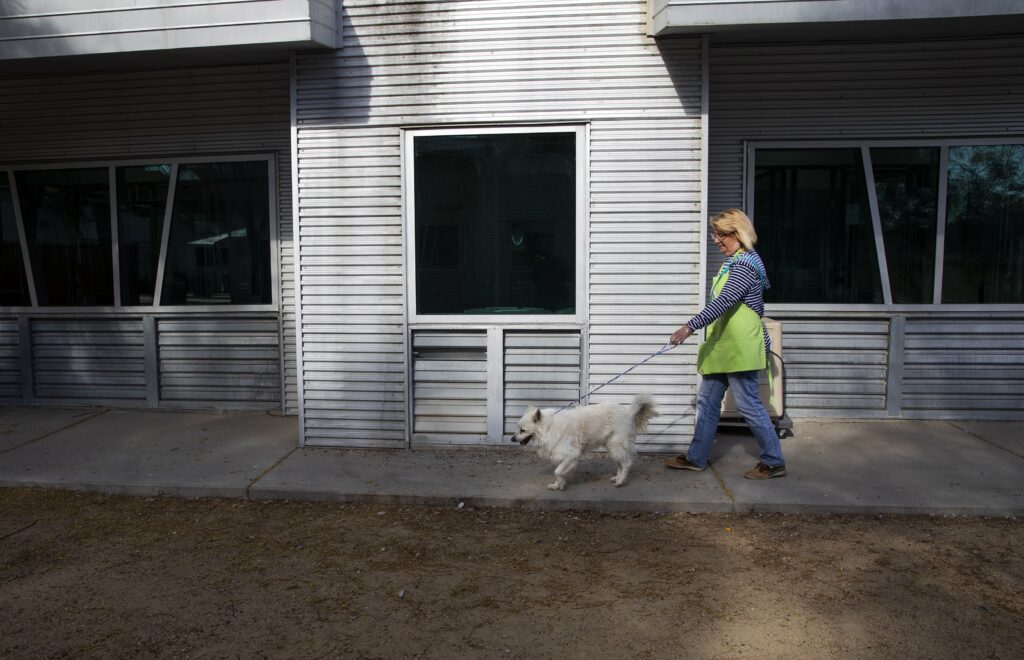 Engaging the community
The Animal Foundation has provided animal sheltering and care services for the City of Las Vegas since 1995 and for Clark County and North Las Vegas since 2005.
Robinson says that this year, the organization will get $4.7 million in local government funding to carry out the contracts with its government partners. To cover its $12.4 million operating budget for 2020, the foundation will make up the difference with service fees and fundraising.
The foundation's low-cost vet clinic offers spaying and neutering starting at $35 for small cats up to $150 for dogs weighing more than 80 pounds, as well as affordable vaccination and microchipping services. For decades, microchipping has been an industry best practice that allows owners to register their pet with a database that shelters use to help owners reclaim lost pets, and its use helps improve the Live Release rate.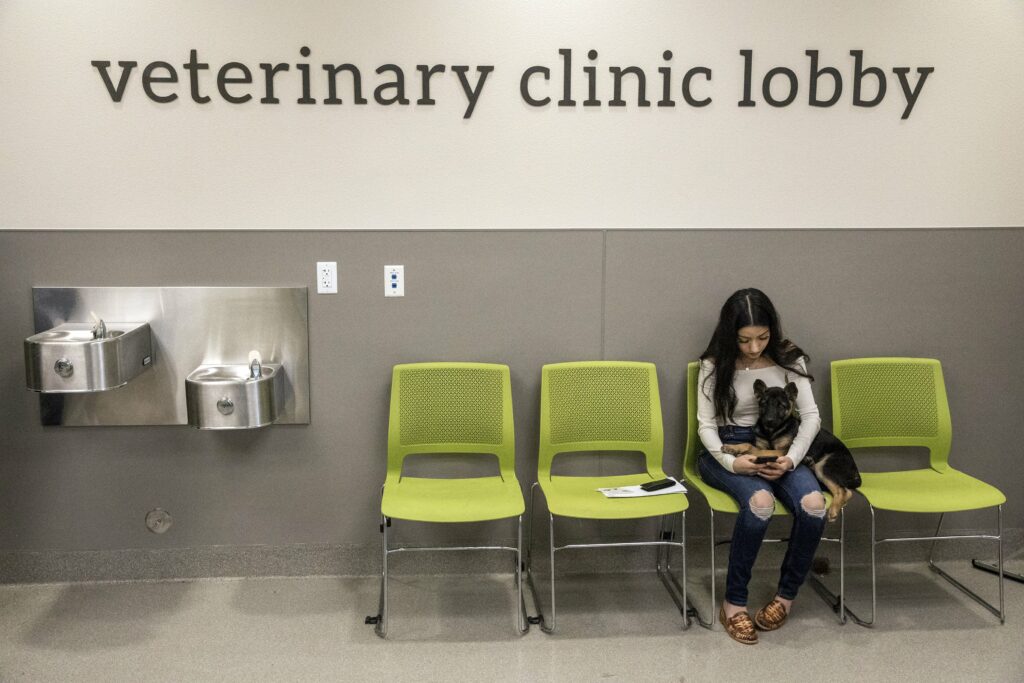 Adoption fees range from $5 for a hamster, rat or gerbil, to $25 for adult cats to $200 for puppies. Staff say that they want potential adopters to feel comfortable coming in and making a long-term commitment to adopt, so returns are allowed.
"There's returns all the time, and that's OK … We want to make sure that we get it right not just for the animal, but for the people as well," Scholten said, adding that animals who are returned, still benefit from an outing outside of the shelter.
Robinson says that breaking down barriers to making the decision to adopt also ensures responsible purchasing and a healthier animal community.
"People [who want a pet] are going to get an animal one way or another, so we'd just prefer they get them from us, already sterilized and vaccinated," Robinson said. "We want to make sure that the community is populated with behaviourally and medically healthy animals."
About 1,800 pet foster parents help keep the volume of animals down in the adoption center down by housing them temporarily. Since the launch of refined foster programs in 2018, more than 1,300 new parents have signed up to help get the animals off campus for destress, to act as "ambassadors" to help the pet get adopted, and some even adopt their fosters after a "test run" of fostering them. The foundation saw more than 4,000 animals enter foster care in 2019, a 54 percent increase compared to the previous year.
To keep intakes low, the foundation also runs a "surrender intervention program" to address common causes of owners surrendering their pet. This entails support such as food and medical assistance or training to help with behavioral problems.
"The most common reason people need to surrender a pet is that they don't have a place to live where their pet can go with them," Scholten said.
According to staff, the intervention program served more than 4,000 families last year and allowed 80 percent of them to keep their pets where they otherwise might have given them to the shelter.
Overall, the formula for reaching zero euthanasia of healthy and saveable animals is simple: maintain a manageable, healthy intake volume while increasing opportunities to move animals out.
As the foundation refines its operations to accommodate even the most complicated cases, community outreach can help with variables that can contribute to high intake volumes, such as bringing in feral cats. Staff say that educating and getting the public to engage in Trap Neuter Return, clinic services and foster and other volunteer opportunities have been key to helping the foundation so far, and will be essential as it inches toward its final goal this year.
"We're very close already," Scholten said. "The last little bit will certainly be more challenging, because the closer we get to the goal, the more complicated the cases are for animals that are not finding positive placement easily."
This story was updated at on Sunday at 12:36 p.m. to clarify The Animal Foundation's goal to save every healthy and treatable animal, and on Monday at 8:53 a.m. to correct The Animal Foundation's contract is with Clark County and not with Clark County animal control.
Stories
Candidate Trackers
Endorsements, Ads, Policies, Visits
& More
visit now
Comment Policy (updated 10/4/19): Please keep your comments civil. We reserve the right to delete comments or ban users who engage in personal attacks, use an excess of profanity, make verifiably false statements or are otherwise nasty.