For Nevada's snowpack (and its water supply), March was a 'miracle-ish'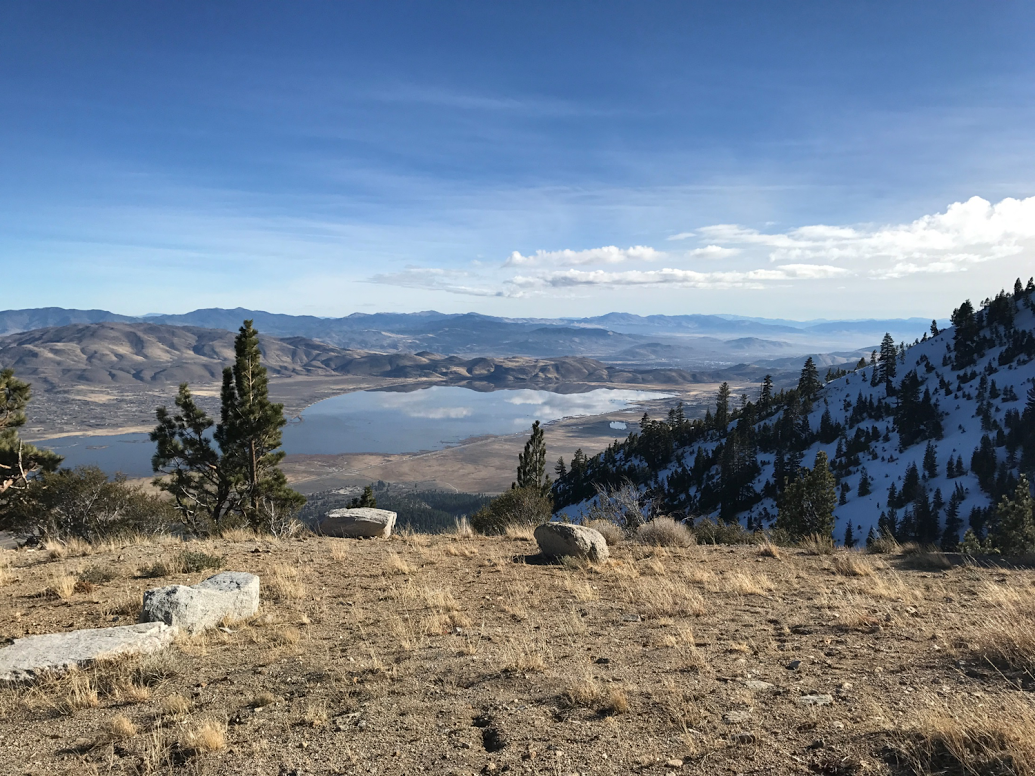 When it comes to water, Mother Nature is picking favorites in the North-South rivalry.
Nevada water managers have closely watched the snow for months to determine how much water would be available as runoff for drinking and farming in a dry year for much of the lower Western states. For most of the season, the snowpack, from Tahoe to the Rockies, the source of almost all of Las Vegas' water, was well below average. Since snowpack typically peaks around April, the dynamic set up March as a make-or-break month for water supply.
Water managers hoped for a turnaround similar to a "Miracle March" in 1991 that brought so much late-season snow it ended a massive California drought. This year, what Mother Nature brought water managers depended on what part of the state they were watching.
With cold snowstorms through March, the water picture around Tahoe and many parts of Northwest Nevada improved considerably, enough that some hydrologists have been calling it a "Miracle March." From Tahoe to the Great Basin in Eastern Nevada, snowpack started the month of March near historical lows and ended the month closer to the average.
That said, the results, even in Northern Nevada, were varied. There are still many basins, especially outside of the Reno-Tahoe area, with snowpacks that remain well below average. Still, 2018 could have been much worse, said Jeff Anderson, who surveys Northern Nevada snow for the U.S. Department of Agriculture's Natural Resources Conservation Services.
"We're in a better position than we were a month ago," he said.
Southern Nevada and the Southwest were not as lucky.
Not only did the region, at the edge of the Colorado River Basin, remain abnormally dry but with only a few exceptions, little snow fell on much of the basin.
That means less water in the Colorado River, according to forecasts, and in the coming years, potentially less water in Lake Mead, which stores river water for Nevada, Arizona and California. Even as the three states negotiate a drought plan, 2018 and another dry year following it could accelerate when the reservoir tips into a shortage.
Winter came in the North (especially in Tahoe)
When Anderson talked to the Nevada Independent in January, he described the snowpack as "grim." The situation did not change quickly. The snowpack remained "grim" through March 1, with all of Northern Nevada's basin below 60 percent of the average. Things in Tahoe were even worse. The Tahoe basin was at 29 percent of average snowpack.

Water Supply Outlook Report/NRCS
By the end of March, things had improved, especially for the basins around Tahoe. In fact, many of these basins saw significant increases in snowpack in March — the Lake Tahoe, Truckee, Carson and Walker basins saw increases of more than 39 to 45 percent of snowpack.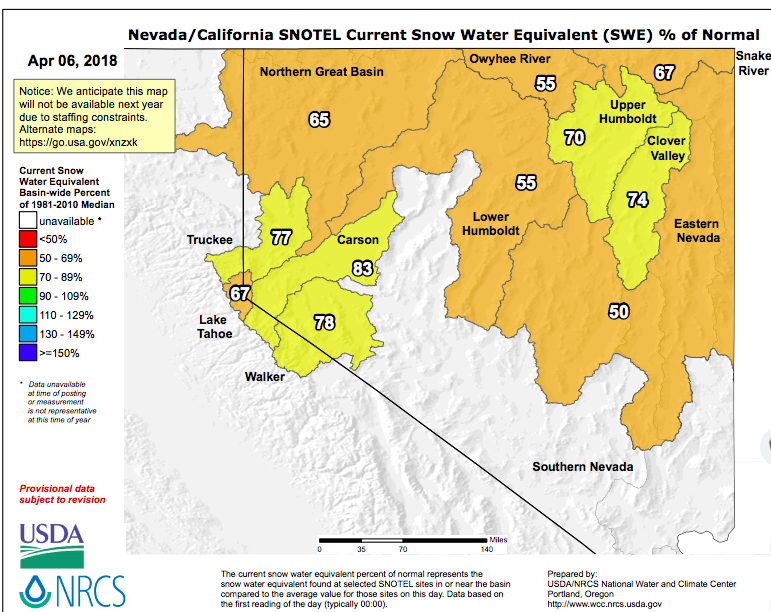 Water Supply Outlook Report/NRCS
"In the Sierra, 2018 joins 1991 as a true Miracle March," Anderson wrote in his Water Supply Outlook Report for April 1. "Both years were significantly below normal on March 1, and both years ended up far better by the end of the month… Other areas in Nevada increased by 11 to 20 percent from last month."
What does that mean for water supply?
The answer might seem counter-intuitive. But despite a dry year — snowpack remains lower than average in almost all of the basins — Nevada's short-term water outlook is solid for many users, Anderson said. Because last year was such a good hydrological year, ample water is stored in reservoirs throughout the state.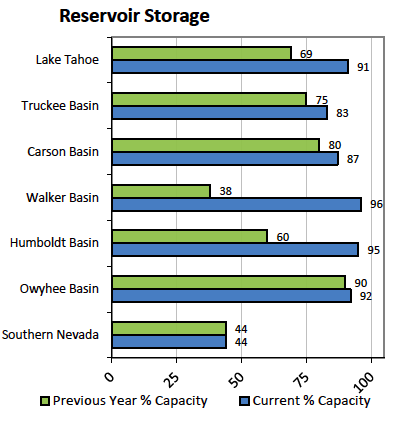 Water Supply Outlook Report/NRCS
The lower-than-average snowpack will have the most immediate effect on water users that are not connected to the reservoir and draw their water from streams. For instance, streamflow forecasts for the lower Humboldt River, according to Anderson's report, range from 35 to 55 percent below the average.
The key word is forecast. Nothing is set in stone. There could be more snow and other factors, such as rain falling on snow, could affect how much water ends up in streams.
And it's important to note, said Dan McEvoy, a climatologist at the Desert Research Institute and Western Regional Climate Center, that while there was recovery, 2018 was still a dry year.
He described 2018 as a "miracle-ish" year. Snowpack is still lower than average.
No miracle for Southern Nevada and the Colorado River Basin
"If we didn't have that March, the Northern Sierra and Northwest Nevada would look similar to how the Colorado looks right now," McEvoy said.
Despite the hopes of many water managers in the seven states served by the Colorado River, snowpack in the Colorado River Basin did not improve much in March. Flows into Lake Powell, the first large reservoir that captures and stores Colorado River runoff is expected to be 43 percent of the average, according to a federal forecast released April 4.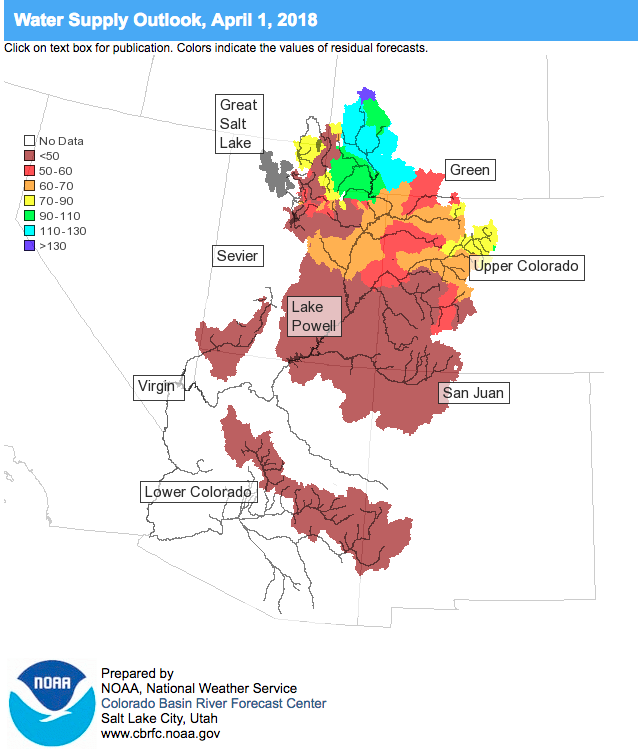 This continues a trend of below-average hydrological years for the Colorado River, which supplies water to about 40 million people, including most Las Vegas residents. As KUNC reported, the Lake Powell forecast would make it the sixth-lowest runoff ever recorded for the reservoir, which was completed in the 1960s.
Low runoff into Powell could further drive down the elevation of Lake Mead in the coming years. The amount of water that flows upstream from Lake Powell to Lake Mead is determined by a set of guidelines.
When there is low runoff into Lake Powell, federal water managers can reduce the amount of water that flows into Lake Mead, which would increase the likelihood of a shortage. Water managers across the West are still in the process of negotiating a difficult deal that would help stabilize Lake Mead, which runs at a deficit. Even in good hydrological years, more water leaves the lake than enters the lake. Nevada is ready to sign on, but the process is being slowed by internal conflicts within Arizona and California.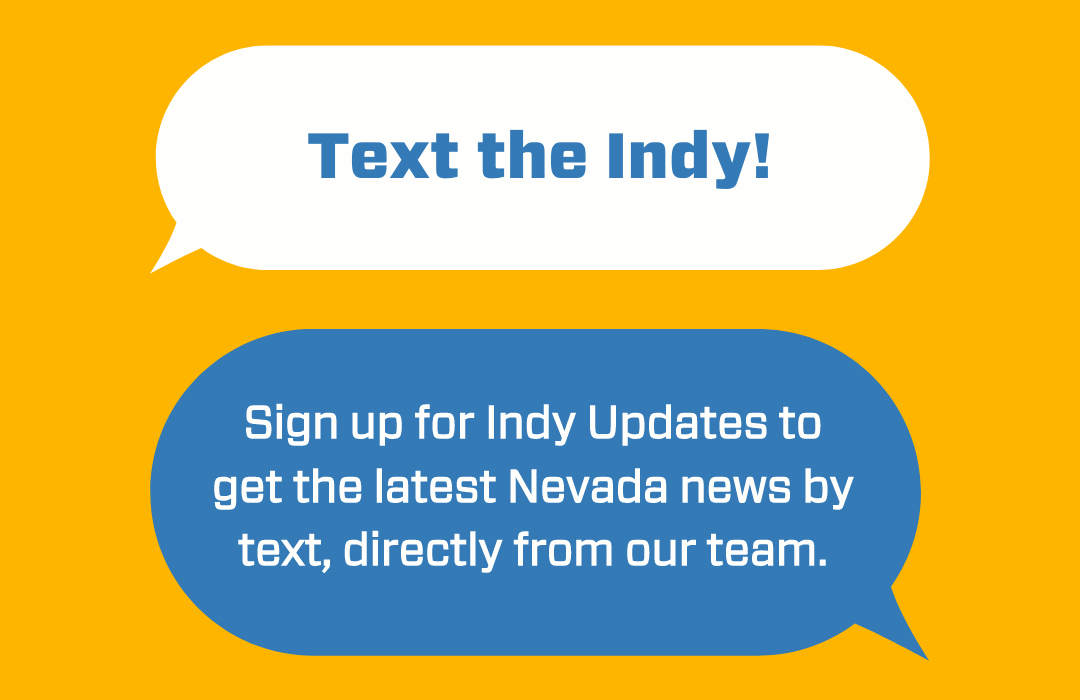 Featured Videos
Comment Policy (updated 4/20/2021): Please keep your comments civil. We reserve the right to delete comments or ban users who engage in personal attacks, use an excess of profanity, make verifiably false statements or are otherwise nasty. Comments that contain links must be approved by admin.